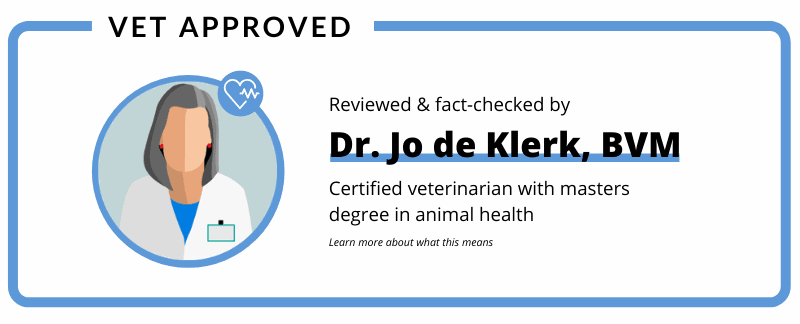 Interested in knowing more about your dog's ancestry? Want to know exactly which breeds appear in your four-footer's family tree? Curious about some of the canine DNA tests on the market?
Well, you're in luck!
Today, we're digging into dog DNA tests, explaining how they work, and reviewing a few of our top picks.
What Are Dog DNA Tests Anyway?
Everything from your dog's ear type to the shape of his tail provides unique information about your pup's history. Dog DNA tests allow owners to discover their doggie family tree!
Many owners think that they know what breed their dog is by looking at their physical appearance, but the truth is that most breed qualities won't be obvious or physically apparent.
Owners are often shocked with the results of their dog breed DNA test, finding that their dogs have several breeds in them that they never expected!
Why Do Owners Get Dog DNA Tests?
Owners decide to purchase dog DNA test kits for a number of reasons, including:
Understanding Your Dog's Behaviors. Owners are sometimes curious about their dog's strange behaviors and want to find out if his breed plays a role. If your dog loves to dig, is big on barking, or you catch him herding ducks at the park, his breed may have something to do with it!
Learning More About Your Mixed Breed Mutt. Many people have mixed-breed dogs — in fact, mutts are the most popular "breed" in the USA! Considering how loveable they are, is this surprising? And while owners love their mutts just as they are, owners are often curious about their dog's ancestry.
Potential Illnesses Common in Certain Breeds. Dog DNA tests can clue owners in to potential health risks that are associated with certain breeds, allowing you to foresee and possibly help prevent future illness.
Family Trees Are Fun. Just as humans enjoy learning about their own ancestry, owners also enjoy learning about their dog's parents and great grandparents. The truth is that your dog could care less, but owners find exploring their dog's family tree tons of fun!
Weight Range Prediction. Dog DNA tests can help puppy owners estimate how big their dog will eventually become at full adult size. This information can also help you determine what a healthy weight number is for your mixed breed dog.
Prevent Purebred Inbreeding. For purebred dogs, dog DNA tests can help provide breed certification (although not all organizations will accept all DNA test brands as verifiable breed proof). You'll also be able to determine the level of genetic diversity inbreeding, which is very important for breeding purebred dogs.
How Do Dog DNA Tests Work?
The process of getting your dog's DNA tested is pretty simple.
Step 1. You'll take a DNA sample from your dog (don't worry, it's nothing painful or scary – just a simple cheek swab).
Step 2. Seal up the DNA sample with the materials provided and send the sample back to the lab you ordered the kit from.
Step 3. In 2 to 3 weeks, you'll receive your dog ancestry report, detailing your dog's genealogy!
Dog DNA Test Cost: What You'll Spend
There are several different brands of dog DNA tests (which we will be reviewing in detail below), and the cost can vary a bit between brands.
Generally, dog DNA tests cost between $70 and $200.
The cheaper base prices of various dog DNA test usually just provide information on your dog's breed ancestry. The more expensive, higher-end tests will provide information regarding your dog's genetic health risks and other high-value dog data.
Dog DNA Test Reviews: Our Top Picks
Here are a few of our top picks for the best dog DNA tests. Check 'em out!
1. Embark Breed + Health Kit
About: The Embark Breed + Health DNA Kit ($199) is basically the cream of the canine crop when it comes to dog DNA tests.
Their test is more accurate than competitors (due to the large number of genetic markers they use), and they provide a plethora of data on your doggo you won't find elsewhere.
Core Features:
Tests For 210+ Health Conditions. Embark screens for over 210 health conditions, including glaucoma, degenerative myelopathy, and dilated cardiomyopathy (three of the most common adult canine diseases). The earlier you can discover these potential health issues the better, as you can work with your vet to start preventative measures and learn what symptoms to watch for.
Tests For 35+ Physical Traits. Embark tests for tons of physical traits such as coat color, shedding, etc. Understanding some of your dog's physical traits better can be helpful for developing a good grooming system.
Most Accurate Dog DNA Test. Embark's test uses over 200,000 genetic markers to determine your dog's genetic background (other dog DNA tests usually use around 2,000 genetic markers). This allows them to be more accurate than other dog DNA tests.
Adult Weight Prediction. If you're the owner of a mutt pup, Embark's adult weight prediction can be helpful for understanding the expected adult size and weight of your pooch.
Genetic Age. Embark's estimated genetic age test can help you ensure you're feeding your pooch age-appropriate food or get a better sense of when your dog is starting to hit his senior stride.
Digital Report. While many other DNA tests send a physical paper report, Embark's info is all online, shown through a digital dashboard. This allows you to easily share results with friends and family, as well as share your data with your veterinarian.
Extra Accuracy & Verification. Embark uses additional verification steps for superior accuracy. Any results that seem strange or questionable are hand-checked by Embark's dog DNA scientists.
One-Of-A-Kind Data About Village Dogs. Embark's researchers have studied village dogs (aka stray community dogs found hanging about in various villages) from all over the world. They also can evaluate your dog for wolf, coyote, or dingo ancestry!
Free Updates for Life. Embark provides all customers with updates for free – this means you'll never need to pay extra for any new tests added to the kit. Embark continues to discover new canine genetic tests, and these will be added to your pup's profile for free.
PROS
Embark definitely provides the most accurate, in-depth data for a dog DNA test. The information you'll glean isn't just for kicks – it could go a long way to help keeping your dog healthy.
CONS
The only downside is that this test is pricey – the full test costs around $199 without discounts (hint: Embark does run specials during the holidays, so keep an eye out for discounts).
2: Embark Breed Identification Test
Wait a minute, you're thinking. Didn't we just cover Embark's test? Yes, but Embark actually has two dog DNA tests. Embark's Breed + Health Kit is the high-end option, complete with all the health screenings and deep doggie data. But there's another option too…
About: The Embark Breed Identification DNA Test ($129) has all the accuracy of the Breed + Health Kit mentioned above, but it's much cheaper. The reason is that the Breed Identification Kit does not include any of the health screenings or breed traits. Instead, you'll just get access to your dog's breed ancestry.
This is a great option for owners who are simply curious about their mystery mutt's breed background, but don't really care about the health screenings.
Embark decided to offer this option for owners who couldn't afford to shell out $199 for the full health screening kit. At just $129, it's a more manageable price. And the good news is that if you decide later that you want the health screenings, you can simply pay to upgrade your profile, and Embark will use the existing dog DNA sample they have on hand to run all the health tests.
Make sure to read our full Embark Breed Identification Kit review for full details on everything this test offers.
DEAL ALERT: K9 of Mine readers can get $20 off Embark's Breed Identification Kit when you use code K9OFMINE with this link!

PRO TIP: Psst..just between us – once you sign up for the Breed Identification Kit and get your results, you'll receive an email offer for a discounted upgrade to the full health screenings kit. It's a nice little loophole to get the full kit without paying full price.
Core Features:
Tested For 350+ Breeds. Your dog's DNA is tested against the genetic markers of over 250 breeds to discover your pup's ancestry, including wolf, dingo, and coyote!
Accuracy. Just like the Breed + Health Kit, your dog's DNA is tested against 200,000 genetic markers, making it the most accurate dog ancestry test out there.
Discover Your Pup's Canine Family Tree. See your pup's family tree all the way back to their great grandparents!
Doggie Relatives. Embark's Breed Identification Kit introduces you to your dog's genetic relatives. You can even connect and meet up with them to set up a doggie playdate (if you want).
Breed Mix Matches. The Breed Identification Kit also has a nifty feature where you can see photos of other dogs that have a very similar genetic makeup to your own pooch! Check out our full review of Embark for photos and a more detailed explanation of this feature.
PROS
We love that Embark offers this more affordable option for owners who are just interested in their dog's ancestry. The doggie relatives feature and the breed mix matches are unique to Embark and are a big selling point!
CONS
It can feel a bit frustrating to pay over $100 for a dog DNA test and not get full access to Embark's health screenings. However, they often run promotions and specials that allow you to upgrade to the health screenings data at a discounted rate.
3. Wisdom Panel Premium (Breed + Advanced Health Screenings)
About: Wisdom Panel Premium ($159.99) is a similar offering to Embark's Breed + Health Kit, providing info into your dog's breed ancestry as well as running a number of genetic health screening tests on your pooch.
200+ Health Screenings. Wisdom Panel offers genetic health screening for 200+ conditions covering 16 major body systems. They'll also tell you the expected onset age, likelihood of developing the condition, and severity.
Tests For 350+ Breeds. Wisdom Panel offers breed detection for 350+ breeds, types and varieties using a database of 1,800 genetic markers. See your dog's family tree back to their great grandparents! They even identify breed mixes down to 1%.
Expected Adult Weight. Get info regarding the expected adult weight of your dog.
Genetic Trait Analysis. See data surrounding your dog's physical and behavioral traits based on their breed.
Online Report. Wisdom Panel's digital report makes it easy to share what you've learned with your vet or friends.
Private Call With Vet. As a Premium perk, you can schedule a free phone call with one of Wisdom Panel's veterinarians to go over your health findings.
PROS
Wisdom Panel provides tons of health screenings and trait analysis as a more affordable priced compared to Embark.
CONS
The only downside to Wisdom Panel is the fewer number of genetic markets (compared to Embark), although it's hard to say how much this really affects accuracy for most customers.
4. Wisdom Panel Essentials (Breed + Basic Health Screenings)
About: Similar to the difference in Embark's two tests, Wisdom Panel's secondary offering is referred to as Wisdom Panel Essentials ($99.99) It still offers a ton of great data, just not the full panel of health screenings.
Core Features:
Tests For 350+ Breeds. You'll get the same breed detection for 350+ breeds using Wisdom Panel's database of 1,800 genetic markers to see your dog's family tree back to their great grandparents!
Basic Health Screenings. Even with this more basic DNA test kit, Wisdom Panel will still screen for 25+ medical complications and run tests for MDR1 and Exercise-induced Collapse (EIC) screening for drug and exercise sensitivities.
Expected Adult Weight. See the expected adult weight of your dog.
Physical and Behavioral Trait Analysis. Get info about your dog breed's physical and behavioral traits.
Online Report. Wisdom Panel's digital report makes it easy to share what you've learned with your vet or friends.
PROS
We love that Wisdom Panel Essentials still provides some basic health screenings in addition to the deep breed info.
CONS
Again, as mentioned with the previous Wisdom Panel kit, this brand uses 1,800 genetic markers vs Embark's 200,000.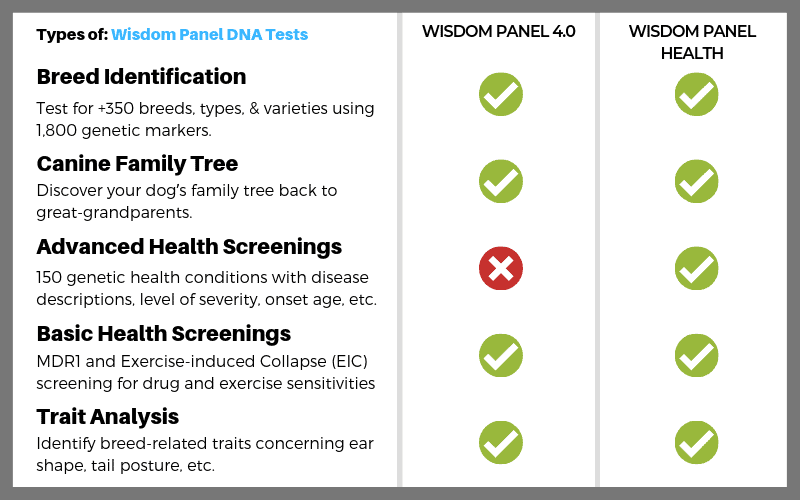 Embark vs Wisdom Panel: Which to Choose?
So in the end, we have two solid dog DNA test brands offering two kit versions – one with more health screenings, and one primarily concerned with breed ancestry only.
Embark vs Wisdom Panel For Health Screening Options (Full Health Kits)
From a pricing standpoint, Wisdom Panel offers a much better deal.
Wisdom Panel's Health Kit, with the full array of 150 health conditions, has a base price of just $149. Embark's Breed + Health Kit tests for 170 Health Conditions and costs $199. So really, if you want to go with either of the health screening options, you'll have to decide how important those 20 additional tests are.
Embark vs Wisdom Panel for Breed Identification (Budget Kits)
Both Embark and Wisdom Panel offer a more affordable dog DNA kit that is primarily concerned with your dog's breed ancestry and does not provide the full array of health screenings that the respective companies offer.
Here's the big difference though – even with the cheaper kit, Wisdom Panel still provides the health test for the MDR1 and Exercise-induced Collapse (EIC) screening. These are two very common ailments, and the fact that these are included even in the non health screening kit is pretty awesome.
Ultimately, the only downside to Wisdom Panel is the fewer genetic markers (1,800 vs Embark's 200,000), so Embark wins when it comes to accuracy. Embark also offers the canine relatives and breed mix matcher features, which are really nifty options Wisdom Panel lacks.
So, when choosing between Embark vs. Wisdom Panel, consider:
Accuracy. Wisdom Panel uses 1,800 genetic markers while Embark uses 200,000 for better accuracy. However, it's hard to say how much this affects accuracy, and neither test is considered questionable or inaccurate by any means.
Basic and Advanced Health Screenings. Both Embark and Wisdom Panel have Health Kit versions designed to screen your dog for over a hundred genetic diseases (170 for Embark, 150 for Wisdom Panel). However, Wisdom Panel's cheaper Breed Identification Kit doesn't cut out all health screenings – they still provide screenings for MDR1 and EIC.
Doggie Relative Finder & Other Fun Features. Embark is the only dog DNA kit that offers the dog genetic relative finder, which is really nifty if you want to find your dog's siblings, cousins, etc. The look-a-like mix match it also a fun bonus for seeing what dogs with similar breed compositions look like.
Price. All these kits are priced a bit differently, so consider what will work best for your budget!
In the end, there is no clear "best choice" when it comes to all these dog DNA tests.
Obviously Embark's full Breed + Health Kit is the best in terms of the number of health screenings, the number of genetic markers used, and fun extras like the dog relative finder. However, it's also quite expensive, and some owners might be able to budget better for Wisdom Panel's kit options.
Dog DNA Test Accuracy
There are always many questions about the reliability and accuracy of dog DNA tests.
There are various dog DNA tests available on the market, with some brands being more reliable than others. However, if you're purchasing a trusted dog DNA test, there's no reason to doubt the results.
Still, some owners find their results quite dubious. There are a few reasons why people may question the results of their dog DNA test.
1. Your Dog May Not Look Like The Breeds Reported
Owners may laugh when they get back a report saying their dog has Chihuahua, despite not physically resembling the breed. Looks don't always have much say when it comes to your dog's genetics. In fact, studies have shown that visual identification of breeds in dogs is only accurate about 25% of the time!
A human child can look more like their grandparents than their parents, and the same can apply towards dogs. Dogs may have visual attributes of breeds from more distant relatives.
Some breeds have physical characteristics that exist as recessive traits, while other breeds have traits that are dominant. Even though your dog may have mostly Yorkshire Terrier in his DNA, he could physically look like a totally different breed, even if that breed makes up a small percent of your dog's DNA compared to the Yorkshire.
A dog's physical appearance is not always a proper representation of the breeds that are in your dog's genes.
2. Your Vet Said Your Dog Was A Different Breed!
Vets are susceptible to mistakes as well, and they'll often make assumptions about a dog's breed based on the dog's physical appearances.
3. Some Owners Believe Their Dog Is Purebred
Those who are infuriated with results of dog DNA tests are often owners who are confident that they own purebred dogs (and perhaps shelled out big money for a purebred).
Sadly, not all breeders are trustworthy enough to tell the truth about their dog's genetic backgrounds.
It's also worth noting that what we consider "pure" breeds in the modern world weren't always so "pure." Many modern breeds were created by combining multiple lineages, which may cause different breeds to show up in your test results.
This isn't to say that dog DNA tests are always 100% accurate. Human error can play a role as well. Other elements that affect the accuracy of a dog DNA test include:
The DNA Sample. Allowing owners to take DNA samples from their dogs via cheek swab makes the process very easy, but also leaves room for human error if the user does not read the instructions carefully or makes a mistake.
The DNA Breed Database. The more breeds that are in the DNA testing lab's database, the more accurate the results will be.
Learn more about doggie genetics: How Many Chromosomes Do Dogs Have?
***
Have you ever done a DNA test on your dog? What were the results? Tell us in the comments!