If you're looking for a dog name to highlight a unique culture, look no further than the Korean peninsula!
Few landscapes are as beautiful, with a mix of coastal and mountainous views spanning the nation. The Korean language is equally beautiful and unique in its own right — most names have very specific and meaningful translations.
No doubt, you'll find the perfect Korean dog name inspired by this incredible region! Below, we'll share some of our favorite Korean dog names and share a couple of breeds that originated from the beautiful country.
Male Korean Dog Names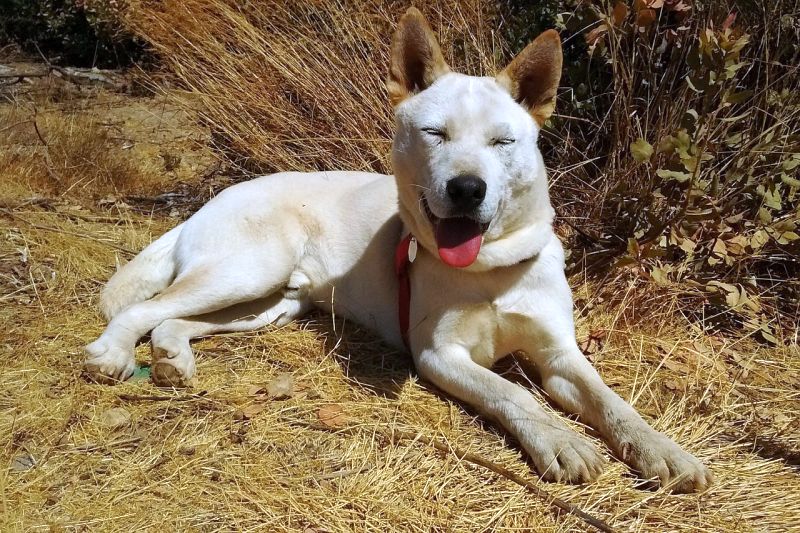 Find the perfect Korean name for your male mutt from these common names! Check out those meanings, too, as they may resonate with your Rover's personality.
Bada: "Ocean"
Bae: "Inspiration"
Baek-hyeon: "Older brother"
Bo-gyeong: "Father"
Cho: "Handsome"
Dal: "Moon"
Hye: "Bright" or "intelligent"
Ha-eun: "Kindness"
Hangil: "One way"
Haru: "Daytime"
Hea: "Grace"
Hee: "Brightness"
Heebeom: "Bright"
Hei: "Wisdom"
Him: "Strength, force"
Ho: "Goodness"
Ho-Seok: "Strong"
Honja: "Alone"
Hun: "Merry"
Hyeri: "Charming"
Hyun: "Virtuous"
Ji-ho: "Brave" or "wisdom"
Ji-hun: "Intelligence and status"
Min-jun: "Clever and talented"
Nam-sun: "South"
Namjachingu: "Boyfriend"
Namu: "Tree"
Noonsol: "Pine tree"
Nuri: "World"
Okja: "Stone"
Onnuri: "World"
Onyu: "Entire"
Oppa: "Older brother"
Param: "Blue, green"
Ryung: "Light"
Seok: "Stone"
Shik: "Planting seeds"
Si-woo: "Protector"
Tae-hui: "Great"
Tae-ha: "Superior"
U-Yeong: "Honor"
Unmeong: "Destiny"
Ye-jun: "Talented"
Wangjanim: "Prince"
Won: "First, origin"
Won-shik: "First; seeds; family"
Woojoo: "Universe"
Woong: "Magnificence"
Want more boy dog names? We got 'em! See more than 1,000 male dog names!
Female Korean Dog Names
One of these beautiful female names might just be the right match for your girl pup. Browse these feminine Korean dog names, including mighty meanings!
A-jun: "Beautiful"
A-min: "Lovely"
Ae-Cha: "Loving daughter"
Ae-jung: "Love"
Ae-ra: "Love"
Aegiya: "Baby"
Aein: "Sweetheart"
Aeji: "Affection"
Aesook: "Love"
Ahnjong: "Tranquility"
Areum: "Beauty"
Bit-na: "To shine"
Bo-mi: "Beautiful"
Bo-reum: "Two weeks"
Bo-young: "Precious flower"
Bom: "Springtime"
Bong-cha: "Ultimate girl"
Bong-ju: "Symbol of joy"
Bora: "Purple"
Chae-ha: "Color"
Changbok: "Light of sun"
Chanho: "To fill"
Chanwoo: "Vivid"
Chawoong: "Hero"
Chin: "Precious"
Cho-a: "Beautiful"
Choon-hee: "Spring girl"
Chun: "Spring"
Chun-hwa: "Flowery"
Da-hee: "Happiness"
Da-rae: "Gooseberry"
Da-som: "Love"
Do-hee: "Bright"
Eun-Ji: "Kindness with intelligence"
Ga-yeong: "Beautiful flower"
Gaeul: "Autumn"
Gang-aji: "Puppy"
Gangdam: "Fortress"
Garam: "River"
Geon: "Strength"
Geumhee: "Bright"
Gi: "Brave"
Gongjunim: "Princess"
Goun: "Soft"
Guseul: "Precious gem"
Gwiyomi: "Cutie"
Gyu-ri: "Star"
Gyuseok: "Sky"
Hana: "One"
Ja: "Attractive"
Jae-Hee: "Shining"
Jaechang: "Talent, ability"
Jagiya: "Honey or baby"
Jang-mi: "Rose"
Jangyoung: "Flower decoration"
Jarang: "Pride, boast"
Jeongseul: "Virtuous"
Ji: "Wisdom"
Jin-a: "Truth"
Jin-joo: "Truth; pearl"
Kyung-ah: "Scenery"
Mae-hui: "Rose"
Malli: "Jasmine"
Mee: "Beauty"
Mi-cha: "Beautiful girl"
Mi-hee: "Beautiful"
Mi-ho: "Beauty"
Mi-ja: "Child"
Mi-jeong: "Pleasing"
Min: "Smart or clever"
Min-ji: "Intelligent"
Min-ju: "Intelligent; red"
Min-seo: "Intelligent; omen"
Nari: "Lily"
Namjoo: "Lead"
Sae: "Bird"
Soon-hee: "Bright; god"
Soon-ja: "Obey; child"
Sora: "Conch shell"
Sun-hee: "Pleasure; goodness"
Sun-hwa: "Goodness; anger"
Ye-jin: "Valuable"
Ye-dasom: "Lovely"
Yebin: "Creative"
Yeo: "Mildness"
Yeobo: "Darling"
Yeojachingu: "Girlfriend"
Yeori: "Elegant"
Yon: "Blossom"
Yong: "Brave"
Yoonmin: "Soft"
Yu-jin: "Precious"
Yu-bin: "Young child"
Yu-na: "Endure"
Yu-ri: "Abundant"
Yumi:"Exist; beauty"
Yun-gi: "Belief"
Yuo: "Lotus flower"
Need more girl dog name ideas? Check out some of the best names for female dogs!
Gender-Neutral Dog Names for Male and Female Dogs
Whether you have a male or female floof, these Korean dog names should work great for your pooch! See which matches your mutt's vibes.
Baram: "Wind"
Beodeul: "Willow"
Binna: "Shine"
Bitnara: "Light"
Bo-bae: "Treasure"
Duri: "Two"
Eun: "Kindness, or silver"
Gyeong: "Respect"
Haneul: "Sky or heaven"
Haewon: "Beautiful garden"
Hwan: "Shine or happiness"
Hyeon: "Clever or shining"
Ideun: "Beautiful"
In-jeong: "Benevolence"
In-na: "Graceful and delicate"
Inho: "Humaneness, benevolence, kindness"
Iseul: "Dew"
Jae: "Talent"
Jeong: "Quiet"
Ji: "Smart"
Ji-a: "Wisdom and knowledge"
Ji-hui: "Wisdom"
Jiho: "Wisdom, intelligence"
Jin: "Jewel"
Jinji: "Valuable"
Jintae: "Gold"
Jong-Seok: "Great"
Juah: "Jewel"
Jun-su: "Talented"
Jung:"Righteous"
Jungsik: "Virtuous"
Iseul: "Dew"
Kwang: "Light"
Min: "Clever"
Min-gi: "People"
Min-ho: "Brave"
Minha: "Fast"
Minseong: "Jade"
Mir: "Dragon"
Miyun: "Clouds"
Moon: "Learned"
Moonik: "Letters"
Myung: "Brightness"
Sa-do: Think
Saebyeok: "Dawn"
Saehae: "New year"
Saem: "Fountain"
Saerok: "New"
Sakula: "Cherry blossom"
Sandeul: "Gentle wind"
Sang: "Forever"
Sanyang-gae: "Hound"
Seo-jin: "Omen"
Seok-yeong: "Flower"
Seoli: "Frost"
Seon: "Nice"
Seong-mi: "Beautiful"
Seongbin: "Planet"
Seowoo: "Divine intervention"
Seukja: "Great"
Seulgi: "Wisdom"
Seung: "Winning"
Shin: "Belief"
Sieun: "Excellent"
Sinjeong: "Spirit"
So-Hui: "Splendid"
So-ha: "Small"
Soo: "Excellence"
Sori: "Sound"
Su-won: "Defend"
Suk: "Rock"
Sung: "Successor"
Yeong: "Flower or hero"
Cute Korean Dog Names
Do you have a the cutest canine at home in need of a mighty sweet moniker? This list of names serves as perfect inspiration for Korean puppy names.
Agi: "Baby"
Bi: "Rain"
Bokshiri: "Fluffy"
Dallida: "Run"
Dasom: "Love"
Deiji: "Daisy"
Gom: "Bear"
Gonglyong: "Dinosaur"
Hae: "Ocean"
Haengbogi: "Happy"
Haenguni: "Lucky"
Hama: "Hippo"
Hudu:"Walnut"
In Na: "Delicate"
Jakada: "Little"
Jangmi: "Rose"
Joeun:"Good"
Jwi: "Mouse"
Kuki: "Cookie"
Maeum:"Heart"
Miso: "Smile"
Nabi: "Butterfly"
Nae Sarang: "My love"
Naekkeo: "My sweetheart"
Nam-sun: "Pure and honest"
Nun: "Snow"
Podo: "Grape"
Sagwa: "Apple"
Saja: "Lion"
Satang: "Candy"
Seoltang: "Sugar"
Sunja: "Meek"
Usda: "Smile"
Wonsoong: "Monkey"
Yangmal: "Sock"
Yeou: "Fox"
Love a name loaded with meaning?
Korean Cities and Landmarks as Dog Names
With an idyllic mix of city and scenery, the sites and settings of Korea are bound to inspire. Perhaps one of these will inspire a unique name for your new dog:
Asan: A city outside of the capital of Seoul, Asan is famed for its numerous hot springs.
Busan: South Korea's second largest city, this coastal city is known for its illustrious film industry, as well as its beautiful coastal scenery.
Daegu: The fourth largest city in South Korea, Daegu is renowned for its budding fashion industry. It is also known as the "Apple City" because of its high-quality apple exports.
Daejeon: Another one of Korea's cities with a population in the millions, Daejeon is a hub of scientific and technological research and advancement.
Gimpo: A northwestern city in South Korea, Gimpo sits between Incheon and the North Korean border.
Hongdo: A small island west of the Korean peninsula, known for its natural beauty, particularly because of its red-tinted mountains.
Incheon: Located near Seoul, the city is South Korea's third largest and known for its major international airport.
Jebudo: A small island off the western coast of South Korea, accessible only by a road that is covered by high tide twice daily.
Jeju: One of South Korea's warmer islands — the name lends itself to the Jeju dog, a rare breed that nearly went extinct in the 1980s, yet continues to recover due to preservation efforts.
Jinju: One of Korea's oldest cities, Jinju was established more than 1,000 years ago.
Jinyang: A large reservoir lake near the start of the Nam River.
Osan: The name of a Korean city, as well as the name of a major US Air Force Base.
Seoul: South Korea's largest and capital city, with a population of nearly 10 million. As a cultural and economic hub, it is home to companies such as Hyundai and Samsung, as well as the iconic and historic Geongbokgung Palace.
Taebaek: The major mountain range that spans the entire east coast of the Korean peninsula.
Udo: An island whose name translates to "cow island" in English — it is one of Korea's most popular tourist destinations.
Korean Food and Drink Dog Names
From kimchi to Korean barbecue, Korean cuisine is becoming a fast favorite across the globe. Here are some of the most notable nicknames inspired by your favorite dish:
Anju: Any kind of Korean dish that is intended to be eaten with alcohol.
Bibimbap: A Korean dish consisting of rice, vegetables, and (usually) meat.
Bingsu: A shaved ice dish, typically topped with sweets or fruits.
Bossum: A pork belly dish eaten in lettuce wraps.
Bulgogi: A beef dish that translates to "fire meat" in English, it contains thinly shaved meat cooked similar to a stir fry.
Dakkochi: A skewer of grilled chicken and scallions.
Dasik: A small grain-based cookie, usually ornately decorated and matched with tea.
Galbi: A staple of Korean barbecue, it typically consists of grilled short ribs.
Hotteok: A popular pancake-like food common on the streets of Korean cities
Kimchi: A world renowned vegetable-based side dish from Korean cuisine.
Mandu: A savory dumpling symbolizing good luck around the Korean Lunar New Year
Melona: A popular brand of fruit-flavored popsicle.
Misu: A grain-based beverage served cold with numerous health benefits.
Soju: An alcoholic beverage consumed in Korea typically made from rice.
Dog Names That Are Beautiful Korean Words
The Korean language is a beautiful mix of characters and sounds. These are some noteworthy Korean dog names inspired by everyday Korean conversation:
Abeoji: "Father"
Annyeong: "Hello"
Byeol: "Star"
Chingu: "Friend"
Dae: "Greatness"
Daeyang: "Ocean"
Daechu: "Date"
Daehee: "Vast"
Dak-Ho: "Deep lake"
Dambi: "Deep pool"
Dan: "Sweet"
Danbi: "Welcome rain"
Danchu: "Button"
Daseul: "Care"
Deokha: "Virtue"
Deokman: "Worthy"
Doja: "Peach"
Dong: "East"
Eomeoni: "Mother"
Eui: "Righteousness:
Eun: "Silver"
Eun-bi: "Kindness"
Eun-jae: "Mercy"
Eunchang: "Charity"
Gae: "Dog"
Geomeun: "Black"
Guleum: "Cloud"
Gyeoul: "Winter"
Hae: "Sun"
Hanja: Chinese writing characters at the root of Korean words and names
Hayan: "White"
Hyeongje: "Brother"
Jag-eun: "Small"
Jakda: "Little"
Jamae: "Sister"
Joeun: "Good"
Jwi: "Mouse"
Kanghyun: "River"
Keun: "Big"
Kkossaem: "Cold, windy"
Kokum: "Dream"
Kong: "Bean"
Kwan: "Strong"
Kyong: "Brightness"
Kyu: "Standard"
Kyungri: "Respect"
Laon: "Joyful"
Mulgogi: "Fish"
Noran: "Yellow"
Nun: "Snow"
Pogpung: "Storm"
Saja: "Lion"
Teol: "Fur"
Tokki: "Rabbit"
Yeppeun: "Pretty"
Dog Name Ideas Inspired By Famous Korean Celebrities
From K-Pop to athletes to world leaders, Korea has given the world a number of unforgettable talents and personalities. See which might work as a mutt moniker for your pup:
BoA: This K-pop star is known as the "Queen of K-Pop," she hails from Guri, South Korea and her music boasts an international following.
BIGBANG: One of the most famous K-pop bands formed by YG Entertainment.
EXO: A famous South Korean K-pop group.
Jungkook: A famous singer best known for his work in the boy band group, BTS.
Moon Jae-in: The 12th and current President of South Korea.
Onew: A well-known K-Pop singer and actor.
Psy: A world-renowned South Korean singer known for his international hit "Gangnam Style."
Shin Min-A: An actress well known across South Korea.
Taeyeon: An acclaimed Korean singer, who rose to prominence in the group Girl's Generation and has since topped Korean charts and garnered several Korean music awards.
V: A vocalist from the hit group BTS.
Yoo Jae-suk: A famous Korean television host and comedian.
Yu-Na Kim: One of Korea's most renowned and beloved athletes, she is the 2010 Olympic Champion in women's figure skating.
Suga: A well-known Korean rapper and recording artist.
Korean Dog Breeds
Hopefully, the lists above have helped you pick a dog name for your four-footer. But before signing off, we wanted to point out a few fantastic dog breeds that trace their origins to the Korean peninsula.
Donggyyeongi: This bob-tailed best buddy is another breed native to Korea. Unfortunately, these spitz-type dogs are incredibly rare, though they are well-loved for their active, adventurous natures.
Dosa: These easy-going mastiff is a gentle giant that loves spending time with is humans. Dosa pups act as huge lap dogs and are one of the most loyal Korean canines you can find.
​​Jeju: You might confuse the majestic Jeju for a white wolf, but these pups are more spitz-like and incredibly rare
Jindo: Known for his pointy ears and stocky stature, the Jindo is an AKC-recognized breed common in South Korea. Jindo Island, located off the southwest coast of Korea, is thought to be the original home of the breed, and they run wild on the island to this day.
Pungsan: These hunting pups are best identified by their thick, white coats. Pungsan pups are tough, adaptable furry friends who are able to survive amongst a variety of climates.
Sapsali: Another native of the Korean peninsula, the Sapsali is known for his shaggy coat. Loosely translated, the breed name means "ghost hunter," which is an allusion to the breed's ancient purposes.
Korean Dog Names FAQ
Having trouble finding perfect Korean pet names? Here are some commonly asked questions and answers to help you find a fitting name for your furry friend.
How do you say "dog" in Korean?
"Gae" is dog in Korean, but there are a couple of native Korean dog breeds like the Dosa or Jindo. "Puppy" is "gang-aji" in Korean.
What does "Jindo" mean in Korean?
The Jindo is a native Korean dog breed known for its endless loyalty and brave personality. The jindo is also one smart cookie, but he's not the dog for everyone, as he can be a challenge to train and needs ongoing, healthy socialization with people and pets to avoid aggression issues.
What is a good Korean name for a girl dog?
There are plenty of Korean dog names for female pups! Consider popular picks like Nari meaning "lily", or Min meaning "smart". You can go short and sweet with Ji, meaning "wisdom", or try out something longer, like Gwiyomi, meaning "cutie."
What is a good Korean name for a boy dog?
You can choose from plenty of Korean dog names for your male mutt. Check out names like Si-woo meaning "protector" or opt for something like Dal meaning "Moon". 
What are some cute Korean dog names?
Cute Korean dog names come in all forms. Some of our favorites are those inspired by Korean food dishes, like Kimchi, Bibimbap, and Bulgogi. We love names borrowed from food elements, too, like Soy, Tofu, and Noodle. Other cute names are Binna, meaning "shine," Sori, meaning "sound," and Hama, meaning "hippo."
What are BTS inspired puppy names?
Some BTS-inspired puppy names include those from the members, like Jungkook, V, Jimin, SUGA, Jin, RM, and j-hope, and those from song titles, such as Dynamite, Fire, and Swan.
What is the Korean word for "wolf?"
The Korean word for "wolf" is neugdae. The Korean word for "fox" is yeou. Feeling more feline-like? Saja means "lion," and holang-i means "tiger." These animal-themed picks make undeniably cool dog names!
What dog is famous in Korea?
The Korean Jindo is the most famous of the nation's breeds. Easy to spot with his pricked ears and curled tail, this plush-coated cutie somewhat resembles a smaller Akita, though he's nearly as legendary in his loyalty. This breed is best suited for experienced pet parents prepared for ongoing obedience training and socialization work, as this pup can be a challenge.
***
Did you give your dog a Korea-inspired name? Can you think of any other great Korean dog names we may have missed? Let us know in the comments below!
Also be sure to check out our articles on: