Most dogs will thrive best on a twice-per-day feeding schedule, but many people have trouble providing such a routine, given the demands of work, school and family. This is where automatic dog feeders can come in handy!
Fortunately, there are a number of automated dog feeders available, which can allow you to keep Fido's feeding routine consistent, even with hectic schedules.
Quick Picks: Best Automatic Dog Feeder
Continue reading for more in-depth reviews
Best Automatic Dog Feeders: Our 10 Favorites!
There are scads of automatic feeders on the market, but many of them are honestly pretty lackluster. But don't worry! We've assembled some of our favorites to help you sort through the junk and find the ones that actually work!
1. WOpet Automatic Pet Feeder
Best Overall Automatic Dog Feeder
This is a sponsored placement, in which an advertiser pays a fee to be featured in this article. Learn more
About: The WOpet Automatic Pet Feeder is a feature-packed automated pet feeder that makes feeding your pet a breeze. It will hold up to 29 cups of food at a time, and you can program it to dispense up to six meals per day. This feeder even features a built-in speaker, which allows you to record a 10-second-long message for your pet to cue him that it's feeding time!
But one of the most notable things about the WOpet Automatic dog feeder is it's built-in camera, which can allow you to keep tabs on your pup during dinner.
Features:
Holds 29 cups of kibble
Several feeding and portioning options
Doubles as a pet camera
Allows owner to record messages that can be played when food is dispensed
Pros
Most owners found this feeder quite reliable
Large feeder holds up to 29 cups of kibble
Built-in camera and speaker are nice bonuses
Battery back-up power ensures pups get fed even during power outages
Cons
Some owners found the operating interface a little clunky
Requires a constant connection to the internet
2. Wagz Smart Dog Feeder
Best Premium Automatic Dog Feeder
This is a sponsored placement, in which an advertiser pays a fee to be featured in this article. Learn more
About: For total techies, the Wagz Smart Dog Feeder has plenty of exciting features including automatic food ordering via Amazon and live streaming via the embedded camera. This feeder dispenses a predetermined amount of food based on your dog's feeding schedule so that your pup is given exactly what he needs to keep his tail wagging.
The feeder is compatible with Android and iOS, and you can program it to dispense food on the schedule that works best for your floof.
Features:
Built-in HD video camera
Optional food-replenishment services
Built-in scale for accurate feeding
No-jam system
Compatible with Amazon Alexa, iOS, and Android phones
Pros
This feeder is both reliable and accurate according to pet parents
The feeder can automatically order more food via Amazon
Remote app makes it easy for you to feed your furry friend while away from home
Cons
This is one of the more expensive feeders on the list
Some owners found the feeder tricky to program
3. Petmate Replendish Gravity Feeder
Most Affordable Automatic Dog Feeder
This is a sponsored placement, in which an advertiser pays a fee to be featured in this article. Learn more
Petmate Replendish Gravity Feeder
A gravity-style, low-tech feeder that's perfect for grazers.
About: The Petmate Replendish Gravity Feeder is a bare-bones gravity-fed feeder that will keep your dog's bowl consistently full of food (at least until the storage container is empty).
Designed to provide maximum convenience in a simple and affordable package, this is a great choice for owners who're either tech-averse or simply looking for the most budget-friendly automatic feeder around.
As a bonus, because this feeder doesn't make any sounds, it's great for skittish doggos.
Features:
Bottle unscrews from base, making this device easy to keep clean
Reservoir holds up to 10 pounds of kibble
Features layer of Microban antimicrobial protection to help prevent odor-causing bacteria
Requires no batteries for operation
Pros
Gravity-style feeder is great for ad libitum feeding
No battery needed
Doesn't make mechanical noises which may deter skittish dogs
Cons
Not ideal for pets who'll gorge themselves
Dispensing system can get clogged, especially with larger kibbles
4. WellToBe Automatic Pet Feeder
Best Automatic Feeder for Multi Pet Homes
This is a sponsored placement, in which an advertiser pays a fee to be featured in this article. Learn more
About: If you have more than one furry friend, the WellToBe Pet Feeder is a great option. This automatic feeder splits portions into two separate stainless steel bowls, with each holding up to 3 cups of food.
The feeder allows you to record up to 10 seconds of your voice to give your furballs a personalized message while dispensing. This feeder is super flexible and can be powered via battery or the included AC adapter.
Features:
Dispenses to two separate 3-cup feeder bowls
Anti-clog mechanism for problem-free feeding
Can be used to dispense 1 or 2 bowls simultaneously
Raised base make it easy for your canine to chow down
Locked lid keeps pets out of food reservoir
Pros
Perfect choice for multi pet households
Removable stainless steel bowls are easy to clean
Simple to set up
Cons
Might not be the best set up for pets who exhibit resource guarding
Sometimes the feeder didn't dispense food evenly to both bowls
5. WESTLINK 6L Automatic Pet Feeder
Best Automatic Dog Feeder for Long-Term Use
This is a sponsored placement, in which an advertiser pays a fee to be featured in this article. Learn more
About: The WESTLINK 6L is a completely automated feeder that is easy to fill, use, and program. It is a feature-packed feeder, which not only allows you to program up to four meals per day, it also allows you to record a 10-second-long voice message for your pet to let him know it is chow time!
The WESTLINK 6 will hold up to 6 liters of food and it can be programmed to dispense up to 39 separate meals.
Features:
Built-in infrared sensor helps ensure smooth operation
Each meal dispenses approximately 10 to 12 grams of food
Requires kibble pieces smaller than 0.39" x 0.39"
Powered via batteries or USB
Pros
Highly rated by pet parents
Well-built despite its modest price point
It'll allow you to go much longer between refills than many other automatic feeders
We love that you can record personalized "come eat!" messages for your pet
Cons
A handful of hounds were able to break into the food reservoir
Not ideal for large pets
6. Dogness Wi-Fi Automatic Feeder
Best Phone-Programmable Automatic Dog Feeder
This is a sponsored placement, in which an advertiser pays a fee to be featured in this article. Learn more
Dogness Wi-Fi Automatic Feeder
An iOS-friendly feeder and camera system, which you can program from your phone.
About: The Dogness Automatic Feeder is a Wi-Fi-enabled feeder that makes it very easy to keep your dog fed, even when you're not home. It even comes with an included camera, so you can keep an eye on your pet from afar.
Instead of having to use a clumsy push-button control panel, you can program this automatic dog feeder with camera with your smart phone. You'll need to download a free app to use this feeder but connecting your phone to the device and making adjustments is quick and easy.
Features:
Powered via batteries or included AC cord
Available in five colors: Grey, Blue/Orange, Dark Blue, Pink, and Tiffany Blue
Holds up to 6.5 pounds of food
Works with 2.4 GHz Wi-Fi; Does not work with 5G
Pros
Easy to operate over WiFi
Built-in camera for remote check-ins
Quick set up and large food capacity
Cons
Not compatible with Android devices
The feeding history function was buggy for some owners
7. PetSafe Healthy Pet Simply Feed Automatic Feeder
Most Flexible Automatic Dog Feeder
This is a sponsored placement, in which an advertiser pays a fee to be featured in this article. Learn more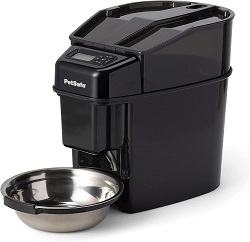 PetSafe Healthy Pet Simply Feed Automatic Feeder
An automatic feeder with a removable bowl and a number of different feeding options.
About: The PetSafe Automatic Feeder is a feature-packed pet feeding station, which provides owners with a number of ways to customize the manner in which the dispenser releases food. For example, unlike many other feeders, which are only capable of providing a small number of meals, this feeder can be programmed to provide up to 12 meals per day.
You can also do things like feed your pet on demand or pause the unit and prevent it from dispensing any more meals until you're ready for them to resume.
Features:
Feeder can dispense food amounts ranging from 1/8 cup to 4 cups at a time
Removable stainless-steel bowl is easier to keep clean than the plastic bowls included in most other feeders
Includes "feed now" and "pause feeding" functions, for maximum flexibility
Requires four D batteries (not included), but it also works with a power cord (sold separately)
Pros
Removable stainless steel bowl is easy to clean
Most owners found the feeder reliable
We like the "slow-feed" option, which is great for woofers who wolf down their food
Cons
Some owners found the feeder difficult to program
The small bowl isn't ideal for large dogs
8. PetSafe Two-Meal Automatic Pet Feeder
Best Battery-Powered Automatic Dog Feeder
This is a sponsored placement, in which an advertiser pays a fee to be featured in this article. Learn more
About: The PetSafe Automatic Feeder is a relatively simple clamshell-style feeder that opens at a predetermined time.
The PetSafe Feeder actually provides two separate feeding compartments, which allows you to provide two separate meals for your dog, which become available at specific times pre-programmed by the owner.
Features:
Requires one AA battery (not included)
Food dishes are dishwasher safe, making them easy to keep clean
Each food dish has a 1.5 cup capacity (3 cup capacity in total)
Recommended for small- to medium-sized dogs and cats
Suitable for wet or dry food
Pros
Dishwasher safe feeder allows for easy cleaning
The battery-operated design is great for travel
Pet parents were impressed with the reliability of these feeders
Cons
Some dogs were able to break into the feeder
Feeder only holds two meals at a time
9. Little Giant Galvanized Steel Chow Hound Dog Feeder
Best Heavy-Duty Automatic Dog Feeder
This is a sponsored placement, in which an advertiser pays a fee to be featured in this article. Learn more
About: The Little Giant Chow Hound is a gravity-style feeder that is ideal for owners who want their pet to have constant access to food. Aside from the swinging door, there are no moving parts, so this is heavy-duty automatic dog feeder is unlikely to break and leave your pooch hungry.
Made from 24-gauge galvanized steel, this feeder is not only super-durable, but it can be set up in a few different ways. You can simply place it on the ground and use it as a free-standing unit, or you can attach it to a wall or custom-built frame for additional stability.
Features:
Magnetic door is easy for dogs to open, but closes securely when not in use
Holds up to 25 pounds of kibble at a time (they also offer one of the best dog feeders for large breeds, that'll hold up to 50 pounds of kibble)
No assembly necessary! Comes completely assembled and ready to use
Angled food chute dispenses food reliably
Pros
Strong feeder makes it difficult for dogs to access food reserves
Large kibble capacity
Requires no assembly
Cons
Doesn't dispense measured quantities of food
Because of the large capacity, it'll require more extensive cleaning than some other automatic feeders
10. PetSafe Eat Well 5-Meal Feeder
Best Simple, Multi-Day Automatic Dog Feeder
This is a sponsored placement, in which an advertiser pays a fee to be featured in this article. Learn more
PetSafe Eat Well 5-Meal Feeder 
A battery-operated, 5-meal feeder that makes it easy to keep your pet fed for days. 
About: In addition to the two meal feeder discussed above, PetSafe offers a 5 meal feeder, which is great for serving smaller portions to your pet. This feeder is also battery operated, allowing it to operate just about anywhere in the house.
Each meal section holds up to 1 cup of food making this an ideal choice for small dogs or dogs who can benefit from several small meals.
Features:
Dishwasher-safe feeder
Battery powered-design
Includes 5 single cup meal sections
Rotates to reveal a new meal according to the schedule you set
Easy to set up
Pros
Dependable design at an affordable price
5-meal feeder is great for grazers
Cordless design is easy to program and fit within a space
Cons
Small meal capacity might not be suitable for larger dogs
Might need to be raised for dogs to access
Why Automatic Dog Feeders Are Helpful & (Sometimes) Necessary
Look, not every dog owner needs an automatic feeder.
If you work from home or have the kind of schedule that allows you to pop in to feed Fido twice or thrice a day, there are better things to spend your money on.
But if you are away from the house for long periods of time or just prefer the convenience that an automatic pet feeder provides, you may want to pick up a model that works for you and your pet.
Of course, some owners try to sidestep the need for an automatic feeder by providing all of their dog's food in a single daily meal or feeding him at odd hours.
But neither of these approaches are a great option.
Allowing your dog to gorge on a day's worth of food stresses his digestive system and may increase his chances of suffering from bloat – a potentially life threatening medical emergency.
It also means that he'll be quite hungry while waiting around for his next meal. Instead, the goal is to feed your dog two to three meals, spread out over the course of the day.
Try to provide these meals at roughly the same time each day so his body can get into a comfortable rhythm.
Potential Problems with Automatic Dog Feeders
While automatic dog feeders are very helpful tools that definitely have a place in the world of dog care, they are not magic bullets that absolve you of your pooch-parent duties.
This can come as a bit of a shock to some owners, who quickly learn that automated feeders do not solve all of their pet-care problems.
Regular Refills and Cleaning Still Apply
For example, you'll still need to load the food reservoir regularly, and you'll need to wash out the dish on a daily basis.
You'll also have to trouble-shoot the odd malfunction from time to time. You may even need to teach your dog to use the feeding device, and help soothe any anxiety the feeder causes him (some feeders make sounds that spook nervous dogs).
Dog Feeders and Cat Feeders Require Different Approaches
It is also important to note that automatic feeders serve different purposes for dogs and cats. This is especially true as it relates to keeping your pet fed while you are away for an extended period of time.
Cats (and I can already feel the imminent hate in the comment section), are largely independent creatures, who typically get along fine when left alone for days at a time. They poop and pee in a box, don't really require tons of attention and probably enjoy having the house to themselves for a day or two.
Therefore, automated feeders are a great way to make sure your cat stays well-fed while you are away for a few days (don't forget to provide plenty of water for your kitty).
Dogs, on the other hand, absolutely need to spend time with their pack.
Sure, they may learn to tolerate your daily 8- or 10-hour absence, but most will freak out if left alone for even a single day.
Therefore, automated feeders do not make it possible to leave your dog alone while you go on vacation. There's also the whole elimination issue you'd have to work out.
Dogs are very social creatures that thrive on companionship. Even if you were able to set up an automatic feeder, a continuously flowing dog watering fountain, and a doggy door for outside potty access, leaving your dog alone for days at a time is downright cruel. Dogs were simply not designed to be left alone and unattended. They're much needier than cats!
Bathroom Breaks Shouldn't Be Forgotten
Some dogs will be able to eat from an automated feeder and wait for you to arrive home before pottying. However, other dogs will need to go to the bathroom shortly after eating. Make sure you know your dog's body and understand what he can handle.
Busy households may consider a schedule where your dog is fed early in the morning, allowing you to take Fido out for a bathroom break right before you head out to work.
The feeder could go off again in the evening, perhaps 30 minutes to an hour before you get home. Then you can simply jump out for another potty break when you arrive home, allowing for a fairly automated eating schedule.
Automatic Feeders Mean Missing Out On Hand Feeding!
Even if you only plan on using an automatic dog feeder for days when you work late, it's worth noting that feeding your pup is actually a potential bonding process, which you should take advantage of whenever possible.
Many veterinarians and dog trainers even recommend hand-feeding your pooch to reinforce your dog-human bond even further.
The Benefits of Automatic Dog Feeders
So, if automatic dog feeders are not great for reducing your workload, will not allow you to leave your dog unattended for days at a time, and can stand in the way of the bonding process, what are they good for?
I'm so glad you asked:
Automatic feeders can make it easier to manage multi-pet homes. People who have several pets often struggle to maintain household harmony during feeding times. However, automated feeders may provide some relief in such situations. For example, you may feed your timid little terrier before you leave in the morning, and then set the feeder to provide food to your ravenous Rottweiler an hour or so later.
Automatic feeders can help establish regular feeding times. Some pups – especially those with sensitive stomachs – will feel best if they are fed on a very consistent schedule. Automated dog feeders help with this, and alleviate the need for you to watch the clock and reorganize your day around your pup's meal times.
Automatic feeders can help prevent your dog from eating too much food too quickly. Some of the better feeders can be programed to release small amounts of food over lengthy periods of time. This can be a good way to get your dog to eat slowly, which may help reduce the chances that he'll suffer bloat or other digestive problems.
Automatic feeders can allow you to feed your dog at reasonable hours. Many people are forced to leave for work before the sun rises, and others don't return home until well after the sun has set, making it necessary to feed your dog at less-than-ideal times. Automated feeders can help you feed Fido at typical breakfast and dinner time frames.
Automatic feeders can provide stimulation for dogs left home alone. Dogs often become bored and anxious when left home alone all day, but an automated feeder can provide them with a bit of stimulation that helps break up the day and soothe their nerves. This is especially true of automated feeders that record and playback vocal messages to your pooch. Check out our article on dog puzzle toys and frozen dog chews for more dog food challenge ideas.
They allow you to sleep in on the weekends. Many of us like to sleep a little longer on the weekends, but our dogs still get hungry at their regular breakfast time. This usually results in your dog jumping up on the bed and attempting to lick you into consciousness. With an automatic feeder, you can feed your dog at his regular breakfast time, while you lounge about in bed.
Types of Automatic Dog Feeders: Different Styles and Systems
Automatic feeders come in a variety of styles, each of which offers different benefits and drawbacks. No one style is appropriate for all situations, so try to select the best feeder for your lifestyle and needs.
Gravity Fed Systems
The simplest type of automated feeder, gravity dog feeders do not provide individual meals. Instead, they simply keep your dog's food bowl full until the attached reservoir runs out of food.
Gravity dog feeders are great for owners who like to feed their dog on an ad libitum (free choice) basis, but they are not ideal for dogs who tend to continue eating until their food is all gone.
Mechanized Vertically Fed Feeders
These types of feeders usually include a large reservoir, but food is only dispensed when the timer opens the chute.
These types of feeders provide greater control and flexibility than non-mechanized, gravity-fed systems, but they typically cost more and have more moving parts, which always have the potential to fail or break over time. Accordingly, it is important to select high-quality products and maintain them properly.
Vertically fed feeders (as well as gravity fed feeders mentioned above) will only work with dry kibble, as wet food will not be able to fall down the funnel as required to work appropriately.
Clamshell-Style Dispensers
Clamshell dispensers consist of one or more compartments with a hinged lid. At the predetermined time, the latch is released, allowing the top of the container to swing open, providing your pet access to his food.
These dispenses do have a few moving parts, so they are subject to potential breakage, but they have less electrical components than more complicated feeders.
Clamshell-style feeders usually work with any type of food you'd like to use, including dry kibble, semi-moist food or wet food.
Circular Dispensers
Circular dispensers (which don't always take the form of a true circle) typically feature several different compartments for food. A rotating lid exposes a compartment at the preselected time, allowing your dog to chow down. While these types of feeders do include moving parts, they are probably less prone to breakage or malfunction than vertically fed feeders are.
Many circular dispensers can be programmed to provide several different meals over the course of days.
Like clamshell-style feeders, circular dispensers are some of the only type of automated feeders that will work with any type of food you wish. Some models rely on an included cold pack to keep wet food fresh.
Things To Look For in an Automatic Dog Feeder
As with any other consumer product, there are good automatic feeders and not-so-good feeders. One of the best ways to distinguish between the two is by considering the following characteristics, traits, and features of any automatic feeder you intend to purchase.
Security
Poorly constructed automatic feeders may allow your pooch to access food before the designated time. To avoid this, look for feeders that feature some type of locking system for the reservoir and avoid those that are made from cheap, flimsy plastics (even more essential if you have a heavy chewer on your hands).
Ability to Handle Large Kibble
Some kibbles are manufactured in pieces that are too large to work properly with a given feeder. In these cases, you may need to switch to a smaller sized kibble to ensure proper feeder function.
This may not be a huge issue for some owners, but it may be problematic if your dog eats a specific type or brand of food featuring large kibbe. If your dog prefers larger sized kibble, keep a look out for a feeder that's known to handle larger-sized kibble without issue.
A High-Quality Feeding Dish
You'll have to keep the feeder's dish clean, so you want to purchase a product that includes a smooth-sided, non-toxic and dog-friendly feeding dish.
Stainless steel dishes are the preferred choice, but high-quality plastic dishes are acceptable as well – they just may not last as long.
Relatively Air-Tight Food Reservoirs
No automated food dish will keep the contained food completely fresh, but the better models will allow less air to enter the reservoir and keep a tight seal. This will help keep the food from going stale for longer, and is especially important for high-capacity, gravity-fed dispensers.
Make Your Own Automatic Dog Feeder: DIY Solution for Handy Owners!
You don't have to purchase an automatic dog feeder if you don't want to. Instead, you can just make one at home!
Just check out the video above to see if this looks like a project you'd enjoy making.
***
Have you found a great automatic pet feeder that works for your pooch? We'd love to hear about your experiences in the comments below. Let us know what you like about it, what you didn't like about it and how long you have been using it.
Make sure to also check out our recommendations for automatic dog waterers for a complete doggy care system! Want to keep an eye on your pooch while you're out of the house? Treat-dispensing dog cameras are just the thing!