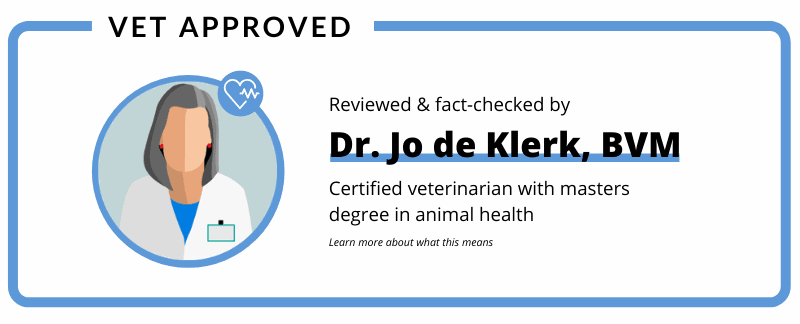 While most dogs get all the vitamins and minerals they need through eating food that meets the AAFCO guidelines for their life stage, some canines have health conditions that lead to calcium deficiency. These special pups benefit from taking regular calcium supplements.
Today, we'll discuss conditions that may cause your vet to recommend calcium supplements, what to think about when picking a dog calcium supplement, and share some of our favorites.
Best Calcium Supplements For Dogs: Quick Picks
#1 UPCO Bone Meal [Best Pure Calcium Supplement for Dogs] — A no nonsense supplement made from pure porcine bone meal.
#2 Breeders' Edge Oral Cal Plus [Best Calcium Supplement for Inducing Labor] — A perfect solution for owners who need to provide a soon-to-be mama with something to help strengthen her contractions.
#3 Animal Essentials Seaweed Calcium Supplement [Best Seaweed-Based Calcium Supplement] — Prefer to give your pooch a plant*-based calcium supplement? This one is a winner!
*OK, technically, seaweed is an algae, not a plant. But it's still a good option for owners who want a non-animal-derived calcium supplement.
When Are Dog Calcium Supplements Necessary?
Calcium supplements are ideal for dogs suffering from certain maladies, including:
Hypocalcemia: This is the technical term for calcium deficiency, which may be caused by an underlying condition, such as hypoparathyroidism or eclampsia, or a poor diet.
Rickets: Caused by too little or too much calcium, this rare condition is responsible for brittle or deformed bones.
Kidney failure: Low calcium is often a sign of a loss of kidney function, and your vet may or may not administer calcium depending on your dog's condition.
Pancreatic inflammation: Like kidney failure, low calcium is a symptom of pancreatic inflammation.
Calcium is sometimes offered to new dog mamas in labor to help with contractions and after delivery to prevent eclampsia caused by nursing.
It isn't given to every mama dog, however, so never self-medicate. Always speak with your veterinarian first! Calcium is not something to play around with.
If your dog eats a homemade diet, your pup may also require calcium and other nutrient supplementation. But this isn't always the case. Whenever you implement a homemade diet, discuss it with your vet to make sure your pup is getting all the nutrients he needs.
Should All Dogs Take Calcium Supplements?
No.
A standard AAFCO formulated dog food provides sufficient calcium for most dogs. Only dogs with specific medical conditions or dietary requirements should take calcium supplements.
How do you know if your dog has such a condition or requirement? Easy: Your vet will tell you.
Never supplement your pup's diet with calcium without veterinary supervision or direction.
You might wind up harming your pooch, as excess calcium can lead to a host of medical issues, including weakness, joint and bone problems, and kidney or bladder stones. It can also interfere with several medications, like antacids and levothyroxine, and cause medical conditions, such as kidney and bladder disease.
Need Veterinary Help Fast?
Don't have easy access to a vet? You may want to consider getting help from JustAnswer — a service that provides instant virtual-chat access to a certified vet online.
You can discuss the issue with them, and even share video or photos if need be. The online vet can help you determine what your next steps should be.
While talking with your own vet — who understands the ins and outs of your dog's history — is probably ideal, JustAnswer is a good backup option.
What Should You Look for in a Calcium Supplement for Dogs?
Always ask your vet about calcium supplementation products before making a purchase. They can steer you in the right direction and approve or disapprove of potential supplements.
That said, there are some common sense criteria to consider when browsing calcium supplements:
Look for supplements backed by clinical, third-party verified studies: Don't fall for flashy promises. Look for real results and studies by reputable sources only. Unfortunately, supplements and their claims aren't monitored by the FDA, so you need to be careful.
Brand names: Stick to well-known, trusted brands. It's not worth trying to save a few bucks here. 
Vet-approved: If your vet recommended a specific product, trust that one.
Lot numbers: These are necessary to verify that quality checks are done on all batches.
Country of origin: Ideally, you want to select a product made in the USA.
Pet products only: Never use human supplements on dogs. They may contain additional substances that harm your pooch.
Calcium only or combo: Sometimes, pure calcium is best while other times, you may need additional supplements. We probably sound like a broken record by now, but it is imperative that you work closely with your vet when administering calcium supplements.
Vitamin D3 addition: Some calcium supplements also contain Vitamin D3 to help with absorption. This isn't always necessary, but check with your vet just in case.
Source: Seaweed-derived calcium is a more earth-friendly option and often contains other core nutrients. It's also more readily absorbed by the body. Beef bone-sourced products may present the risk of transmitting mad cow disease, so you may want to stick with porcine variants (it isn't yet clear if dogs can suffer from these kinds of prion diseases, but it's better to err on the side of caution).
How Do I Know How Much Calcium My Dog Needs?
Your veterinarian will discuss the appropriate calcium dosage for your dog.
His diet may give him a partial serving of his daily need already, so you want to make sure you don't accidentally overdose him, which can lead to painful reactions.
The Best Calcium Supplements for Dogs
Now that we know why your vet may recommend calcium supplements, we can dive into some products that may work for your four-footer.
Here are some of our top calcium supplements for dogs sections:
1. UPCO Bone Meal
Best Pure Calcium Powder Supplement for Dogs
This is a sponsored placement, in which an advertiser pays a fee to be featured in this article. Learn more
About: A straightforward, no-fuss pick, UPCO Bone Meal only contains one ingredient: pure porcine bone meal. Made by steaming, this powder can be easily mixed into your dog's food as needed.
Features:
Contains phosphorus to help with absorption
Has a notable taste that most dogs enjoy, unlike some other chalkier options
Works well for pregnant dogs, puppies, and adults needing supplementation
One teaspoon contains approximately 720 milligrams of calcium
Pros
Single-source ingredient list ideal for pups with allergies
Taste is more enticing than other blends
Cons
Not an option for pups with pork sensitivities
Can be messy/difficult to store the large, non-resealable bag
2. Breeders' Edge Oral Cal Plus
Best Calcium Supplement for Dogs in Labor
This is a sponsored placement, in which an advertiser pays a fee to be featured in this article. Learn more
About: Oral Cal Plus gives mama dogs a boost of calcium and other nutrients when they need it most during labor and nursing. Each 1 milliliter portion contains about 200 milligrams of calcium.
Features:
Easy to administer dial-a-dose plunger design
Contains vitamin D and magnesium to help with absorption
Features traceable lots on all plunger syringes
Made in the USA
Ingredients List
Water, Calcium carbonate, Calcium lactate, Coconut oil, Dextrose...,
Vitamin E supplement, Sodium gluconate, Calcium ascorbate, Magnesium citrate, Vanilla flavor, Xanthan gum, Citric acid, Pyridoxine hydrochloride, Sodium benzoate, Potassium sorbate, and Vitamin D3 supplement
Pros
Can be easily hidden in food or administered orally
More appealing in taste than other options
Cons
Only intended for pregnant or nursing females
Some owners found the plunger difficult to use
3. Nutrition Strength Calcium Phosphorus
Best Calcium & Phosphorus Supplement for Dogs
This is a sponsored placement, in which an advertiser pays a fee to be featured in this article. Learn more
About: Nutrition Strength Calcium Phosphorus Supplement is an all-life stages formula compressed into easy-to-chew tablets. Each pill contains 350 milligrams of calcium and 250 milligrams of phosphorus.
Features:
Made in the USA
Manufactured in a FDA registered, NSF-certified facility
Contains no corn, soy, wheat, or grains
No artificial colors, flavors, or preservatives included
Ingredients List
Calcium, phosphorus, Vitamin A, Vitamin D3, Dicalcium phosphate...,
Brewer's dried yeast, Whey protein isolate, Natural chicken flavor, Magnesium stearate
Pros
Flavored tablets are less messy than mixing flavorless powders into your dog's food
Easy storage compared to other options
Cons
Brewer's yeast can be an issue for some dogs
Harder to hide in food for pickier pups
4. NatureVet All-in-One
Best All-in-One Calcium Supplement for Dogs
This is a sponsored placement, in which an advertiser pays a fee to be featured in this article. Learn more
NatureVet All-in-One
US-made, tasty soft chews formulated with several vitamins and minerals.
About: NatureVet's All-In-One Dog Supplement provides dogs aged 12 weeks and older with the day-to-day vitamins and minerals needed for nose-to-tail support. Containing 35 milligrams per chew, it's not intended for significant calcium-boosting like other options on our list.
Features:
Made in the USA
Contains a wide variety of essential nutrients, including glucosamine, chondroitin, omega fatty acids, and digestive enzymes
Comes in a soft, chewable form
Wheat-free formula
Ingredients List
Potato starch, Flaxseed, Glycerine, Brewer's dried yeast, Lecithin...,
Dried shellfish digest, Maltodextrins, Natural flavoring, Deionized water, Dicalcium phosphate, Canola oil, Tapioca starch, Choline bitartrate, Chondroitin sulfate, Fructooligosaccharide, Dried Aspergillus oryzae fermentation product, Dried Aspergillus niger fermentation solubles, Dried Trichoderma longibrachiatum fermentation product, Dried papaya, Dried Bacillus coagulans fermentation product, Vitamin E supplement, Sorbic acid, Natural mixed tocopherols), Ascorbic acid, Ferrous sulfate, Vitamin A palmitate citric acid, Rosemary, Niacin supplement, Biotin, Zinc sulfate, Vitamin D3 supplement, Vitamin B12 supplement, Riboflavin, Menadione sodium bisulfite complex, Pantothenic acid, Pyridoxine hydrochloride, Thiamine mononitrate, Potassium iodide, Manganese sulfate, Folic acid, Copper carbonate, Cobalt carbonate, Magnesium stearate
Pros
Chewable nuggets are a win for food-loving pups
Provides an assortment of nutrients
Good for pups with modest calcium supplementation needs
Cons
Doesn't contain as much calcium as some other products
The larger the dog, the more chews are needed, with up to 8 for giant breeds (so these 60 to 120 count containers might go fast)
5. Animal Essentials Seaweed Calcium Supplement
Best Seaweed-Based Calcium Supplement for Dogs
This is a sponsored placement, in which an advertiser pays a fee to be featured in this article. Learn more
Animal Essentials Seaweed Calcium Supplement
An odorless, tasteless, nutrient-rich, seaweed-based calcium supplement.
About: Animal Essentials offers environmental sustainability with this seaweed-based formula. Easy to digest and nutrient-rich, a little goes a long way, with one teaspoon containing about 1000 milligrams of calcium.
Features:
Made with lead and hormone-free Icelandic seaweed
Batch-tested for quality and safety
Tasteless and scentless for easy feeding
Contains magnesium to help with calcium absorption
Ingredients List
Chicken, Chicken Meal, Whole Grain Brown Rice, Cracked Pearled Barley, Ground White Rice...,
Rice Bran, Grain Sorghum, Dried Yeast, Chicken Fat (Preserved With Mixed Tocopherols), Egg Product, Dried Beet Pulp, Natural Flavor, Flaxseed, Potassium Chloride, Salt, Dl-Methionine, Choline Chloride, Taurine, Glucosamine Hydrochloride, Dried Chicory Root, L-Carnitine, Kale, Chia Seed, Pumpkin, Blueberries, Oranges, Quinoa, Dried Kelp, Coconut, Spinach, Carrots, Papaya, Yucca Schidigera Extract, Dried Lactobacillus Plantarum Fermentation Product, Dried Bacillus Subtilis Fermentation Product, Dried Lactobacillus Acidophilus Fermentation Product, Dried Enterococcus Faecium Fermentation Product, Dried Bifidobacterium Animalis Fermentation Product, Vitamin E Supplement, Beta Carotene, Chondroitin Sulfate, Iron Proteinate, Zinc Proteinate, Copper Proteinate, Ferrous Sulfate, Zinc Sulfate, Manganese Sulfate, Copper Sulfate, Potassium Iodide, Thiamine Mononitrate, Manganese Proteinate, Ascorbic Acid, Vitamin A Supplement, Biotin, Niacin, Calcium Pantothenate, Sodium Selenite, Pyridoxine Hydrochloride, Vitamin B12 Supplement, Riboflavin, Vitamin D3 Supplement, Folic Acid.
Pros
Single-ingredient formula ideal for dogs with sensitive systems
Easy to slip into food thanks to its near flavorless design
Cons
Some dogs experienced stomach upset
Powder form can be hard to mix into certain food consistencies
Are Calcium Supplements Safe for Dogs?
Yes. When used properly and under a veterinarian's guidance, calcium supplements are safe for dogs who need additional calcium.
Your vet will monitor your pup and recommend if you should cease supplementation. Some dogs only need treatment for a short time, while others might need lifelong calcium boosts.
***
Has your dog ever had to take calcium supplements? Was it one of the ones we listed or another? Let us know in the comments.