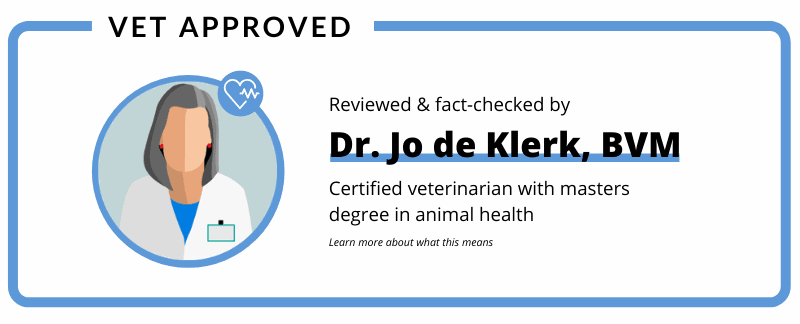 Nausea, heartburn, indigestion… you know the jingle.
People have relied on the familiar pink liquid to soothe a variety of gastrointestinal ailments for decades. This makes sense, as it's often effective, widely considered safe, and it doesn't tend to cause very many side effects (aside from the dreaded black tongue).
But what about dogs? Can you give Pepto Bismol to your dog when she's experiencing intestinal issues?
Read on and we'll explain everything you need to know about giving Pepto Bismol to your dog.
Pepto Bismol for Dogs: Key Takeaways
You should never give your dog Pepto Bismol without first checking with your veterinarian. However, most dogs can safely tolerate a dose or two of the pink liquid. Cats, on the other hand, should never be given Pepto Bismol.
Dogs taking NSAIDs, those at risk for gastrointestinal bleeding, and pregnant or lactating individuals should not take Pepto. It isn't clear how safe Pepto is for developing fetuses or nursing puppies, and the medication may make it hard to detect intestinal bleeding.
It is usually wise to stick to the liquid version for pets. Chewable Pepto tablets contain a few ingredients that give some owners pause, and they'd be hard to get your dog to eat anyway.
Contrary to social media rumors, Pepto does not contain xylitol. You can just look at the label to verify, but we also link to direct comments from a company rep below.
Point Blank: Is Pepto Bismol Safe for Dogs?
You should always contact your vet before offering your dog any medication – even something as seemingly innocuous as Pepto Bismol. Dogs occasionally have health conditions that can make otherwise-safe medications dangerous. So, take five minutes and get your vet on the line.
Additionally, Proctor & Gamble (the company that makes Pepto) explains that the medication is for humans and that you should "consult your veterinarian for treatment" of pets.
That said, Pepto Bismol is generally considered safe for dogs (important note: Pepto is very toxic to cats, so you should never give it to your feline).
Most vets – including the AKC's Chief Veterinary Officer Dr. Jerry Klein – recommend that you should avoid giving Pepto Bismol to dogs for an extended period of time.
Typically, this means you can give your dog one or two doses, but if this doesn't solve the problem, you'll want to take your dog into the vet for a thorough evaluation.
Always Check the Label!
While Pepto Bismol is generally safe for dogs, some generic formulations may have xylitol or other dangerous ingredients. Accordingly, owners must always scan the ingredient list (including the "inactive ingredient list" which is sometimes placed in a different location on the packaging) before giving their pup any medication.
Contraindications: Canines Who Shouldn't Take Pepto Bismol at All
Pepto Bismol isn't usually dangerous for dogs, but there are a few conditions and medications that should preclude its use.
This includes (but is not limited to) dogs who are:
Taking non-steroidal anti-inflammatory medications. A number of non-steroidal anti-inflammatory medications can increase the chances of gastrointestinal bleeding, as can some of the ingredients in Pepto Bismol. And because Pepto often turns stool black, it can make such bleeding hard to detect.
Pregnant or lactating. Young puppies may not be able to tolerate the ingredients in Pepto Bismol as most adult dogs can.
At risk of gastrointestinal bleeding. As mentioned earlier, Pepto Bismol does contain substances that may increase the chances that your dog will experience gastrointestinal bleeding. Accordingly, it's not advisable to give the medication to dogs who are already at risk of experiencing intestinal bleeding.
If any of the situations above describe your dog, you'll need to refrain from giving the medicine to your pet.
Pepto Bismol Dosage for Dogs
If you want to give your dog Pepto Bismol, you should give your vet a call and obtain a proper dosage for your individual pet.
However, the typical dosage is about 0.5 milliliters per pound of body weight (which is often easier to think of as 5 milliliters per 10 pounds).
That is roughly equal to 1 teaspoon per 10 pounds of body weight, but teaspoons vary a bit in their capacity. So, it's a good idea to keep a good oral syringe on hand to ensure accurate dosing.
Oral syringes aren't expensive, and they can help whenever you need to medicate your pooch. A 10cc syringe will work for really small doggos, but you'll likely want a 30cc syringe for dogs over about 20 pounds.
Also, as you may already have realized, large dogs will require more Pepto than they'll usually be willing to swallow. Accordingly, it provides only limited value in these cases.
Oral syringes don't use a needle — they're just the plastic parts of the syringe. To administer the medicine, gently insert the syringe in the back of your pet's mouth and squirt it in slowly. You'll probably need to hold his mouth shut for a few minutes to ensure he swallows it.
You can repeat this dosage again in 8 hours, but if her tummy doesn't resume normal function by then, you'll want to stop giving her the medicine and head on over to the vet.
Need Veterinary Help Fast?
Don't have easy access to a vet? You may want to consider getting help from JustAnswer — a service that provides instant virtual-chat access to a certified vet online.
You can discuss the issue with them, and even share video or photos if need be. The online vet can help you determine what your next steps should be.
While talking with your own vet — who understands the ins and outs of your dog's history — is probably ideal, JustAnswer is a good backup option.
What Conditions Does Pepto Bismol Treat in Dogs?
Pepto Bismol is quite remarkable as it treats an array of different gastrointestinal issues. Humans often start guzzling it anytime they experience any type of gastrointestinal discomfort, although it works better for treating some ailments than others.
As far as your pet goes, Pepto Bismol is generally most effective for treating diarrhea. In fact, diarrhea is the only thing it should be used to treat in dogs unless your vet recommends otherwise.
In other words, do not use Pepto Bismol to treat nausea, vomiting, heartburn, or constipation.
What Is Pepto Bismol and How Does It Work?
The active ingredient in Pepto Bismol is something called bismuth subsalicylate. Bismuth subsalicylate is a derivative of salicylic acid, which is also the primary ingredient in aspirin (acetylsalicylic acid).
This means that Pepto Bismol has both anti-inflammatory and antibacterial properties. It also helps to slightly increase the pH of the stomach and therefore work as an antacid.
However – and here's the weird thing – nobody understands exactly how it works.
Scientists suspect that it probably works due to some combination of the medicine's ability to absorb toxins, stimulate the intestines to absorb fluid, slow the passage of food and waste through the intestines, and reduce the acidity of the stomach.
Pepto Bismol also contains a number of inactive ingredients, including Benzoic acid, D&C Red #22, D&C Red #28, flavor, magnesium aluminum silicate, methylcellulose, purified water, saccharin sodium, salicylic acid, sodium salicylate, and sorbic acid.
Are Pepto Bismol Chewables Safe for Dogs?
It isn't entirely clear whether Pepto Bismol chewables are safe for dogs. We'll talk about the differences between the chewables and liquid forms of the medicine below, but it's probably best to just stick to the liquid.
Pepto Bismol chewables are made from the same active ingredient as the liquid version, but the inactive ingredients used in the formula are a bit different.
These include calcium carbonate, D&C Red No. 27 aluminum lake, flavor, magnesium stearate, mannitol, povidone, saccharin sodium, and talc.
Artificial colors are generally wise to avoid giving your dog as they serve no purpose and may trigger food allergies. However, they're not dangerous, and it probably doesn't matter which one is used in the different meds.
Calcium carbonate (essentially, the antacid in Tums) is fine in small quantities, povidone is a chemical binding agent that is generally considered safe, and mannitol is actually a medication sometimes prescribed to pets. Talc probably isn't the most ideal thing to feed your pet, but the amount in a couple of chewables is likely negligible.
But then we get to magnesium stearate. There is a lot of hubbub on some websites about the "dangers" of magnesium stearate.
However, we've yet to find one complaint that backed these assertions with any data or science. Most of the claims are riddled with boogeyman buzzwords like "synthetic," "unnatural," and "GMO," but I've yet to see any peer-reviewed literature demonstrating that magnesium stearate is dangerous.
Once again, we're going to recommend that you contact your vet before giving Pepto to your dog, and this is especially true before giving your dog a chewable. Giving dogs chewable Pepto tablets does not appear to be as common as using the liquid medication, so there is less certainty regarding the safety of chewables, even if most of the ingredients are perfectly safe.
But if you ask me, the biggest reason to avoid giving your dog chewable Pepto Bismol tablets is that your dog probably won't eat them. At least, not unless you bury the tablet inside something delicious, and you don't want to give treats to a dog who's suffering from diarrhea.
Just stick to the liquid form of Pepto to avoid any potential problems.
Pepto Formula Change: Fact and Fiction
A little while back, social media sites began getting spammed with warnings that Proctor & Gamble had changed the formula for Pepto Bismol.
Manufacturers change formulas from time to time, and it's usually not a big deal (unless, you are talking about Coca-Cola — that turned out to be a very big deal).
However, this purported change definitely caught the attention of dog owners.
According to the rumor, Pepto Bismol's formula change involved the addition of xylitol. Xylitol, you may already know, is an artificial sweetener that is extremely toxic to dogs.
But alas, the social media rumor was just that – a rumor.
As explained by a P&G representative in a conversation with Snopes.com, "I can confirm that we do not add xylitol to any Pepto formulations (solid or liquid) and we have no plans to do so."
You can verify this for yourself if you like by simply looking at the "inactive ingredients" portion of the label on your bottle.
***
Have you ever given your dog Pepto Bismol to settle her stomach? Tell us how it went! Did it help stop her from pooping every 10 minutes? What did your vet say about the practice?
Let us know in the comments below!