We're recapping all the awesome ways people celebrated their dogs on Twitter yesterday for #NationalDogDay! Check out some of our favorite highlights:
@BarkBox reminded us to give lots of kisses and love to our fuzzy pals! How could we not?
@BestFriends had glam dogs boasting some snazzy headpieces, showing that dogs are always up for a good time!
The US @DeptofDefense posted a beautiful tribute to the courageous canines who serve our country alongside human soldiers.
This is the face of love. From @melissa_cronin.
Lots of people wanted to make their dog a special treat, such as this recipe from @SugarTheGoldenR
The folks at @dogtv took their own special ALS Challenge!
Some stores, like Ace Hardware, offered special deals for owners on National Dog Day. (From @Downtown_ACE)
Or make something special with this awesome mold from @HomeBakingGifts
It wouldn't be a dog day without hotdogs! (From @MuttsCantina) 
In case you forgot… (from @k9magazine)
Border Terrier Pogo inspecting some lovely dog ceramics! (From @Lucina_George)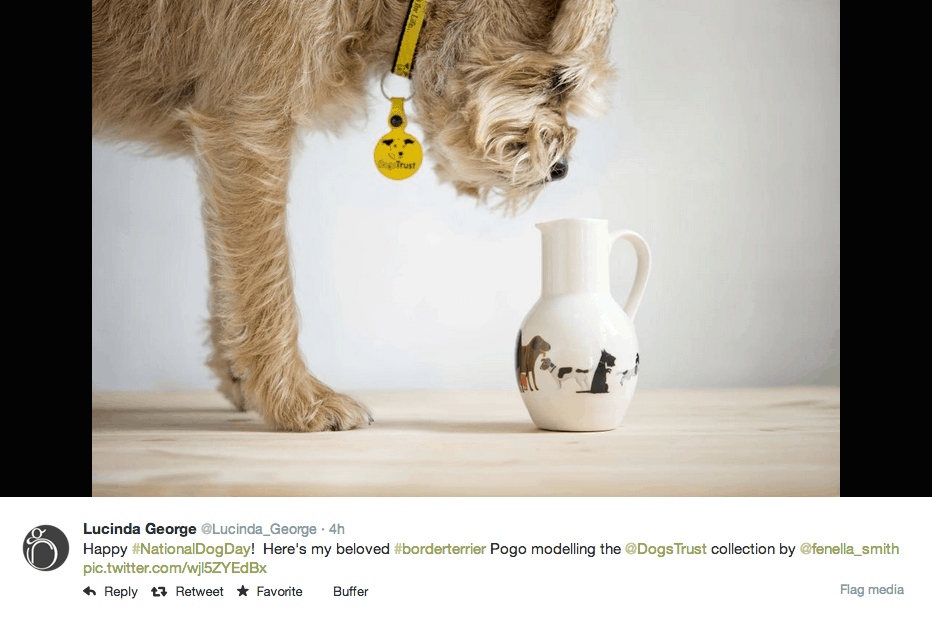 Well, it's true, isn't it? (From @PetMD)
Some groups ran special contests in honor of National Dog Day. The Present Finder (@tpfsherborne) gave out Dog-Opoly! 
One of our favorite animated pups, Dug! (From @alance07)
The US Department of Fish and Wildlife (@USFWSHQ) gave a big shout out to service dogs that help them in their work. Working dogs rock!
The US Marines (@USMC) also honored their military working dogs yesterday with this adorable pic. Keep up the good work boys!
While some dogs hoped for the day off… (@WagginTreats)
Most of us had work to do (from @Petplan).
But of course we were happy to raise a toast in our dogs' honor after work… (From @CP_Planner)
And give them tons and tons of cuddles! (From @AwwAdorable)