Dog-Proof Screen Door Solutions: Quick Picks
Add Screen Grills [Our Pick: Slide-Co Screen Door Grill] Metal grills that attach to the bottom portion of your screen door. Fairly easy to install but not very attractive.
Install a Screened Doggie Door [Our Pick: PetSafe Pet Screen Door] Install a pet screen doggie door in the bottom portion of your own screen so that your pup can go in and out without scratching at the door.
Replace Existing Screen With Tougher Screen [Our Pick: Phifer Pet Screen Kit] Tougher screen material may be better at withstanding your dog's paws and claws.
Use Magnetic Screen Door Instead [Our Pick: EazyMesh Magnetic Screen Door] Magnetic screen doors allow your dog (and yourself) to easily enter and exit without needing to slide a door back and forth.
Keep reading for more solutions and details!
Screen doors give you a great way to allow fresh air into your home, while still keeping mosquitoes and other unwelcome creatures from coming inside to feast.
But if you have a dog (and I am assuming you do), you know that our beloved pups have a special talent for destroying screened doors.
Thankfully, there are a number of solutions available that will help you protect your screen door from dog-wrought destruction.
Some of these solutions will require nothing more than a few clicks and a credit card, while others will require a little work; but they are all well worth the effort or expense for folks who want some fresh air flow without bugs and critters getting in.
How Do Dogs Damage Screen Windows and Doors?
There are two basic ways in which your precious pup may damage your screened door:
He may scratch at the door, which can rip thin, fabric-based screens or bend the strands from metal screens. Some dogs may do this because they are trying to tell you they want to go inside or outside, while others may do so in response to some sort of irresistible stimuli, like a squirrel or cat running around outside.
Some dogs – particularly those who are easily excited – may not really register that the door is there while hauling tail toward the door. The result is a high-speed collision, an embarrassed dog, and a damaged door. These kinds of high-speed collisions often result in a torn screen and bent (and ultimately useless) frame.
So, the first thing you'll need to do is identify the way in which your pup is damaging your door and then decide upon a viable solution. There are a number of different ways to address these issues, so don't be afraid to experiment with different options until you find one that works well.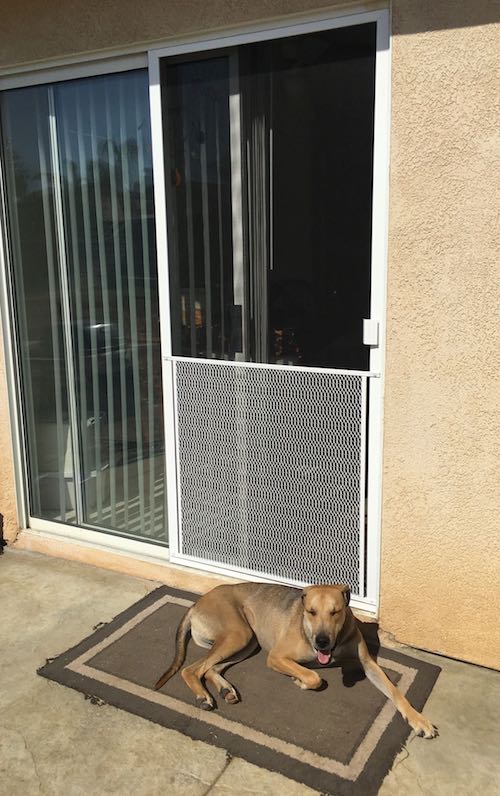 1. Screen Grills
Screen grills are simply protective coverings, designed to be placed over the lower portion of your screen door. Most attach to the door via a few screws, so you'll need to break out the cordless drill to install them, but they aren't especially difficult to mount.
Screen grills are probably the simplest and most effective solution, and most dog owners should probably try these first.
There are a number of options on the market, just be sure to measure your door carefully (and in accordance with the manufacturer's instructions) before making the purchase.
Both the Safety 1st Screen Door Saver and the Slide-Co Screen Door Grill are competitively priced, easily installed and well-reviewed options that will probably solve screen-door problems for most dog owners.
2. Visual Barriers
If your dog has a problem crashing into the screen door when excited, you may be able to stop the behavior by making the screen more visible. One way to do so is by attaching pieces of flagging tape to the screen, just like you would do when setting up an invisible fence.
You may also have success by attaching a solid material to a portion of the screen. You don't need to cover the entire thing (which would eliminate the point of the screen door in the first place), just place the material at your dog's eye level. This will normally cause him to put on the brakes instead of flying into the screen.
Obviously, you'll want to use something that is not going to harm your pet. Materials like fabric, cardboard or thin plastic are good choices. You can find cardboard in a million places, but plastic sheeting (like this ABS plastic) is more affordable than you'd think and looks great.
3. Add a Scratch Shield
Some owners don't mind if their dog goes outside, but they just don't want the dog to damage the screen when trying to push the door open.
In these cases, a scratch shield may be helpful. Scratch shields are large plastic sheets that attach to the door and protect the portion that dogs scratch the most (the side that opens, beneath the handle).
Scratch shields are usually designed for use on solid doors, but they can also work for screen doors in some cases. The Original CLAWGUARD is probably the leading option in this category, and most customers have been pleased with it.
Additionally, the CLAWGUARD is very easy to install and requires only one tool for installation – a pair of scissors.
If your dog's nails are problematic, you may also want to make sure that they're adequately trimmed. While you can't declaw a dog, maintaining your dog's nails (and rounding the nails through the use of a grinder) can make a big difference when it comes to protecting your furniture from dog scratches.
4. Install a Screened Doggie Door
If you aren't afraid of a little work, you can install a screened doggie door to alleviate your pup's need to scratch.
Screened doggie doors are designed to be installed in the lower section of your screen door, thereby giving your pooch an easy way to get in or out on his own.
It is actually easier to install these doors than you may suspect (and certainly easier than installing a traditional doggie door).
In most cases, you'll need to cut a hole in the screen and then sandwich the screen around the edge of the hole between the two-piece frame. From there, you'll simply need to press the frame together tightly, attach the swinging dog door to the frame and you are done.
You'll need something to cut the screen with (like boxcutter-style knife), but that's usually the only tool you'll need.
The PetSafe Pet Screen Door is the best-reviewed option in the category and most owners were very happy with their screened doggie door. A few customers did report that it was necessary to add a few extra screws to keep it securely attached, but this is relatively easy to accomplish.
5. Replace the Standard Screen with Heavy-Duty Screen
If you love your screen door and don't want to mar it with a grill or pet door, you can actually remove your existing screen and replace it with a heavier-duty variety, which will withstand your dog's claws with ease.
Replacing the entire screen isn't the easiest task in the world, but it is well within the capabilities of the average homeowner.
To replace the entire screen, you'll need to pull out the existing spline (the rubber strip around the edge of the screen that keeps it attached to the door) and remove the old screen.
Then, you'll trim your new, heavy-duty screen a few inches larger than the door frame and lock it into place by inserting a new spline around the edge.
You can insert spline without any special tools, but it is much easier to spend a couple of bucks on a screen-rolling tool and use that. You can purchase the screen and spline separately, but it is much easier to just buy a kit, such as the Phifer Pet Screen Kit.
6. Replace the Entire Door with a Magnetic Screen Door
One of the easiest solutions for creating a dog-friendly doorway situation is through the use of magnetic screen doors.
These doors consist of a door-sized mesh screen, which splits down the middle, allowing you to pass through. To keep the door closed, long magnetic strips are attached to each half of the split. Yet while these magnetic strips hold the door closed, they'll easily separate when you or your dog tries to walk through.
The video below shows a nice example of how these magnetic door screen designs work:

There are a few different magnetic screen doors on the market, but you'll need to be selective if you want to get one that works as intended. Poor-quality versions will feature flimsy mesh that won't hold up to long-term use and weak magnets, which will fail to keep the door properly closed.
The EazyMesh Magnetic Screen Door is one of the best-reviewed options available, so you should definitely give it consideration. Not only is it reasonably priced, but you won't need any tools for installation.
7. DIY Screen-Grate Door
Sliding glass doors usually come with a screen door in the same track, but these doors are usually made with very cheap mesh that won't hold up to even the tiniest dogs. You can replace the screen with heavier-duty mesh as we explained above, but there is also another option.
For the DIY enthusiast, you can make a screen panel that will fit between the edge of your partially opened glass door and the frame. This will still give your home a little fresh air, but it will withstand your dog's claws. The best way to do so is by using a length of wire shelf as a frame, around which you can attach some heavy-duty screen. Use a needle and heavy-duty thread (or dental floss) to "sew" the screen to the frame.
It'll end up looking a bit like this:
You'll have to customize this kind of panel a good bit to get it to work (and remain bug-proof), but with a little ingenuity, you can create a successful solution. Check out this walkthrough from PetHelpful to get started.
***
Do you have a pet that is determined to destroy your screen door? What kinds of solutions have worked for you? Did you take a do-it-yourself approach or did you just purchase a "plug-and-play" solution?
Let us know all about your experiences in the comments below.