The Huskador, also known as a Siberian retriever or a husky Lab, is a mix between a Siberian husky and a Labrador retriever.
The husky Lab is often mistaken for the Labrador husky, which is a different, purebred dog (despite its confusingly similar name).
A highly intelligent breed, Huskadors are a good-natured and playful, making them an excellent choice for an active individual or family. The Huskador is also an officially recognized breed by the Designer Breed Registry (DBR).
Height: Up to 25 inches
Weight: 40 to 60 pounds
Average Lifespan: 10 to 15 years
Energy Level: High
Grooming: Regular brushing
Shedding: Moderate to High
Coat: Short to Medium / Silky / Double Coat
Color: Black, Brown, Copper, Golden, White
Hypoallergenic: No
Temperament: Intelligent, loyal, patient, affectionate, curious, and energetic
How Much Do Huskador Puppies Cost?
Average New Puppy Price: $300 – $800
Average Annual Ownership Expense: $485 – $600
Average Annual Medical Expense: $510 – $600
Huskador Breed Origins: Where Do Huskadors Come From?
The origin of the Siberian Retriever is unclear; however, it is thought to have been deliberately bred within the last two decades.
Since the Huskador combines two established breeds, examining qualities found in huskies and Labs will help us better understand the curious canine that is the Huskador!
Siberian Huskies
An old breed thought to have originated from a Siberian tribe of nomads called the Chukchi. The Siberian husky was bred to improve transportation by pulling sleds, as well as to be a family dog that could provide protection. Huskies are a playful, high energy breed that can be willful and needs adequate social interaction.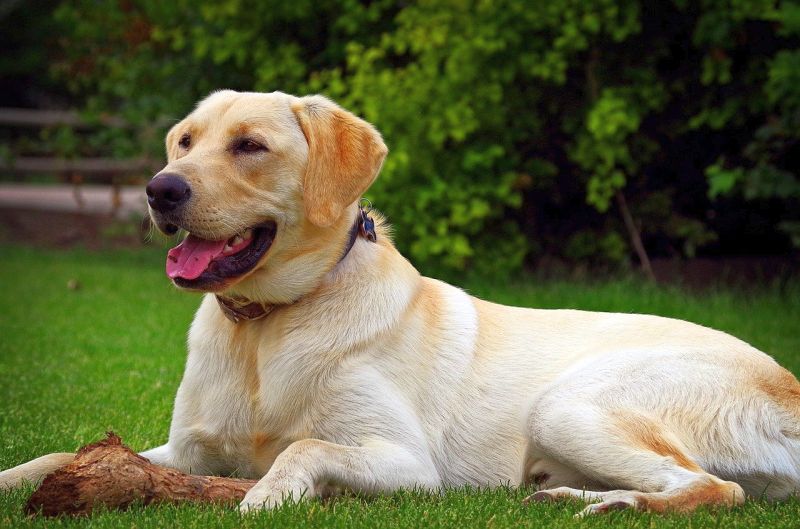 Originating in Newfoundland, Labrador retrievers were bred to be both working dogs and companion animals. A gentle, intelligent breed, Labs are social breed that is always eager to please. Due to their high energy levels, they need a good amount of mental and physical stimulation.
Huskadors will usually exhibit a combination of qualities from their parent breeds.
Huskador Temperament / Behavior
Huskadors are a highly intelligent, affectionate, and energetic breed. Known for their patience, cheerfulness, and endless love of attention, Huskadors make great family pets. Especially if socialized properly at a young age, Husky Labs get along with other animals and children extremely well.
It is wise to socialize Huskadors to other animals and people as puppies so they don't develop into shy, reserved adults.
Siberian Retrievers enjoy working and due to their intelligent, alert, and protective nature, they are well suited for a number of dog jobs including:
Police work
Search and Rescue
Tracking
Narcotics Detection
Service / Therapy work
While calmer and less prone to barking than their husky relatives, Husky Labs are known to act out if they do not receive enough attention or exercise. Because of this, the Huskador breed is best suited for a person with an active lifestyle with a moderate to large sized backyard, as they love to run and play.
Curious dogs, they have a strong prey instinct and may try to go after small animals. They are also likely to dig holes while investigating various scents. While they love to play in water, Huskadors have developed a reputation for often disliking rain.
Huskador Apperance
Huskadors are medium to large dogs that usually weigh between 40 and 60 pounds. Depending on the percentage of the mix, they may look more like a husky or more like a Labrador retriever. Depending on the type of Lab they descend from, they can vary in color from brown, copper, tan, chocolate, or black and white.
Most Huskadors have a triangular shaped head with ears that can be droopy or erect. They can have brown or blue eyes, and often have one of each.
Huskadors are also characterized by their long, webbed paws, long legs, and curled tail. Huskadors have silky double coats that are usually short or medium in length.
Huskador Trainability
Huskadors are quick learners that thrive on the mental stimulation of mastering new skills. Agreeable and eager to please like a Labrador retriever, Huskadors are also stubborn and independent like their husky relatives. Due to their superior intelligence, they may be willful and need firm, consistent training. This willfulness may make them harder to housebreak initially.
Huskador Grooming
If you are going to adopt a Huskador, be prepared for some shedding. Huskadors have double coats, and will shed even more during the spring season when they are losing their heavy winter coat.
However, with regular, frequent brushing, the shedding can be contained. A Huskador owner should be prepared to vacuum and may want to invest in a lint roller. It is also a good idea to clean your Huskadors' ears once a week or so to avoid parasites and infections.
Huskador Diet
Husky Labs can be prone to weight gain and overfeeding should be carefully avoided. They can be fed once or twice a day and should receive a diet with adequate proteins, vitamins, fats, and carbohydrates. Regular exercise is encouraged to avoid weight gain and destructive behavior.
Huskador Health
While Siberian Retrievers are a generally healthy breed, they are also relatively new and more health concerns may be discovered. Huskadors will be more likely to develop health issues that affect Huskies and Labrador Retrievers.
These conditions include:
Eye problems
OCD
Epilepsy
Heart problems
Bloat
Joint dysplasia
Cold tail
Skin problems
Ear infections
To decrease the risk of your pooch developing these health issues, it is important to adopt from a reputable breeder that has health clearances for both the puppy and the parents.
Huskador Exercise Requirement
Huskadors are a very high energy breed that need plenty of exercise. Multiple walks a day are recommended, as well as daily opportunities to run off leash, such as in a backyard or at a dog park.
Huskadors love to play in water and thrive on activities such as fetch and frisbee that are mentally as well as physically stimulating.
Huskador Weight
Plenty of exercise and feeding your Husky Lab appropriate proportions are important for maintaining your pup's healthy physique, as this breed is known to put on weight relatively easily.
Huskador Life Expectancy
Siberian retrievers have an average life expectancy of 10 to 15 years, which is relatively long lifespan for a larger breed.
Is A Huskador The Right Dog For You?
Huskadors make amazing companions, but it is important to make sure you know what you are getting into before adopting one!
This is a dog that is perfect for someone with an active lifestyle who is able to give it the exercise and attention it needs. Great for families where it can get lots of love and affection, Huskadors need a big backyard or lots of trips to the dog park where they can stretch their legs and investigate new, exciting smells.
An avid swimmer with a thick, warm coat, this dog would do well by a body of water or in a cold climate!
***
Do you have a Huskador or are you thinking of getting one? Do they seem like the perfect pooches for you and your family? Please share your thoughts and questions in the comments section below!