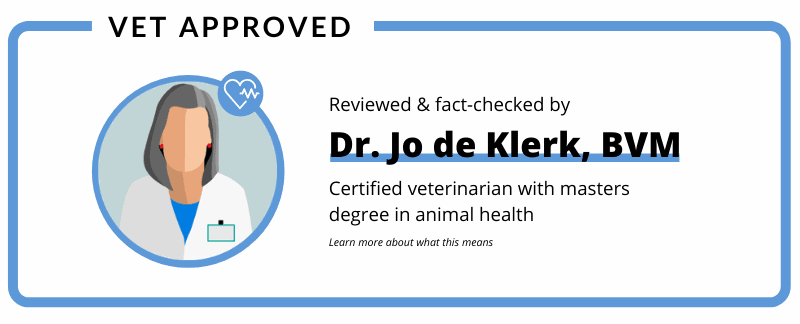 They're creepy, crawly, and leave us all freaking out on sight — including our doggos.
No, not squirrels: We're talking ticks.
But these blood-sucking bugs aren't just gross, they can also be dangerous and pass disease to your pooch (and you!) with one bite.
This makes prevention a must, so many pup owners are taking an interest in tick collars — easy-to-use preventatives that you can set and forget for weeks or months at a time.
Below, we'll share some of the best tick collars and discuss tick safety tips to keep you and your four-footer healthy.
The Best Tick Collars for Dogs: Quick Picks
#1 Bayer Seresto Tick Collar [Best Overall Tick Collar] — Effective for up to eight months, water-resistant, and safe for puppies as young as 7 weeks of age, this collar is easily the best option on the market.
#2 Virbac Preventic Collar [Best Overall Tick Collar Runner Up] — Another good option, this collar is also water-resistant, it's safe for puppies who're 12 weeks old, and it works for as long as three months.
#3 Hartz Ultraguard Flea & Tick Collar [Most Affordable Tick Collar] — Most tick collars are relatively affordable, but if you're trying to stretch your dog-care dollar as far as possible, this collar is the perfect choice.
Tick Prevention for Dogs: How Do Tick Collars Work?
Like other tick preventatives, tick collars rely on chemicals or oils that kill or repel insects and arachnids to keep your dog tick-free.
Rather than being administered by a topical drop on your dog's skin or via a pill, tick collars contain chemicals that offer ongoing protection for your pooch. And they do so over the entire course of the collar's lifespan, which varies by model and manufacturer from several weeks to several months.
The most commonly used active ingredients in tick collars are:
Pyrethrins and Pyrethroids: Extracts from plants of the chrysanthemum family that kill ticks, fleas, and mosquitos
Flumethrin: An insecticide for repelling fleas and ticks
Tetrachlorvinphos: An insecticide that kills fleas, ticks, flies, lice, and more
Amitraz: A topical insecticide that prevents flea, tick, and mange infestations
Plant oils: Lavender, eucalyptus, spearmint, and citronella oils are just some of those used in chemical-free tick preventatives
Always Check With Your Vet First
Putting chemicals on your dog — whether you administer them topically or on a collar — isn't something to take lightly.
It's always best to check with your veterinarian before trying a new preventive on your pooch. This is particularly important if you have a multi-species household of fur kids.
Canine Caution: Are Tick Collars Safe for Dogs?
With proper use, tick collars are safe for most dogs to wear. They're ideal for pups who dislike topical or pill-based treatments, and they are convenient if you're always on-the-go or occasionally miss your dog's preventative reapplication date.
However, while dog tick collars are generally safe, there are a few concerns to watch for, including:
Ingredients: Some chemicals used in dog flea and tick collars are toxic to cats, like amitraz and permethrin. If you have feline family members, contact your vet to make sure a tick collar or preventative is safe for use around cats.
Ingestion: Your dog's tick collar shouldn't be loose enough for him to slip off and chew. The chemicals used in tick collars aren't meant to be consumed. This is also a risk in multi-dog households, particularly if your dogs tug one another's collars during play.
Fit: Make sure your pooch's flea collar isn't too loose as we mentioned previously or too tight, which can cause skin irritation or pain.
Breed Sensitivities: Certain breeds can be sensitive to some of the chemicals used in flea and tick preventatives, including collies, German shepherds, Australian shepherds, and sheepdogs.
Skin irritation: Some dogs experience skin irritation with tick collar use, so keep an eye on the area. Remove the collar and contact your vet if this occurs.
Weather-proofing: Some tick collars can withstand rain or swimming, while others cannot. Check a prospective tick collar's instructions to ensure you get one that works best for your dog's lifestyle.
As with any pest preventative, follow the tick collar manufacturer's guidelines for safe, effective use and check with your vet to make sure it's a good fit for your pooch. It's also important to keep all tick collars and preventatives out of your children's reach.
Tick Collar Sizing
Note that many (if not most) tick collars are designed to be put on your dog and then trimmed to remove any excess material. In other words, the tick collar you receive may be much too long for your dog's neck, but once you trim it, it'll work just fine!
The Best Tick Collars for Dogs
There are many tick collars available for you to choose from on the market today. Making the best choice for your fur friend is a must, and some tick collars shine brighter than others.
Here are our top picks:
1. Bayer Seresto
Best Overall Tick Collar for Dogs
This is a sponsored placement, in which an advertiser pays a fee to be featured in this article. Learn more
Bayer Seresto
Veterinarian-recommended treatment that provides 8 months continuous flea and tick prevention.
About: Banish blood suckers with the Bayer Seresto Flea and Tick Collar, a preventative that offers long-term protection against fleas, flea larvae, ticks, and lice. The adjustable collar fits necks up to 27.5 inches in circumference, and it starts killing ticks within 48 hours.
Features:
Offers up to 8 months of tick prevention
Can be used on dogs and puppies over 7 weeks of age
Grease and odor free
Water-resistant, so your pup doesn't have to worry if he gets caught in the rain or takes a swim
Made in Germany
Active Ingredients: Flumethrin, Imidacloprid
Options: Offered in this large dog variety for pups weighing over 18 pounds as well as a small dog version for dogs less than 18 pounds.
Pros
Sturdy hardware keeps the collar in place
Protects against a wide range of pests for several months
Can be used on young puppies
No powdery residue
Cons
High price tag, but since it offers months of protection, it's on par with other preventatives
Some owners found it less effective against fleas
Caused skin irritation and other symptoms in a small number of pups
Repeated exposure to water can reduce effectiveness
2. Virbac Preventic Collar
Runner Up for Best Overall Dog Tick Collar
This is a sponsored placement, in which an advertiser pays a fee to be featured in this article. Learn more
About: The Virbac Preventic Collar starts killing any ticks on your dog within 24 hours and repels any new ones from biting him. Just secure it in place with the buckle closure and trim off any excess collar length for mess-free protection.
Features:
Provides up to 90 days of tick protection
Can be used on dogs and puppies 12 weeks of age and older
Odor and residue-free
Water-resistant, but should be removed before bathing
Made in France
Active Ingredients: Amitraz
Options: Available in a 25-inch collar for large dogs and an 18-inch version for small and medium breeds.
Pros
Reasonably priced for the quality
Reviews find it very effective, even in tick-heavy areas, such as the Northeastern U.S.
Provides protection for a relatively long period of time
Cons
Not safe for use around cats
Does not protect against fleas
Some dogs experienced adverse skin reactions
3. Hartz Ultraguard Flea & Tick Collar
Most Affordable Tick Collar
This is a sponsored placement, in which an advertiser pays a fee to be featured in this article. Learn more
Hartz Ultraguard Flea & Tick Collar
Water-resistant collar that provides same-day results and up to 7 months of protection.
About: Need quick and affordable help for your dog's tick and flea problem? You can see same-day tick-killing results with the Hartz Ultraguard Flea & Tick Collar. For around the price of a bag of treats, you can keep your dog protected from disease-laden pests for months.
Features:
Prevents flea and tick infestation
Repels ticks for up to 7 months and kills any on your dog for 5 months.
Water-resistant
Suitable for use in dogs and puppies 12 weeks old and older
Made in the USA
Active Ingredients: Tetrachlorvinphos
Options: Small and large dog varieties available.
Pros
Very affordable collar that provides great value
No harsh scent or residue
Works quickly — often within 24 hours
Cons
Efficacy was hit or miss with owners, particularly regarding flea prevention
Dangerous for use around cats
Hardware that keeps it in place could be sturdier
4. Hartz Ultraguard Plus Puppy Collar
Best Tick Collar Designed for Puppies
This is a sponsored placement, in which an advertiser pays a fee to be featured in this article. Learn more
Hartz Ultraguard Plus Puppy Collar
A water-resistant flea & tick collar designed for puppies 12 weeks of age or older.
About: Give ticks the boot from your fur baby with the Hartz UltraGuard Plus Puppy Collar. The collar starts working immediately, so you don't have to wait around to see results. Best of all, this flea & tick collar is safe for dogs 12 weeks or older.
Features:
Provides up to 7 months of protection
Kills and repels fleas, ticks, flea larvae, and flea eggs
Water-resistant design
Made in the USA
Active Ingredients: Tetrachlorvinphos, (S)-Methoprene
Pros
Affordable
Scent is light and non-offensive to most noses (human and doggo alike)
Specifically designed for puppy use
Cons
Long-term efficacy was contested by some owners, particularly with fleas
Should not be used around cats
Can cause skin irritation
Some tick collars are actually safe to use at younger ages
5. Sobaken Flea & Tick Collar
Best Plant-Based Tick Collar for Dogs
This is a sponsored placement, in which an advertiser pays a fee to be featured in this article. Learn more
About: Leave synthetic chemicals in the dust with the Sobaken Flea & Tick Collar. Repelling fleas, ticks, lice, and mange, it's a one-stop shop for all-natural pest and flea prevention.
Features:
Offers 8 months of protection
One-size-fits all collar that works for small, medium, and large breeds
Suitable for dogs and puppies 3 months of age and older
Water-resistant design
Active Ingredients: Spearmint oil, citronella oil, and clove oil
Pros
Very affordable
High-quality hardware keeps the collar in place
Doesn't contain synthetic insecticides or chemicals
For every collar sold, the manufacturer donates $3 to animal-friendly causes
Cons
Some pup parents found the smell too strong (which means your pup may find it too strong as well — remember dogs have much more sensitive sniffers than people do)
Some dogs experienced adverse skin reactions
Tick Collar Alternatives for Dogs: Topicals, Shampoos, and Prescription Pills
If you're on the fence about tick collars, you can still explore other options for tick prevention. It's important to pick a preventative that works well for you and your dog, whatever it may be.
Tick collar alternatives include:
Topicals: These products, like K9 Advantix or Frontline Plus, are applied directly to your dog's skin between his shoulder blades. They consist of a small quantity of liquid insecticide and can be messy but work well for dogs who refuse oral medications. Also, note that many (but not all) flea treatments are effective against ticks too.
Tick shampoo: You could wash your dog with a tick-killing shampoo, such as Adams Plus Flea & Tick Shampoo for immediate relief of a tick infestation. These are ideal for short-term relief, but don't always prevent future infestations.
Oral medications: Some medications like NexGard or Bravecto can be prescribed by your veterinarian to prevent fleas and ticks. Medications are crowd pleasers for those with cats or small children worried about tick collar or topical chemicals around the home.
As with tick collars, pay close attention to the ingredient list of these preventatives if you have a cat in your household. Never use any dog flea and tick products on a cat, unless it is specifically labelled as being safe for feline use. Serious injury and death can occur.
Doggie DIY: How to Remove Ticks from Your Dog
Nobody likes wrangling these gross little guys, but it needs to be done, even if you're planning on applying a tick preventative or killer to your dog. Keeping ticks off of your dog can prevent infection or illness if caught soon enough.
Throw on a pair of disposable gloves beforehand to prevent accidental exposure to disease and arm yourself with a pair of tweezers (or a tick removal tool) and a flashlight.
Ideally, enlist a human buddy to keep your pupper still and stress-free, by doling out lots of praise while you remove the tick.
Once your dog is in a comfortable position, part his hair around the tick so you have a good view of it.
Then, get as close to your dog's skin as possible with the tweezers or tick removal tool and grip the blood sucker.
Once you've grabbed the offending arachnid with the tweezers (and not your dog's skin), lift away in a straight motion to remove it.
Don't twist the tick when using tweezers, as this can accidentally pop the head off of the little invertebrate and make removal more difficult.
Conversely, if you're using a tick removal tool, you're usually supposed to twist rather than pull the creepy crawly straight out. Just check the instructions that come with the tool to be sure.
In either case, once you've freed the bug, set it in a container of isopropyl alcohol for storage, just in case your dog shows any signs of illness in the coming days or weeks.
With the tick removed, check the area to make sure you eliminated all of the bug, since sometimes the head does separate even when you're careful. If the head remains, repeat the removal step. Once you're sure the area is clear, wash the bite with soap and water and apply an antiseptic.
Remember to give your dog lots of praise once you're finished up, wash your hands, and monitor him for signs of illness, such as stiffness, lethargy, or a loss of appetite. You should also check the bite area for signs of irritation.
General Tick-Prevention Tips for Dogs
Keeping you and your dog tick-free is a must, particularly if you live in an area with high instances of tick-borne illness, like Lyme disease or ehrlichiosis. As with all problems, your best offense is a good defense.
The best ways to keep ticks from wreaking havoc on you and your pooch are:
Use a preventative such as a collar, medication, or topical treatment.
Have your yard treated by a pest control company.
Consider having your dog vaccinated against common tick-borne diseases, such as Lyme disease.
Keep your backyard free of brush and mow your lawn regularly.
Avoid brushy areas during walks.
Check you and your dog after outdoors play, especially between his toes and behind his ears.
If you live in the country, consider adding a free-roaming guinea hen to your fam — they can significantly cut down on tick populations.
***
Does your doggo wear any of these flea collars? Is there another that rocks his fuzzy socks off? Let us know in the comments.