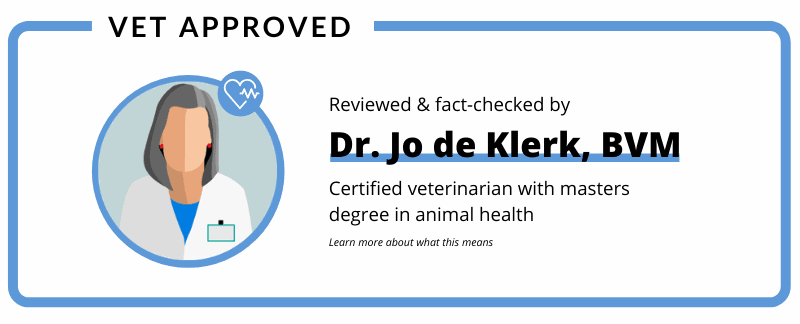 One of the most important responsibilities you have as a dog owner is to ensure that your floof has up to date vaccinations. But while vaccines are essential, there's no denying that the cost of pet care can add up quickly.
However, there are a couple of ways frugal owners can save money on vaccines, without compromising the care of their canines.
Below, we'll share some of the most effective ways to get low-cost pet vaccinations, along with how much you can expect to spend on your dog's vaccinations.
Low-Cost Pet Vaccinations: Key Takeaways
Vaccinations can be pricey, but they're necessary for your dog's long-term health. Some are also legally required.
Low-cost pet-care clinics and health insurance programs offer affordable vaccines solutions.
The Importance of Getting Your Pet Vaccinated
Vaccinations are vital to your dog's health, so it's imperative that they are at the top of your pup parenting priority list.
Unfortunately, there's no way around the fact that taking care of a dog is expensive. To stay healthy, our pups need regular medical care.
In an ideal world, you'd already have included vaccines and veterinarian expenses as part of your overall financial plan. After all, our dogs serve as furry family members, so it makes sense to make them part of our household budgets.
But while vaccines can be pricey, they'll save you money in the long run by focusing on preventative care for your pooch. They not only help you avoid illness down the line, but they'll also keep your pup happier and healthier, which is priceless.
In addition, some dog vaccinations are legally required.
Not having your dog vaccinated can bar them from:
Training classes
Boarding and kenneling facilities
Dog parks
While vaccinations requirements vary by region, you should expect to budget for a least a couple of basic dog vaccines, such as those for rabies.
Keep in mind that in order for vaccinations to be effective, many need to be re-administered on a regular basis ("booster shots"). Your veterinarian can help you craft a vaccination schedule specific to your dog's needs.
How Much Do Puppy Vaccines Cost?
The cost of vaccines and veterinary care varies greatly depending on a variety of factors. However, you can expect to pay more for vaccines while your dog is a puppy than you will once he's grown up.
This is because puppies are typically given four rounds of vaccinations within the first year.
Note that your pooch may also need additional vaccinations above and beyond the basics. For example, if you live in an area with a lot of ticks, you might want to look into getting your dog a Lyme vaccine.
In general, the guidelines for dog vaccinations by age are as follows:
6 to 8 Weeks of Age: Parvovirus and distemper vaccines. Bordetella vaccinations are sometimes given at this point too.
9 to 12 Weeks of Age: Parvovirus, distemper, adenovirus, and parainfluenza vaccines. Bordetella, Lyme disease, and Leptospirosis vaccines may also be given at this time.
12 to 24 Weeks of Age: Rabies, parvovirus, distemper, adenovirus, and parainfluenza vaccines. Bordetella and Leptospirosis vaccines may also be given at this time.
16 to 30 Weeks of Age (approximately four weeks after last vaccinations): Rabies vaccine.
12 to 16 Months of Age: Rabies, parvovirus, distemper, adenovirus, and parainfluenza vaccines. The Leptospirosis vaccine may also be given at this time.
Adult dogs (those who're 2 years of age or older) will need annual rabies vaccines, as well as vaccines for distemper, adenovirus, and parvo. They may also need boosters for any optional vaccines you and your vet think are appropriate. Your dog may be eligible to receive rabies and dog distemper vaccines that last 3-years at a time, but they'll still need a yearly check-up with a veterinarian.
Full Vaccination Takes at Least 12 Weeks
Because young pups still have maternal antibodies floating around in their bloodstream, some vaccines must be given several times, including at least once after they reach 12 weeks of age.
Keep this in mind anytime you see "quick socialization" vaccine treatments advertised, which purportedly work in as little as 9 weeks.
Note that vaccine schedules can vary depending on your dog's specific needs. Your veterinarian may recommend a slightly different vaccine schedule for your pup, so just follow his or her lead.
While it can be difficult to calculate the average cost of a vaccine, most dog owners will spend about $15 to $30 per round of shots.
However, every vet is different, so be sure to call ahead of time so you have a more precise estimate of what your vet visits may cost you.
Make sure to take a potential examination fee into account on top of the cost of vaccines. These exams make sure that your pooch is in good health before receiving a booster. A standard examination can cost anywhere from $50 to $100.
The good news is that you can often tackle your dog's annual checkup and vaccine booster in the same appointment, so long as your dog is healthy.
Additionally, during the puppy vaccine shot series, you might not have to get a thorough a full examination each time, since the boosters are so close together.
How to Get Low-Cost Pet Vaccinations
While pup vaccinations are important, they don't have to be too expensive. Here are some of the best places to look for low-cost pet vaccinations.
Look for low-cost clinics. Depending on your area, you may have access to a mobile pet care unit that provides low-cost vaccines. You might also find a weekend vaccination clinic in your area. In addition, stores like Petco offer low-cost onsite services like vaccinations through their partnership with Banfield Pet Hospitals. 
Inquire with shelters. Many animal shelters offer low-cost vaccines and other routine care. At the very least, they can certainly point you in the right direction of a source for low-cost care in your area. 
Scour social media. Ask your fellow dog lovers online if they have any recommendations for nearby services. Moreover, other owners might be privy to sales and savings that you might've missed, thereby helping you save on pup care in general. Be sure to also research local organizations that may help you pay for vet bills, as there are some groups out there designed to help those in need.
Explore pet insurance. Depending on your dog's needs, pet insurance can be a great way to save money in the long-run. Should you go this route, make sure to check with your preferred veterinarian to make sure that they accept your pet insurance plan or veterinary discount savings plan. 
Consider giving your own vaccinations (with veterinary guidance). Your vet may be willing to write you a prescription for some vaccinations. You can then try to find them for sale online, while looking for the best bargain. You'll obviously need to administer the vaccines yourself though, so be sure you're comfortable doing so first.
Important Note: Some vaccines — like the rabies vaccine — aren't legal for owners to administer, so you'll still have to go to the vet for some vaccinations.
Saving Money on Other Aspects of Your Dog's Care
Along with vaccinations, you can also save money on other aspects of your dog's care. Here are a couple of sound money-saving strategies for pet owners to preserve your budget while still giving Spot the care he needs.
Keep Your Pooch Healthy
The best thing you can do to save money is to focus on preventative care for your dog. This means making sure he's getting proper exercise, lots of love, mental stimulation, and a healthy, well-balanced diet. Also, don't forget to brush Fido's teeth on a regular basis!
By doing this, you're less likely to need an expensive operation or treatment down the line. A healthy pooch is a happy one.
Give Buddy A Bath From Home
If you have a pooch with a relatively low-maintenance coat, opt to bathe and groom your dog from home. There are plenty of free tutorials online to help you supplement your learning. You can even ask your groomer to let you sit in on a session.
With the right grooming tools and training, you can easily save hundreds of dollars each year just by grooming your dog on your own.
Buy Dog Food In Bulk
Has your dog found his dinner of choice? If so, consider buying your dog's food in bulk.
You'd be surprised how much money you can save on a regular basis from this one small change.
Just be sure to compare unit prices, not list prices, to make sure you're getting the best deal.
You may also want to investigate "subscribe and save" dog food programs, like those offered on Chewy, as these can also save a substantial amount of money.
Reuse Plastic Bags
This one is pretty basic, but if you aren't already, try to reuse plastic grocery bags instead of spending money on poop bags. After all, it isn't like they'll be holding precious cargo!
Getting two uses out of a single bag (once at the store, then again when picking up after your pet) is also good for the environment.
Look For Sales
Pet stores regularly have sales on anything from treats to toys. Be on the lookout for these sales so that you can take advantage of them when they come your way.
In fact, you may want to set up search engine alerts on your computer, so you'll be automatically notified when sales occur.
***
Staying up to date on your doggo's vaccines is one of the most important responsibilities you have as a pet owner. With the right tools and proper planning, this expense doesn't have to break the bank.
Have you used any of these strategies to find low-cost pet care? What's your favorite way to save on pet expenses? We'd love to hear all about it in the comments below!