Whether you're dressing up your dog for his or her own doggie wedding, or pimping out your pup to participate in your own marital vows, you'll want your four-legged pal looking bow-wow wonderful!
Here are some delightful dog wedding attire outfits for ensuring your pet looks their snazziest for the big day.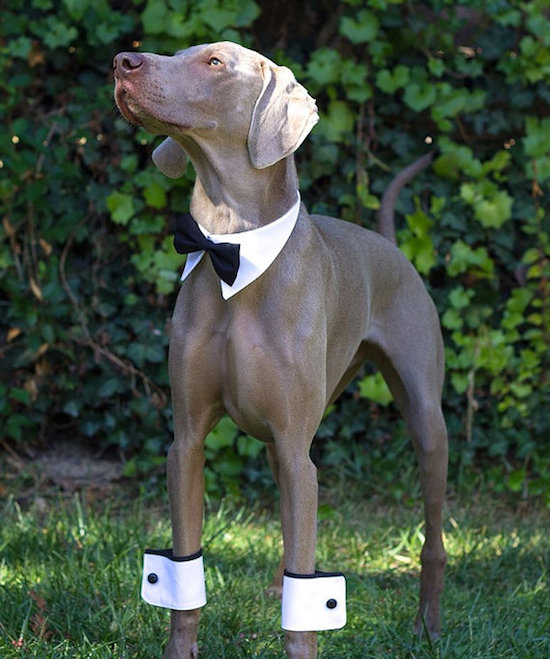 These snazzy and sophisticated canine dog cuffs will look swanky on any four-legged best man!
This gorgeous wedding dog collar is perfect for your canine maid of honor! Made of leather, fabric, rhinestones, and pearls, it's one of the classiest collars we've ever seen! Choose from a variety of sizes and colors to find the perfect design for your wedding.
We've got another fabulous dog bow tie from LADog, featuring a leather collar with a quality fabric bow tie. This bow tie collar comes in several different sizes and 11 different colors.
Want your dog by your side for the big day? Chances are off-leash attendance isn't an option.
For a classy leash to match your dog's wedding attire, try this top-notch wedding styled leash from Etsy!
Think of the Floofs offers an adorable tuxedo bow tie harness. The harness design allows for your pup to stay comfortable throughout the ceremony, and also allows for easy leash attachment to make sure Fido doesn't dive straight into the wedding cake!
The harness comes in three different colors (red, blue, and black), as well as several sizes, although all sizes are designed for relatively small dogs. This is one of the more affordable canine wedding outfits we've seen, priced under $10, but be aware that it takes several weeks to ship! Grab it here!
Let your dog announce your love to the world with this adorable sign your buddy can wear for your special day!
Go all out and dress your pooch in this incredibly suave suit that's perfect for any special occasion.
These suits are made custom to order, so you'll walk away with a fitted outfit made just for Fido!
This custom fitted dog wedding tux is high end, made with twill, spandex, sateen, and cotton.
While it's pretty pricey, it's the perfect dog wedding outfit for those who want their pooch to look as good as the wedding party!
This simple and affordable dog bow tie is an easy way to dress up your pup for the big day! Many dogs simply won't sit still for more complicated outfits or tuxedos, and in those cases, a bow tie collar is the way to go.
This bow tie collar from Think Of The Floofs is fully adjustable and ultra-affordable, showing that you don't need to break the bank to have your pooch dressed for the occasion.
Be aware that this product takes several weeks to ship – but it's quite the steal in terms of pricing. Grab it now!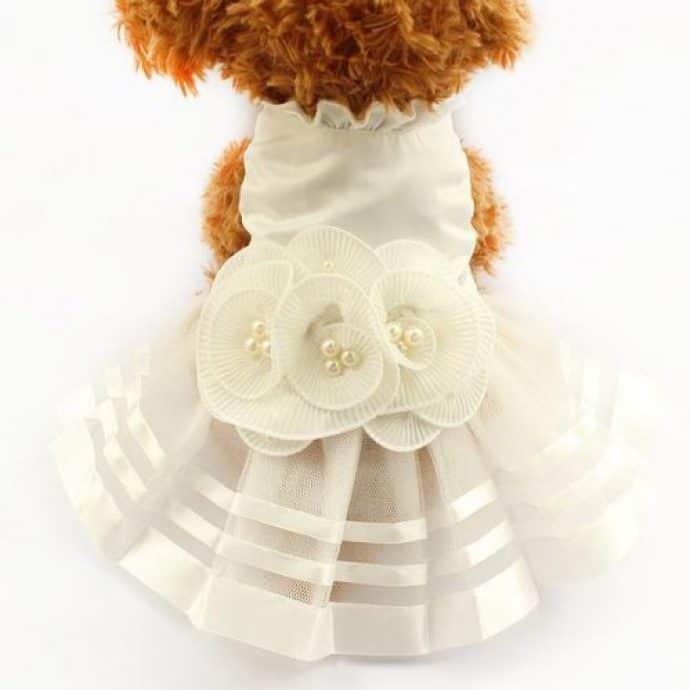 This adorable dog dress comes from Think Of The Floofs, featuring soft, cream-colored cloth with lace accents and flowers, plus artificial pearls. This dress is quite pretty as well as affordable, but it's only designed for small dogs — make sure to check sizing before ordering! Grab it here!
This is another dress similar to the one listed above, except this one features a different shade of pink, with flower embroidery and illuminating sequins to catch the sunlight.
Again, this dress is really only suitable for tiny pooches, and takes several weeks to deliver, so plan ahead! Grab it here!
This bright and colorful floral dog harness is just the thing for when your pup walks you down the aisle. The harness comes in two sizes (both designed for dogs on the smaller side), and also comes with a pink lead that matches the harness. Grab it here!
***
Would you dress up your dog for your wedding? Which outfit is your favorite? Tell us in the comments!