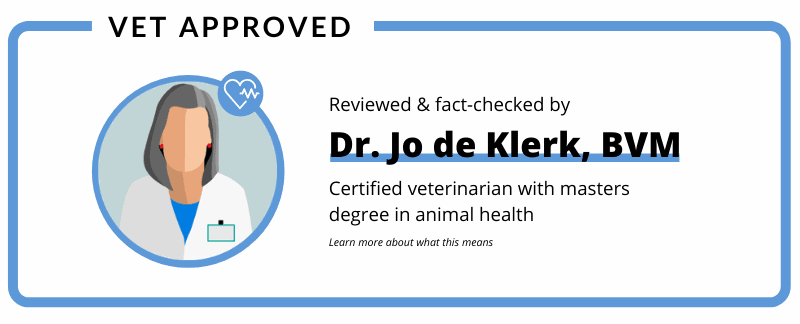 Dogs need a variety of different things in their diet to remain healthy.
Some of these things, such as protein and an assortment of vitamins and minerals, are found in just about every decent dog food on the market. But there are plenty of other things your dog needs, which are only found in some of the very best (and often most expensive) foods.
Fortunately, modern dog owners have access to a variety of different supplemental products, including fish oils, which can help satisfy these additional needs, while still allowing you to feed your dog an affordable food.
Best Dog Fish Oil: Quick Pick
#1 Zesty Paws Pure Salmon Oil [Best Overall Fish Oil Supplement for Dogs]: A nutritious liquid food supplement made from wild-caught Alaskan salmon and packed with omega-3 fatty acids.
#2 Grizzly Salmon Oil [Best-Tasting Fish Oil Supplement for Dogs]: A premium fish oil supplement made from wild-caught Alaskan salmon that provides a taste most dogs appear to love.
What Needs Do Fish Oil Supplements Satisfy For Dogs?
Dogs – like most other animals – require things called omega fatty acids to develop properly and remain in good health. Dogs can make some types of these acids themselves, but others, called essential fatty acids, must be acquired from their food.
Two of the most important essential fatty acids are eicosapentaenoic acid (EPA) and docosahexaenoic acid (DHA). They each play a slightly different role in your dog's body, but they are both considered omega-3 fatty acids. These important molecules are not especially easy to obtain, as they are only found in a relative handful of foods.
Chia seeds are one such example, and flaxseed is another. But some of the best sources of omega-3 fatty acids come from the ocean — particularly fatty fish species, such as salmon, herring, and anchovies.
Omega Fatty Acids: Omega-6s vs Omega-3s
There are a few different kinds of omega fatty acids that are important to your dog's health, but the two most notable include omega-3 fatty acids and omega-6 fatty acids.
Both of these omega fatty acids are important for your dog's health, but they help support different bodily functions.
Generally speaking, omega-6s promote inflammatory responses, while omega-3s dampen inflammatory responses. Both processes are important, but they must be kept balanced.
Accordingly, it is important that your dog receives the proper ratio of omega-6s to omega-3s in his diet. The optimum ratio has not yet been determined, but it is likely in the range of 5:1 to 10:1.
However, most dog foods have ratios much higher than this — often in the range of 20:1. This abundance of omega-6s may lead to high levels of inflammation, resulting in poor coat health, increased joint pain, and similar issues.
This helps explain why omega-3 supplementation is often necessary, as well as the reasons it reduces these types of inflammation-related problems.
The Four Best Fish Oil Supplements for Dogs
If you want to try a fish oil for your dog, give the following five serious consideration. All five are among the best-rated products by reviewers, and they meet most of the basic requirements you'd want in a good supplement.
1. Zesty Paws Pure Salmon Oil
Best Overall Fish Oil Supplement for Dogs
This is a sponsored placement, in which an advertiser pays a fee to be featured in this article. Learn more
Zesty Paws Pure Salmon Oil
An all-natural fish oil supplement made with wild-caught Alaskan salmon.
About: Zesty Paws Pure Salmon Oil is an all-natural, nutritious supplement designed to provide your pooch with the omega-3 fatty acids that he needs to stay healthy. Zesty Paws Pure comes in a handy pump bottle, which makes it easy to squirt onto your dog's food.
Form: Liquid
Features:
Made from wild-caught Alaskan salmon, rather than farmed fish
Contains no additives or preservatives
Made in FDA-registered facilities in the USA
Pros
This fish oil supplement appears very effective at correcting problems like dry or flaky skin and poor coat condition.
Most dogs appear to like the taste of this supplement.
This supplement has some of the most impressive ingredient sourcing in the product category.
Cons
Owners reported a few issues with broken pumps and leaking bottles (but they also reported that the manufacturer addressed such problems promptly).
Minor gastrointestinal distress occurred for several dogs.
Ingredient List: 100% Salmon Oil
2. Grizzly Salmon Oil
Best-Tasting Fish Oil Supplement for Dogs
This is a sponsored placement, in which an advertiser pays a fee to be featured in this article. Learn more
Grizzly Salmon Oil
A premium salmon oil supplement that's packed with omega-3 fatty acids.
About: Grizzly Salmon Oil is a premium fish oil supplement that serves as a great way to provide your dog with the omega fatty acids your dog needs. Grizzly Salmon Oil is packaged in a pump-style bottle, making it easy to administer to your dog (simply squirt the recommended dosage on your dog's food).
Form: Liquid
Features:
Made solely from wild-caught Alaskan salmon
Contains more than 15 different fatty acids
All-natural recipe helps prevent gastrointestinal distress
Pros
Appears to be very helpful for addressing skin and coat issues in dogs.
Several owners reported improved joint health and mobility after using this oil.
Many dogs seemed fond of this fish oil supplement's flavor.
Cons
A small number of dogs suffered digestive upset after consuming this fish oil.
It's a fairly expensive supplement when compared with some other options.
Ingredient List: 100% Salmon Oil
3. Pure Paw Pure Alaskan Salmon Oil
Best Fish Oil Supplement for Mixing with Food
This is a sponsored placement, in which an advertiser pays a fee to be featured in this article. Learn more
Pure Paw Pure Alaskan Salmon Oil
A US-made supplement containing no mercury or BPA and made from Alaskan salmon oil.
About: Pure Paw's Pure Alaskan Salmon Oil is a great product that will help improve your pup's skin health and coat condition. Thanks to the pump-bottle design, it is quick and easy to mix Pure Paw Alaskan Salmon Oil in with your dog's food.
Form: Liquid
Features:
Made from only wild-caught Alaskan salmon
Contains no mercury, BPA, additives, or preservatives
Made entirely in the USA
Also available in soft-gel form
Pros
This product earned better owner reviews than any other fish oil we found.
It's very easy to dispense and mix with your dog's food.
The customer service department received rave reviews from owners.
Cons
This supplement appears to work very well for dogs, but cat owners reported more problems.
Shipping problems seem to pop up more often than usual.
Ingredient List: 100% Salmon Oil
4. Nordic Naturals Omega-3 Soft Gels
Best Fish Oil Capsules for Dogs
This is a sponsored placement, in which an advertiser pays a fee to be featured in this article. Learn more
Nordic Naturals Omega-3 Soft Gels
Premium soft gels made from wild anchovies and sardines, with no artificial additives.
About: Unlike most other fish oil supplements in our review, which are salmon-based, Nordic Naturals Omega-3 Soft Gels derive their omega fatty acids from anchovies and sardines. Because it is made from the same oil that Nordic Naturals uses in their human products, you can rest assure your dog is getting the best quality possible.
Form: Gel tablets
Features:
Made without any artificial colors, flavors or dyes
The fish oil is processed in Norway, while the soft gels are manufactured in the USA
The product remains effective for 2 years after opening
Pros
Owners reported their dogs enjoyed softer fur and healthier skin after using these supplements.
Many dogs were willing to take these supplements willingly.
Very few adverse effects were reported by owners.
Cons
These aren't the most cost-effective supplements for large dogs.
A very small number of owners reported digestive issues, but that is common across the fish oil supplement category.
Ingredient List: Anchovy oil, sardine oil, gelatin, water, glycerin, and d-alpha tocopherol
The Health Benefits of Fish Oils: Omega-3 Supplements FTW!
Some of the health benefits of fish oils are relatively minor, but others can profoundly improve your pet's quality of life.
The omega-3 fatty acids in fish oils help to:
Improve coat condition and reduce shedding. Many owners are quite shocked at just how soft and shiny their dog's fur becomes after providing their pet with fish oil supplements for a few months.
Soothe itchy skin. Along with improvements in your dog's hair, omega-3s often improve your dog's overall skin condition. These types of benefits are most pronounced in dogs with dry skin.
Promote proper brain and eye development in puppies. Proper brain and eye development is crucial for your dog's long-term well being, and fish oils can help ensure your new pupperino gets everything he needs.
Reduce inflammation. Because the inflammation-reducing characteristics of omega-3 fatty acids work throughout your dog's body, they can help in a variety of different ways. This means that no matter where your dog is experiencing inflammation – be it his heart, kidneys, joints, or any number of other places – fish oil supplements may help.
Provide some pain relief. Because inflammation often causes pain, the inflammation-reducing traits of omega-3 fatty acids often reduce your dog's pain too.
Potentially provide benefits for dogs with cancer. Although much more research must be conducted before scientists will be able to say omega-3 fatty acids provide concrete benefits for canines suffering from cancer, there is some evidence in humans that this is the case.
Potential Side Effects of Fish Oil Supplements: Adverse Effects of Fish Oils
While fish oil supplements are generally regarded as safe, it is important to use them carefully and be aware of the potential adverse effects that they can (rarely) cause. Some of the most noteworthy side effects include:
Some omega-3 fatty acids (including both EPA and DHA) can cause your dog's body to stop clotting correctly. This can be especially problematic for dogs who suffer a laceration, are scheduled for surgery, or are prescribed any other medications that also reduce the blood's ability to clot.
The inflammatory-reducing effects of omega-3 fatty acids slow the healing process and suppress the production of white blood cells, which your body uses to fight off infections. Accordingly, you may want to think twice about providing fish oils to dogs that are suffering from an injury or illness.
Some dogs are unable to properly digest fish oil supplements, which can lead to intestinal upset. Although these problems often resolve on their own with time, it certainly isn't fun for your dog in the meantime.
Some fish oils can give dogs bad breath. This won't really bother your dog, but you may not like fish-breath kisses from your pup. You can generally put a stop to this problem by simply reducing the amount of supplement you provide at each meal.
Some dogs will experience weight gain after taking fish oil supplements. Because fish oil is essentially fat, it is chock full of calories. To prevent your pooch from packing on the pounds, be sure to account for these additional calories you're providing.
While these types of problems are relatively rare, it is always a good idea to discuss fish oil supplementation with your vet before you start giving your dog additional omega-3s. Additionally, you'll always want to be sure to follow the manufacturer's recommendations regarding the amount of supplement to provide your dog.
How to Pick a Good Fish Oil Supplement
There are countless fish oil supplements on the market, and owners are often overwhelmed by the number of options available. Aside from simply scrolling down to our list of five recommended products, you should try to keep the following considerations in mind:
Choose Supplements Made from Wild-Caught Fish
More and more of the seafood that makes its way into grocery stores and dog foods is coming from fish farms these days.
Commercially farmed fish often accumulate very high levels of heavy metals, toxins, and other potentially harmful ingredients, so it is best to avoid them in favor of wild-caught fish.
Select Products Made in a Country with Strict Quality-Control Standards
As with most other things you purchase for your dog, you want to be sure that the fish oil you provide your dog is not tainted with toxic chemicals or undesirable ingredients. The best way to do this is by purchasing products manufactured in a country with high health and safety standards, which includes the USA, Canada, Western Europe, and Australia.
Consider the Form You Want the Supplement to Take
Fish oil supplements come in both liquid and capsule form. While neither is inherently better than the other, many owners and dogs prefer one form over the other.
Capsules are easier to administer if your dog will swallow them voluntarily, but liquid fish oils are better if you need to mix them in with your dog's food. In fact, many dogs love the taste of these oils.
***
Do you have a fish oil supplementation regimen that has worked well for you and your dog? Have you found soft gel supplements or liquid fish oil easier to administer? Have you seen the kind of results you expected? Has your pooch suffered from any adverse effects from the oils?
Let us know all about your experiences in the comments below.