Puppies have very sharp teeth – which makes play biting one of the worst parts of puppy ownership… but wrestling with your new pup is just so fun!
It's hard to strike that balance between teaching your puppy not to play bite, and having fun with your dog.
Some puppies seem to bite more than others, though. This can lead to a lot of questions. How much play biting is normal? Why do they do it? How do I teach my puppy how to not play bite – or at least be gentle?
As with almost all things in life, there's no straightforward answer. Let's go through each of these questions one by one. First, though, know this: all puppies play bite, and this is normal.
If your pup nips at you when playing, don't freak out – this alone doesn't mean you have aggressive puppy on your hands!
However, you have to draw the line somewhere. If your puppy isn't taught proper boundaries, she will continue to play bite into adulthood.
Why Do Dogs Play Bite?
Puppies explore their worlds with their mouths – they don't have hands, after all! While we can't know exactly why your puppy play bites, there are a lot of reasons that dogs play bite.
Play biting teaches bite inhibition. With those super-sharp puppy teeth, play biting can hurt a lot. When a mother dog or siblings feel that one puppy is biting too hard, they will stop playing with the puppy. This form of punishment is very effective at teaching puppies that play biting shouldn't hurt. Dogs that learn how to control the pressure of their teeth are said to have bite inhibition.
You'll learn how to teach your puppy good bite inhibition in a few minutes.
Play biting feels good. When puppies are teething, it feels good to gnaw on things. While it's ideal for your puppy to gnaw on things like Nylabones, Kongs, and other chew toys, many puppies still choose to play bite. They will put fingers, toes, and just about anything in their mouth because it feels good on their growing teeth.
Help curb this sort of play biting by giving your puppy better things to chew on – like chew toys designed specifically for teething puppies!
Play biting is a game. Play is an important part of growing up for dogs. Puppies learn how to chase, tackle, and bite their "prey" by practicing on their littermates – and you!
This isn't sinister, though – your puppy is just practicing life skills that were important for her ancestors. Human skin is much more sensitive than dog skin, so it hurts more for you than it would for your puppy's mother or siblings.
In short, play biting is an entirely normal puppy behavior. Adult dogs also play bite, since dogs are one of those species that continues to play into adulthood (although you probably won't find them taking improv classes).
Adult dogs play bite because it's a fun game (in doggie world, not always in human world).
How Much Play Biting Is Normal?
You're going to hate me for saying this, but the answer is, "It depends."
Before you leave, hear me out!
Dogs are all individuals, just like humans. They have their own preferences, play styles, and comfort levels.
Take human roughhousing, as a comparative example. Not all humans love pummeling the life out of each other – but some do. Some humans like just a bit of roughhousing, some only like roughhousing in certain situations, and others hate all of it. Dogs are the same – with one big extra caveat.
Dog breeds that were bred for fighting, hunting, or carrying things will play bite more, and might bite harder, than other breeds. Let's look at four examples of big-time play biters, and one example of a less-bitey breed.
Remember that all dogs will play bite, and most dogs will engage in all sorts of biting. These examples just highlight the extremes of dog play biting behavior.
The Grab-and-Hold Biter: Belgian Malinois
There's a reason that Belgian Malinois are often called "maligators."
These dogs are bred to be super-tenacious biting machines that take down police suspects and trespassers. Their "bite-hard-and-hold-on" instinct is some of the most extreme out there.
If you've always had almost any other breed and just got your first Belgian Malinois, hang tight and know that extreme biting is very normal for the breed.
Other grab-and-holders include: Bulldogs, Pit Bulls, and Rottweilers.
The Grab-and-Carry Biter: Labrador Retrievers
A good, field-bred Labrador Retriever puppy will instinctively want to carry things around with her everywhere. She may play bit a lot – but she often will be very gentle compared to a Malinois. Labradors often need more training on when to bite than most dogs.
Other grab-and-carriers include: Golden Retrievers, Pointers, and Setters.
The Chase-and-Nip Biter: Australian Cattle Dogs
Also known as Blue or Red Heelers, Cattle Dogs are bred for chasing after herds of cattle and controlling their movements by nipping at their heels.
This gives Cattle Dogs the strong instinctive desire to chase and bite moving objects. Your new Cattle Dog puppy is very normal if this is her favorite "game."
Other chase-and-nippers include: Border Collies, Australian Shepherds, and Corgis.
The Pounce-and-Shake Biter: Jack Russell Terriers
Most terriers are bred to sniff out, chase, catch, and kill rats. That makes them really driven to grab and shake things – including your toes and pant legs.
Giving your terrier another outlet for this instinct will help save your fingers and toes from painful bites!
Other pounce-and-shakers include: Shiba Inus, Rat Terriers, and Schipperkes.
 The Not-So Biter: Lap Dogs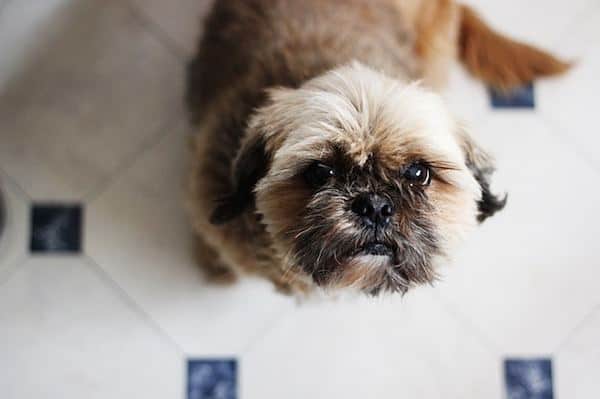 On the other end of the spectrum, some breeds are really just bred to be lap dogs.
While all dogs still enjoy play biting, many of the lap dog breeds are simply less interested in biting than the breeds listed above. Lap dogs include many of the small, white, and fluffy breeds like Shih Tzus and Havanese as well as dogs like Pugs and toy breeds.
Other not-so-bitey breeds include: Hounds and Livestock Guardian breeds.
You should expect different levels of "normal" for different dogs. Even if you've had Belgian Malinois all your life, you might one day get the strange "maligator" that doesn't love gnawing on arms. You also might end up with that one Pug that just loves chewing on fingers.
Keep your dog's breed and personality in mind when setting expectations for play biting – but just because you have a "maligator" doesn't mean you have to put up with constantly bloodied forearms.
How Much Biting Is Too Much?
What constitutes "too much" play biting is a matter of personal preference. When I worked at the animal shelter, I sometimes met new owners who were thrilled that their 120-pound American Bulldog loved jumping up and pulling on their sleeves. They thought it was cute – I thought it was rude and a bit scary. Their "just right" play biting was my "way, way too much!"
I've also had puppy owners call me in tears, saying that their new puppy was "vicious and aggressive." When I met the puppy, it fit well into my definition of "a normal, healthy puppy with a mouth." These puppies were engaging in regular, appropriate dog play, but the families were just used to puppies that were extremely gentle – or had never had a puppy before.
If your dog or puppy is biting hard enough to break skin, you need to work on teaching her to control her mouth immediately. Even if your puppy is playing, this is not an appropriate way to interact with people. Start teaching your puppy to control her bite inhibition right away.
How Do I Teach My Puppy to Control Her Play Biting?
Now that we know your puppy probably falls on a spectrum of play biting, it's time to talk about how to control play biting.
Even if you love wrestling with your pup and don't mind a bit of roughhousing, rules around teeth are imperative for the safety and fun of all.
The good news is, it's pretty easy to teach most puppies how to control their play biting. Here are a few basic tips to get you started:
1. Set rules and stick to them.
If you aren't sure of your rules regarding play, how on earth can your puppy learn them? Some common rules for puppy play might be:
We only play when I start the game. Many owners like play biting in moderation. If you, the owner, always control when the game starts, you'll have more control over when your dog play bites.
You only use your mouth on toys – not hands. When playing with puppies or dogs, come armed with a toy. When your dog gets too mouthy, redirect her to play with the toy instead of your hands.
Playtime ends if you bite me too hard. This goes for non-traditional playtime, too. If your puppy is chewing on your toes while you read this blog, or your adult dog likes to nip at your sleeves while you run, leave the situation. Your dog will quickly learn that rude play biting makes the fun stop.
These are just some examples. You might need to set fewer boundaries with some dogs or stricter boundaries with others – it all depends on that dog's tendency to play bite or bite too hard.
2. Give your puppy appropriate things to chew on and bite.
Since all dogs instinctively like to bite, you need to give your dog things she's allowed to bite and chew. This gives her an outlet for her instinctive energy and desire to bite. I suggest trying a variety of the following:
I've also seen some breeders just tying a strip of polar fleece to a milk jug and letting the puppies run wild with that. Don't be afraid to get creative!
3. End play when your puppy bites too hard.
This is one of the most effective ways to teach your puppy to control her mouth. If she learns that teeth on human skin (or clothes) make playtime end, she'll learn that it's worthwhile to control her mouth.
Don't make a big fuss about it. When your puppy bites you, simply stand up and walk away, putting a baby gate or door between you for a few seconds.
When you return, come armed with a toy that your puppy can chew on instead.
4. Let other dogs teach your puppy some gentle but firm lessons.
You're not a dog, so please don't waste your time biting your puppy back or rolling her over "like her mother would." Use the method above to teach your puppy not to play bite with people.
However, you can let dogs also teach her a few lessons if you have appropriate playmates for your puppy. Only do this if you know that the other dog won't overreact and hurt or scare your puppy. Other dogs can be very effective communicators about letting your pup know when enough is enough!
Just how young human children often learn a lot of social norms from interacting with their peers at school or in other group settings, puppies too can learn a lot from their playmates.
If you're really struggling with teaching your puppy how to control her play biting, feel free to comment below or reach out to me at my dog training site – I will help you out either way!
Have you ever struggled with play biting from a pup? Share your stories and strategies in the comments!