Dog Food Storage Containers: Quick Picks
Buying kibble for your pooch in bulk can be a good way to save some money and avoid unnecessary trips to the store, but first you need a proper way to store the food so it doesn't go stale or get broken into by mischievous pets!
Depending on the type of storage space you have, the number of different types of food you need to store, and the size container you need, certain dog food storage containers may work better for you than others.
In this article, we'll go over our top choices for the best dog food storage containers to help you find the perfect one for you! Then, we will talk about why storage containers are useful and different materials to consider when making a purchase.
The Nine Best Dog Food Storage Containers
There are a ton of different dog food storage containers on the market, but we'll discuss nine of the best below! Just remember to compare the options available carefully so that you can pick out the best container for your needs.
1. SimpleHuman Dog Food Storage Can
Highest Quality Dog Food Storage
This is a sponsored placement, in which an advertiser pays a fee to be featured in this article. Learn more
About: The Simplehuman Pet Food Storage Can comes in 25, 30, or 40 liter sizes and is made of fingerprint-proof stainless steel. A removable inner bucket is made of BPA free plastic.
This container has an airtight seal and a handle that locks the lid tight to keep out pesky pooches! This will also help ensure that ants, roaches, and other bugs don't get into your pet's kibble.
The Simplehuman Storage Can also comes with a magnetic lid-mounted scoop and built-in wheels for hassle-free mobility.
With its elegant black-and-stainless steel design, it's a natural decor fit for most modern kitchens and won't stand out as much as the more common plastic food storage containers.

Plus, the stainless steel material ensures that light won't penetrate, keeping your food fresher for longer.
Editor's Note
I use the Simplehuman Dog Food Storage Container for storing my own dog's kibble and I have to say, I am a big fan!
The magnetic scooper slot keeps the scooper clean and visible, with the locking handle ensures no sneaky pup will be able to grab an extra bite to eat! – Meg Marrs
PROS
Owners love the sleek design and the effective seal. Users also note that this container keeps the smell of kibble from the rest of the house!
CONS
Some users report container being less durable than they hoped, with scratches and dents occurring.
2. Iris 3-Piece Airtight Dog Food Container
Best 3-in-1 set
This is a sponsored placement, in which an advertiser pays a fee to be featured in this article. Learn more
Iris 3-Piece Airtight Dog Food Container
Great for multi-pet households
This BPA-free container set includes a 33-quart and a 12-quart container, both with airtight seals and snap-lock latches.
About: The Iris 3-Piece Airtight Pet Food Container comes in 15 different colors so you can find the one that best suits you and your pooch!
Features: This set includes a 33-quart container that holds up to 25 pounds of food and a 12-quart container that holds up to 10 pounds of food. Also included is a two cup matching scoop.
Great for any type of pet food, the airtight seals and snap-lock latches keep out moisture, humidity, and pests, and its four wheels make it easy to move around.
Made in the U.S.A., this product is BPA free and made with FDA compliant material.
PROS
Owners were pleased that the Iris Pet Food Containers kept their pets from getting into their food supply, and they lovee being able to keep the food organized and neatly stored.
CONS
Some owners report their pets knocking over the containers and the latch coming open, allowing food to spill out. While stackable, the lower container can only be opened if the top container is removed. A few users were unhappy that the seal was not airtight.
3. Iris Airtight Elevated Storage Feeder With Bowls
Best for saving space
This is a sponsored placement, in which an advertiser pays a fee to be featured in this article. Learn more
Iris Airtight Elevated Storage Feeder With Bowls
Storage & feeding solution
This elevated storage feeder includes removable stainless steel bowls, with an airtight seal and snap-tight latches to keep food dry and fresh.
About: The Iris Airtight Elevated Storage Feeder comes with two stainless steel bowls that rest in cavities on top of the storage container for a two-in-one package.
You can customize your elevated storage feeder by picking between the green, black, and tan color options and the small, medium, and large sizes.
The small container can hold approximately 18 cups of food, the medium can hold up to 46 cups, and large can hold 64 cups of dry pet food. The two stainless steel bowls can each hold up to two quarts of water or food and are removable for easy cleaning.
This storage container includes an airtight seal with snap-tight latches.
Feeding from an elevated dog bowl has been a topic of some controversy. Some say that it reduces neck muscle strain and improves digestion, while others claim it has negative impacts on health.
PROS
Owners love the design and function of this storage feeder. The seal keeps water out and the container is easy to clean.
CONS
Some users dislike having to remove the top with the bowls in it to get out more kibble. May not be ideal for a messy drinker, as water can slosh out into the cavities where the bowls sit, creating a mess to clean up.
4. Vittles Vault Airtight Stackable Dog Food Container
Best Stackable Container
This is a sponsored placement, in which an advertiser pays a fee to be featured in this article. Learn more
Vittles Vault Airtight Stackable Dog Food Container
Heavy-duty plastic and stackable
This stackable dog food storage is made of thick, food grade plastic and is ideal for multi-animal homes.
About: The Vittles Vault Stackable Pet Food Container comes in two sizes that hold 40 or 60 pounds of kibble.
Features: This container comes with a one cup scoop and is stackable, making it an excellent purchase for a multi-animal household.
BPA free, the Vittles Vault Container is made of thick, food grade plastic.
PROS
Owners love that this bin keeps the smell of dog food inside the container and that the durable plastic keeps out both pets and other unwanted critters.
Additionally, stackable pet food storage is something that is really convenient for multi-pet homes.
CONS
With the opening facing forward (to enable stacking), some users state that the bin may not fit as much food as advertised without some spilling out. Nevertheless, it remains one of the best airtight food containers on the market.
5. OXO Storage Pet Food Container
Best Single-Button Option
This is a sponsored placement, in which an advertiser pays a fee to be featured in this article. Learn more
About: The OXO Pet Food Storage POP Container comes in seven sizes ranging from 1.1 quarts to 5.8 quarts, which is ideal for holding 16 ounces of dog food up to 6.5 pounds. This container can also be used for other pet foods, as well as human food!
Features: The OXO Dog Food Container is easily opened by pressing the button on the top, and is just as easily sealed by pushing the button again. The wide opening makes it easy to reach in and scoop out food, while the rounded edges provide a convenient way to pour out the food into bowls.
Stackable and space efficient, the lid even comes apart for easy cleaning purposes!
PROS
Users love the design and state that this container is easy to use and lasts a long time.
CONS
Some users were not happy with the quality of the seal, and reported that the containers held less than was advertised.
6. Paw Prints 15 lb. Airtight Storage Container
This is a sponsored placement, in which an advertiser pays a fee to be featured in this article. Learn more
About: The Paw Prints 15-pound Storage Container is a mid-sized dog food container that features a fun print design that looks great and will help you show off how much you love your pooch!
Features: This container is equipped with a super-convenient flip-top lid, which makes it very easy to access your dog's kibble. It even comes with a hand-held scooper, which locks into place on the inside of the lid, so you won't lose it. The container features a flat-back design to help save counter space, and the lid comes with a gasket to help keep your pup's food fresh and ensure that the food lasts a long time.
The Paw Print Storage Container is durable, lightweight and made from BPA-free polypropylene plastic.
PROS
Most owners who tried out the Paw Prints Storage Container loved it, and reported that it not only looks adorable, but it works well too. It appears easy to open and close, and the included scoop is a nice bonus.
CONS
A few owners mentioned that the hinges broke easily, so you'll want to be gentle with this container. A few also reported that they were only able to fill it with about 12 or 13 pounds of food.
7. Buddeez Food Dispenser and Storage Container
Most Unique Design
This is a sponsored placement, in which an advertiser pays a fee to be featured in this article. Learn more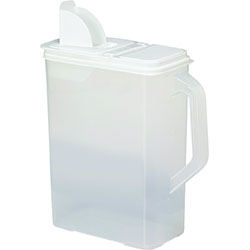 Buddeez Food Dispenser and Storage Container
Unique kibble pour design
This 8-gallon spouted dog food container makes it easy to pour out your dog's food.
About: The Buddeez Storage Container features a really innovative design that makes it easy to pour your dog's kibble out of the container.
Features: The lid features a pour spout, and a handle is placed on the side of the tub, so that you can easily hold and manipulate the container while pouring out food. In fact, it allows you to keep your pet's kibble inside the bag during storage, yet you can still pour out the kibble quickly and easily (just snip the top off your dog's bag of kibble and put the whole bag inside the container).
The Buddeez Food Dispenser is made with BPA-free plastic, which is FDA-approved for food contact. This is an 8-gallon container, that will hold up to 22 pounds of dog food.
PROS
Most owners loved the Buddeez Food Dispenser and found that it made it much easier to fill up their dog's food dish. We even found a few comments from owners who had been successfully using the container for more than two years.
CONS
A few owners noted that the pour spout doesn't work well if you fill the container to the brim, but this is a pretty minor problem.
8. Bergan Stak-N-Stor Stackable Storage Tub
This is a sponsored placement, in which an advertiser pays a fee to be featured in this article. Learn more
Bergan Stak-N-Stor Stackable Storage Tub
Storage bins with hinged doors
These attractive two-tone and stackable containers are ultra-durable and open via a hinged door.
About: The Bergan Stak-N-Stor is a convenient pet-food-storage container that provides easy access to your dog's kibble via a hinged door.
Features: These containers are made from high-density polyethylene, so they are rust- and dent-resistant. You can also use them in both indoor or outdoor applications. They feature an attractive two-tone finish, and they're also stackable. The smaller sizes should fit on most kitchen counters.
The Bergan Stak-N-Stor comes in three sizes (9-, 18-, and 24-gallons), so it'll work for pets of just about any size.
PROS
Most owners were happy with the Bergan Stak-N-Stor. Because they're stackable (and you can easily access the food after stacking them), they are especially convenient for people with pets who require different types of food.
CONS
A few owners reported that these containers weren't as sturdy as they'd have liked. A few also mentioned problems operating the doors once the tubs were stacked.
9. Gunner Food Crate
Most Durable Dry Food Storage Container
This is a sponsored placement, in which an advertiser pays a fee to be featured in this article. Learn more
Gunner Food Crate
Extra-tough food crate perfect for outdoor adventuring and big trips
Super durable food crate that holds up to 50lbs of food while being water-proof, dust-proof, and air-tight
About: The Gunner Food Crate is a large heavy-duty dog food storage container that's ideal for hardcore adventuring and travel when only the toughest and most durable dog food holder will do!
This hefty food crate features a rotomolded design, allowing it to be waterproof (for up to 30 minutes submerged a meter underwater), dustproof, airtight, and able to keep out all kinds of pests from rodents to bugs. Its non-transparent design means it'll also prevent the food from degrading and extend shelf life by keeping out UV rays.
It holds up to 50 lbs of dry dog food and is made from BPA-free materials. The wide-mouth design allows for a full bowl to be inserted and scoop up kibble with ease, while the seamless lip prevents grime from sticking to the rim.
Made for a variety of terrain and climates, the container's wide base keeps it from toppling over while the raised rubber feet on the container's bottom keep it off the floor to prevent drastic temperature change.
Plus, the container's draw-style will keep out even the cleverest canines who think your dog food storage pin is a puzzle toy in disguise.
The Gunner Food Crate is a great fit for travelers with its durable handle, allowing it to be tossed into a truck bed for a week-long camping trip with ease. On top of all that, this container comes with a lifetime warranty, so you shouldn't need another food crate besides this one-and-only.
PROS
With its easy access wide-mouth lid and durable handle, this durable food container is an especially good fit for camping or hunting trips. If you need something durable and ultra pest-proof, this is a great pick.
CONS
This container is quite heavy, with an empty container weighing 10 lbs. It's also one of the most expensive dog food container's on the market, and probably overkill for standard kitchen use.
Why Use Dog Food Storage Containers?
You certainly don't have to use a storage container for your dog's food if you'd prefer not to, but there are a variety of reasons that it makes sense to do so. We'll discuss a few of the most important benefits you (and your dog) will enjoy if you elect to store your dog's food in a storage container below.
They Keep Food Fresh
When food isn't stored properly, there is a risk of it spoiling or going stale and losing nutritional value; your pet may even be less interested in his or her food when it changes texture and flavor.
Using a storage container to keep your pet's food fresh is a great way to ensure you'll never have to throw out stale kibble!
They Keep Out Bacteria and Pests
Nobody wants to think about bugs or rodents in their homes, but these critters can sometimes find their way into our pantries and wreak havoc if we aren't prepared.
With a durable storage container, you won't have to worry about pests chewing through food bags or getting in through small openings. Bacteria and mold will also be held at bay by an airtight container that keeps moisture and bacteria out.
Convenient Storage and Use
Depending on what you need a food storage container for, different styles offer different perks! Some come on wheels for easy portability, while others are stackable or have different compartments for a multi-pet household.
Many containers have easy to open lids, saving you the hassle of always having to roll up a food bag each day. Many storage containers even come with a scoop for easy, measured meals!
They Keep Your Pet Healthy
By keeping your pet's food in an airtight storage container, you'll be protecting your pet from harmful bacteria and diseases transmitted by insects and rodents.
You'll also be ensuring that all of the nutrients in your pet's food stay in the food, keeping your pet healthy and happy!
What Type of Material is Best for Dog Food Storage Containers?
There are three basic materials manufacturers use to make dog food storage containers. We'll discuss the pros and cons of each, so you can make the most informed decision possible.
Plastic Containers
Plastic options are often more affordable than other materials, but you'll want to make sure you look for products that are made with BPA free plastic. You may also need to wash a new bin a few times in order to get rid of the plastic smell.
Many plastic containers are translucent or transparent, so they make it easy to keep an eye on how much food you have left — this will help prevent the "OMG! I'm out of dog food," reaction that can occasionally occur with opaque containers.
It is good idea to look for a thick, durable plastic that won't be prone to cracking or susceptible to being chewed!
Stainless Steel Containers
While stainless steel products are usually more expensive than plastic alternatives, they are durable and long-lasting. Stainless steel dog food containers are also pretty inert, so they won't react with your dog's food. They're also very easy to keep clean, which will help prevent your dog's food from spoiling.
Many people also appreciate the sleek look of stainless steel, and want to avoid the smell of plastic!
Wood Containers
Wood is a bit of a throw-back material that some manufacturers use to make storage containers. Many owners love the look of natural wood enclosures, and they're usually very durable too. However, they do have a few drawbacks.
For example, wood (unless it is finished with a good water-proof sealer) shouldn't be used to store unbagged food, as the pores in the wood can allow molds or bacteria to persist. Additionally, wooden containers are rarely insect-proof, so you could end up with bugs in your pet's food.
Also, wooden storage containers are rarely airtight, so they won't help keep your dog's food as fresh.
Dog Food Kibble Storage FAQ
Owners — particularly first-time owners — often have a lot of questions about the best way to store their pet's kibble. We'll try to answer a few of the most common questions below.
What temperature should dry dog food be stored?
You'll want to make sure you store your kibble in a cool, dry place (even if the kibble is unopened). That usually means not keeping your kibble in a garage or shed – you want to avoid any storage spot that could potentially go over 100 degrees Fahrenheit. Instead, opt for dry basements or closets.
Storing your kibble at over 120 degrees for over 48 hours can accelerate the dog food's deterioration, losing the vitamins that are essential to healthy, quality kibble!
Exposure to light, high temperatures, and air can all affect how fast your kibble degrades. Manufacturers actually recommend keeping the kibble in its original packaging – even if you plan on using a storage container – due to the fact that the bag provides a fat barrier. So the best method seems to be to put the bag of kibble into a storage container – that way your dog's food is protected from all the elements!
Can dry dog food go stale?
Indeed it can! Kibble packages should have a "best by" or "best before" date on their packaging somewhere, and it's best to stick to as close to that date as possible. Ideally, when purchasing kibble, look for packaging that has a "best by" date as far into the future as possible.
Now just because your kibble hits that "best by" date doesn't mean you need to throw it out. It simply means that the food no longer provides the nutritional value stated in the Guaranteed Analysis. While the food's optimal nutrition has expired the food it – generally speaking – still "good" to eat.
Generally, kibble can still be consumed a few months after the "best by" date – just always make sure to check for mold or bacteria. Mold generally grows on the top layer of the kibble, and it will emit a foul smell. Give your pup's kibble a good whiff to make sure everything smells normal.
The shelf life of unopened kibble can vary quite a bit – anywhere from 4 months to 3 years. Shelf life depends on the food's ingredients and preservatives. Natural preservatives (like vitamin E) tend to break down more rapidly than artificial preservatives (like ethoxyquin, BHT, and BHA).
The best course of action is to simply call your dog's kibble manufacturer and ask about the shelf life of the food. Annoying, but you'll know for sure then!
Be sure to thoroughly examine the kibble that you purchase – make sure the bag is intact to be sure that pests haven't gotten into the bag. If you order food online and receive a compromised bag, manufacturers commonly are more than willing to send a new bag or provide a refund.
Generally, kibble should be consumed within six weeks of opening the bag of dog food. We recommend choosing a bag size that takes this into account and matches your dog's daily allotment of kibble.
How do you soften dry dog food up?If you have hard kibble you want to soften up for your pooch (whether due to dental issues or simply to make the food more palatable), try mixing in warm water or low-sodium broth – your dog will love it!
Can canned dog food go bad?
Unopened canned dog food can actually remain fresh for years (so long as it's been kept in a cool, dry location). Again, as with kibble, try to only buy the amount of wet food cans that can be used by the marked "best by" dates.
When it comes to opened wet food cans, you should be sure to use the wet food within a week. If your dog won't consume that much wet food, you can always cut up and freeze the wet food into single portions, and then thaw them and feed your pooch when needed.
Plastic dog food lids are also helpful for keeping a tight seal on your dog's open wet food cans, ensuring the taste and moisture is maintained.
If your dog isn't feeling his wet food and leaves it in his bowl, make sure to toss it around after 4-5 hours. You'll also always want to clean your dog's bowl before refilling it with his next meal!
Which dog food storage container is the best?
If you have a little dog (or other pet), one of the smaller container options may be the right choice for you.
If you have a larger pet, or just like to buy in bulk and have space, there are bigger containers that come in different shapes and sizes to ensure that you'll find one that is the perfect fit for you, your pooch, and your home.
Stackable bins are great for multi-pet households, and having a mixture of bin sizes can be great for holding different items like food and treats!
Have you used a pet food storage container before? Please share your stories and thoughts in the comments section below!