There's no getting around it: If you own a dog, you need a high-quality leash. With so many fun things to sniff and chase, it's important to select a sturdy leash just in case a taunting squirrel appears.
After all, defending you from their tree mockery can get downright hairy if your leash isn't up for the task.
As we all know, leashes aren't a one-size-fits-all deal.
There are a plethora of options on the market. Leashes are designed in different styles, they're made from a variety of materials ranging from nylon to chain, and they even come in different lengths.
But don't worry — we've sniffed out 10 of the best leashes to make your search easier.
Read on to learn more about leashes, and the things you should look for when making a purchase. Or, if you're in a hurry, just pick up one of our quick picks:
Quick Picks: Best Dog Leashes
Pick #1: Premier Pet Leash — This no-frills pet leash is a great choice for the average owner. It is not only well-built and affordable, but it is available in six attractive colors too.
Pick #2: LEATHERBERG Leather Dog Training Leash — A premium leather option for owners who want a high-quality leash that will last, the LEATHERBERG Dog Leash is strong, comfortable on the hands, and quite durable.
Pick #3: Company of Animals Halti Training Lead — If you need a leash you can adjust and re-configure on the fly, there are few better choices than the Halti Training Lead. You can even use this leash to walk two dogs at once.
The Importance of a Good Dog Leash
Safety is reason number one for investing in a quality leash.
Aside from being the law in most places, leashing your dog is simply in the best interest of your pupperino anytime you're in an open (non-enclosed) space.
And this means all dogs — even the best-trained dogs need to be leashed too. Accidents happen, and some distractions are too tempting to resist. This includes things like fleeing rabbits, as well as potentially dangerous substances on the ground, such as broken glass or antifreeze.
And these and other hazards can lurk around every corner.
Your own neighborhood surely presents hazards like cars and strange dogs. And if you head into the wilderness, the stakes climb even higher, with the addition of wildlife and unfamiliar territory.
Dogs can go missing in the blink of an eye, and in an unknown environment, finding them can be difficult.
According to a survey by the ASPCA, 14% of polled dog owners stated their dog had gone missing at least once over the previous year. Don't let your pup become one of them!
In fact, it's always a good idea to keep two leashes handy, just in case one is lost or damaged. Nothing is worse than a misplaced leash in an emergency (side note: If you're constantly losing things, check out our article about ways to avoid losing your leash).
Different Types of Dog Leashes
There are many types of leash available, and they vary in numerous ways. Knowing your needs goes a long way in selecting what works best for you.
Conventional Leashes
Conventional leashes are the most common style on the market. They consist of a length of nylon, rope, leather, or chain and feature a clip at one end and a handle at the other.
Conventional leashes have several advantages, including:
They're easy to use with just a simple clip needed to be on your way
They can be used for different sized dogs depending on the material
They make it easy to control how far away your dog can wander
Many offer padded handles, which provide additional comfort
They are typically inexpensive
While conventional leashes have many upsides, they also present a few drawbacks, such as:
Some are relatively stiff, resulting in an uncomfortable, jerky walk
If you have a puller, your hands will hurt regardless of how much padding is included
If you buy one that is too long, you'll have to wrap it around your hand to gain control
They may knot up if you don't store them properly
Retractable Leashes
Retractable leashes allow your pup to pick and choose how far he wanders. You can, however, stop him at any given distance, by triggering the included lever or button.
The handle contains a spool of nylon ribbon or cord which gives your pooch plenty of slack to roam, and an included clip attaches to your pupper's collar or harness.
These are popular options for a few reasons, such as:
They allow dogs to wander as they please during leisurely nature walks
You don't have to worry about the line knotting in storage, as it winds up after each use
They self-retract, eliminating the need to wind them up manually to shorten the lead
Retractable models do have several negative traits to consider, however. For example:
They are only safe for relatively small dogs; large dogs can often break the internal line-winding mechanism
They aren't great for pooches that pull
You can suffer cuts or burns from the leash
If they tangle when outstretched, they can be challenging to untangle
They're not safe for use around the neighborhood unless you keep them locked short as your pupper could easily bolt into harm's way
Their plastic handles are typically large and rather bulky
They can be pricier than other picks
Multi-Function Leashes
Versatile and convenient, multi-function dog leash models allow you to convert the leash to fit your needs rather than being stuck with a fixed design. Like conventional leashes, they attach to the dog's collar or harness with a clip or carabiner. 
Winning features include:
Multi-function leashes are great for training dogs to walk, as you can adjust the length over time
They can be adjusted to work in hands-free fashion, which is ideal for joggers
You can convert them into a double leash, which will allow you to use one lead for two dogs
While multi-function leads are fantastic for many reasons, they also have a few downsides, including:
Some come with a lot of pieces to keep track of
The lack of a handle for the double leash option can be painful and hard to use
Can be pricier than other options
Slip Leads
Slip leads lack the traditional clip design, and instead feature a loop that lassoes around your dog's neck. Slip leads are beneficial in several ways, such as:
They're great for training dogs that struggle with the urge to pull or misbehave
They're convenient options for quick walks
They're very easy to put on and take off
Generally are less expensive than other options
Slip leads do, however, have a few drawbacks, including:
You may have to practice using a slip lead before you feel comfortable with it
They can be dangerous if misused
Some pups figure out how to back out of the slip loop design
Hands-Free Leashes
Hands-free leashes are all-star picks for joggers, bikers, or those who find holding a handle difficult or cumbersome. Unlike traditional leashes, hands-free leashes are designed to be worn around the waist or over your shoulder.
Winning points or hands-free leashes include:
They often give you the chance to enjoy stress-free walks
They won't cause arm strain if your pooch is a puller
No need to worry about dropping a leash — your pup is attached to you!
They're great for those dealing with conditions such as arthritis or carpal tunnel syndrome (check out more great options for owners with arthritis)
Hands-free leashes do have some drawbacks, however, such as:
Some owners find them uncomfortable
They may be hard to get used to
They can be more expensive than conventional leashes
Some owners find that they can disrupt their balance
Different Dog Leash Materials
Manufacturers make leashes from a variety of different materials. We'll discuss a few of the most common ones below.
Rope
Rope is a popular leash material among owners as it comes in various colors and designs. Braided rope leashes are particularly strong, and work well for for powerful breeds (check out some of our all-star performing rope leashes here).
Rope leashes are also flexible, leading to a comfortable walk. Just note that some rope leashes can be too heavy for very small dogs.
Additionally, many pooches may find the material very fun to chew, which may cause them to happily munch away. Depending on the design, rope may not be the easiest leash material to clean either.
Leather
A super-strong material with an upscale look, leather is an age-old leash material that is easy to keep clean. Leather is stronger than many other materials on the market, and it comes in a few colors.
Leather also stretches a bit, which is a must for enjoying a comfortable stroll. However, while leather is durable, it can crack with age and wear, and leather leashes are often tempting to chewers, and they easily show damage.
Nylon
The most common leash material manufacturers use today is nylon, and it's easy to see why.
Nylon comes in many colors, making it an attractive pick for pet parents seeking a particular look. It is also lightweight and slightly stretchy as well, promising a comfortable walk.
Not all nylon leashes are created equal, however. So, you need to choose wisely.
Make sure you buy a thickness that's appropriate for your dog's size, as thin leashes may snap if used with powerful pooches. Chewers can gnaw through these as well, so use caution if your pooch likes to nom-nom-nom away.
Nylon is usually easy to care for, but some may be harder than others to thoroughly clean.
Chain
Chain leashes are ideal for those living with destructive chewers and are often a popular material for chew-proof dog leashes.
They are also robust enough to handle the largest, most powerful breeds. These leashes are easy to clean, but some can rust.
Chain is heavy, too, which can be uncomfortable for you and your dog. It doesn't stretch, either, which can lead to a jarring experience for some.
Plastic-Coated Steel Wire
This is another excellent option for pups that can't resist chewing their leash. They're waterproof and easy to clean as well, earning bonus points.
The primary downside of plastic-coated wire leashes is their inelasticity. These leashes do not stretch, which can be uncomfortable to use.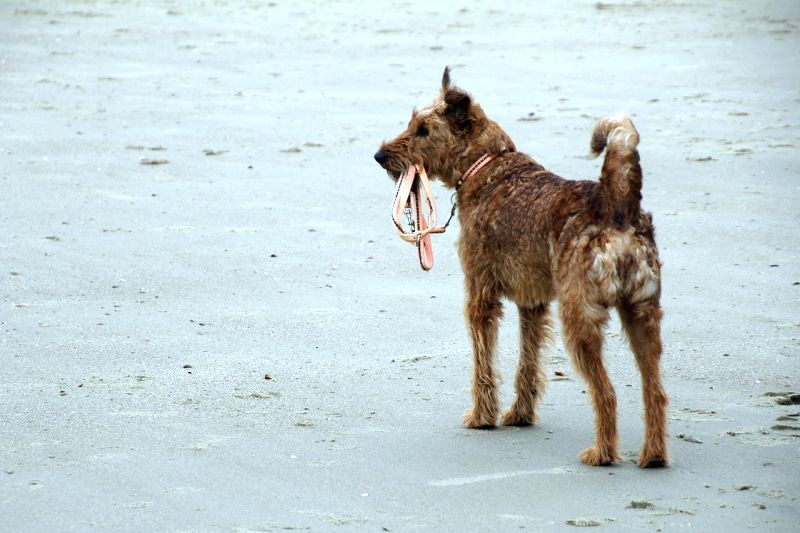 Important Leash Features and Components
There are many things to consider when looking at leashes. To make sure you end up with a leash that works well for you and your doggo, you'll need to review all aspects of the products you're considering.
Among other things, this means looking for a leash with the following traits:
A Secure Clasp or Carabiner
Ideally, you want a leash that features a clasp or carabiner made of metal. Plastic ones can crack or shatter and typically aren't strong enough for large breeds.
Locking clasps are preferred, as they help prevent the leash from becoming unclipped from your dog.
Reflective Stitching
If early morning or nighttime walks are part of your routine, pick a leash with reflective stitching to make you and your pup easier to see. Some leashes have reflective stripes as well to further increase your visibility in low-light conditions.
A Comfortable and Padded Handle
A comfy handle is a must for most owners, as nothing is worse than a sore hand after a walk. After all, walking is your time to unwind with your pooch. Make sure you're comfortable!
Accessory D-Rings
D-rings are great additions to any leash, as they provide a place to clip your doggy diamond bags and other must-haves. If you hate stuffing empty bags in your pocket or carrying a loaded poo pouch, these are a must!
A Pattern and Style You Like
Are you looking for something with a little flash to it? Certain materials such as rope and nylon come in a variety of colors and patterns that'll leave your pooch strutting their stuff in style.
Elasticity
A leash should have a little give to it to keep your walks comfortable. A stiff lead is uncomfortable for both you and your dog, leading to a rigid, unnatural gait.
How Long Should a Leash Be?
The standard 6-foot dog lead works well for your average neighborhood paw patrol.
Shorter leashes, such as 3-foot-long models, are common too, but they're generally used in crowded places such as fairs or stores.
On the other hand, if you frequently take your dog to romp in open areas, longer options up to 50-feet exist.
When it comes down to it, you must decide what length works for your needs.
The Ten Best Dog Leashes Around!
Now that you know what kinds of features to look for in a new leash, and which style may be best suited for you and your pupper, it's time to talk about specific products.
The following three leashes are some of the best ones on the market, and one is sure to work well for your four-footer.
1. Premier Pet Leash: Best Standard Dog Leash
Product
Sale
−$0.66 $7.33
29,557 Reviews
Details
EASY TO USE: The easy on, easy off hook makes securing the leash to your pet's collar or harness...
OPTIONS: PetSafe Nylon Leashes are available in multiple lengths and widths so you can choose the...
GREAT ADDITION: PetSafe Nylon Leashes pair perfectly with many training aids like Easy Walk...
EXPERIENCE: PetSafe Brand has been an industry leading US manufacturer of pet behavior, containment...
About: The Premier Pet Leash is a good choice for those seeking a standard dog leash for everyday use. It has a straightforward design and features sturdy construction that should help it perform admirably for years.
Features: Made of durable nylon, the Premier Pet Leash is a quality product for keeping your pup safe and secure. Available in two lengths and three thicknesses, there is an option for every dog owner, whether you're walking a petite Pomeranian or a lumbering Labrador.
The sturdy metal clasp provides additional security, thereby taking the worry out of walking.
The Premier Pet Leash is offered in six colors, which are designed to match other Premier pet products.
PROS
Many owners were head over paws for this leash's versatility. It's an all-weather leash that has natural stretch to it, so you won't feel stiff and awkward while patrolling the neighborhood. The colors are rich as well, which is always nice.
CONS
While nylon is a win in most households, it's not the best choice for serious chewers. Also, those with a strong puller with a penchant for squirrel chasing may want a leash with a locking carabiner
2. Flexi Neon Leash: Best Retractable Dog Leash
Product
Sale
−$8.06 $20.93
4,233 Reviews
Details
Reflective 16 ft cord leash that helps increase safety for dogs and their owners - for dogs weighing...
Reflective stickers and neon-colored components for better visibility
Convenient handling thanks to single-handed use of the brake button and permanent stop feature
16 ft neon-colored cord offers plenty of freedom of movement
About: The Flexi Neon Leash is a standout among retractable leashes, thanks to its sleek styling and durable build. Best of all, its neon design will help keep you safer during early morning or evening walks.
Features: The reflective design of the Flexi Neon Leash keeps both you and your pooch safe while cruising the sidewalk in style. Extending up to 16 feet, this is the perfect leash for dogs who love to let their nose lead the way.
Its neon yellow color is impossible to miss, and the black stripe provides great contrast.
PROS
The handle of this retractive lead is comfortable, and the position of the brake and lock buttons are more ergonomic than most. The length is ideal, as it allows your pooch to roam around, while not letting him wander too far, so you can wrangle him back in a pinch.
CONS
If you have a buddy that likes to chew, we suggest avoiding this leash. The lead's fabric just can't stand up to chompers. The ribbon may also be dangerous if you have a puller or leg weaver
3. LEATHERBERG Leather Dog Training Leash: Best Leather Dog Leash
Product
$25.99
1,118 Reviews
Details
6 FOOT LEATHER LEASH YOU CAN TRUST - Have you been looking for a durable leather dog leash? Then...
PAIN - FREE WALKING AND TRAINING - Leatherberg leather leashes are made of 100% real Latigo leather....
TRUSTED - Why Do Amazon Customers Give Our 6ft Leather Dog Leash 5-Star Ratings? Our dog training...
100% RISK FREE PURCHASE - "Does this dog leash leather come with a money back guarantee? YES! Your...
About: The LEATHERBERG Leather Dog Training Leash was a clear winner in the category thanks to its premium construction and no-fuss approach. This is a sturdy, dependable leash that's perfect for everyday use.
Features: Quality is key with the LEATHERBERG Leather Dog Training Leash. Its premium Latigo leather and a metal clasp will last through many four-legged adventures.
Offered in a 6-foot length for walks and a 12-inch length for training, this leash is perfect for day-to-day use. At 3/4-inches thick, this lead is strong enough for larger breeds too.
The leash comes in two standard colors (black and brown), and it features added stitching around the clasp rivets for reinforcement.
PROS
The durability and craftsmanship of this lead earn two paws up from us. It has some stretch, leading to a comfortable, natural feel while walking. The grip is also gentle with soft edges, leaving sore hands in the dust.
CONS
As with all leather leashes, some dogs may find chewing them to be mandatory. It's also more expensive than many of the other options discussed here.
4. BAAPET Strong Dog Leash: Best Rope Dog Leash
Product
$10.89
75,726 Reviews
Details
HEAVY DUTY - The BAAPET dog leash made with strongest 1/2 inch diameter rock climbing rope and very...
COMFORT PADDED HANDLES - Features soft padded handles for amazing comfortable, just enjoy the...
REFLECTIVE FOR NIGHT SAFETY - Highly reflective threads dog leashes keeps you both safe and visible...
GREAT FOR WALKING, RUNNING OR TRAINNING - This 5 foot length dog leash is a perfect balance between...
About: The BAAPET Dog Leash has us barking with joy thanks to its construction. Made with rock climbing rope, a walk around the block is an easy job for this leash even if Fido feels the need to embrace his inner tugboat in pursuit of a bunny rabbit or two.
Features: This leash means business with its ½-inch diameter rope and swiveling metal clasp. At 5 feet long, it's comfortable enough for neighborhood strolls.
There is something for everyone's style with six colors available, and the reflective threads keep everyone safe if you choose to head out for an evening walk.
PROS
In terms of quality, the BAAPET rope leash is paws above the competition. You don't have to worry about instant fray or wear, and the swiveling clasp makes for smooth sailing. We especially love the padded handle for defending our digits against the dreaded dog walker's hand.
CONS
Rope is too hard to resist chomping for some dogs which can make for an annoying adventure. The rubber covering just above the clasp is also a tempting chew, and it won't hold up to teeth as well as the rope does.
5. Mendota Slip Lead: Best Slip Lead
Details
British-style slip lead is a leash and collar in one convenient design for walking and training.
Made from a waterproof, vibrant, long lasting and machine washable polypropylene rope.
Soft on the hands with a "broken in" feel that is easy to use and pliable enough to roll up.
Adjustable to fit any neck size with the oil-tanned leather snap that controls the collar diameter.
About: The ultimate in easy-to-use leashes, the Mendota Slip Lead was designed with durability in mind. This leash leaves no bones about quality with its waterproof polypropylene rope.
Features: A ½-inch thick design works well with medium and large dogs alike. There is also a ⅜-inch thickness on the market if you're seeking a slightly thinner lead. Available in 4-foot and 6-foot options, this is an excellent pick for training sessions and quick transport.
The Mendota comes in eleven patterns and colors, shaking things up as you strut your stuff. Best of all, the material has a natural feel to it, skipping the horrors of a stiff walk.
PROS
Well-made and eye-catching, the Mendota has our tails wagging. It serves its purpose and keeps even the most determined of pulling puppers from tugging. The slip motion is smooth unlike many others on the market, and it isn't prone to knotting up like some other leashes do.
CONS
Slip-on leads are best-suited for training, and they aren't ideal for casual walks. You must also use extreme caution with this lead, as prolonged straining or incorrect use can result may injure your pet. The handle isn't the comfiest either, given its lack of padding
6. Company of Animals Halti Training Lead: Best Multifunction Dog Leash
Product
Sale
−$6.83 $12.67
24,969 Reviews
Details
7 VERSITILE USES: the Halti Training Lead is a multi-functional double ended lead that can be used...
DURABLE & DEPENDABLE: made from lightweight premium webbing, giving it both strength and comfort for...
MULTIPLE CLIPS: the Halti Training Lead has 2 trigger clips which allow for 2 points of connection...
RECOMMENDED: the Halti Training Lead is a favourite amongst dogs and owners worldwide and has become...
About: Get the best bang for your buck with this multi-purpose lead from Company of Animals. Whether you're looking for a short leash for training or a longer lead for exploring the park nose first, the Halti Training Lead has you and your furry friend covered.
Features: A nylon leash that's durable and easy to clean, the Halti Training Lead is a lasting addition to your doggy closet. Featuring two clips that allow for multiple connections, this lead offers the ultimate control without much bulk.
Made in both red and black, this lead matches most dog accessories with ease, keeping your pup looking fresh as a fiddle on the go.
PROS
The Halti Training Lead is the ultimate in versatility. Switch from a casual walk to a hands-free adventure all with one leash. You can also bring your pup's best buddy along on the same lead if you'd like, avoiding the hassle of two. It's incredibly lightweight as well despite its superior quality, allowing for a comfortable trot without the tied-down feel some leashes cause.
CONS
While its versatility is a high point, it also has its drawbacks since it lacks a traditional padded handle which can lead to tender hands. The leash has stretch to it too, a problem if Fido continually pulls. We'd watch chewers with this one since some doggos can make quick work of nylon.
7. Tuff Mutt Hands Free Dog Leash: Best Hands-Free Dog Leash
Product
$24.97
4,637 Reviews
Details
EASY GLIDE BELT CLIP: Hands free leash smoothly slides along the dog running belt so your pup can...
COMFORTABLY RUN WITH YOUR DOG: Walk, run, or hike In front or beside him without stepping on his...
BEST FOR MEDIUM/LARGE DOGS: A walking leash for medium dogs and a leash for large dogs that tend to...
EASILY CONTROL YOUR DOG: Our double handle dog leash allows you to control him without breaking...
About: Keep your hands free for fun with the Tuff Mutt Hands Free Dog Leash. The ultimate in feeling free as can be, this leash takes sore hands out of the equation entirely, allowing you to enjoy your walk like never before.
Features: The Tuff Mutt Hands Free Dog Leash lives up to its name with a durable bungee design. Its 4-foot length is perfect for running or walking with your best bud close beside you, while built-in handles make switching to a traditional leash style an option if needed.
Keep your pup attached to your hip literally with its included belt, where a free-moving clip allows him to move as he pleases from side to side.
There are six different color combinations available, each with reflective stitching for nighttime safety. Best suited for dogs over 30 pounds, the Tuff Mutt Hands Free Dog Leash is strong enough to handle large breeds with ease.
PROS
Not needing to clutch a lead is a gamechanger, as no leash holding means you're free to snap pup pictures and offer rubs galore if you choose. Durable construction provides peace of mind, and its bungee design absorbs shock, making jogging far more comfortable.
CONS
Since this leash is made in a bungee style, some mutt muscles are needed to utilize it properly. Dogs that are less than 30 pounds won't be able to budge it, leading to a stiff walk that no one enjoys. The 4-foot length can feel restrictive to those who are used to 6-footers, and it's a bit heavier than other leads as well. The belt is secured around the owner via a plastic clip too, something we'd much prefer to be metal.
8. VirChewly Indestructible Leash: Best Chewproof Dog Leash
Product
Sale
−$11.09 $22.89
456 Reviews
Details
Constructed from lightweight, flexible, incredibly strong vinyl coated steel cable - over 900lb...
Virtually chew proof, break proof, tangle proof, rust resistant, odor resistant
Doubles as a tie-out
Detachable handle
About: Leave chewed leashes behind with the VirChewly Indestructible Leash. Even Fido's most enthusiastic attempts will fail thanks to this chew-proof leash's vinyl-coated cable design. Easy to clean and impossible to tangle, this lead eliminates a lot of pesky problems leashes can run into.
Features: Perfect for dogs of any size, this leash means business when it comes to versatility. Lightweight yet tough as can be, this leash lets your doggo discover new sights and smells without the fear of him gnawing your time together short. Its durability also makes it a great dog leash for puppies who can't help but gnaw at the leash from time to time.
Available in nine lengths and five colors, there's a VirChewly Indestructible Leash for every four-legged friend.
PROS
Nothing beats safety, and the VirChewly Indestructible Leash keeps even the most determined chewers safely by your side. We love how easy to clean it is too, making a quick rinse or wipe down all you need to keep it fresh. The tangle-free design is a major win, skipping the headache of leash knots entirely. For its strength, the lead is surprisingly lightweight too.
CONS
Some determined dogs can chew through the plastic coating over time, and ingesting it is never a good thing. At this point, it'd need to be replaced to avoid injury. The handle isn't as comfortable as we'd like either.
9. Hi Kiss Dog Recall Training Lead: Best Long Dog Leash
Product
$9.97
51,328 Reviews
Details
Dimensions - This dog leash measures 3/4in wide by 30 feet long. Great for hiking, camping,...
Long Leash: This training leash is great for teaching your dog recalls. It has the length needed to...
Nylon Training Lead - This durable, long, nylon dog training leash will outlast cotton leashes. All...
Allows you to teach your dog recalls and other obedience skills.
About: Exploring the great outdoors has never been easier than with the Hi Kiss Dog Recall Training Lead. Rather than the standard 6-foot leash option, this lead lets your dog wander as he pleases, and offers a chance to practice recall whether it's with a learning Labrador or a well-trained Westie.
Features: At ¾-inch thickness, this nylon leash is suitable for small and large dogs with a strong yet lightweight design. Since its waterproof, your pupper can also enjoy worry-free swims while wearing it.
With five lengths available between 15 and 100 feet, owners can pick which works best for their needs. There are five colors available too from a peppy pink to a standard black.
Never used a long leash before? Check out our video all about the benefits of long dog leashes below:
PROS
The variety of lengths is a major win in our eyes since not everyone needs a hunking 100-foot line to carry around. Nylon is a winning material too as it is strong yet offers some stretch.
CONS
Like most long leads, this leash needs to be reeled in by hand, which can be difficult and downright tiring. And while we're nuts about nylon for many reasons, it isn't the material for every pup, as challenging chewers can make quick work of it.
10. PetSafe Nylon Dog Leash: Best Short Dog Leash
Product
Sale
−$2.78 $7.21
29,557 Reviews
Details
EASY TO USE: The easy on, easy off hook makes securing the leash to your pet's collar or harness...
OPTIONS: PetSafe Nylon Leashes are available in multiple lengths and widths so you can choose the...
GREAT ADDITION: PetSafe Nylon Leashes pair perfectly with many training aids like Easy Walk...
EXPERIENCE: PetSafe Brand has been an industry leading US manufacturer of pet behavior, containment...
About: You can't go wrong with a standard design, and the PetSafe Nylon Dog Leash nailed it for us. Well-made and versatile, this lead is a worthy addition to your training sessions.
Features: A high-quality nylon construction makes this leash suitable for both small and large pooches. Easy to use and durable, the PetSafe Nylon Dog Leash will be a lasting partner on walks.
With five size options available of varying thicknesses and lengths, the PetSafe Nylon Dog Leash is ideal for those looking to tailor their training tools to their needs. Its six color choices let you mix and match from hound haute couture to everyday potty break chic.
PROS
This is a sturdy option with no frills or fuss. There are no accessories to keep track of, and it isn't so long that you spend forever winding it up. The material has some stretch to it to keep things comfy, and while the handle isn't padded, it is still pretty comfortable.
CONS
Like all nylon, there is a risk of it being chewed through by a toothy terrier. You have to be sure you buy the right thickness for your dog too, as overly thin straps can snap if you have a powerful pooch.
The Bare Bones of Leashes
Nothing is worse than a snapped lead. Investing in a quality leash saves you time and money, as well as offers peace of mind as you conquer the neighborhood one block at a time. Pick a leash that works best for you and your pooch to keep things moving and grooving on the way to the dog park.
Have you tried any of our all-star recommendations? Do you have a leash that makes your tail wag? Let us know in the comments!