Quick Picks: Best Wet Foods for Dogs
Chances are, there's no greater joy in your dog's life than dinnertime. Though your dog surely loves you, he especially loves it when you feed him!
Choosing the perfect food for your pooch can be tough because there are a lot of options when it comes to dog food. There are different flavors and formulas available, and manufacturers utilize different practices and procedures when making their foods.
But one of the first things you'll need to decide when picking the perfect food for your pooch is whether to go with dry kibble or wet (canned) foods.
Most dogs will take wet food any day over dry food, and that's great because there are some benefits that wet foods provide, which dry foods do not.
In this article, we'll cover some of the main factors to consider when trying out a new wet dog food.
Then, we'll look at some of the top brands and flavors for your dog to sample. With all the options out there, picking a wet food might be confusing — but this guide will help you narrow down your options and find a healthy match for your pooch!
Read on to learn more, or just check our quick picks below if you just need a fast recommendation!
Wet Vs. Dry Dog Food: What's the Difference
You'll need to consider a variety of factors when choosing between wet and dry foods for your dog.
Both styles offer a different slate of pros and cons, and neither is the best choice in all cases. But since we're focusing on wet foods today, we'll cover some of the most notable pros and cons of wet foods below:
Pros:
The high liquid content makes it easier for your dog to stay hydrated. Good hydration is essential to proper kidney function, energy levels, and good overall health. Wet food is especially desirable if your dog has kidney issues or does not readily drink water.
Wet dog food tends to be packed with protein, usually boasting a higher protein composition than most kibbles. Many high-quality wet foods tend to have premium quality meat and produce incorporated into their recipes.
Wet food comes in a wide variety of flavors, making it easy to target specific aspects of your dog's health and his favorite flavors.
Dogs generally prefer wet foods to dry foods, and — in some cases — wet foods more closely resemble "real foods" than processed-and-pelleted kibbles do.
Cons:
Some argue that wet food doesn't offer the same dental health advantages as dry food. Harder dry food helps to remove plaque from the teeth and gums. It's important to note that professionals are divided on this issue, and no matter which type of food you choose, you'll still need to brush your pup's chompers.
Wet food can be more expensive than low-cost dry kibble. However, the health benefits of wet food might save you some money on vet bills down the line. Plus, dogs typically love wet foods, and it's hard to put a price on your pup's happiness.
Learn more about the differences between these two options in our Wet vs. Dry Food Comparison article.
What Should You Look for When Picking a Wet / Canned Dog Food?
If you've ever perused the wet foods on the market, you've probably been overwhelmed by the endless options available, and you may have even thrown up your hands and just picked the food with the cutest dog on the label.
It can be a daunting task, but picking the right food is crucial for your pet's health and quality of life. Simply put, this means selecting a food that meets a few key criteria.
Some of the most important criteria to satisfy when shopping for a canned wet food include:
Pick a Food that Meets or Exceeds the Appropriate AAFCO Guidelines
One of the most important things to verify before selecting a given food is that it satisfies the guidelines set forth by the Association of American Feed Control Officials (AAFCO).
These guidelines are designed to ensure your dog receives adequate nutrition for his life stage. For example, young puppies have different nutritional requirements than older adult dogs do.
In a nutshell, you'll want to look for a food that is labeled for one of the following:
All life stages
Growth
Maintenance
Gestation / Lactation
Foods labeled as being appropriate for "all life stages" will work for any dog of any age, while those labeled for "growth" are ideal for puppies, and those labeled for "maintenance" are ideal for adult dogs.
If you have a dog who's pregnant or has recently given birth, you'll want to look for food labeled for "gestation/lactation."
Select Foods Made in the USA (or Canada, Australia, New Zealand, or Western Europe)
Just like USA-made dog treats, canned dog food that's made in the USA tends to be made with higher quality ingredients.
Since you're feeding this to your dog on a daily basis, it's essential that he's consistently consuming a healthy product made from safe ingredients.
If you think your pet's food comes from the U.S., it's also worth digging a little deeper to ensure that the ingredients are actually sourced from the states as well.
That means the ingredients are homegrown, and more importantly, produced to American standards, and not shipped in from places with poor safety and quality-control standards.
Note that other countries, like Canada, Australia, New Zealand, and most of Western Europe, also produce high-quality food to a high standard, so don't count them out when you're selecting a wet food.
Look for a Protein at the Top of the Ingredient List
Dogs are omnivores, but high-quality proteins are vital for their health and well-being.
So, when you look at the ingredient list of a dog food, pay special attention to the first three ingredients, which have the highest content in the food. You should definitely see meat towards the top.
We typically recommend looking for a canned dog food that features a whole protein first, but many wet foods will feature "water sufficient for processing" or some type of broth first.
Avoid Foods with Poorly Identified Meat Byproducts
Some pet food manufacturers advertise that their food has meat as the primary ingredient, but many also contain meat meals or meat by-products to help satisfy your dog's protein requirements.
Now, there's nothing inherently wrong with meat meals or meat byproducts — in fact, meat meals are a better source of protein per unit weight than whole meat cuts are.
However, meat meals must be properly labeled, so that you can avoid feeding your pup questionable items.
In other words, "chicken meal" or "duck byproducts" should be fine (albeit kinda gross to humans). On the other hand, "meat meal," or "meat byproducts," may contain questionable ingredients.
Opt for Foods with Nutritious Fruits and Vegetables
Dogs may satisfy most of their caloric needs via protein and fat, but they are omnivores, who also require fruits and vegetables.
Fruits and vegetables can not only help provide some of the calories, water, and fiber your dog needs, but veggies will also provide some excellent supportive health benefits that meat doesn't offer.
For example, sweet potatoes are used in a lot of quality dog foods, providing a great source of natural carbs. You'll also see carrots and green beans in a lot of wet foods.
In addition to the criteria discussed above, always discuss your food choice with your vet!
Additional Choices: Picking the Perfect Wet Food for You and Your Dog
In addition to selecting a canned food that meets the minimum criteria discussed above, there are a number of options available you'll need to consider.
There are no "right" or "wrong" choices here, except that you'll want to consider the needs and desires of you and your pooch.
So, be sure to consider the following aspects of your dog's new wet food:
Pate or Cuts & Gravy?
Wet foods often come in one of two primary forms:
Pate. Pate is a solid consistency — think canned Thanksgiving cranberry sauce, but made out of meat.
Cuts & Gravy. Cuts & gravy looks just like it sounds: It consists of small slices of meat, and sometimes vegetables, in a thick sauce.
Neither is inherently better than the other, so you can just select the type that appeals to you and your pet the most.
Do note that cuts & gravy varieties tend to have a bit higher liquid content, which may be important if you have a dog who is a poor drinker.
Cans or Plastic Tubs?
These days, you can find wet food in just about any packaging you can think of.
You'll see:
Cans with pop tabs
Cans without pop tabs (requires can opener)
Plastic tubs
Rolls in plastic casings
This is the least important criteria from your dog's point of view, but it may be one of great importance to you.
Cans can be tricky to open if they don't have pop tabs, while plastic tubs and plastic casings are generally easy to open. Typically, the biggest difference comes down to storing leftovers.
Plastic tubs are great because they come with a lid that makes for easy resealing. Just close the lid and toss the uneaten portion back in the fridge for your pup's next meal.
On the other hand, cans don't close back up easily, so it can be tricky to store leftovers. However, you can purchase silicone dog food can lids, which will make storing uneaten food a snap.
Plastic casings often feature some way to close them back tightly too. Even if they don't you can store them in a zip-lock bag, although some may find this just too much of a nuisance.
What Portion Size Is Ideal for Your Dog?
Portion control for four-footers can often be difficult to get right.
There are a lot of "rules of thumb" you might see, but ultimately it depends on your dog.
There are a number of important considerations when it comes to portion size, such as:
Age
Weight
Activity Level
Feeding Frequency
Allergies
Health Issues
The first place to start is by discussing your dog's caloric needs with your vet, but you can also use a calorie calculator to arrive at a ballpark figure.
Be sure to note the feeding suggestions on the food packaging — they will typically offer suggestions based on your dog's size.
Another thing to consider is if you mix wet and dry food, you'll want to be mindful of the total calorie count your dog's dinner represents.
Finally, you may need to adjust the amount of food provided over time, to ensure that your dog's body condition remains within the healthy range.
Your vet's advice, the figures provided by calculators, and the manufacturer's recommendations are all designed to be starting points — you'll always need to be willing to tweak your dog's portion size to suit his specific metabolism and biology.
A Special Issue with Wet Foods: To Grain or Not to Grain
A hot topic in dog ownership today is the grain-free dilemma, which has divided even veterinarians as to whether or not it's safe and smart to feed dogs grain-free foods.
Recent research has found a correlation between grain-free foods and dilated cardiomyopathy (DCM) — a chronic but treatable heart condition in dogs.
The FDA has launched an investigation, and while no specific research has established causation, some owners are moving away from grain-free foods to avoid the risk entirely.
There are some advantages to grain-free foods for some dogs. But by taking out the grains, your dog may be missing out on an important ingredient, called taurine, which plays a role in a variety of biological contexts.
Note that because of the nature of the manufacturing process, the majority of wet foods are made without grains. However, there are several grain-inclusive options available too. We cover both varieties below.
Discuss the grain-free versus grain-inclusive issue with your vet, but you can read more about the connection between DCM and grain-free foods here.
Best Wet Foods for Dogs: Our Top Three Picks
Out of all of the wet food options out there, we've got a few pooch-approved favorites. Here are our three favorites:
1. Purina Beyond Ocean Whitefish, Salmon & Sweet Potato
About: Topping our list of the best wet foods on the market is Purina Beyond Ocean Whitefish, Salmon and Sweet Potato Recipe.
This grain-free option is filled with fresh fish and other natural ingredients that are probably part of your own diet as well.
Features: Purina's top-quality cans are labeled as a ground entrée, meaning they have a wet, pate-like consistency.
The recipe contains no artificial flavoring, and grains are replaced with sweet potatoes. It's packaged in a 13-ounce can with a convenient pop tab.
Options: You can purchase cans in a pack of 12 or in a variety pack with beef and chicken flavors.
2. Rachel Ray Nutrish Duck Stew with Green Beans, Carrots, & Brown Rice
About: From the famed television host and chef, Rachel Ray Nutrish Duck Stew with Green Beans, Carrots, & Brown Rice is a tasty option for dogs with refined taste buds. Packed with natural ingredients, this meal is as hearty as it is healthy.
Features: Packaged in convenient 8-ounce tubs, this wet food from Nutrish is free from preservatives, meat by-products, as well as corn, wheat or soy. It consists of chunks of meat and vegetables in a liquid gravy.
Options: Nutrish's Duck Stew is sold in packages of eight 8-ounce tubs, or in a variety pack of six tubs with chicken and beef flavors.
3. NUTRO Kitchen Classics Savory Lamb, Carrot & Pea Recipe
About: Made from wholesome and natural ingredients, NUTRO Kitchen Classics Savory Lamb, Carrot & Pea Recipe is a top choice for pate-loving pups.
Features: NUTRO packs a lot into these 12.5-ounce cans, including lamb and an assortment of vegetables. This recipe is grain-free, and is made without meat meals or artificial preservatives.
Options: NUTRO sells these cans by the flavor in packs of 12. They also offer beef, chicken, and turkey varieties.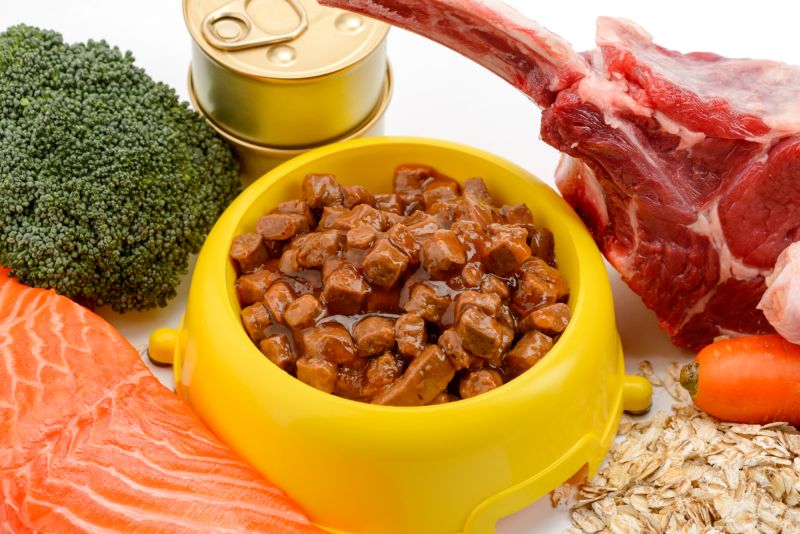 Best Wet Foods for Specific Dogs
Certain dogs require certain diets, based on age, size, and health considerations.
Foods tailored specifically to your dog's needs can greatly enrich his overall health. Here are some of our favorite dog foods to help support your individual dogs' needs:
4. Blue Buffalo Homestyle Recipe: Best Wet Dog Food for Seniors
About: Senior pups have slightly different dietary needs than adult dogs, and Blue Buffalo Homestyle Recipe ticks all the important boxes. Healthy, high quality, and delicious, this doggo delight is the perfect meal for golden-aged pups.
Features: Blue Buffalo's Homestyle Recipe is designed specifically for senior dogs, and is labeled as a Chicken Dinner with Garden Vegetables.
It's a healthy option because it not only includes a variety of nutritious ingredients, but it also features supplemental vitamins and minerals. This is a high protein and hearty meal with chicken being the first ingredient listed, making it perfect for senior dogs.
Options: Though there's only one option in terms of flavor, Blue Buffalo advises that this is a great option for a stand-alone meal, or to be mixed with dry food.
5. Blue Wilderness Rocky Mountain Recipe: Best Wet Dog Food for Seniors (Runner Up)
About: From Blue Buffalo's Wilderness series comes the protein-rich Blue Wilderness Rocky Mountain Recipe, another great vitamin-packed option for senior pups.
Features: This aptly named Red Meat Dinner is packed with real meats, no by-products and, unlike a lot of beef-flavored foods, contains no chicken. It's made without artificial flavorings or coloring, and contains supplemental vitamins and minerals.
Blue Wilderness Rocky Mountain Recipe is packaged in a can with an easy-to-use pop-tab top.
Options: The Red Meat Dinner is the only senior-tailored Rocky Mountain Recipe, but there is an accompanying dry food version you might consider mixing it with to help your dog-food dollar go a little further.
6. NUTRO Tender Chicken, Sweet Potato & Pea Stew: Best Wet Dog Food for Puppies
About: Taking the top spot for wet puppy food is NUTRO Tender Chicken, Sweet Potato & Pea Stew. This meal is a perfect first wet food for puppies, setting them up for a long and healthy life with wholesome ingredients and excellent nutrients.
Features: This stew-like meal is packed full of chicken and vegetables, but it contains no preservatives or by-products. It's also a grain-free recipe that utilizes sweet potatoes rather than corn or rice, which is a benefit for some doggos.
This food comes packaged in a small plastic tray with a foil top. It can be fed to puppies as young as 4 months.
Options: NUTRO sells the plastic trays in packs of 24, and offers a Tender Beef, Pea & Carrot option as well.
7. Merrick Puppy Plate Chicken: Best Wet Puppy Food for Large Breeds
About: It's important to note that large breed puppies (those who'll exceed 70 pounds as an adult) have slightly different nutritional requirements than small and medium breed puppies do.
For example, large-breed puppies require foods with fewer calories and less fat than small- and medium-sized puppies need. Additionally, they need foods with slightly different calcium-to-phosphorus ratios to help prevent joint problems.
Fortunately, we've got a great food for your soon-to-be-huge pupper: Merrick Puppy Plate Chicken is a great puppy food, which is specifically designed to be suitable for large-breed puppies.
Features: Sold in a large 12.7 ounce can with a pop-tab top, this stew works great for bigger puppies with big appetites. It contains nutrients puppies need for up to a year, and most recipes prominently feature de-boned chicken.
Options: These cans are sold in a case of 12, and there's also a Puppy Plate Beef option as well.
8. Wellness Complete Health Chicken & Salmon Puppy Food: Best Wet Puppy Food for Large Breeds (Runner Up)
About: Packed with real meat and tons of fruits and vegetables, Wellness Complete Health Chicken & Salmon Puppy Food is another great choice for large breed puppies.
Features: Chicken and salmon occupy two of the first three ingredients on the list of this pate. It's made without artificial preservatives or meat by-products and comes in a 12.5-ounce can.
9. Wellness CORE Grain-Free Food Mixers & Toppers: Best Wet Dog Food to Mix With Dry
About: If you're looking to optimize feeding time with both dry and wet food, a great option for the wet component is Wellness CORE Grain-Free Food Mixers & Toppers.
It's specifically designed to supplement other meals, although it will work as a stand-alone meal as well.
Features: This grain-free meal is made without meat by-products or artificial additives.
It's packaged in pop-tab cans, making it easy to open. Like most other Wellness CORE recipes, this is a grain-free food.
Do note that this beef-filled topping is a bit softer in texture than your average pate.
Options: While they only come in one flavor, these delights come in a 6-ounce can or in a 12.5-ounce option.
10. Nature's Recipe Easy to Digest Wet Dog Food: Best Canned Food for Sensitive Stomachs
About: If your pup has a sensitive stomach, then you know how difficult it can be to find the right food. Nature's Recipe Easy to Digest Wet Dog Food is specifically designed for pups who suffer from digestive difficulties, but it still offers the same benefits as other wet foods on our list.
Features: With easy-to-digest ingredients like rice, this gentle meal gives your pooch all the benefits of wet food without by-products or preservatives.
This also means that this is a grain-inclusive option, which may appeal to many owners.
It comes in large 13.2 ounce cans with a pop tab.
Options: This easy-to-digest food comes in Homestyle Ground or Stew options, as well as a variety of flavors, from seafood to beef. It's also sold in in 2.75-ounce tubs, which make great samplers if your pooch isn't sure about the flavor.
11. Hill's Science Diet Sensitive Stomach & Skin: Best Canned Food for Sensitive Stomachs (Runner Up)
About: Another great option for dogs with sensitive stomachs is Hill's Science Diet Sensitive Stomach & Skin. It's a high fiber option that benefits your dog's outside as much as his insides.
Features: Hill's Science Diet manufactures this grain-free food made with all-natural ingredients and a pate-like consistency. It's made with soybean oil, which is great for the look and feel of your dog's coat (although an animal fat would be preferable).
In addition to being designed to be easy-to-digest, this food is also fortified with ingredients that'll help improve your dog's skin and coat condition.
Options: It comes in large 12.8-ounce cans with pop tabs with three different flavor options. Available flavors include Chicken and Vegetable, Salmon and Vegetable, and Tender Turkey and Rice.
12. Purina Beyond Chicken and Sweet Potato Recipe: Best Affordable Wet Dog Food
About: Dogs love to eat. A lot. If your pooch is eating you out of house and home and you need a lower cost option, consider Purina Beyond Chicken and Sweet Potato Recipe.
It's more affordable than many similar foods, but it is still made with many high quality ingredients.
Features: Despite the lower cost, Purina's Beyond offerings bear a lot of similarities to competing brands. It's grain-free, contains no by-products, and no artificial additives.
Options: Beyond wet foods come in 13-ounce cans or 2-ounce pouches, and they are offered in a variety of flavors, from chicken to seafood to beef.
13. Wag Beef & Vegetable Stew: Best Affordable Wet Dog Food (Runner Up)
About: Another high quality yet affordable option for wet food is Wag Beef & Vegetable Stew. Amazon's own pet food brand is packed with healthy ingredients and delectable flavor.
Features: This food boasts beef as the top ingredient, alongside a host of healthy vegetables like peas and carrots. Dogs love its cuts & gravy texture, and owners love its affordable cost.
We've written an in-depth review of all Wag foods before, if you'd like to learn more about the brand.
Options: These 12.5 cans are sold in packs of 12. The stew comes in Chicken & Vegetable, as well as Lamb & Beef. Wag also makes a pate option, which is available in Beef, Turkey, and Chicken flavors.
14. Wellness CORE Weight Management Formula: Best Canned Food for Weight Loss
About: Mealtime for dogs on a diet doesn't mean that they can't enjoy the same delicious and flavorful foods.
Wellness CORE Weight Management Formula is specifically designed for dogs that need to shed a few pounds, or keep the weight off, but it retains a rich meaty flavor.
Features: Low in calories but high in protein, this soft pate is filled with several varieties of meat, including fish, turkey, chicken and pork.
The Weight Management Formula is grain-free and includes a wide variety of healthy fruits and vegetables.
You won't find any by-products or preservatives in these 12.5 ounce cans.
Options: There is only one flavor option for the Weight Management Formula, but they are sold in packs of 12 or 18 cans.
15. Purina Pro Plan SAVOR Chicken & Rice Entrée: Best Wet Food with Grains
About: If you've decided to stick with a grain-inclusive food for Fido, you'll definitely want to consider Purina Pro Plan SAVOR Chicken & Rice Entrée.
Purina's grain-filled options come in different flavor and texture varieties to suit the pickiest canine palates.
Features: SAVOR wet food comes in a variety of flavors and textures, and all are packed with protein as well as vitamins and minerals. It's sold in both 5.5-ounce cans or in 13-ounce cans, so it's a great option to mix with dry food or stand alone.
Options: SAVOR comes in both pate or cuts in gravy, and it's available in a wide variety of flavors like Beef, Lamb, Chicken, and Turkey.
***
The endless varieties of wet dog food can be a bit dizzying, but the key is to understand your dog's wants and needs Do you have a favorite wet food that your dog loves? Did we cover it on our list? Let us know in the comments!