Modern canines enjoy foods that are leaps and bounds better than the foods dogs available only a few decades ago.

These days, pet parents can choose from an array of nutritionally balanced, high-protein foods, which are often fortified with vitamins, minerals, omega-3 fatty acids, probiotic supplements and other helpful additives.
There are even a few manufacturers who've begun taking things a bit further.
Instead of cooking up "feed quality" recipes for dogs (which are essentially held to the same standards as cow or chicken feed), these brands have started using "human-grade" ingredients and manufacturing human-grade foods in USDA-compliant kitchens.
We'll dive into the subject below and examine a few foods made with human-grade ingredients. We'll try to illustrate the differences between these types of foods and others, explain what human-grade ingredients are, and point out a few of the best human-grade dog foods on the market.
Quick Picks: Best Human Grade Dog Food
Best Human Grade Dog Food Brands
The following pet food manufacturers make some of the best "human-grade" foods around.
Each manufacturer emphasizes different things in their recipes, so be sure to review them all before making your choice.
Note that most of these foods require pet parents to submit a bit of information about your pooch. This info may be used to alter and customize the recipe slightly so that it will perfectly suit your pooch.
These questionnaires vary in length and by the level of detail they entail, so I went through and filled them all out for my own pooch. We then listed all of the questions asked, so you'll know what to expect.
Also, because most of these foods are quite a bit more expensive than traditional dog foods, we've included the manufacturer's comments about pricing, as well as the total cost to feed my own dog.
1. Ollie
Best Overall Human-Grade Dog Food
This is a sponsored placement, in which an advertiser pays a fee to be featured in this article. Learn more
Ollie
Gently cooked, veterinarian-designed recipes made in small, lab-tested batches for safety.
About: Ollie provides custom-designed dog foods that are specifically designed to suit your pup's individual needs. You'll need to provide some basic information about your dog to get started, and then you can just sit back and wait for your pet's food to arrive at your front door.
Their foods are made with fresh ingredients (and no artificial flavors or colors), so they'll need to be refrigerated or frozen once you receive them. Once it's time to feed Fido, just use the included portion scoop to measure out the proper amount for your pooch.
Notable Features:
All recipes are customized to suit your dog's size, age, breed, body composition, activity level, and allergies
Recipes are vet-formulated to meet the AAFCO's guidelines for all life stages (including large-breed dogs)
All of the meats used in the recipes are sourced from the U.S. or Australia
1% of the brand's revenues are donated to shelters
You pick the basic recipes, and Ollie customizes them for your pet's needs
Each batch of food is lab-tested for safety and quality
Basic Recipes Offered:
Healthy Turkey Feast
Hearty Beef Eats
Chicken Goodness
Tasty Lamb Fare
Ingredients for Healthy Turkey Feast:
Ingredients List
Ground turkey, pumpkin, turkey thigh, turkey liver, turkey heart...,
carrot, turkey gizzard, lentils, kale, blueberries, coconut oil, chia seeds, dicalcium phosphate, calcium carbonate, cod liver oil, salt, zinc gluconate, ferrous sulfate, vitamin E supplement, manganese sulfate, potassium iodate
Protein Content (Dry Matter Basis): 44%
Price: Ollie reports that most meal plans start at $3.00 per day for small dogs, but the average recipe runs about $6.00 per pound. When I put in my 95-pound Rottie's details the total came to $96.83 per week.
Customization Questions:
Owner's first name
Dog's name
Zip Code
Email
Breed
Sex
Spayed/Neutered?
Dog's DOB
Activity Level
Weight
Body Condition
Current Food Type
Primary Current Protein
Allergies?
Select your protein
Pros
Made with premium meats sourced from the US and Australia
Most recipes contain organ meats and nutritious produce
Most dogs appear to love the taste
Backed by Ollie's "bowl-lickin' good" money-back guarantee
Cons
Pricey, like most other human-grade foods
Pet parents shared a few complaints about the customer service department
Subscription required to order
2. Nom Nom
Best Ingredient Sourcing in a Human-Grade Dog Food
This is a sponsored placement, in which an advertiser pays a fee to be featured in this article. Learn more
Nom Nom
A tasty, nutritious, and custom-crafted dog food made from only US-sourced ingredients.
About: NomNom produces single-serving sized fresh foods that are designed to please your dog's palate with a variety of high-quality "restaurant-quality" ingredients.
As with many other "human-grade" food manufacturers, they sell their products as part of a subscription-based service.
When you sign up for Nom Nom, you'll need to provide some basic information about your dog's breed, size, and any health issues he is battling. This will allow the company to tailor one of their vet-designed formulas to specifically suit your pooch.
Notable Features:
Customized based on weight, age, activity level, and health issues
Free nutrition consultation with your order
Pre-portioned meals – simply rip open the bag and dump it in your pet's bowl
No organ meats included – organ meats aren't bad for dogs, but their nutritional content can vary, which creates problems when trying to balance a recipe
Specially prepared nutrient mixes are used in each food to ensure proper vitamin and mineral content
Dog food samples available to new customers
Basic Recipes Offered:
Beef Mash
Turkey Fare
Chicken Chow
Pork Potluck
Ingredients for Turkey Fare:
Ingredients List
Ground turkey, eggs, brown rice, carrots, spinach...,
dicalcium phosphate, calcium carbonate, salt, fish oil, vinegar, citric acid, taurine, choline bitartrate, zinc gluconate, ferrous sulfate, vitamin E supplement, copper gluconate, manganese gluconate, thiamine mononitrate (vitamin B1), selenium yeast, riboflavin (vitamin B2), vitamin B12 supplement, cholecalciferol (source of vitamin D3), potassium iodide.
Protein Content (Dry Matter Basis): 44%
Price: Nom Nom says that meal plans vary from about $100 to $300 per month, and that it will cost about $155 to $200 for 30 days of food for a 30-pound dog. To feed my 95-pound Rottweiler, the total came to $88.22 per week with the two-week-at-a-time schedule. They also offer 20% off your first order.
Customization Questions:
Name
Email Address
Pet's Name
Pet Type (Dog/Cat)
Current Weight
Target Weight
Dog's DOB
Recipe
Delivery Frequency
Appears to be 4 meals per day
Pros
Most dogs appear to love the taste
Most pet parents reported things like healthier skin and coat condition, as well as increased energy levels
These foods are made in Nom Nom's own, Bay-Area kitchens
No subscription required
Cons
As with most foods made with fresh ingredients, Nom Nom meals are pricey
A few pet owners had problems with the company's customer service department
The individual serving bags are sometimes difficult to open
3. The Farmer's Dog
Most Eco-Friendly Human-Grade Dog Food
This is a sponsored placement, in which an advertiser pays a fee to be featured in this article. Learn more
The Farmer's Dog
Nutritious, freshly prepared dog foods shipped in biodegradable earth-friendly packaging.
About: The Farmer's Dog is another subscription-based food service that seeks to provide owners with real, fresh food in a convenient fashion. All of the recipes produced by the Farmer's Dog are made with "human-grade" ingredients that are sourced from suppliers and farms that meet USDA standards.
After setting up an account with The Farmer's Dog, you'll need to answer a few questions about your doggo so that they can tailor the recipe to suit his breed, age, activity level, ideal weight and any sensitivities he may have. A few days later, you'll receive your first batch of food.
Notable Features:
Meal plans are customized to suit your dog's specific needs
All foods are prepared in USDA kitchens
Flexible shipment schedules available
All food is delivered within a few days of being cooked
Packed with biodegradable insulation materials – you can compost them or throw them in the sink and dissolve them with water
Each recipe features The Farmer's Dog proprietary nutrient blend
Basic Recipes Offered:
Turkey & Parsnip
Beef & Lentils
Pork & Sweet Potato
Ingredients for Turkey & Parsnip:
Ingredients List
Turkey, parsnips, chickpeas, carrot, broccoli...,
spinach, tricalcium phosphate, sea salt, fish oil, taurine, vitamin B12 supplement, zinc amino acid chelate, iron amino acid chelate, vitamin E supplement, copper amino acid chelate, thiamine mononitrate, sodium selenite, riboflavin supplement, potassium iodide, vitamin D3 supplement, folic acid
Protein Content (Dry Matter Basis): 32%
Price: The Farmer's Dog reports that meal plans for smaller dogs start at less than $3 per day. I plugged in my 95-pound Rottie and found that it would cost $118.29 per week.
Want more info? Read our full review of The Farmer's Dog here!
Customization Questions:
Email Address
Owner's first name
How many dogs
Dog name(s)
Zip Code
Do I believe that fresh food is healthiest?
Dog's sex
Dog's age
Spayed/Neutered
Weight
Personality question
Breed
Body condition
Activity level
Eating style (picky to will eat anything)
Health issues (20 different options)
Type of current food
Brand of current food
Does she get treats/scraps?
Prescription diet?
Select recipes
Pros
Pet owners reported that most dogs loved the taste and digested the food well
Meals are frozen flat, thereby minimizing the amount of fridge space necessary
We love the biodegradable nature of their packing materials
Cons
A subscription is required to order
Only available in 3 flavors
Foods are packaged in larger quantities, which is eco-friendly, but inconvenient
4. Pet Plate
Most Convenient Human-Grade Dog Food to Serve
This is a sponsored placement, in which an advertiser pays a fee to be featured in this article. Learn more
Pet Plate
Pre-portioned dog foods packaged in individual easy-to-serve microwavable tubs.
About: Pet Plate offers a subscription-based food plan that allows you to receive fresh, veterinarian-designed meals at your home.
Designed to be supremely convenient to store and use, Pet Plate meals come in pre-portioned plastic containers, which you can warm up in the microwave before feeding your pet.
You can even sign up for Pet Plate's special topper plan. This is great for owners who feed their dogs kibble but want to add something nutritious and tasty on top.
Notable Features:
Each meal plan is customized to suit your dog's size and age
All recipes are designed by a veterinarian to meet or exceed the AAFCO's guidelines for all life stages
Cooked and tested in the USA
Can be stored in your freezer for up to one year
All meats come from USDA farms
Basic Recipes Offered:
Chompin' Chicken
Barkin' Beef
Tail Waggin' Turkey
Lip Lickin' Lamb
Ingredients for Tail Waggin' Turkey:
Ingredients List
Turkey, sweet potatoes, potatoes, turkey liver, apples...,
carrots, green peas, pumpkin, salmon oil, dicalcium phosphate, salt, proprietary supplement blend (vitamin E, zinc oxide, ferrous fumarate, copper gluconate, manganese gluconate, sodium selenite, potassium iodide, vitamin D3) 
Protein Content (Dry Matter Basis): 41.59%
Price: Pet Plate estimates that meal plans cost between $2 and $19 per day, depending on your dog's size. Feeding a "medium-sized" dog will cost about $6 to $8 per day. When I filled out the questionnaire for my 95-pound Rottie, the total came to $89.95 per week.
Customization Questions:
Dog's name
Breed
Dog's DOB (they even ask for the day)
Weight
Recipe (you can select up to four)
Email Address
Pros
Most dogs appear to love taste
Each meal is very easy and convenient to serve
We love that the foods can be frozen for as long as 1 year if need be
Cons
Customization options aren't as varied as they are for some other human-grade foods
Slightly lower protein content than other, comparable foods
5. Honest Kitchen
Most Affordable Human-Grade Dog Food
This is a sponsored placement, in which an advertiser pays a fee to be featured in this article. Learn more
Honest Kitchen
A mix-and-serve, shelf-stable, human-grade food option that doesn't cost an arm and a leg.
About: Like the other foods we've discussed so for, the Honest Kitchen produces premium dog food recipes that are made from "human-grade" ingredients.
However, unlike these other brands, the Honest Kitchen recipes are not fresh dog foods and are not sold via a subscription-based service. Instead, you simply buy your dog's food as needed.
In addition to a variety of kibble toppers and partial dog food mixes, the Honest Kitchen provides two basic types of food: Dehydrated meals that you add to warm water and serve, as well as their Whole Food Clusters line, which is essentially a kibble-style product you can serve as-is.
We'll primarily be focusing on the dehydrated meals here, as that it their primary focus.
Notable Features:
Made in the USA in a "human-grade" food processing facility with many organic ingredients
Three different recipes to choose from
Honest Kitchen claims to have been the first company to produce "human-grade" dog foods, as they started in 2002
Requires no refrigeration (although re-hydrated leftovers would need to be refrigerated)
Contains no by-products, preservatives, or GMO ingredients
Ingredients for Cage-Free Turkey:
Ingredients List
Dehydrated Turkey, Organic Oats, Dehydrated Potatoes, Organic Flaxseed, Dehydrated Carrots...,
Dehydrated Cabbage, Dried Apples, Dehydrated Honey, Dehydrated Organic Kelp, Dried Garlic, Minerals [Tricalcium Phosphate, Potassium Chloride, Choline Chloride, Zinc Amino Acid Chelate, Iron Amino Acid Chelate, Potassium Iodide, Copper Amino Acid Chelate, Sodium Selenite], Taurine, Vitamins [Vitamin E Supplement, Vitamin B12 Supplement, Thiamine Mononitrate (Vitamin B1), D- Calcium Pantothenate (Vitamin B5), Riboflavin (Vitamin B2), Vitamin D3 Supplement].
Protein Content (Dry Matter Basis): 24.07%
Price: Approximately $1.61 per pound. Crunching the numbers, this food looks like it would cost me about $45 per month to keep my 95-pound Rottie fed a similar amount of calories that she currently gets. That's in the same ballpark as what I currently spend on her premium kibble.
Customization Questions: None – simply pick the food you think will work best.
Pros
Much more affordable than the other human-grade dog foods listed here
No subscription required
A wide variety of recipes are available
Pet parents can choose between grain-inclusive and grain-free options
Cons
Not as fresh as some other human-grade dog foods
A bit of preparation is required before serving
The consistency doesn't look very appealing to most owners
Another Option: Human-Grade Dog Food Toppers
This is a sponsored placement, in which an advertiser pays a fee to be featured in this article. Learn more
Portland Pet
Delicious, human-grade dog food toppers, which can make your dog's food irresistible.
About: Portland Pet's Meal Pouches offer you another way to spice up your pooch's dinner while sticking to only human-grade ingredients. Simply open up a pouch, microwave it if you like, pour it on top of your pup's chow, and give it a little stir.
Voila! Five-star dinner is served!
Though marketed as toppers, these meals are *this close* to being nutritionally complete dog dinners by themselves. So, not only will they make your dog's food taste better, they'll add a ton of nutritional value to your dog's dinner too.
Basic Recipes Offered:
Hopkins' Pork N' Potato
Rosie's Beef N' Rice Meal
Tuxedo's Chicken & Yams
Grandma Ada's Turkey & Yams
Wally's Salmon N' Rice
Ingredients for Rosie's Beef N' Rice Meal Pouch:
Ingredients List
Beef, Brown Rice, Peas, Carrots, Beef Heart...,
Eggs, Millet Flour, Vegetable Oil, and Powdered Eggshell.
Pros
Most dogs go absolutely nuts for the flavor of these meal pouches
These provide a tasty and nutritious way to upgrade your dog's standard kibble
They can be helpful for enticing picky pups to feed
Cons
These will increase your overall dog food budget
Pet parents will have to put in some extra time and effort to prepare dinner
K9 of Mine Review
K9 of Mine contributor Kate Brunotts reviewed Portland Pet Food's toppers with her dog, Spicy, a while back, but they recently sent me a couple of variety packs to try out with my pooch J.B.
(They also sent me some tasty treats, but we'll talk about those another day. Suffice to say, they were much appreciated by my pup — especially the bacon-flavored ones.)
Once dinner time rolled around, I opened up a bag, nuked it for 30 seconds, and mixed it in with my pupper's food.
It actually looks pretty darn good, once it's all mixed up.
But unfortunately, my dog didn't care for the taste.
🙁
I was not terribly surprised, as she is incredibly picky. I'm not kidding — she won't even eat deli meats (but she will gladly slurp down asparagus, so go figure).
But that's OK — I had other options.
Option #1: I grabbed a topper pouch and headed over to my girlfriend's house to see if Willow, her 7-year-old, sugary-sweet great Pyrenees, would be interested.
As a matter of fact, she was interested.
The nomming commenced immediately and did not stop until her bowl was spotless. I've given her several other flavors since then, and she's loved each and every one.
On to option #3: I sent my brother home with a few of the meal pouches after a recent visit. He tried them with Diesel, his 5-month-old Pyr. Diesel proved to be just as big a fan of these as Willow.
He greedily slurped both recipes down, which is saying something, as I've seen this dog politely take treats from me and then gently place them on the ground as if to say "no thanks."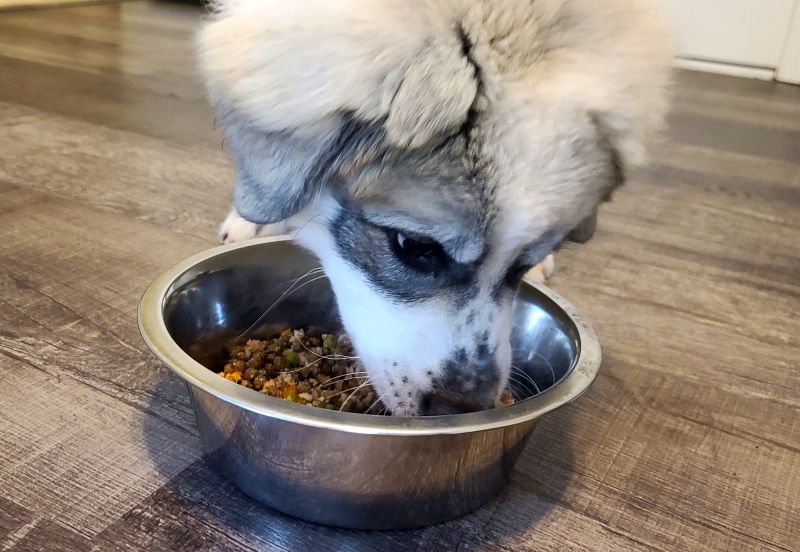 OK, so for those keeping score at home, we now have two big 'ol pups who loved these human-grade toppers. But what about smaller breeds?
For that, we'll have to move on to options #3 and #4. I gave a meal to two of my neighbors to try with their own dogs.
One of these puppers (who is unfortunately camera shy, so you'll just have to use your imagination) is a slightly crotchety old shih tzu named Hardy.
Hardy, in a word, loved these toppers. His mom raved about the way he enjoyed them, and she mentioned that he is actually a bit of a picky fella.
Another one of my neighbors has a relatively chill and reserved Chihuahua named Taco (I should also point out that Taco is one of the largest Chihuahuas I've ever seen).
Just like Willow, Diesel, and Hardy, Taco enthusiastically devoured these meal pouches, as you can see:
So, while my particularly picky pupper wasn't a fan, these meal pouches were quite popular with the four other floofs who had the chance to try them.
If you're thinking about trying a topper for your dog and want to stick to human-grade ingredients, Portland Pet Food Pouches should clearly be your first choice.
Differences Between "Human-Grade" and "Normal" Dog Food
We'll talk about the definition of "human-grade" dog foods in a minute, but let's start by looking at some of the key differences between a typical bag of kibble or dry dog food, canned dog foods, and a bag or tub of pet food labelled as "human-grade" or "made with human-grade ingredients."
Some of the most important differences are detailed in the table below.
Characteristic
"Human-Grade" Dog Food
Typical Kibble (Dry Food)
Typical Canned Food
Overall Appearance
Most human-grade foods are comprised of readily identifiable ingredients you may cook for yourself. This includes things like pieces of chicken, rice, and peas.
Usually, kibble takes the form of small, roundish, crunchy balls. Individual ingredients are rarely identifiable.
Some canned foods are minced and formed into a pate-like consistency. You'll rarely be able to identify the constituent ingredients easily.
Other canned foods are comprised of cuts of meat, as well as carbohydrates, fruits and vegetables, which are all mixed in a gravy-like sauce.
Preserved or Shelf Stable?
Not usually. Most "human-grade foods" and foods made with "human-grade" ingredients must be kept refrigerated or frozen.
There are also a few "human-grade" foods that are dehydrated products, which are shelf stable and require no refrigeration.
Kibble or dry food is usually preserved. The best foods are generally preserved with naturally occurring mixed tocopherols (such as Vitamin E).
Kibbles are usually shelf stable for about one year.
Most canned foods are preserved, and – like kibbles – the best ones typically use naturally occurring mixed tocopherols as the preservative.
Most unopened canned foods are shelf stable for two years. Once opened, they'll last about one week if refrigerated and sealed up tightly.
How to Serve
Thaw a frozen packet (if necessary), cut open bag or open tub, pour into your dog's bowl. Most such packages are designed to contain a single serving.
Some "human-grade" come in dehydrated form, so you'll need to add warm water to the mix before serving.
Scoop out desired amount and transfer to your pet's bowl.


Open can and dump out the desired amount in your pet's bowl.
Care of Leftovers
The leftovers of "human-grade" foods must be refrigerated.
Leftovers can be left at room temperature for several hours.
Leftovers must be refrigerated or discarded.
Special Recipes Available? (such as LID, joint-support, reduced calorie, etc.)
Yes
Yes
Yes
Available for All Life Stages?
Yes
Yes
Yes
Cost
Very high
Typically, the most affordable option
Higher than kibble; lower than "human-grade"
What ARE Human-Grade Foods? What Does "Human-Grade" Even Mean?
Chances are, if you are reading this, we don't have to convince you that your dog deserves the very best.
That's part of the reason you're reading about dog foods in the first place. In fact, we'd bet that you probably like the idea of feeding your pet food that's deemed high-enough quality to grace your own dinner table. In other words, you'd like foods made with ingredients that are fit for human consumption.
While there's no doubt that the foods listed here are some of the healthiest dog foods on the market today, The problem is that the regulations regarding the use of the term "human grade" are complex.
There are at least four different federal agencies that play some role in the regulation of pet foods:
American Association of Feed Control Officials (AAFCO)
U.S. Department of Agriculture (USDA)
U.S. Food and Drug Administration (FDA)
Federal Trade Commission (FTC)
Further, the Department of Agriculture for each state is also involved in regulating some pet food labelling issues.
Theoretically, "human grade" dog foods are those made with "human-grade" ingredients and prepared in USDA-approved kitchens in accordance with the FDA's 21 CFR part 117.
That seems simple enough, but there are a million complicating factors.
For one, some states won't recognize any kitchen that manufacturers dog food to be a "human-grade" facility. This means that for some states, human-grade dog food simply doesn't exist. Of course that doesn't mean much for most pet parents, but it illustrates just how confusing and unregulated the "human-grade" title is.
Additionally, the term "human-grade" doesn't even appear to have a legal definition, according to the AAFCO. The most appropriate term that does have a legal definition, and should therefore be used instead, is "human edible."
This is important because there are two different types of foods that can come out of a USDA-approved kitchen: human edible and human inedible.
So, even if a food was processed in a USDA-approved kitchen, it may not be considered human edible or "human grade," even if it can still be used in a pet food.
Despite this, many manufacturers will promote the fact that their dog food is processed in a USDA-approved kitchen, although this doesn't mean that the food is closer to human edible quality.
To complicate matters even further, many of the regulations in place are currently in a state of flux, as regulators are doing their best to adjust to these new trends in dog food manufacturing. Hopefully, these issues will be resolved in the near future.
Truthfully, at least at the moment while regulations are still developing, the label of "human-grade" is more of a marketing gimmick than anything else. There simply isn't any kind of all-encompassing regulation or approval process when it comes to labeling a dog food as human-grade.
That being said, human-grade dog foods do tend to generally be high-quality options that most owners love. Most human-grade dog foods deal with fresh, wholesome ingredients, and owners tend to see favorable outcomes when switching their dogs to one of the human-grade brands we detail below.
In this article, we've explored only those brands that produce foods embodying a "human-grade" ethos, regardless of the technical, legal details of their claims.
Human-Grade Dog Food FAQ: Your Questions Answered!
There's no doubt about it: The subject of human-grade dog food triggers a number of questions among dog owners. So, we've tried to clear up a few of the most common questions about this subject below.
Can humans eat human grade dog food?
Theoretically, yes. If you wanted to eat human-grade dog food, you could. However, dog food contains fewer spices and flavors than human food, since dogs don't always digest them well.
Is human grade dog food better than kibble?
Human-grade dog food offers a number of benefits over kibble, often using fresh ingredients and requiring less processing than traditional dry dog food.
If a dog food is made in USDA kitchens, does that make it human grade?
No. USDA kitchens can produce "human edible" and "human inedible" food, so just because a dog food was made in a USDA kitchen does not mean the food is human-grade.
How is human-grade dog food stored?
Fresh, human-grade dog food needs to be refrigerated. However, human-grade foods that are shelf-stable can be stored like ordinary kibble.
Do human-grade dog foods contain artificial flavors?
Not usually. However, there's no regulation that prevents brands from doing so, as many human foods contain artificial flavors, artificial colors, and artificial preservatives.
Further Reading About the Term "Human-Grade" Dog Food
As you can see, there is a lot to unpack regarding the term "human grade," as it relates to dog foods.
If you'd like to read a little more about the regulations surrounding the term "human-grade," check out the following pages (some may require you to register before accessing the article or resource):
***
"Human-grade" foods may be relatively new to the pet food market, but we're pretty sure they're here to stay. There are a lot of things to like about human-grade dog food, and they help many pet parents feel much better about the food they give their pooch.
The issues with terminology and regulation will probably be resolved in the not-too-distant future, which will help clarify things for owners.
But, in the meantime, just be sure to examine any food you intend to purchase carefully, discuss your choice with your vet, and follow all of the manufacturer's recommendations. If you're struggling to distinguish between the myriad human-grade options, consider checking out our stack up comparing Ollie vs Farmer's Dog, which highlights some of the key differences between various fresh foods.
Do you feed your dog a "human-grade" diet or do you just use a run-of-the-mill dry food? Does your pet prefer a wet food instead? What kind of meal plan do you employ for your pet?
We'd love to hear about your experiences! Let us know which one you chose and what your dog thinks about it in the comments below!