Interested in whipping up some homemade dog training treats? Lots of owners are doing it these days!
As a pet parent, you should always have some training treats on hand. But by taking a DIY approach rather than picking up some off-the-shelf treats, you can ensure that you wind up with treats that are perfect for your pupper. They'll also save you a buck or two and give you a fun kitchen activity to enjoy.
Read on to learn about some of our favorite homemade dog training treats, as well as some of the reasons they're so important!
Homemade Dog Training Treats: The Basics
When it comes to making homemade dog training treats, the options for customization are endless.
The most important thing to keep in mind is that you want to stick to safe foods you can give your dog, and avoid potentially dangerous ingredients, such as chocolate, walnuts, onions, and artificial sweeteners, such as xylitol.
But don't worry — there are still countless options available.
For example, you have the freedom to choose from a variety of dog-safe meats, such as chicken, turkey, or lean beef, which can be cooked and diced into small, bite-sized pieces.
Fruits like apples, bananas, or blueberries can add a touch of sweetness and natural flavor to the treats.
Dog-friendly vegetables like sweet potatoes, carrots, or green beans can be steamed or pureed and incorporated into the recipe.
Yogurts that don't include added sugars or artificial sweeteners, can be used to create creamy and frozen treats that dogs love.
It's important to make the treats in small sizes, so they don't interfere with your dog's regular diet.
This ensures that they are treated as rewards and not as a significant portion of their daily caloric intake.
Additionally, trainers typically recommend that owners use small treats for training.
This way, you don't have to wait around for your dog to finish a big 'ol treat before you can do another repetition.
With a little creativity and consideration for your dog's needs, you can make delicious and healthy homemade dog training treats that will keep your pup motivated and excited during training sessions.
Got an 'ol pup in need of snacks? Check out these DIY senior dog treats!
The 10 Best Homemade Dog Training Treats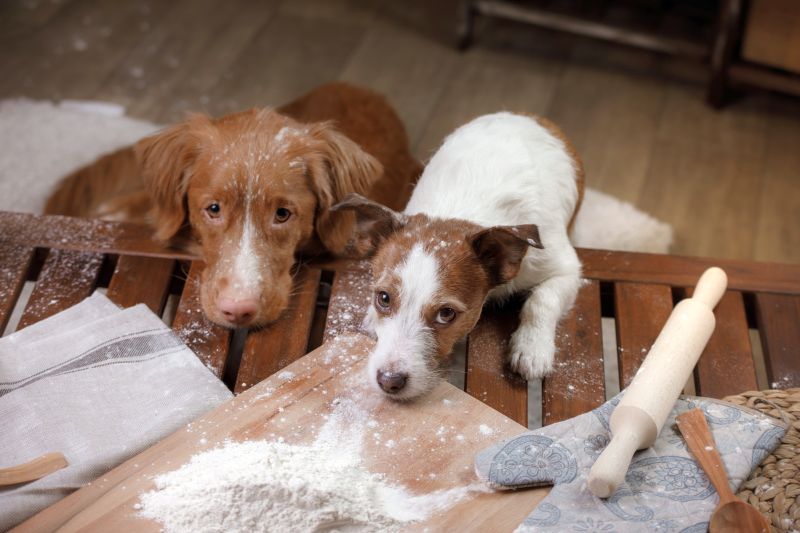 Now that you know the basic concept behind dog training treats, we can get to the specific recipes! Here's our list of the 10 best homemade dog training treats. There's something here for everyone. Who knows? Maybe you and your dog will discover a new favorite flavor.
1. Banana Oat Breakfast Biscuits
About: If you're looking for a crunchy treat for your daily training session with your pup, these Banana Oat Breakfast Biscuits from Key to My Lime could do just the trick. They're not just a yummy reward. They contain healthy ingredients that can help kick-start the day!
Ingredients:
1 large, ripe banana
¼ cup unsalted natural peanut butter
¼ cup hot water
1 ½ cups old-fashioned oats, ground into flour
Instructions:
Preheat the oven to 350℉ and line a baking sheet with parchment paper.
In a large bowl, mash the banana.
Add the hot water and peanut butter. Stir to combine.
Add the oat flour. Stir to combine.
Between two floured pieces of parchment paper, roll the dough to ¼ inch thick.
Use a cookie cutter or knife to cut out your desired shapes.
Bake for 30 minutes or until golden.
Pet-Care Pro Tip: Think Small with Training Treats
Remember that trainers typically recommend keeping training treats small. So, just keep that in mind when cutting out treats or selecting cookie cutters.
2. Salmon and Sweet Potato "Brownies"
About: For a delicious reward that can even satisfy dogs with bad teeth, these Salmon and Sweet Potato "Brownies" from Kol's Notes are soft and savory, and could have your dog salivating between each bite. This unusual brownie adaptation may be the perfect training treat for dogs who are older and want to prove that old dogs CAN learn new tricks.
Ingredients:
1 can of salmon
1 medium sweet potato, baked (skin on)
2 large eggs
⅓ cup of coconut flour
Coconut oil, as needed for greasing the pan
Instructions:
Preheat the oven to 350℉.
In a medium-sized bowl, beat the eggs until fluffy.
Fold in the salmon and coconut flour.
Let the mixture rest for 10 minutes while the coconut flour absorbs the mixture.
Remove the sweet potato from its skin, mash it until it's smooth, and fold the mashed sweet potato into the mixture.
Grease a 9 x 9" pan with coconut oil and press the mixture into the pan.
Bake for 60 to 70 mins until it's firm and the edges are golden (if you insert a toothpick, it should come out clean)
Let cool and cut into squares.
3. Frozen Apple Pie Dog Treats
About: This Frozen Apple Pie Dog Treats recipe from Irresistible Pets offers a lovely reminder of summer while giving your dog a taste of the upcoming fall. These frozen apple pie dog training treats are great for those warm almost-fall days when we can't seem to predict when it'll be warm, chilly, or rainy, but there's a 100% chance your dog will deserve a treat.
Ingredients:
2 apples
1 cup of plain, nonfat, Greek yogurt
Water
Instructions:
Slice the apples into tiny pieces (remove the core and seeds).
Add the apples, yogurt, and water to a blender and blend until liquid.
Pour the mixture into an ice cube tray and freeze for a few hours.
4. Fur-Baby Food Training Treats
About: If your dog is your baby, these Fur-Baby Food Training Treats from Dog Tipper will fit right into your training routine. With just a few ingredients (you might already have them at home), your dog could have some treats he will love.
Ingredients:
3 jars of beef baby food
¼ cup Cream of Wheat (two packets)
½ cup water or broth
Instructions:
Preheat oven to 350℉.
Combine all ingredients and mix well.
Pour the batter into a pyramid mat or similar molds (use a spatula to scrape the remaining batter into the molds if need be).
Bake for 25 mins. or until brown.
Cool on wire racks. Refrigerate for up to 4 days, or freeze.
Editor's Note
Just jumping in here to tip our hat to DogTipper.com.
We see tons of dog-care hacks, but this one is really neat. Using the back side of a raised silicone baking sheet for a mold is quite clever. It'll help you make scads of perfectly sized training treats in one shot.
5. Gourmet 3-Ingredient Frozen Dog Treats
About: Some dogs will eat anything, but others have a more sophisticated pallet. If your dog gets excited about surprising flavors, these Gourmet 3-Ingredient Frozen Dog Treats from Damn Delicious may just hit the leg-shaking spot. The flavors may be complex, but making these treats is super simple!
Ingredients:
1 cup chicken stock
1 cup peanut butter
2 tbsp. freshly chopped parsley
Instructions:
In a small bowl, combine peanut butter and parsley.
Divide chicken stock evenly into an ice cube tray, filling each cell halfway. Put the tray in the freezer.
Fill the top half of the ice cube tray with the peanut butter mixture.
Put the ice cube tray back in the freezer for about 4 hours.
6. Dried Banana Chips
About: This Dried Banana Chips recipe from The Crazy Dog Mom is a delightful one-ingredient snack you and your training buddy can enjoy together. It's an easy grab-and-go snack for those days you have to get to the park for a fun training session A.S.A.P.
Ingredient:
Instructions:
Preheat oven to 210℉ and line a baking sheet with parchment paper.
Peel the bananas and cut them, either lengthwise or into coins.
Lay the banana pieces on the lined baking sheet.
Bake for 90 mins. Store them for up to 7 days.
7. Birthday Bones
About: Who says that Birthday Bones from All Recipes can only be eaten on birthdays? Every day your dog learns something new is special, so why not celebrate?
Ingredients:
2 cups whole wheat flour
1 tbsp. baking powder
1 cup unsalted natural peanut butter
1 cup skim milk
Instructions:
Preheat the oven to 375℉ and grease the cookie sheets.
In a mixing bowl, combine the baking powder and whole wheat flour.Set the mixture aside.
In a medium-sized bowl, mix together the milk and peanut butter. Add the dry mixture and stir well.
Put the dough on a floured surface and knead until it's smooth. Roll it out to ¼ inch thick and cut with a knife or cookie cutter.
Place the raw cookies on the cookie sheets, 2 inches apart. Bake for 20 mins or until lightly browned. Cool on a wire rack.
Wanna Make These Even Better?
If you want to make these cookies extra special and personalize them for your pooch, try this Doggy Icing recipe by The Sugar-Free Diva.
Ingredients:
¼ cup of cornstarch
¼ cup of flour
2 tsp. honey
Food coloring, a few drops
Instructions:
Start with your cornstarch in a small- to medium-sized bowl.
Add half of the water, a teaspoon or two at a time, stir in the honey, then continue adding water until the consistency is right, which is a bit on the thin side.
Divide the icing mixture into the same number of bowls as you want different colors. Add a few drops of food coloring to each one until you have the hue you want.
Decorate your dog cookies with the icing any way you like. You can paint flowers, your doggo's name, or just slather it all over. Go nuts!
8. Vegan Pumpkin Dog Treats
About: These Vegan Pumpkin Dog Treats from Okonomi Kitchen contain no animal products and are full of flavor! They're an excellent option for dogs with allergies and they deliver a variety of vitamins, minerals, and antioxidants to keep your pup energetic and healthy.
Ingredients:
¾ cup of pumpkin puree
¼ cup of peanut butter
2 tbsp. ground flax meal
1 ⅓ cup of oat flour
½ tsp. of cinnamon
Instructions:
Preheat oven to 350℉.
In a food processor, blend the pumpkin puree, peanut butter, flax meal, and cinnamon.
Add the oat flour and process all the ingredients together until you have a dough.
Roll the dough onto a lightly floured surface to about ¼ inch thick. Cut your shapes with whatever utensil you want and bake for 30 to 35 mins.
Let them cool and store them in the fridge for up to 7 days or in the freezer for up to 2 months.
9. Blueberry Coconut Pupcicles
About: Are you looking for a homemade dog training treat recipe that's as simple to make as it is delicious? You've come to the right place! These Blueberry Coconut Pupcicles from Bird's Eye Meeple are as easy and yummy as they come. The hardest part of this recipe is waiting for them to freeze.
Ingredients:
½ cup of solid coconut oil
Frozen blueberries
Small silicone molds
Instructions:
Drop a blueberry into each mold.
In a small saucepan, heat coconut oil until it becomes liquid.
Let it cool, pour it into the silicone molds, and pop the molds into the freezer.
When they're solid again, they're ready to eat!
10. Cheesy Cheddar Biscuits
About: Is there anything better than cheese? If your dog drools over cheesy goodness, these Cheesy Cheddar Biscuits from Sugar the Golden Retriever might become a new favorite. If you're tempted to try a nibble while you make them, go for it! They're perfectly edible for humans and dogs. Sharing is caring!
Ingredients:
4 cups of flour
2 cups of shredded cheddar cheese
2 tbsp. to ¼ cup of oil
1 ⅓ cups of water
Instructions:
Preheat oven to 250℉ to 350℉.
In a mixing bowl, combine flour and cheese. Stir in just enough water and oil to make a stiff dough.
Roll the dough out onto a floured surface to ⅜ of an inch thick.
Cut your cookies with your cutter, place them on an un-greased cookie sheet, and bake until dry.
Why Are Training Treats Beneficial for Dog Training?
Positive reinforcement is widely recognized as the most effective (not to mention humane) approach to dog training.
Here's how it works: Whenever your dog exhibits a desired behavior, you reward him — generally with a tasty treat.
This creates an association between the behavior and the reward, and it encourages your dog to continue the behavior.
With repetition, the behavior will become a habit, and your dog will continue to exhibit it, even without receiving a treat every time.
Positive reinforcement not only yields positive results but also strengthens the bond between you and your dog, which fosters a more fulfilling relationship for you both.
But it's important that you provide a reward that's awesome enough to motivate your dog.
Treats are a popular choice because most dogs absolutely love them! But they also provide an immediate and enticing reward for good behavior.
Treats are also easy to dole out in rapid-fire fashion. But treats aren't the only kind of reward you can use.
Some dogs may be adequately motivated by praise or scritches, while others will jump through whatever hoops you'd like for a chance to chase down a ball or other fetch toy.
Ultimately, you'll just have to find what works best for your specific dog. Most owners will find that treats fit the bill best, but don't be afraid to experiment (or offer multiple rewards, such as giving him a treat and some good pets).
Why Make Your Own Dog Training Treats?
While it's tempting to grab commercial dog treats from the store, making your own comes with unexpected benefits and advantages. You might be surprised to discover just how simple and rewarding it is to create homemade dog treats.
Here are some additional reasons why you may want to whip up some homemade dog training treats:
You have complete control of the ingredients. Making treats allows you to have full control over the ingredients, ensuring they are healthy and tailored to your dog's needs. You can also include or exclude things your dog loves or hates to maximize their flavor.
Homemade treats can support dietary needs or restrictions. Homemade treats can be customized to accommodate specific dietary needs or restrictions your dog may have, such as allergies or sensitivities.
Making homemade treats will save you money. Making your own treats can be more cost-effective in the long run, as you can buy ingredients in bulk and create larger quantities at a lower cost than store-bought options.
You can be sure that the treats are fresh. By making treats in small batches, you ensure freshness, as you can prepare them as needed and avoid using preservatives or additives. You'll also be able to avoid stale store-bought treats, which may have been on the shelves for months.
While it may seem like making your own treats is more work than buying some at the store, you might discover that the pros outweigh the cons.
When it comes to making treats for your dog, there are endless possibilities! No matter what ingredients you have in the house, how much experience you have, or your skill level, there's a scrumptious treat you can make to reward your dog while you train.
Positive reinforcement like this — plus your love and attention — is a recipe for success!
Did our list of the best homemade dog training treats get your tail wagging? Which recipe did you like best?
Did you try making any of them? How did it go?
Let us know in the comments below!