Our golden oldies love (and deserve) treats! But that doesn't mean you have to buy them from a store – you can also make senior dog treats at home! You just need the right dog treat recipes to get you started.
We'll share seven of the best DIY snacks for senior dogs below so you can make your own! We'll also share a couple of factors to keep in consideration when finding a treat for your mature mutt.
Treats for Senior Dogs: Things to Consider
Some senior sweeties may still act like puppies, but there are a couple of important factors to take into account when caring for a senior dog for in order to keep your elderly companion feeling his best:
Keep an eye on the calories. Senior doggos are often more prone to weight gain, so watch the calories in context with the rest of Fido's diet. This is particularly important for pups with joint issues, since excess weight can exacerbate painful symptoms. 
Look out for recipes rich in omega-3s. Seniors may suffer from arthritis or other joint problems, so seek out recipes that have omega-3 rich ingredients like salmon, flaxseed, fish oil, chia seeds, and blueberries. 
Be mindful of your dog's sensitivities. Some seniors have food allergies or sensitivities, so hypoallergenic dog treats can be preferable depending on your dog. Limited ingredient treats are often easier to make too, so it's a win-win! 
Consider making soft treats. Many seniors have tooth issues, so soft treats may be better. They are also easier to break into smaller pieces which is great for rewarding your dog throughout the day without upsetting his stomach. 
Antioxidants are awesome. Antioxidant-rich ingredients like blueberries, banana, spinach, and carrots may help boost your best buddy's immune function. Many of these ingredients are also a great source of fiber which is great for your dog's digestion. 
Make sure the treat is palatable for your pooch. It's not uncommon for senior dogs to have poor appetites, so you want to make sure your dog's treats are as enticing as possible. Select flavor profiles that you know your dog has enjoyed in the past for the best results – there's no reason to force them to try new things if they know what they like!
Be Sure to Preserve Your Pup's Treats!
Don't forget that these DIY treats made with fresh ingredients may not last as long as something that's store bought ("shelf stable").
Check each recipe for shelf life before determining how many treats you want to make for your canine companion. You also might have to make room in your fridge or freezer – some of these treats need to stay cool to stay fresh.
The 9 Best Senior Dog Treat Recipes
Without further ado, here are nine scrumptious treat recipes for your senior pooch. Don't forget to take your dog's specific dietary needs and favorite flavors into consideration when picking out one of these doggie DIY recipes.
1. Super Salmon and Pumpkin Treats: Inflammation-Fighting Senior Dog Treats
About: Does your senior like treats that are both sweet and savory? If so, these salmon and pumpkin treats from Health Starts in the Kitchen are a perfect pick. These simple treats are packed with omega-3s which helps fight inflammation and keeps your dog's coat looking shiny and strong.
Ingredients:
Dog-safe unsweetened Greek yogurt
Organic pumpkin puree
Brewer's yeast
Directions:
Combine all ingredients in a blender and process until smooth.
Fill silicone molds or ice cube trays with the blended mixture.
Freeze until solid and serve.
2. Berry Good Bites: Immune-Supporting Senior Dog Treats
About: If your best buddy is a berry good boy, he will love these antioxidant-rich treats from For the Love of Cooking. These frozen treats are easy to make and are especially great for cooling off your canine on a warm day.
Ingredients:
Dog-safe unsweetened Greek yogurt
Blueberries
Bananas
Strawberries
Directions:
Blend all ingredients in a blender or food processor until smooth.
Spoon mixture into freezer-safe molds or an ice cube tray.
Freeze until solid and serve to your sweetheart.
3. Veggie Delights: Low-Cal Senior Dog Treats
About: For a low-calorie dog treat, check out these veggie packed treats from Dogvills. These treats are packed with fiber and won't add unnecessary calories to your dog's diet.
Ingredients:
Rice flour
Cooked sweet potatoes
Cooked zucchini
Parsley
Low sodium vegetable broth
Directions:
Preheat the oven to 350 degrees Fahrenheit.
Mix all of the dry ingredients in a large bowl until well combined.
Slowly add the broth to the dry mixture until combined.
Knead the mixture with your hands to form a dough.
Flatten the dough and cut into shapes with cookie cutters.
Place dog treats on a lined baking sheet and bake for 25 minutes or until golden brown.
Serve once cooled.
4. Salmon and Sweet Potato "Brownies": Soft Senior Dog Treats
About: While salmon and sweet potato brownies may not sound like the most appetizing treat to us, your dog will adore this canine confection. These soft treats by Kol's Notes are easy to break apart, so they're perfect for pups with tooth troubles.
Ingredients:
Chopped salmon
Peeled sweet potato
Eggs
Coconut Flour
Directions:
Preheat your oven to 350 degrees Fahrenheit.
Beat eggs until fluffy in a medium bowl.
Fold in coconut flour and salmon.
Let the mixture rest for 10 minutes.
In a separate bowl, mash the peeled sweet potato until smooth.
Combine the coconut mixture and the sweet potato.
Once combined, pour the mixture into a 9×9 cake pan lined with coconut oil.
Bake for about an hour or until the edges are golden.
Cool, cut into squares and serve!
5. Easy No-bake Treats: Irresistible Dog Treats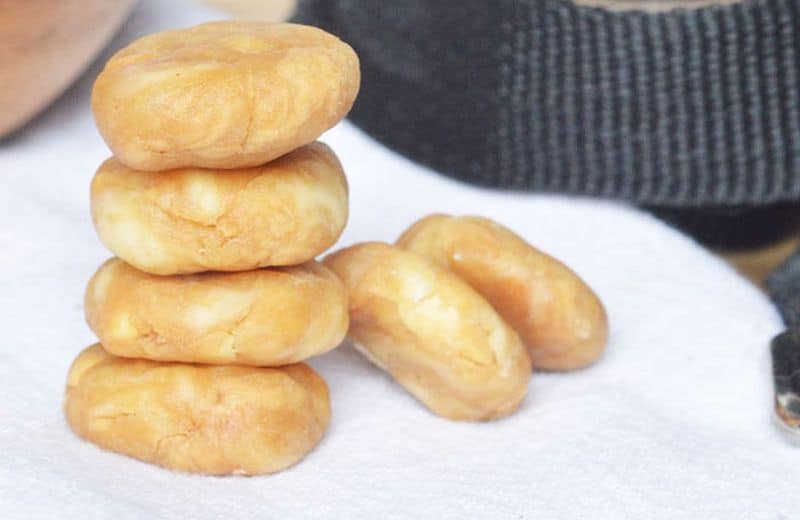 About: Your dog will go nuts for these treats featuring meat broth and peanut butter by Sunny Day Family. These treats are also pretty malleable, so you can use them as pill pockets, too.
Ingredients:
Quick oats
Dog-safe peanut butter
Unsalted chicken broth
Directions:
Combine all ingredients in a bowl.
Once you've achieved a dough-like consistency, shape the treats with your hands into small disc shapes.
Serve immediately or store in an airtight container in the refrigerator for later use.
6. Frozen Apple Treats: Allergy-Friendly Dog Treats
About: These super simple treats avoid common allergens like chicken and eggs for seniors with sensitive stomachs. The two-ingredient treats by Irresistible Pets happen to be full of fiber too, which will help support your dog's digestion. If your dog is sensitive to dairy, you can swap out the yogurt with water or an unsalted meat broth.
Ingredients:
Directions:
Slice apples into small pieces, taking care to remove the core and any seeds.
Blend the apples with yogurt and a bit of water.
Pour the mixture into an ice cube tray.
Freeze and serve once solid. If the fully frozen cubes are tough on your dog's teeth, allow them to melt a bit before handing them off to your hound.
7. Sweet Potato Fries For Fido: Fiber-Rich Dog Treats
About: You might find yourself fighting for Fido's treats with these sweet potato fries from Beagles and Bargains. These baked fries are a great source of fiber and feature turmeric which may act as an anti inflammatory for dogs with aching joints.
Ingredients:
Sweet potato
Coconut oil
Turmeric
Cinnamon
Directions:
Preheat the oven to 425 degrees Fahrenheit.
Cut the peeled sweet potato into long, skinny fry-like pieces.
Coat the cut potato pieces in oil and spices in a large mixing bowl or gallon-sized bag.
Place the fries on a baking sheet.
Bake for 15 minutes and then flip the fries.
Bake for an additional 10 to 15 minutes.
Serve once cooled.
8. Peanut Butter and Yogurt Treats: Probiotic Packed Treats
About: These simple peanut butter and yogurt treats from Caesar's Way provide your pooch with a good source of probiotics to help aid digestion. They're also a no-bake option, so you can easily whip these up for your sweet senior.
Ingredients:
Dog-safe unsweetened Greek yogurt
Directions:
In a microwave safe bowl, slowly heat peanut butter until it has melted.
Mix melted peanut butter and yogurt together until well combined in mixing bowl.
Pour the mixture into cupcake liners in a cupcake pan.
Freeze and serve once frozen solid.
9. Chicken and Rice Treats: Super Savory Dog Treats
About: Some dogs won't touch treats unless they are super savory. Thankfully, Lola the Pittie has provided this Chicken and Rice treat recipe that your senior is sure to love. You can swap the chicken for a different meat if your dog has an allergy. These treats will keep for 3 to 5 days in the refrigerator.
Ingredients:
Cooked wild rice
Rice flour
Eggs
Cooked, shredded chicken
Parsley
Directions:
Preheat the oven to 350 degrees Fahrenheit.
Combine all ingredients in a large mixing bowl.
Pour mixture evenly into a cupcake pan, filling each cavity to the top.
Bake for 25 minutes or until golden brown.
Serve once cooled.
***
Crafting up DIY treats for your senior sweetheart is a labor of love. Thankfully, most of these recipes consist of 5 ingredients or less, so it shouldn't be too much trouble to whip up something delicious for your canine companion.
Have you tried out any of these recipes? What flavors does your dog enjoy the most? We'd love to hear your thoughts in the comments below!