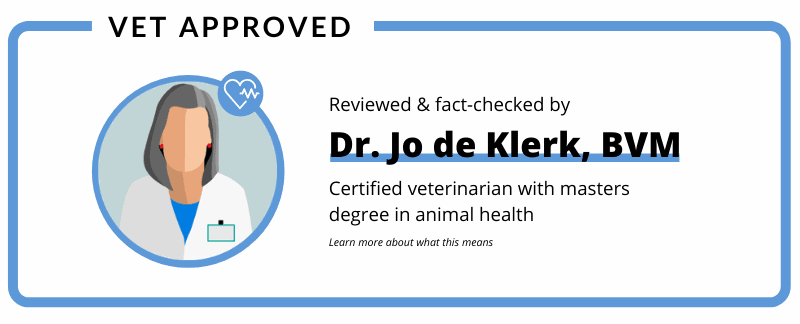 Antibiotics are a remarkably important group of drugs, which can help your pet fight off infections ranging from the mildly irritating to the life-threatening.
Most dogs will be prescribed antibiotics at some point in their life, but despite being pretty common medications, many owners have questions about their use.
We'll explain the basics of antibiotics below, to help clear up any confusion and set your mind at ease. We'll also talk about some of the most common side effects of antibiotics and provide some general tips for helping your dog complete his antibiotic regimen comfortably.
Antibiotics for Dogs: Key Takeaways
Antibiotics are common medications that can help treat bacterial infections in dogs. Additionally, antibiotics are helpful for treating protozoal infections in some cases.
Most antibiotics are only available with a prescription. This is important, as the improper use of antibiotics leads to antibiotic resistance, which threatens us all.
Most antibiotics cause only minor side effects, such as stomach upset. Just speak to your vet if your dog starts suffering from any side effects, as he or she may be able to tweak the medication or recommend another solution to the problem.
What Are Antibiotics?
Antibiotics are medications used to eliminate bacterial infections and a few types of microscopic parasites.
Despite the common misunderstanding, antibiotics are not useful for treating viruses. Your vet may still prescribe them when treating some viral infections that commonly lead to secondary bacterial infections — but they're still being used in these cases to treat bacteria, rather than the virus itself.
Some antibiotics kill the problematic bacteria directly, while others tend to keep their numbers in check while the body mounts a defense. When properly prescribed, antibiotics should not directly harm the patient, although they may kill off beneficial bacteria, which can cause minor problems.
Some antibiotics are derived from molds and other fungi, while others are synthesized in a laboratory.
What Are Some of the Most Common Antibiotics Prescribed for Dogs?
There are a variety of antibiotics available to vets, but some are more commonly prescribed than others.
A few of the first ones vets tend to choose include:
Where Do You Get Antibiotics For Dogs?
You can buy a few topical antibiotics at your local drugstore, but most are only available through your vet (or at a physical or online pet pharmacy with a vet's prescription).
A few online retailers sell antibiotics, but you should use extreme caution when purchasing medications from these places. Doing so may be illegal in some cases, and you should never administer antibiotics without your vet's approval for your pet's safety.
Common Side Effects of Antibiotics for Canines
While antibiotics often cause minor side effects, serious problems are relatively rare. Individual dogs will exhibit varying reactions to different antibiotics, so you never know exactly how your dog will react until you try a given medication.
Some of the most common side effects associated with antibiotics include:
Nausea
Vomiting
Loss of appetite
Diarrhea
Constipation
General feeling of being unwell
Yeast infections
Talk to your vet if your dog exhibits any of these symptoms. Yeast infections often require medication to eliminate, but digestion-related problems will sometimes resolve on their own once you complete the prescribed antibiotic regimen. Nevertheless, your vet may be able to prescribe other medications or a course of probiotics that will help settle your dog's stomach.
Rarely, dogs can suffer from allergic reactions to antibiotics. Sometimes, these reactions can be quite serious, so contact your vet immediately if your dog suffers from hives, swelling (particularly of the face or throat), or breathing difficulties, or he exhibits any unusual behaviors.
Important Tips for Dogs Taking Antibiotics
Antibiotics are pretty simple to administer, but there are a few things you'll want to keep in mind when giving them to your dog. Be sure to follow your vet's instructions (as well as those appearing on the product label) and try to incorporate these tips as best you can.
→ Give your dog his medicine at mealtimes unless your vet tells you otherwise. Some antibiotics can upset a dog's stomach, but you can usually reduce the severity of the gastrointestinal distress by giving your dog his medicine on a full belly.
→ Consider administering probiotic supplements to your dog during and after a course of antibiotics. Some antibiotics will kill the beneficial bacteria living in your dog's intestines, which can trigger a variety of intestinal issues. By providing your dog with a probiotic supplement, you can help restore these bacterial colonies to their proper levels.
→ Always complete the entire course of antibiotics prescribed. Some owners make the mistake of stopping an antibiotic regimen once their dog appears to be feeling better. But this can allow the infection to return, and it encourages the development of antibiotic-resistant strains.
→ Make sure that your vet knows about all of the medications your dog is taking. Some antibiotics may interact dangerously with other drugs, so be sure to tell your vet about all of the medicines your dog is currently taking. It is also important to tell your vet about any negative reactions your dog has had to medications in the past.
→ Use a pill pocket or piece of cheese to hide the antibiotic if necessary. Many antibiotics taste pretty gross, so this may make it easier to get your dog to take his medicine. Check out this article for more tips for getting your dog to take his medicine.
Antibiotics are important medications, which will often help your dog live a long, healthy life. They must be administered in the proper manner, and you have to use the best antibiotic for a given medical condition, but when these conditions are satisfied, they'll often effectively eliminate the infection plaguing your dog.
***
Tell us about your experience giving antibiotics to your dog in the comments below!