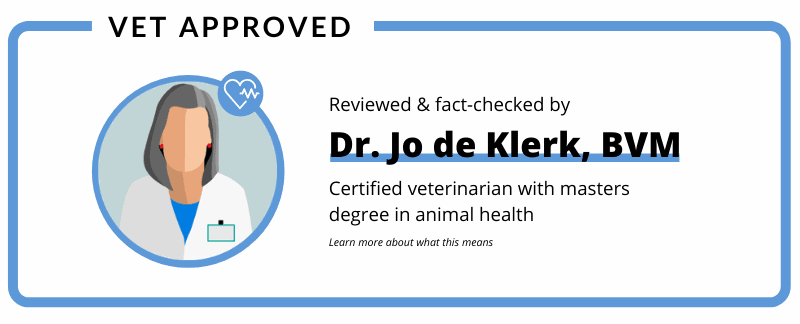 Alternative medicine has made its way into the dog world in recent years, with everything from acupuncture for dogs to canine-focused aromatherapy. One of the newest methods you may have seen around is Reiki.
We'll explain what exactly dog Reiki is and separate fact from fiction below.
Dog Reiki: Key Takeaways
Reiki is a Japanese form of alternative healing. Focused around restoring a being's "life energy" through a practitioner, it aims to promote calmness.
Reiki should not be used in place of science-based treatments. While Reiki is harmless and the relaxation it provides is ideal for healing, your dog should still receive science-based treatments to give him the best chance of recovery.
Some dogs may enjoy canine Reiki. The practice gives your doggo a ton of one-on-one attention, making it a great pick for dogs who've earned some pampering and enjoy the interaction.
What Is Reiki? What Does It Seek to Accomplish?
Reiki (pronounced ray-kee) is a Japanese form of alternative healing.
It consists of a Reiki practitioner transferring "life energy" from a higher being onto a subject to promote healing and wellness physically, mentally, and spiritually. This "life energy" is administered to the subject through the practitioner's palms on or over various points or "chakras" on the body.
Traditionally, Reiki is performed by a human for another human, but people have taken to practicing Reiki on dogs and other pets in recent years.
While there is no scientific backing for "life energy" or Reiki itself, practicing the discipline is unlikely to harm your pet, and it can be a beneficial bonding experience between you and your dog. It's also an excellent opportunity to sneak in some much-needed relaxation amongst life's craziness.
What Is Involved in Reiki for Dogs? How Does Reiki for Dogs Work?
Reiki involves a practitioner channeling "life energy" from a spiritual source onto a doggy patient to promote wellness.
The goal is to calm the subject and restore an "energy balance." The setting should always be comfortable and without distraction to allow for maximum relaxation.
Canine Reiki may include a practitioner touching your dog to channel the purported "life energy."
However, some practitioners may simply hold their palms over your dog if he doesn't tolerate touch or if the area is sensitive (e.g., a surgical site).
Virtual Reiki is also available at your home, if you can't take your pup out or have visitors over. Sessions generally last about thirty minutes and cost between $30 and $80.
Scheduling depends on the client, though many attend two to three sessions weekly or as-needed.
Does Reiki Work for Dogs?
In humans, Reiki has not been scientifically shown to be useful for any health-related purpose.
Limited studies have been launched to study its efficiency with human anxiety and depression, though results have been inconsistent.
No definite data exists currently for Reiki's use with canines.
There are studies underway to determine if Reiki provides benefits in dogs, however. Based on human results, we wouldn't hold our breath for any breakthroughs, though.
What Kinds of Conditions Do People Use Dog Reiki to Treat?
While it shouldn't be used as a standalone treatment, dog Reiki is used by some pet parents in conjunction with established medical treatments to address an array of conditions, including:
There is no evidence to suggest dog Reiki treats these conditions itself, but the calming nature of it can help your pupper relax, which is always a good thing for your four-footer's health.
Do Dogs Like Reiki?
Some dogs may enjoy the Reiki experience as it provides interaction and possibly a fun change in routine if you're going to a wellness center or having a practitioner visit your home.
It's a chance to bond and get attention too, so it's a win in many canines' eyes. The experience is far more calming than most canine activities, making it a good choice for older, people-friendly pups.
Other dogs may struggle with Reiki, especially if their owner isn't the practitioner. Nervous dogs may find some Reiki hand motions to be worrisome. Keep an eye out for stress signals to assess whether your dog is feeling comfortable, should you proceed with Reiki.
If your four-footer isn't a fan of strangers or being touched, he's obviously not the best candidate for Reiki.
Always consider your dog's personality and quirks before signing him up for any new activity. The goal of canine Reiki is spiritual healing, and stressing your pup out with something he'll hate isn't the best way to achieve that.
Can You Do Reiki on Your Dog or Do You Need Professional Help?
Anyone can become a Reiki practitioner, though you'll need to take a lesson to learn hand positioning. Thankfully, the internet is a fabulous place, so you can learn to do this for free without paying for pricey classes.
You can also leave it to the pros if you'd prefer and look for a dog Reiki practitioner in your area. The Animal Reiki Resource has a worldwide listing of practitioners you can browse, or just search "dog Reiki near me" on your preferred search engine to find someone nearby.
When seeking a dog Reiki practitioner, watch for the following to ensure a good fit:
Setting: Reiki practitioners may have their own studio, or they might come to you. Some even offer virtual sessions, as we mentioned. Pick which option works best for your dog. A virtual or home visit may be best if traveling stresses your dog out, whereas a sociable pup may enjoy going on little adventures like this.
Sex: Some dogs are more comfortable with women vs. men and vice versa. Select a practitioner that your pup will be relaxed around to get the most out of your Reiki sessions.
False claims: If someone is promising to cure your dog's cancer, rid him of arthritis through Reiki, or recommends ceasing your dog's current veterinary treatment, look elsewhere.
Bottom Line: Should You Pursue Reiki for Your Dog?
As with other forms of alternative medicine, canine Reiki isn't for everyone. There is zero evidence it's effective in treating health problems, so never use it in lieu of science-based medical care for your pooch.
That said, if you'd like to use canine Reiki along with your dog's regular veterinary care and your vet gives you the green light, go for it. Overall, it's a harmless experience for most dogs and provides an excellent opportunity for bonding and relaxation. If it makes your woofer happy, it's a win in our eyes.
Dog Reiki Alternatives: Additional Methods for Promoting Wellness
Reiki certainly isn't right for all dogs or their people, but there are a number of alternative approaches and practices you may want to consider instead. There's a compelling amount of evidence that supports some of these strategies, but the jury is still out on some of the others.
So, as always, discuss these options with your vet and try to choose ones that sound like a good fit for you and your dog.
***
Have you tried Reiki with your dog? Is he a fan? Let us know in the comments.