Receiving an astronomical vet bill is never a welcome surprise, but unfortunately, these pop-up expenses are a part of pet ownership. We're all human, and sometimes the funds aren't there, which can leave you scrambling.
Caring for our fur kids can cost an arm and a leg (and sometimes a tail), but thankfully, there are kind people out there willing to lend a hand if you're in a bind.
Below, we'll share some organizations that may help pay vet bills or offer more affordable care.
Don't Throw Vets Under the Bus
It's easy for owners who're faced with big medical bills to sour on vets and veterinary medicine in general. But vets are there to help our doggos!
Veterinary services are expensive to provide, offices have ridiculously expensive overhead, and their supplies are pricey too. For that matter, they have to pay for their staffs.
In fact, vets actually have a lot of challenges facing them. Check out our article about 32 Fascinating Veterinarian Statistics to learn more.
24 Organizations That Help Pay Vet Bills
If you find yourself facing sudden veterinary expenses that you can't afford, like X-rays or ACL surgery, several groups might be able to help. Assistance ranges from offering services at reduced cost to covering actual expenses for critical coverage, like cancer treatments.
1. Petsmart Charities
About: PetSmart Charities offer many low-cost spay and neuter clinics. They also administer the Improving Access to Veterinary Care grant, which owners can apply for help getting access to affordable care. They only accept applications for this grant for a limited time, however, so be sure to check their site for deadlines and details.
Location / Region(s) Served: Multiple states across the U.S. at select PetSmart locations
2. RedRover Relief
About: RedRover Relief offers urgent care grants for pet owners facing veterinary bills. Grants are typically around $200 and require owners to fill out an application, with candidates needing to meet specific guidelines for consideration, including providing the diagnosis and treatment plan. The application must be submitted before treatment expenses are incurred, as RedRover will not pay existing veterinary bills.
Location / Region(s) Served: Applicants must live in the U.S.
3. North Shore Animal League America's SpayUSA
About: SpayUSA is North Shore Animal League America's network of low-cost spay and neuter clinics. This group includes vets offering special deals, like steep discounts on pit bull spay and neuter surgeries.
Location / Region(s) Served: Various states across the U.S.
Thinking about Spaying or Neutering Your Dog?
Most dogs should be fixed to help combat the pet overpopulation problem, but it's a complicated issue. Check out some of the most important dog spaying and neutering statistics to learn more!
4. Brown Dog Foundation, Inc
About: Brown Dog Foundation, Inc is a public charity that provides funds to cover veterinary expenses. You can apply for help online, but like some other charities, they only help with pending bills, not ones you've already paid yourself.
Location / Region(s) Served: Applicants must live in the U.S.
5. Actors and Others For Animals
About: Actors and Others For Animals is a non-profit that offers spay and neuter assistance along with veterinary bill coverage. As with most charities, they don't cover bills in their entirety, but they can offer a portion to help for some who meet certain specifications. Just apply online.
Location / Region(s) Served: Available to residents of Los Angeles, San Bernardino, Riverside, Orange, and Ventura, CA counties only
6. The Pet Fund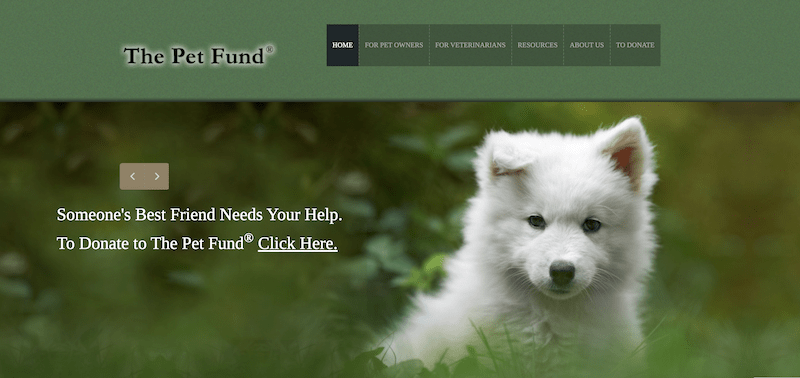 About: The Pet Fund is a non-profit that can help pet parents cover the cost of non-basic, non-urgent care. This includes things like cancer treatments, heart disease, and more. As with other charities of this type, they only cover pending bills and do not offer reimbursement. You must apply for help from The Pet Fund online.
Location / Region(s) Served: Not clear, but appears nationwide
7. Care Credit
About: Care Credit won't pay for your pet's medical expenses, but you can apply for a line of credit through them to cover vet bills. This line of credit is interest-free as long as you pay it off within six months.
Location / Region(s) Served: Accepted by many veterinary offices across the U.S.
K9 of Mine Staff Experiences
I use Care Credit all the time for my fur crew. Right now, I'm paying off  $1100 worth of bills my little guy Taj incurred in August, which took our family by surprise.
8. Frankie's Friends
About: Frankie's Friends offers financial assistance to cover veterinary expenses for pets with a good prognosis. You can apply to receive grants administered by the charity online, and, if selected, you may receive up to $1500. An estimated bill is required, however, as the group does not reimburse pup parents for past expenses. There are also numerous other veterinary coverage grants managed by the group, including Bond's fund for eye care and the Joshua Louis Animal Cancer Fund for cancer coverage.
Location / Region(s) Served: Applicants must live in the U.S.
9. The Mosby Foundation
About: The Mosby Foundation provides much-needed funds to applicants with sick or injured dogs in need of care. Named after a much-loved fur friend, the group requires an online application for pending expenses. Just note that they do not cover diagnostic services or procedures.
Location / Region(s) Served: Virginia
10. Shakespeare Animal Fund
About: The Shakespeare Fund offers financial help to pet owners in need located within thirteen northern Nevada counties. You can reach out via email or call their hotline about assistance, making it one of the fastest options for financial aid.
Location / Region(s) Served: Northern Nevada
11. Dylan's Hearts
About: Dylan's Hearts provides financial aid to owners of pets diagnosed with illness or injury. They do not cover diagnostics, but they can aid in treatment costs. Your veterinarian must apply for you online for consideration. This program is, unfortunately, limited to a handful of southern states.
Location / Region(s) Served: North Carolina, South Carolina, Virginia, Tennessee, Georgia
12. Friends & Vets Helping Pets
About: Friends & Vets Helping Pets assists cash-strapped pet owners facing vet bills. You can apply online for a grant as well as seek a Friends & Vets Helping Pets-partnered veterinarian in your community.
Location / Region(s) Served: Across the U.S.
13. Paws 4 A Cure
About: Paws 4 A Cure is an all-volunteer charitable organization that may help with surprise veterinary bills for pet owners in need. You need to apply for assistance online using your veterinarian's diagnosis and estimated invoice for consideration.
Location / Region(s) Served: Across the U.S.
14. Veterinary Care Charitable Fund
About: Veterinary Care Charitable Fund is a donation-funded charity that covers vet costs for pet owners in need. Unlike some other programs, your vet must apply for your aid using the group's website. Your vet must also be enrolled in the Veterinary Care Charitable Fund's program.
Location / Region(s) Served: USA
15. Bow Wow Buddies Foundation
About: Bow Wow Buddies Foundation is a non-profit organization offering veterinary expense relief for pets in serious need. Intended for emergency situations like severe injury or illness, you can apply for this assistance online.
Location / Region(s) Served: Across the U.S.
16. Help-A-Pet
About: Help-A-Pet offers financial assistance for the treatment of canine injury or illness. An income-qualified assistance program, you must have an annual household income of less than $40,000 for a family (or personally make less than $20,000 a year) to receive this help. You can apply via mail using the application form and instructions on their site.
Location / Region(s) Served: Across the U.S.
17. Harley's Hope
About: Harley's Hope is a team of pet lovers who offer financial aid to cover treatment costs of companion animals with a fair or better prognosis. To receive consideration for this assistance, owners must apply to Care Credit and be denied first — only then will Harley's Hope consider assisting you. You can apply online.
Location / Region(s) Served: Only open to Colorado residents
18. Kyle's Legacy Inc
About: Kyle's Legacy Inc is a fund aiming to help owners in need cover the cost of canine cancer care. For consideration, you must apply with proof of financial need (including wage or salary information) and your vet's information.
Location / Region(s) Served: Massachusetts and Rhode Island residents only
19. Karma Sue
About: Karma Sue helps owners with the steep veterinary expenses related to canine cancer treatment. They do not cover diagnostics, but you can apply for assistance online once your vet provides a diagnosis.
Location / Region(s) Served: Available to Colorado residents only
20. Emma's Foundation for Canine Cancer, Inc
About: Emma's Foundation for Canine Cancer, Inc assists those facing canine cancer with medical bills for treatment. Once you've received your dog's diagnosis, you can apply for help online.
Location / Region(s) Served: New England and Florida residents only
21. Pet Luv
About: Pet Luv is a clinic providing affordable shots as well as spay and neuter services to help owners meet their pet's routine medical needs for less. They have a walk-in clinic that's open six days a week, but you have to schedule ahead for spay or neuter surgery.
Location / Region(s) Served: Located in Brooksville, FL
22. Lovie's Legacy
About: Lovie's Legacy provides aid to Tennessee pet owners in need of emergency veterinary funds. You can apply using their 24/7 phone line, making it one of the fastest options for assistance in covering your pet's health costs.
Location / Region(s) Served: Tennessee
23. Fetch A Cure
About: Fetch A Cure offers a Companions in Crisis grant for owners struggling to cover canine cancer treatments. All dogs must have a diagnosis of cancer from a veterinarian before being considered. You can apply online using their provided application.
Location / Region(s) Served: Virginia, Maryland, DC
24. My Pet Child
About: My Pet Child is actually a bit of a different organization, as they seek to help pair struggling pet owners with resources that may be able to provide some financial assistance. However, they also offer $200 financial assistance grants themselves.
You'll have to apply to the program to see if you qualify, and they only offer grants for non-routine, non-emergency care.
Location / Region(s) Served: Throughout the U.S. and the U.K.
Financial stress impacting your dog's diet? Learn about a few things you can feed your dog if you run out of dog food.
Other Ways to Get Help for Vet Bills
You might need to think creatively about getting your canine the care she needs, so start asking around, far and wide, if necessary. A lack of funds is nothing to be ashamed of, as we've all had hard times and surprises happen — usually between pay weeks.
Some ideas for securing funds:
Friends & family: Ask your circle for a loan. Those around you know your pup and may be able to lend a helping hand.
Exchange a service: Are you a skilled painter? Excellent handyperson? Try to leverage your skills to scrape up extra cash.
Crowdsourcing: GoFundMe is a favorite site for finding financial support from others online. Make sure you include a photo of your best fur friend and any estimates you have. Just be sure to redact your complete name and address for safety's sake. Other crowdsourcing sites include Fundly and the pet-focused Waggle, Petfundr, and Plumfund.
Employer: Some bosses may offer an advance on your next pay if you're between checks.
Religious institution: Your place of worship may be able to help or allow you to post on the community board for member assistance.
Social media: Making a heartfelt post on Facebook can stir up help from friends, but branching out to Instagram, TikTok, and YouTube can reach a wide audience, particularly if your plea goes viral. Remember: Everyone has difficult times, and many are willing to pay it forward when they can.
Neighbors: Because your neighbors probably know your dog, they may be willing to offer a loan in your time of need.
Vet: Be honest about your finances and inquire about payment plans. Some vet offices offer payment schedules.
Low-cost clinic: Seeking out a low-cost clinic can save you a chunk of change, especially when it comes to your dog's regular care, like health checkups, low-cost vaccinations, and spay/neuter surgery.
Other Money-Saving Strategies
Be sure to check out our article about money-saving dog-care hacks to learn some other ways to give your dog the best life possible on a limited budget.
Avoiding This Problem in the Future: Pet Health Insurance
Pet health insurance is an easy way to save you from surprise veterinary bills. Some plans cost as low as $10 per month, but pricing varies depending on your dog's age, breed, and current health. You can sometimes score lower rates in special circumstances, including multi-dog discounts, military service, and your company of employment.
Taking on a recurring monthly fee may sound iffy, but if your dog needs thousands of dollars in care, pet health insurance more than pays for itself.
Pet insurance plans offer different levels of coverage, with most offering a claim and reimbursement structure. Accident and illness coverage are most commonly seen, though some offer preventive and routine care coverage too.
Some popular pet health insurance companies are:
Lemonade Pet Insurance
Pumpkin
Spot Pet insurance
ASPCA
Petplan
Don't be afraid to shop around and ask for multiple quotes. The right pet insurance company is out there waiting for you.
Another Way to Cover Your Pet's Veterinary Expenses
There's another way dog owners can get some help paying their medical bills — it's called Pawp.
Pawp actually provides two key benefits for dog owners.
The first benefit is access to their veterinary network. In exchange for paying their $24/month subscription fee, you'll have unlimited opportunities to speak to a veterinarian by video call or text.
The second benefit — which is more applicable to this article's topic — is that you'll receive up to $3,000 in emergency veterinary fee coverage per year. And you can use this coverage benefit at any veterinarian you like.
Check out Pawp and see if it's a good fit for your and your pooch!
Not sure if Pawp is right for you and your pet?
Don't worry! You can check out the program without spending a dime by claiming your FREE 7-day trail! 
***
Facing veterinary bills is daunting when money's tight, but it can be made easier with a little (or a lot) of help from your friends and other dog lovers. Don't suffer in silence or risk your pup's well-being as you mull over choices. There are plenty of places and faces willing to help if you look hard enough.
Do you know of any groups or charities that help cover veterinary costs? Low-cost shot clinics? Low-cost spay and neuter centers? Share in the comments.