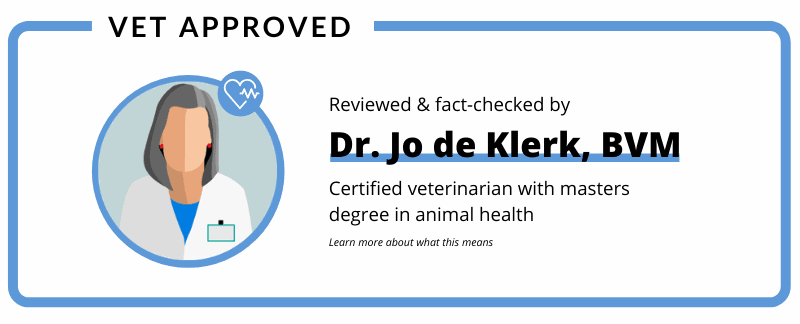 Unfortunately, our furry friends may suffer from occasional bouts of constipation. In such cases, your vet may recommend giving your pet a stool softener to help move things along.
We'll explain everything you need to know about dog stool softeners and identify a few of our favorites below!
Just need a quick recommendation?
Why Do Dogs Get Constipated? What Are the Common Causes?
Dogs can become constipated for a number of reasons. While it's key to see your veterinarian for an individualized diagnosis, understanding these factors can help you be a prepared pooch parent.
Here are a few reasons why Buddy might be struggling with his bowels:
Insufficient Water — Dehydration is one of the most common causes of canine constipation. So, make sure your mutt has plenty of access to clean, fresh water throughout the day, especially when it's hot outside. If you suspect your dog is not drinking enough water, consider employing the use of a dog water fountain (some dogs love them, others aren't fans) or freeze up some pupsicles with broth-flavored water for your dog to enjoy. It's also a good idea to pack a water bottle for your dog while you're out and about. 
Dietary Issues — Some foods (especially people foods) may constipate your best buddy, so try to pay attention to what food(s) may trigger constipation episodes (a food-and-poop journal may be helpful for doing so). If your pooch is consistently dealing with constipation, it may be a sign he needs more fiber in his diet — but talk to your vet to be sure. 
Individual Predisposition — Certain dogs can be predisposed to experiencing constipation more often than others. It's not always clear why these individual doggos suffer from constipation more than their peers, but the fact remains that some dogs just seem unlucky in this respect.  
Advanced Age — Age is also a contributing factor for constipation, and older dogs may be more prone to constipation than their younger counterparts. This is part of the reason high fiber foods are sometimes recommended for aging pooches.
Medical Conditions — Injuries and certain medical conditions can cause constipation for your canine. Keep an eye out for any other related symptoms including pain while defecating, stool discoloration, or lethargy. Back issues — including spondylosis, bone spurs, slipped discs, and general back pain — commonly cause constipation, as do prostate issues (in the case of male dogs). 
Medications — Some medications, such as tramadol and various opioids, can also cause your dog to become constipated and struggle to go. 
Insufficient Exercise — Keeping Fido active isn't just good for his overall health and well-being, but it also reduces his risk of experiencing constipation. Exercising (even simply exercising indoors) can help your dog's system move things along. 
The Three Best Over the Counter Dog Stool Softeners
It's possible that your canine's case of constipation can be resolved with an over the counter stool softener. Here are three of our favorite options on the market to take into consideration.
Just remember to check-in with your veterinarian to ensure that Fido isn't experiencing a more serious case of constipation before utilizing these products.
Clarifying Terminology
Note that some of the products discussed below are better described as "laxatives" or "fiber supplements," than "stool softeners."
Nevertheless, they should still help provide your pooch with some relief.
1. NaturVet Stool Ease
Best Chewable Dog Stool Softener
This is a sponsored placement, in which an advertiser pays a fee to be featured in this article. Learn more
NaturVet Stool Ease
Fiber-rich chewable stool softeners that help to promote regular bowl movements.
About: These chewable stool softeners from NaturVet can be taken on a daily basis to help ease your buddy's bowel movements. Made in the USA without wheat, these supplements come in a resealable container, making daily administration easy.
Features:
Fiber-rich chews are designed to ease constipation
Can be taken on a daily basis
40 chews included per package
Stool Ease provides relief with one daily serving
Pros
Most owners found them effective
Most dogs seemed to enjoy the taste of these supplements
These chewables can be taken on a daily basis
Cons
Single chew serving is based on a 20-pound dog, so you'll need to up the ante if you have medium to large-sized pooch
2. Lax'Air Laxative
Best Lubricating Laxative
This is a sponsored placement, in which an advertiser pays a fee to be featured in this article. Learn more
Lax'Aire Laxative
Gentle, lubricating laxative that helps make elimination easier for your pet.
About: If you're looking for something you can easily mix in with your dog's diet, this gentle laxative from Lax'Aire is a great choice. This laxative works as a lubricant, and it can be given to your dog on its own, or mixed in with his food to relieve constipation discomfort. This laxative is also safe for cats so it's an excellent pick for multi-pet households.
Features:
Simple formula helps relieve constipation with minimal side effects
Can be consumed on its own or mixed in with pet's food
Safe for dogs and cats
Gentle laxative can be administered daily
Pros
Dogs seemed to like the taste of this laxative, making administration easy
Most owners saw regular elimination habits return to normal within a week of using this laxative
Good alternative to soft-chew-style softeners
Cons
Some dogs weren't interested in consuming the laxative on its own, though it can be mixed in with food or treats to increase appeal
3. Pet Wellbeing Smooth BM
Best Herbal Stool Softener
This is a sponsored placement, in which an advertiser pays a fee to be featured in this article. Learn more
About: This herbal supplement blend from Pet Wellbeing is designed to support healthy digestion and relieve canine constipation. The formula can be given twice daily on its own or mixed in with food. The supplement is derived from organic herbs and is safe for long or short term use.
Features:
Non-irritating formula is derived solely from organic herbs
Designed to improve overall digestion and colon health
Gentle enough for consistent, daily use
Can be administered directly or mixed in with food or water
Pros
Owners were impressed by the efficacy of this supplement
Formula is safe for cats as well
Gentle formula won't cause runny poops
Cons
Some pets didn't like the taste of this supplement
Quite pricey
The active ingredients in this supplement require more research to ensure safety and efficacy (we cannot, however, find any reports of them causing harm)
When Is It Time To See A Veterinarian for Constipation?
In some cases, over the counter constipation cures may not be enough to relieve your pooch. That's why it's a good idea to call your veterinarian whenever you notice any elimination irregularities from your best buddy.
Don't forget that chronic constipation could be a symptom of a larger issue, so seeking veterinary guidance is essential.
You should certainly see your veterinarian if you notice your dog experiencing any other symptoms in addition to constipation, including:
Fecal discoloration
Pain while defecating
Lethargy
Your veterinarian can examine your pet and help determine if this is just a run-of-the-mill case of constipation or if it may be related to a more serious issue. Your vet may also recommend a stool softener or laxative designed for human use or a prescription dog stool softener, depending on the severity of your dog's constipation case.
Here is a quick overview of some of the more common options:
Docusate Sodium — This stool softener increases water absorption in your dog's intestine, helping stools remain soft and easy to pass. 
Bisacodyl — This canine laxative works by stimulating a dog's bowels for short-term constipation relief. 
Lactulose — Used to treat liver issues and constipation in humans, some vets may prescribe this in off-label fashion for dogs.
Other Human Medications — Some veterinarians may recommend other human constipation medications with separate dosing instructions. However, you should never administer a human medication to your pet without your vet's explicit instruction to do so. 
Need Veterinary Help Fast?
Don't have easy access to a vet? You may want to consider getting help from JustAnswer — a service that provides instant virtual-chat access to a certified vet online.
You can discuss the issue with them, and even share video or photos if need be. The online vet can help you determine what your next steps should be.
While talking with your own vet — who understands the ins and outs of your dog's history — is probably ideal, JustAnswer is a good backup option.
Home Remedies for Canine Constipation: Alternative Strategies for Providing Pooch Relief
Depending on the situation, canine constipation can be cleared up with the help of some of the home remedies listed below. While these can certainly be helpful, don't forget that dog constipation home remedies aren't a substitute for veterinary care.
Pumpkin — Pumpkin is a great source of fiber which can help your dog's digestive system and soften stools. Dogs can be given pure, unseasoned pumpkin either raw or cooked (pumpkin actually works for both ends of the elimination-problem spectrum, as it can also stop dog diarrhea).
More Water — Since dehydration can lead to constipation, make sure your pooch is drinking plenty of water. You can also incorporate some wet food into your dog's diet to increase moisture intake.
More Exercise — Taking your dog out for an extra long walk can help move his bowels along and give your pooch plenty of opportunities to relieve himself. Consult your veterinarian to determine how much your dog should be exercising on a daily basis if you think his constipation has been caused by insufficient exercise.
More Fiber — Switching to a dog food food with more fiber may ease your dog's constipation and make for smoother bowel movements. You can also give your dog small amounts of pup-safe greens like spinach. But talk to your vet if you intend to do this over an extended period of time to avoid excess oxalate consumption.
Probiotics — Pooch probiotics can restore a proper microbial ecosystem in your pet's gut. This can support regular elimination and lead to better bowel movements.
Olive Oil — Adding a little olive oil (about a teaspoon for little floofs, but big dogs can handle about a tablespoon) to your dog's food can help soften your dog's stool and lubricate his entire digestive tract.
***
Stool softeners can be an effective tool to eliminate your canine's constipation under the direction of your veterinarian. With the help of stool softeners, Buddy will be back in shape in no time at all.
Does your dog deal with constipation? How do you help him feel better? We'd love to hear all about it in the comments below!