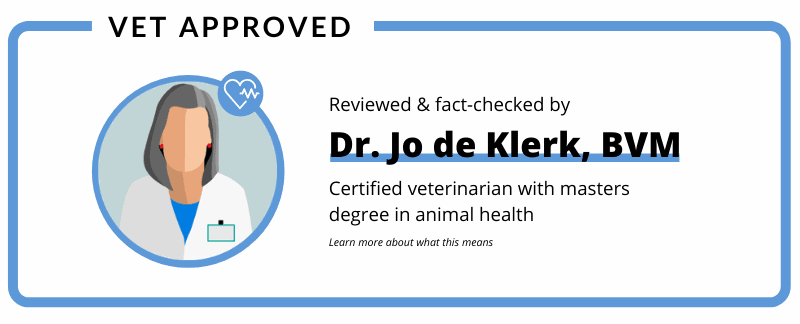 Unfortunately, some dogs experience health problems that leave them without the full use of their legs.
Although this is a heartbreaking reality for many owners, there are products that can help disabled dogs get around.
Lift harness aids, for example, can help you carry your pup around the house or get up and down the stairs. But while lift aids are helpful, they're primarily intended for dogs who can still walk with a bit of assistance. They won't allow your pet to explore or move around on his own.
For pups who need more than a little help, you will need a wheelchair.
Best Dog Wheelchairs: Quick Picks
#1 Walkin' Wheels Dog Wheelchair [Best Overall Dog Wheelchair]: Well-rated by owners, easy to achieve a good fit, and available in a litany of sizes, this is the best dog wheelchair for most four-footers.
#2 Best Friend Mobility Dog Wheelchair [Lightest Dog Wheelchair]: A simple, no-frills dog wheelchair that is lighter than most other models, making it easy for your pupper to pull.
#3 HobeyHove Adjustable Dog Cart [Most Affordable Dog Wheelchair]: The most affordable dog wheelchair we feel comfortable recommending, this is a good pick for owners trying not to break the bank.
We'll try to help in this regard below, as we review four of the best dog wheelchairs on the market.
We'll also talk about some of the things you'll want to consider when picking a dog wheelchair and explain the best way to measure your dog and ensure you order the correct size.
But first, we'll discuss some of the reasons that dogs need a wheelchair in the first place.
And don't worry – although your dog may be in a tough spot right now, a wheelchair will likely restore his quality of life.
Just look how happy adjustable dog wheelchairs make the pooch below (honestly, this topic can be a bit of a bummer, so I figured everyone could use a bit of eye bleach before we get into the heavy stuff).
How Do Dog Wheelchairs Work?
Dog wheelchairs are essentially a pair of wheels (or sometimes two pairs of wheels) that are attached to a special frame and adjustable harness.
The wheels take the place of your dog's legs and allow him to scoot around. This can help your dog regain his mobility, enjoy a bit of independence, and restore his dignity. They can also help stave off depression and ensure your mobility-impaired pet still gets some exercise.
But as with any other product, wheelchairs vary in quality pretty significantly. You don't want to set your dog up with a substandard wheelchair that doesn't work well or fits him comfortably.
Best Dog Wheelchairs for Your Pup: Our Top Picks
There are a number of wheelchairs and similar devices designed for dogs, but the four detailed below are your best options. Just remember to consider your dog's specific needs when making your choice.
1. Walkin' Wheels Dog Wheelchair
About: The Walkin' Wheels Dog Wheelchair is a veterinarian-approved mobility aid designed to support your dog comfortably while restoring his mobility.
Best Overall Dog Wheelchair
This is a sponsored placement, in which an advertiser pays a fee to be featured in this article. Learn more
Sizing Notes & Availability
Features: The Walkin' Wheels Wheelchair is made from an adjustable aluminum frame that provides a nice combination of durability and strength, while still keeping the total weight of the chair pretty low.
This not only makes it easier for you to carry the chair around, it'll make it easier for your dog to pull and control.
The Walkin' Wheels Wheelchair features large, rubber-treaded wheels, which will handle most types of terrain with ease. Additionally, the wheels are filled with foam, rather than air, which means that they won't puncture or flatten during use.
To ensure a good fit for your dog, the Walkin' Wheels Wheelchair is available in five different sizes (although they are all on the large end of the spectrum), and its height, length, and width are all adjustable.
Pros
The Walkin' Wheels Wheelchair received overwhelmingly positive owner reviews.
Most owners reported that it was easy to adjust this chair and achieve a comfortable fit.
Dogs can go to the bathroom normally while using this chair.
Cons
Though such reports were exceedingly rare, a few owners complained that some of the plastic parts weren't capable of supporting their dog's weight.
The axle bolts are exposed, and they may scratch your walls or furniture (though you could just slap some rubber caps on the ends to prevent this from happening).
2. Best Friend Mobility Dog Wheelchair
About: The Best Friend Mobility Dog Wheelchair is a US-made, fabric-free canine wheelchair with a lightweight frame, which is designed to fit your dog comfortably and be easy for you to assemble, adjust, and use. Like many of the other high-quality dog wheelchairs reviewed here, the Best Friend Wheelchair was designed and tested by a vet – in this case, a K9 orthopedic surgeon.
Lightest Dog Wheelchair
This is a sponsored placement, in which an advertiser pays a fee to be featured in this article. Learn more
Features: The Best Friend Mobility Dog Wheelchair is made from premium materials and features a number of helpful design concepts to support your dog in the best way possible.
The aluminum frame is rust-proof, as is the stainless-steel hardware used to keep the chair together. The front and rear harnesses are made from neoprene, which will keep your dog comfortable and prevent abrasions and pressure wounds.
The polyurethane wheels are rigid, so they won't deflate, and they will work on all terrains according to the manufacturer. The wheels feature sealed bearings to prevent dirt and debris from gumming up the works.
You can adjust the chair's height, length, and width with nothing more than a hex wrench.
This cart will allow your dog to use his rear legs if he can, although it can also provide total rear leg support, ensuring that your dog's rear legs won't need to support any weight at all.
It's available in five different sizes which are designed to accommodate dogs with leg lengths ranging from 8 to 29 inches.
Pros
Most dogs seemed to find the Best Friend Mobility Pet Wheelchair very comfortable and began using it confidently.
The lightest wheelchair for dogs we examined, this is a great option for dogs who aren't strong enough to lug a heavy wheelchair around.
Seems to handle most substrates (ranging from hard floors to grass) with ease.
Cons
Several owners found it challenging to assemble.
Doesn't fold up, making it less than ideal for dogs and owners on the go.
3. HobeyHove Adjustable Dog Cart
About: The HobeyHove Adjustable Dog Cart provides cost-conscious owners with a great way to help their dog get around like he used to.
Most Affordable Dog Wheelchair
This is a sponsored placement, in which an advertiser pays a fee to be featured in this article. Learn more
Features: The HobeyHove Adjustable Dog Cart is a cute and colorful little wheelchair for dogs, which helps your pooch project a cheerful image, despite his mobility challenges.
Constructed from an adjustable aluminum frame, this canine wheelchair is durable and lightweight, while being easy to adjust. And it's not only easy for your pooch to pull around, but it features EVA foam tires to make it roll well in a variety of situations.
This dog wheelchair also features soft and adjustable harness materials (which the manufacturer claims are environmentally friendly), which not only provide for a comfortable ride, but also come with a number of adjustment points. This helps ensure that it'll fit your dog like a glove.
You can get your hands on the HobeyHove Adjustable Dog Cart is sizes extra-small through extra-large, making it suitable for dogs weighing between 4.4 and 66 pounds.
Pros
Most owners found that this chair provided an excellent value for the cost.
Many owners appreciated the colorful look of the chair, which helps set it apart from other, drabber models.
Several owners reported that it was easy to make the kinds of adjustments necessary to achieve a good fit.
Cons
Several owners struggled during the assembly process, as the instructions seem poorly translated and all measurements were in metric units.
The chair's design wasn't especially comfortable for all dogs.
Does My Dog Need a Wheelchair?
The list of reasons why a dog may need a wheelchair is depressingly long. Nevertheless, some of the most common include:
Osteoarthritis
Traumatic injuries
Hip dysplasia
Peripheral nerve damage
Broken bones
Severe muscle injuries
Amputation
Spinal injuries
Tendon injury
Ligament injury
Dislocated joints
Degenerative myelopathy
Essentially, any disease, injury, or condition that limits your dog's leg movement, compromises the function of his spine, or causes your dog pain when he walks may warrant the use of a wheelchair.
If you aren't sure whether a wheelchair would be a good option for your dog, discuss the issue with your vet.
Things to Consider When Shopping for a Dog Wheelchair
Wheelchairs utilize a wide variety of design concepts and materials, so there are a few things you'll need to think about when trying to narrow down your options. Some of the most important considerations are explained below.
Does your dog need support for his front or back legs?
Dogs can suffer from problems that affect their front legs, hind legs, or both, and you'll obviously need to purchase the right type of wheelchair for your dog's needs.
Unfortunately, the vast majority of dog wheelchairs on the market are designed for dogs with hind leg problems.
This means that owners of dogs who have rear-leg difficulties have a number of different options, but those who need the type of wheelchair that provides front-end support don't have as many products to consider.
There are two primary reasons this is the case:
Dogs suffering from paralysis or spinal issues will have problems with their back legs or all four legs; they generally won't experience problems with just their front legs. And dogs with paralysis affecting all four legs obviously won't be able to propel themselves in a wheelchair anyway. 
Things like bilateral elbow dysplasia may leave a dog with only limited use of his front legs, but these situations are much rarer than dogs dealing with rear leg issues.  
We found two wheelchairs that provide full-body support and may be helpful for dogs who have front leg problems, but given that there aren't very many customer reviews for either, we hesitate to recommend them.
Nevertheless, owners who need a wheelchair that provides front-leg (or whole body) support may want to consider the Quad 4 Wheelchair by Best Friend Mobility or the Newlife Mobility Quaz Four Wheel Wheelchair.
Where will your dog use the wheelchair?
You'll need to consider the places your dog will use his wheelchair when picking the best one for his needs.
Specifically, you'll need to check out the wheels that are included with various models to ensure your dog can get around the way you want him to.
Some dogs only need a wheelchair to roll around the house – the only time they'll venture outdoors is at bathroom time. On the other hand, some owners will want their dog to be able to scoot around at the park or go for walks around the neighborhood with his chair.
Those who just need a canine wheelchair for around the house can get away with a wheelchair that features small, hard wheels, as they won't be doing very much off-roading.
But owners looking for a more outdoor-friendly doggy wheelchair will want something that is equipped with rather large, air- or foam-filled wheels that can handle the uneven terrain they're likely to encounter.
How long do you need the wheelchair to last?
If your dog is only suffering from a temporary issue (such as a torn leg tendon or a broken leg), he won't need the wheelchair for very long.
Similarly – and this is a bit dark, but it bears mentioning – elderly senior dogs who are near the end of their life may not need a wheelchair for very long either.
These dogs won't need a wheelchair that is as durable or rugged as dogs who are likely to need a wheelchair for many years to come. For example, if you have a 2- or 3-year-old pup that suffers a permanent spinal injury, you want a wheelchair that'll last a decade or so.
So, be sure to consider the length of time your dog will need the wheelchair when making your decision.
You may be able to save a bit of money if your dog won't need it very long. Conversely, if your dog will need a wheelchair well into the future, you'll likely save money in the long run by spending a little more up front.
Dog Wheelchair Quality Checklist
In addition to the considerations discussed above, you'll also need to make sure that any wheelchair you select satisfies a few basic criteria.
While a wheelchair that fails to satisfy one or two of the following requirements may still be worth considering, you'll want to avoid any that are missing several.
Dog wheelchairs should be as light as possible while still being sufficiently sturdy and durable.
Look for an adjustable harness that's made from materials that are easy to remove and, whenever possible, machine washable.
The chair should support your dog in a comfortable manner, and all contact points should be soft or padded in some way.
You should stick to adjustable wheelchairs that'll fit your dog comfortably.
The chair's center of gravity should be as low as possible to reduce the chances that it'll tip over.
The chair should be straightforward to assemble and disassemble so that it is easy to throw in the car and take with you.
The wheelchair should support your dog in a way that still allows him to relieve himself comfortably.
How Much Do Dog Wheelchairs Cost?
Dog wheelchairs aren't exactly cheap, but they certainly aren't as expensive as human wheelchairs.
The prices vary a good bit too, based on things like construction materials, design, and size. Some also come with more bells and whistles than others, which also increases the price.
Ultimately, you can expect to spend between about $100 and $500 for your dog's adjustable wheelchair.
This is more than a lot of dog owners have laying around, but the value it'll provide your dog is immeasurable. So, it is worth doing whatever you have to do to scrape together the necessary funding.
However, if you simply cannot free up enough money to buy a commercially produced wheelchair, you may be able to make a DIY dog wheelchair of your own instead.
Doing so isn't always easy, but it is a viable option for those with tight budgets.
How Do You Measure a Dog For a Wheelchair?
Different wheelchairs require different body measurements to ensure a good fit, so always be sure to review the manufacturer's sizing guidelines carefully.
However, the majority of wheelchairs will require that you obtain one or more of the following measurements:
Your dog's height at the shoulder
Your dog's hip height
Your dog's body length
The distance from the floor to the fold of his flank (the place where his rear legs meet his belly area)
The width of your dog's hips
The width of your dog's shoulders
Because your dog will likely have trouble standing (that's part of the reason you're looking for a wheelchair in the first place), you'll either need to measure him while he's lying on his side or solicit the help of a friend, who can support your dog in a standing position while you measure him. That's the only way you'll get a good shoulder and hip height measurement.
Be sure to use a flexible tape measure rather than a ruler so that you obtain accurate measurements. If you don't have a tape measure handy, just use a string to mark the necessary lengths and then measure the string with a ruler.
It's also a good idea to obtain an accurate weight for your dog to ensure that he won't exceed the stated capacity for the chair.
No pet parent wants the family four-footer to end up in a wheelchair, but sometimes tragedy strikes and there's no reasonable alternative.
Despite the difficulty of seeing your four-legged pal struggle to get around, if you pick a good wheelchair for your dog, your pet will enjoy a much better quality of life and still be able to scoot around and play with you or his buddies!
Have you ever purchased a dog wheelchair for your furry pal? How did it work out? Why did your dog need a wheelchair to begin with? Tell us in the comments!