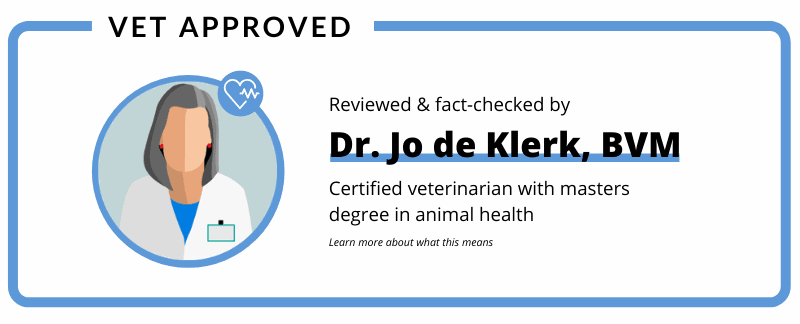 I'm just going to go ahead and say that this topic makes me a bit sad, and I'm not exactly stoked to write about sick and injured pups.
But unfortunately, many dogs suffer physical ailments that prevent them from getting around like they used to. The silver lining to this gloomy cloud is that there are products available that can help.
They're called lift or mobility harnesses, and we'll run down everything you need to know about them below.
I've cared for a geriatric dog with limited mobility before, but this was quite some time ago, and I didn't realize these tools existed. In retrospect, I'd have loved to have had the opportunity to use a lift harness for her final year.
So, let's focus on the positive and talk about the benefits lift harnesses provide.
Quick Picks: Best Dog Lift Harness
Best for Hind-Leg Issues: Labra K9 Sling Lift — Available in several sizes, even for dogs weighing more than 100 pounds, plus, it has adjustable straps to make the lift tool comfortable for owners.
Best for Occasional Lifting: Peak Pooch Walking and Lifting Harness — This is more harness than lift aid, but the underbelly straps and top handle make it great for when your dog occasionally needs some help up the stairs or getting into the car.
Best For Front Leg Issues: PetSafe Solvit CareLift — This lift aid is completely adjustable and great for dogs who have specific problem areas.
What Is a Lift Harness?
For the unaware, a lift harness is essentially a sling that wraps around your dog's body with a long handle.
Once you wrap it around your dog, you can pull up gently on the handle to take some of the weight off your dog's legs, hips or spine. Dog lift harnesses give you a way to support your mobility-limited dog and help her get around without requiring a full on wheelchair.
However, different manufacturers use different materials and designs, and some work better in some situations than others.
For example, most lift harnesses are completely built from flexible fabrics, but a few feature reinforced handles and other components (which may be essential for lifting a heavier dog).
Note that the term "lift harness" is usually applied to harnesses that are specifically designed to support a dog via her belly area. This distinguishes it from "amputee harnesses" or "rear-end harnesses," among other types.
While we'll focus primarily on proper "lift harnesses," we'll be using the term broadly and discuss several different harness types.
How to Use a Lift Harness
Lift harnesses are fairly simple devices that are pretty intuitive to use.
In most cases, you need to hold the strap or handle and pull up gently to take some of the weight off your dog's hips, shoulders, legs, and feet.
However, you'll want to adapt the specific technique used to the specific situation you are facing.
Although there are myriad ways to use a lift harness to make things easier on your dog, the following five scenarios are certainly the most common:
Helping your dog negotiate stairs. If your dog is able to get around fairly well, but needs help getting up and down the stairs, you'll just want to lift up gently on the harness handle while walking beside her. Don't try to lift her off the ground, just take some of the weight off her hips and legs. Just be sure that you proceed slowly and grip the handrail with your other hand to ensure you don't lose your balance.
Helping your dog hop into the car. You don't want to make a dog with ailing hips or joints jump up into or out of a car, so your best bet is to use a split-harness, which allows you to lift your pup by the hips and shoulders. If your dog is too heavy to lift confidently, you should invest in a good ramp to allow her to enter and exit the car (the Solvit Deluxe Telescoping Ramp is a great choice).
Helping your dog go outside to poop or pee. Even dogs with severe limitations have to go outside to sniff around and relieve themselves, but they'll obviously need help doing so. In such cases, you'll have to walk a fine line between providing enough support to help your dog stand and move, yet without infringing on her ability to assume the position and answer nature's call. If your dog needs support while going to the bathroom, be sure to select a lift harness that doesn't cover her parts – otherwise, you'll just have to take the harness off, which defeats the entire purpose.
Helping your semi-mobile dog go for a walk. Dogs that have relatively minor limitations may still enjoy (and benefit from) going on short walks. Owners of such dogs will likely want to use a standard harness with a handle on the back (such as the Peak Pooch Harness, detailed below). This way, you can provide a little bit of extra help to your pup, while still being able to walk comfortably yourself.
Carrying a completely immobile dog around. If your dog is completely dependent on you to get around, you'll need to use a harness that helps you lift her entire body off the ground in a safe fashion. Such harnesses must support the dog's hips and shoulders, rather than her abdominal region, and you'll want to select one that includes a shoulder strap, so that you can use the large muscles in your legs, butt and back to carry her, rather than just your arms. The PetSafe Solvit CareLift Full-Body Lifting Harness (detailed below) is a great choice for such situations.
Why Do Dogs Need Lift Harnesses?
There are a variety of reasons that dogs can need the additional support a lift harness provides.
However, some of the most common conditions and ailments that necessitate their use include:
Spinal Problems
Spinal conditions, such as infarctions or intervertebral disc disease, are some of the most common reasons vets prescribe lift harnesses. These and similar ailments can not only make it generally tough for your pooch to get around, they can lead to partial or complete paralysis of the rear legs.
Hip Dysplasia
Hip dysplasia occurs when a dog's hip joint fails to develop properly. This leads to osteoarthritis, which causes a loss of cartilage, and ultimately, bone-on-bone contact. And bone-on-bone contact causes pain and reduced mobility.
Hip dysplasia varies significantly in terms of severity, but those with bad cases of the condition can often benefit from the extra support a lift harness – specifically a harness designed to support a dog's rear legs – provides. However, this may not eliminate the need for hip dysplasia surgery when recommended by a specialist.
Traumatic Injuries
A number of traumatic injuries, including everything from sprained knees and broken bones to ACL ruptures, can limit a dog's strength and stability.
Many times, dogs with mobility-limiting injuries will benefit from various types of supportive lift harnesses. Obviously, the best harness style for your dog will vary based on her injury.
Arthritis
Arthritis can occur in response to an autoimmune disease or long-term overuse, but supportive lift harnesses can be helpful in both cases. Medications can sometimes reduce a dog's pain and improve mobility slightly, but arthritis can often be progressive, getting worse over time.
We have an entire guide detailing various dog arthritis management strategies you might want to consider perusing if your pooch is suffering from arthritis.
Recent Surgery
Some surgeries can leave dogs with mobility issues while they heal. A lift harness can not only help your dog get around better after an operation, but it can also help prevent her from straining muscles or popping stitches.
Old Age
Dogs who reach advanced ages often suffer from reduced mobility, and they may require the help a lift harness provides. Of course, older dogs are also more likely to have one of the ailments described above.
What You Want in a Lift Harness
Most lift harnesses are surprisingly simple products, which only consist of a few key components. Nevertheless, there is a big difference between a great lift harness, which will allow you to assist your pooch and make her life a little easier, and a substandard product, which won't provide the comfort and support she deserves.
To ensure that you select a lift harness in the former category, look for the following three characteristics when making your choice:
1. Comfortable Materials
Just about any suitably strong and flexible fabric will work for a sling, but the best ones are made from superior grades of cotton or other materials that will not irritate your dog's skin.
It's also wise to look for options that feature additional padding, and don't forget to consider the handles, either – you don't want to develop blisters or hand cramps while using the harness.
2. Ergonomic Design
You want a lift harness that supports your dog's body without putting undue stress or pressure on her joints or muscles. The handle design is also important, as you'll have to use a considerable amount of force to support large or heavy dogs.
The best way to determine if the design works well before making your purchase is to consider the experiences of other others, who have a pooch of similar shape and size to your own.
3. A Proper Fit
You must obtain a lift harness of the proper size to ensure the sling will securely support your dog and won't exacerbate her injuries.
Just be sure to consult the manufacturer's sizing recommendations and obtain good measurements for your dog (whether the manufacturer basis the sizing on linear measurements or body weight) before making your purchase.
Five Best Dog Lift Harnesses
There are a number of lift harnesses for sale on the market, but only a handful provide the type of quality and features that most owners demand.
The following five are clearly among the best options and deserve serious consideration by owners.
Quick Picks: The Five Best Dog Lift Harnesses
About: The Peak Pooch Walking and Lifting Harness is designed like a standard walking harness that many owners use during regular walks. However, it includes a carrying handle and provides more support than typical harnesses, which gives you the ability to help assist your dog into the car or over obstacles.
Product
$28.99
2,196 Reviews
Details
Easy to Use: Effortlessly slip this dog lifting harness on and off your pup with adjustable design...
Dog Vest Harness: Step in dog harness with comfortable padded design. Breathable mesh fabric along...
Essential Dog Supplies: Dog harness with handle is available in several sizes and colors. Please...
Multiple Adjusting Points: This escape-proof dog harness features four adjustable straps, two of...
Features: The Peak Pooch Lifting Harness is designed with three different straps, which encircle your dog's neck and shoulder area, rib cage and belly. Quick-release buckles on the back two straps make it easy to put the harness on, without having to wrestle your dog very much.
Breathable mesh is used in the chest and back sections to ensure your dog remains cool and comfortable, and a metal ring is included on the back of the harness and provides a place to which you can clip the leash. Reflective stitching is used throughout the vest to help make sure motorists can see your dog, even in dim light.
The Peak Pooch Lifting Harness is available in five sizes (extra-small, small, medium, large and extra-large) and three different colors: Blue, Red, and Black.
PROS
The Peak Pooch Harness is a great choice for small to medium dogs, who still get around relatively well, yet need a bit of help from time to time. Most owners explained that the harness seemed comfortable for their dog, and several specifically praised the quick-release buckles, which provided more security than the Velcro-style closures used by other brands.
CONS
A few owners reported sizing problems (the harnesses appear to run small), so measure your dog's chest girth and body length carefully before making your selection. Additionally, the harnesses' handle design may not work well for owners of very large dogs – it would be quite difficult for smaller owners to lift a 50-pound dog one-handed.
About: The Coodeo Dog Rehabilitation Sling is a full-body sling designed to support and stabilize older or injured canines suffering from joint injuries, arthritis, etc
The sling features various buckles that can be attached in a few different ways to provide support to various parts of your dog's body.
Product
$41.98
5,525 Reviews
Details
1. PROFESSIONAL- Our product is engaged in rejuvenating old or disable dogs by supporting and...
2. HIGH QUALITY-Breathable and soft material makes your dog comfortable and can be worn for a long...
3. USER-FRIENDLY - Our product is user-friendly in design and takes good care of male dogs' private...
4. WASHABLE - This product is easy to clean and washable. Please wash by hand with cold water and...
Features: The Coodeo Dog Rehabilitation Sling is made from soft, breathable material with adjustable traps for the owner's comfort. The sling has both front and rear buckle attachments, allowing you to re-adjust the sling for when your dog needs more assistance with front legs or rear legs.
The sling is designed to provide full-body support while still allowing male dogs to go to the bathroom without issue.
It comes in several sizes from XS to XXL, so dogs of all shapes and sizes can use it.
PROS
Owners found that the sling made it much easier to lift, carry and support large dogs. Several owners reported that this sling redistributed the dog's weight in a way that allowed for easy carrying by the owners.
CONS
One customer reported not receiving appropriate straps with the package, but this seems to be a rare, one-off case. Some owners also found the harness to be too long for their dogs.
About: The Labra K9 Sling Lift is a veterinarian-approved lift harness, which features a simple, no-frills design. However, it features several simple, yet helpful features that help it stand out from most similar products.
Product
$17.95
2,563 Reviews
Details
Lift Your Dog Up - Whether it's the car or the couch, sometimes our dogs need extra help to reach...
Care for Yourself, Too - Bending over to lift your dog up can be messy, and it can cause your back...
Strong and Durable - Made from heavy duty, weight resistant materials and designed with a soft...
No More Stumbling - Taking your senior dog out for a walk can sometimes be problematic because they...
Features: The Labra Sling Lift features a wide, soft and strong fabric sling to support your dog's body comfortably, and it has a set of adjustable straps, which allow you to adjust their length to suit your own body when lifting your pooch. The inside of the sling is covered in fleece to provide additional comfort.
Wide Velcro strips are included to keep the sling securely wrapped around your dog's body, and a snap closure is included so you can roll up the sling and keep it tidy when not in use. The Labra K9 Sling Lift is black and comes in four sizes (medium, large, extra-large and extra-extra-large).
PROS
Most owners praised the quality of the Labra K9 Sling Lift. Thanks to the strength of the fabric, quality of the stitching, and well-designed handles, it is a great option for large dogs, and most owners found that the harness made it easy to give their hobbled dog extra support. The included fleece liner is also a nice feature, which isn't included in most competing products.
CONS
A few owners noted that the material used in the construction was not stiff enough and that the sling was prone to slipping back and forth on their dog's body. However, these seem to be related to sizing problems and should be avoidable by purchasing the proper size.
About: Designed for dogs who can still walk but require a little extra help, the Blue Dog Lift Support Harness is a sling-style harness that can be wrapped around your dog's rib cage or belly. This makes it helpful for dogs with a variety of different health problems.
Features: The Blue Dog Lift Harness is made from polyester and nylon and features a fleece liner for added comfort. Unlike many other lift or support harnesses, which only feature Velcro closures, the Blue Dog Lift Harness is secured via Velcro and a snap for additional security.
Four straps are included to help spread the force out over a larger area, and a convenient, wrap-around handle keeps the straps together and provides a comfortable grip. As the name implies, the Blue Dog Lift Harness is, in fact, blue, and it comes in two sizes: large and extra-large.
PROS
Most owners praised the quality of the Blue Dog Lift Harness and reported that it greatly improved their dog's ability to get around. The combination of Velcro and a snap closure was also popular among owners, as it provided a tighter fit than some competing products.
CONS
The Blue Dog Lift Support Harness doesn't provide any way to adjust the strap length, which may give some owners (particularly those who are especially tall or short) problems. Similarly, owners of dogs who are very tall or very short may have trouble supporting their dog while walking in a comfortable position.
About: The PetSafe Solvit CareLift is a two-part harness that allows you to support your dog's shoulders, hips or both. This means that it is helpful for dogs who only need a little help getting around, as well as those who must be carried.
Product
$44.95
3,635 Reviews
Details
FULL BODY SUPPORT: Give your dog the full-body support he needs whether he's getting older,...
SAFELY ASSIST YOUR PET: Support handles allow you to lift your dog easily; attach the shoulder strap...
ADJUSTABLE SIZING: The harness easily adjusts so you can get the best fit for your dog's needs;...
MOBILITY: Full-body harness allows you to help your best friend get in and out of the car, go for a...
Features: The PetSafe CareLift features two different harness sections – one that supports your dog's hips and another that supports your dog's chest area. Each section features a padded mesh band that wraps around the body and leg loops to keep it in place. A special padded area is included to protect the boy parts of male dogs, but it can be removed for use with female dogs.
The CareLift allows you to lift your dog by using the rubberized handles, a lifting leash, or the included shoulder strap, which allows you to use your whole body to support your dog's weight. It is only available in one color pattern (blue and black), but it comes in three sizes: small, medium and large.
PROS
The PetSafe CareLift provides several different ways for you to support your dog, and it is one of the only lift harnesses on the market that features a shoulder strap, which is very helpful for lifting and carrying large dogs.
CONS
Some owners complained that the leg loops lacked padding. Additionally, while the special padding provided for male dogs is a welcome feature (I'll say…), you have to move it out of the way to allow your dog to pee, which is a bit inconvenient.
Our Recommendation: PetSafe Solvit CareLift
While the Solvit CareLift is useful for dogs of all sizes, it is clearly the best lift harness for supporting large dogs, thanks to the included shoulder strap. It also provides greater flexibility than any of the other harnesses, and you can use it in different ways as your dog's condition worsens or improves.
For example, you may need to use both sections and the shoulder harness to help your dog right after surgery, but you can scale back to only a single section as your dog regains mobility and heals.
The rubberized handles are also a great feature, which help you get a great grip on your pooch. In addition, the padded protector included for male dogs is another welcome addition.
Have you ever needed a lift harness for your dog? Did it make things easier? How did your dog seem to feel about it? We'd love to hear about your experiences and be sure to share any great lift harnesses we may have missed.