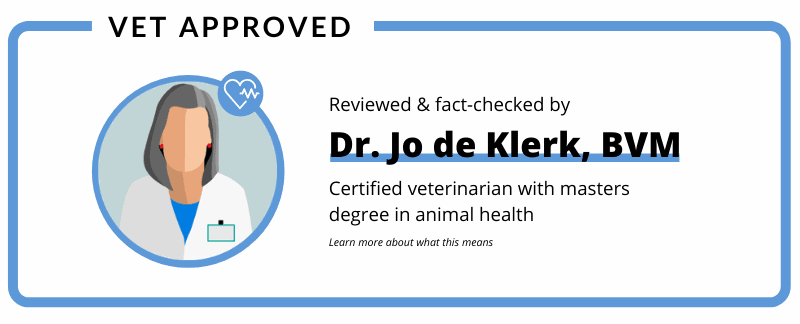 Many dog owners go to great lengths to ensure their dog benefits from the best possible diet, veterinary care, and quality of life, and they are constantly seeking new ways to spoil and care for their pup. This often leads them to consider providing their pooch with a multivitamin.
But, do dogs need multivitamins? And if so, which ones are appropriate? We'll examine these questions and others below.
Best Vitamins For Dogs: Key Takeaways
Just like humans and all other animals, dogs require vitamins to remain healthy. Fortunately, most dogs will get all the vitamins they require by eating a food that meets the AAFCO guidelines for their current life stage.
In some (relatively rare) cases, dogs can suffer from vitamin deficiencies, which necessitate the use of supplemental vitamins. Deficiencies can cause a variety of health problems, ranging from premature greying and other relatively minor issues, to more dangerous health problems, including things like poor cardiovascular function.
However, improper vitamin supplementation — particularly over supplementation — can be extremely dangerous for dogs. Accordingly, owners should only administer vitamin supplements when explicitly instructed to do so by a veterinary professional.
Vet already tell you to start supplementing and you just need a quick recommendation?
We like: Pet MD Canine Tablets. They're our top pick for quality and value.
What Are Vitamins, Exactly?
Vitamins are small organic molecules that the body uses to carry out various biological processes. Your dog's body is unable to make most vitamins (there are a few exceptions), so they must be obtained via the diet (although some vitamins, such as Vitamin E, may also be absorbed through the skin).
Vitamins can be derived from a number of foods, but some of the best sources include fresh fruits, fresh vegetables, dairy products, and organ meats.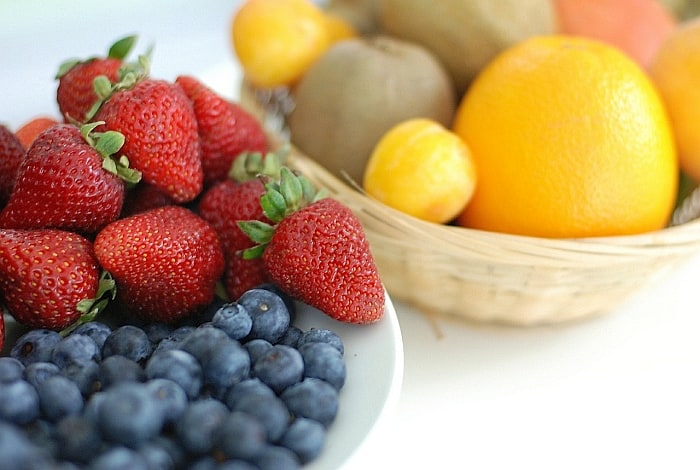 Most commercial dog foods are fortified with vitamins, but owners can also provide their dog with supplemental vitamins – much like those humans take.
Although a number of supplements are often thrown into the "vitamin" category, things like probiotics, glucosamine, chondroitin, fish oils, calcium, zinc and several other common supplements should not be considered vitamins.
These compounds play a number of beneficial roles in your dog's body, and many – especially various minerals – are included in multivitamin supplements. However, these all represent different types of substances, which do not fit the definition of a vitamin.
What Kinds of Vitamins Does My Dog Need?
Vitamins are not all created equally, and they have a number of chemical differences.
Scientists recognize 13 different vitamins that are crucial for good health, and they name most of them after a letter (sometimes followed by a number). Each of these vitamins plays a different biological role, and your dog needs each in different amounts.
Vitamins are classified in two primary categories: water soluble and fat soluble. Because they are handled very different by the body, they are best explained separately.
Water Soluble Vitamins
Most of the vitamins your dog's body needs are water soluble, meaning that they dissolve readily in water.
Because of this, these vitamins are not stored in the body in significant quantities. This means that they must be ingested on a daily basis to ensure their body has enough at any given time.
Our Source for Recommended Daily Vitamin Intake
The primary water-soluble vitamins include:
Vitamin B1
Also called, thiamine, Vitamin B1 helps to promote proper nervous system function and is involved in appetite stimulation and the metabolism of food.
Weakness, loss of bodily control, and diminished appetite can all occur in dogs who do not obtain enough of this vitamin.
Dogs of all life stages need approximately 2.25 milligram of Vitamin B1 per kilogram of food consumed every day.
Vitamin B2
More commonly called riboflavin, Vitamin B2 is very important for good vision and healthy eyes, and it also helps support the cardiovascular system. It also helps your dog's body to produce niacin from the amino acid tryptophan.
Dogs of all life stages require 5.2 milligrams of riboflavin per kilogram of food consumed every day to avoid problems like poor vision or heart failure.
Vitamin B3
Better known as niacin, Vitamin B3 is important for healthy skin, nerves and proper energy production. Dogs who fail to get enough Vitamin B3 may exhibit inflamed gums, bloody diarrhea or diminished appetite.
Dogs of all life stages require approximately 13.6 milligrams of B3 per kilogram of food consumed everyday.
Vitamin B5
Vitamin B5, or pantothenic acid, as it is sometimes called, is involved with food metabolism and hormone production. Dogs suffering from a Vitamin B5 deficiency may lose hair or exhibit premature graying.
Dogs of all life stages need approximately 12 milligrams of Vitamin B5 for each kilogram of food consumed each day.
Vitamin B6
Vitamin B6 – also called pyridoxine – helps the body produce red blood cells, hemoglobin and insulin. Anemia often results from Vitamin B6 deficiencies, although some dogs may develop skin lesions if not provided enough of this crucial vitamin.
Dogs of all life stages require approximately 1.5 milligram of Vitamin B6 for each kilogram of food consumed each day.
Vitamin B7
Vitamin B7, also known as biotin, is very important for digestion, as it helps your dog's body breakdown carbohydrates, fats and proteins. Intestinal disruptions are a common symptom of Vitamin B7 deficiency, as are dry skin and poor coat condition.
Your dog needs Vitamin B7, but the AAFCO has not established a recommended daily dosage for it.
Vitamin B12
Occasionally called cobalamin, Vitamin B12 helps to maintain the nervous system, produce red blood cells and assist in the construction of genetic material (DNA and RNA).
Despite being important to these crucial biological functions, dogs only need a minute amount of Vitamin B12 – about .028 milligrams per kilogram of food consumed (regardless of life stage) – each day.
Folic Acid
Folic acid primarily plays a role in red blood cell formation, although it may also be associated with protecting cardiovascular health.
Dogs of any life stage who fail to get the required daily dose — 0.216 milligrams per kilogram of food consumed – may develop anemia.
Vitamin C
Vitamin C, which is sometimes called ascorbic acid, helps your dog's body produce collagen, which is a connective tissue that helps to hold the body's bones, muscles, organs, tendons and ligaments in place. It also plays roles in bone formation, the healing process and proper immune function.
Dogs produce their own Vitamin C, so you needn't provide it to them.
Fat Soluble Vitamins
Fat soluble vitamins do not dissolve readily in water, and your dog's body stores them in the liver and various fatty tissues. These types of vitamins stick around in your dog's body for a long time, and, if given in excessive quantities, they may lead to health problems.
In fact, excessive levels of fat-soluble vitamins (particularly Vitamins A and D) are especially dangerous for growing dogs, once again highlighting the importance of working closely with your vet, rather than just providing supplemental vitamins in a haphazard fashion.
The primary fat-soluble vitamins include:
Vitamin A
Vitamin A – also called retinol – is important for a variety of biological processes. Some of the most noteworthy include bone growth, cell division, immune system regulation and gene expression.
Dogs of all life stages require about 5,000 International Units of Vitamin A per kilogram of food consumed per day.
Because fat-soluble vitamins can lead to toxicity problems if given in excessive amounts, many multivitamins and supplements contain beta carotene, which is a Vitamin A precursor that the body converts as necessary, rather than retinol. This prevents your dog's body from suffering from a toxic buildup of Vitamin A (retinol).
Vitamin D
Vitamin D — especially the active form of the vitamin, known as Vitamin D3 – is heavily involved in the biochemical processes involving calcium and phosphorus, particularly the absorption of calcium from the small intestine. Vitamin D deficiency can result in rickets and poor tooth development.
Dogs of all life stages require about 500 IU of Vitamin D per kilogram of food consumed each day.
Vitamin E
Vitamin E, often called tocopherol, is an antioxidant that helps to protect blood cells and essential fatty acids. Vitamin E deficiencies can cause intestinal disease or reproductive failures.
Dogs of all life stages need about 50 IU of Vitamin E per kilogram of food consumed each day.
Vitamin K
Vitamin K is obtained through a variety of food sources, but bacteria in the intestinal tract also produce it as well. Vitamin K is involved in the blood-clotting process, and it is responsible for helping to promote proper bone health and development. Dogs who suffer Vitamin K deficiencies may suffer from internal bleeding or altered clotting times.
The AAFCO has not established a daily recommendation for Vitamin K in dogs.
What Dogs Require Vitamin Supplements?
Most dogs satisfy their daily vitamin requirements by simply consuming a high-quality dog food that is properly fortified. However, there are some dogs who may require a supplemental vitamin.
Dogs Fed Homecooked Meals
Homecooked meals can be a great option for owners with the time and desire to tackle the task, but most homecooked meals are likely deficient in several key vitamins. Accordingly, multivitamins may be appropriate for these dogs.
Dog Suffering from Specific Vitamin Deficiencies
Your veterinarian may indicate that your dog is suffering from a vitamin deficiency, which can be treated by the administration of a vitamin supplement. Some vets may recommend taking a multivitamin to address these needs, while others may prefer administering a single-vitamin formula.
Dogs Suffering from Specific Health Problems
Some health problems, such as rickets, can be treated with supplemental vitamins. In such cases, your vet will likely recommend administering a single-vitamin formulation.
Consult your veterinarian if you believe your dog may be benefit from a multivitamin or if you are concerned that your dog is suffering from a deficiency. Vitamins are important for your dog's health, but excessive levels of some can be dangerous and excessive levels of others are simply wasteful.
Need Veterinary Help Fast?
Don't have easy access to a vet? You may want to consider getting help from JustAnswer — a service that provides instant virtual-chat access to a certified vet online.
You can discuss the issue with them, and even share video or photos if need be. The online vet can help you determine what your next steps should be.
While talking with your own vet — who understands the ins and outs of your dog's history — is probably ideal, JustAnswer is a good backup option.
Five Best Vitamins for Dogs: Top Multivitamin Picks
The following five multivitamins are among the best available in the market. Most are quite delicious to dogs, making them very easy to administer.
Work with Your Vet
We've said it before, but we're going to say it one more time because it's important: Do not provide your dog with supplemental vitamins unless directly instructed to do so by your veterinarian.
Improper vitamin supplementation can be very dangerous for dogs.
1. Pet MD Canine Tabs Plus
About: Pet MD Canine Tabs are based on an advanced veterinary formula, designed to provide your pup with the vitamins and minerals he needs to stay healthy, no matter the breed or size. Each bottle contains 365 tablets, so you only have to order them once per year.
Price: $
Our Rating:
Features:
Flavored with natural liver powder for a great taste that dogs love
Certified safe and tested for Coliform, Salmonella spp., Staphlococcus aureus, coliform bacteria, yeasts and mold
Made in the USA in FDA-, USDA- and FSIS-certified facilities
PROS
Most owners who tried Pet MD Canine Tabs were happy with the vitamins, citing the improvements they provided for coat health, skin condition and mobility, among other things. Several owners of older dogs noted that their pets exhibited improved energy levels and alertness after administering Pet MD Canine Tabs Plus to their aging pooch – some even reported that the tablets helped their dog sleep through the night.
CONS
While most dogs appear to like the taste of the Pet MD Tablets, a significant percentage of owners noted that their dogs did not like the taste of the pills. Some owners also stated that these tablets are somewhat difficult to break in half, which may be a small problem for owners of dogs under 10 pounds.
Ingredients List
Dicalcium Phosphate, Cellulose, Molasses (Sucrose), Liver Powder...,
Ascorbic Acid, Stearic Acid, Choline Bitartrate, Dl-Alpha Tocopheryl Acetate, Natural Flavor, Safflower Oil, Potassium Chloride, Magnesium Stearate, Silicon Dioxide, Ferrous Fumarate, Potassium Iodide, Niacinamide, Vitamin A Acetate, Zinc Oxide, Manganese Sulfate, Vitamin B12 Supplement, D-Calcium Pantothenate, Riboflavin, Vitamin D3 Supplement, Pyridoxine Hydrochloride, Thiamine Mononitrate, Copper Sulfate, D-Biotin, Folic Acid.
2. Vita Health Adult Daily Vitamins
About: Vita Health Daily Vitamins are scientifically formulated to provide the vitamins and minerals your dog needs to ensure a health immune system and proper coat and skin health.
Price: $$
Our Rating:
Features:
Provides 8 vitamins and 10 minerals that your dog needs
Parsley leaf included to freshen your pet's breath
Available in two formulations: Adult and Senior
Made in the USA at a cGMP- and NSF-certified facility
PROS
Most owners spoke highly of Vita Health Daily Vitamins and reported that their dog loved taking the tablets. Several noted that their dog exhibited improved energy levels and mobility after consuming these supplements for a brief time.
CONS
While most dogs appear to find these tablets tasty, a small number of dogs did not find the tablets palatable. Some owners also complained that the tablets made their dog gassy, but that's a relatively minor issue.
Ingredients List
Maltodextrin, Microcrystalline Cellulose, Dicaclium Phosphate...,
Natural Flavoring, Brewer's Dried Yeast, Stearic Acid, Parsley Leaf Powder, Silica Aerogel, Magnesium Stearate, Ferrous Sulfate, Niacin Supplement, Beta Carotene, Vegetable Oil, Vitamin A Palmitate, Vitamin E Supplement, Zinc Sulfate, di-Methionine, Riboflavin, Thiamine Mononitrate, Vitamin D3 Supplement, Manganese Sulfate, Vitamin B12 Supplement, Pyridoxine Hydrochloride, Copper Carbonate, Potassium Iodine and Cobalt Carbonate.
3. Spring Pet Canine Multi-Vitamin Yums
About: Spring Pet Multi-Vitamins are delicious, heart-shaped soft chews that are designed to provide your dog with the vitamins, minerals and antioxidants he needs to remain healthy.
Made in the USA, Spring Pet Multi-Vitamins are produced under strict safety guidelines and packaged with a National Animal Supplement Council (NASC) seal to ensure product safety.
Price: $$$$
Our Rating:
Features:
Contains Vitamins A, D3, E and five B-complex vitamins
Free ebook – "Pet Care for Kids" – included with purchase
Natural bacon and smoke flavor drives dogs wild
Backed by the manufacturer's 100% satisfaction guarantee
PROS
The vast majority of owners who tried Spring Pet Multi-Vitamins loved the product. Most dogs appear to like the flavor, and many owners noted improvements in their dog's appetite, energy level, coat condition and demeanor after providing these supplements to their dog for a short time. Many owners were also happy to see the product was made entirely in the USA and packaged with an NASC seal.
CONS
The only common complaint owners expressed about Spring Pet Multi-Vitamins related to packaging or shipping problems, although a very small number of owners reported that their dog wouldn't eat the soft chews. A few owners also found these vitamins were a bit expensive.
Ingredients List
Molasses, Glycerin, Vegetable Fiber, Vegetable (Soybean)...,
Oil, Corn Starch, Sucrose, Pork Liver Powder, Calcium, Phosphate, Vegetarian Beef Flavor, Bacon Flavor, Magnesium Stearate, Vegetable Shortening, Hickory Flavor and Natural Antioxidants.
4. Pet Tabs Original Formula Vitamin Supplement
About: Pet Tabs Original Formula Vitamin Supplements are a tasty and easy-to-administer solution to your dog's vitamin and mineral needs. You can either offer these tablets (or portions thereof for dogs under 20 pounds) by hand or crumble them and add them to your pup's food.
Price: $$$
Our Rating:
Features:
Each tablet provides 8 vitamins and 10 minerals
Provides a small amount of protein in addition to the vitamins and minerals
Made in the USA
PROS
Owners were mostly pleased with Pet Tabs Original Formula, and the majority of dogs appear to love the pork-liver flavor of the tablets. Several owners noted improvements in their dog's coat health, skin condition and digestion after administering these vitamin supplements regularly.
CONS
A few owners complained of the inclusion of wheat germ, corn syrup, and sugar, but the low amount found in these tablets is unlikely to cause serious problems unless your dog has an allergy to wheat or corn. While most dogs appear to love the taste of these tablets, a very small number of dogs reportedly found them unpalatable.
Ingredients List
Wheat Germ, Kaolin, Corn Syrup, Pork Liver Meal...,
Dicalcium Phosphate, Sugar, Lactose, Safflower Oil, Gelatin, Corn Starch, Stearic Acid, Niacinamide, Hydrolyzed Soy Protein, Iron Oxide and Proteinate, Magnesium Stearate, dl-Alpha Tocopheryl Acetate, Vitamin A Acetate, Zinc Oxide, Riboflavin-5-Phosphate, Thiamine Mononitrate, Pyridoxine Hydrochloride, Vitamin B12 Supplement, Manganese Sulfate, Copper Acetate Monohydrate, Vitamin D3 Supplement, Cobalt Sulfate.
Our Recommendation: Pet MD Canine Tabs Plus
Most supplements available provide comparable vitamin and mineral levels, but Pet MD Canine Tabs Plus manages to do so while costing much less than most other supplements. Additionally, many owners will appreciate that these tablets are made under stricter safety guidelines than many other vitamins.
***
Do you give your dog a multivitamin on a regular basis? What made you start doing so? Have you found one that worked better than others?
We'd love to hear about your experiences in the comments below.