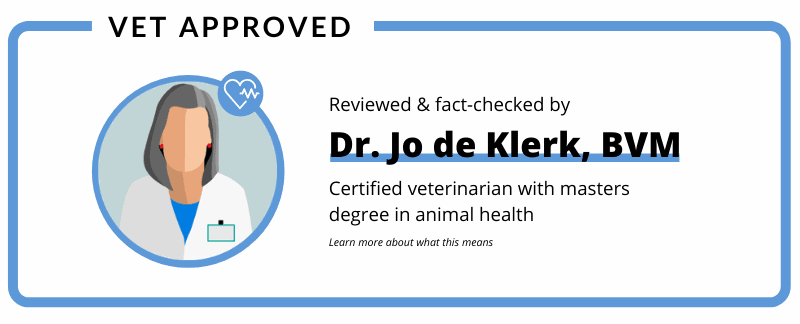 Every time you stroll down the aisles of your favorite pet store with your pooch, you might be passing up an opportunity to strike it big with oil — salmon oil, that is!
This fishy oil is a nutrient gold mine for your dog, and it might be the trick to solving some of your pupper's peskiest problems.
But this tonic has also been the subject of some wild claims that've bolstered its fishy fame, so let's sort fluke from fact and get to the bottom of salmon oil.
Or, if you just want a quick product recommendation, check out our quick-picks below!
The Best Salmon Oils for Dogs: Quick Picks
What Are the Benefits of Giving Your Dog Salmon Oil?
With canine nutrient fads coming and going as quickly as your dog playing fetch, it's reasonable to be a little hesitant about trying something new.
Salmon oil, however, earns its place in your pup's diet as an excellent source of omega-3s.
These fatty acids improve your pup's coat condition and soothe itchy skin, keeping your dog looking and feeling great.
They're also renowned for anti-inflammatory properties, which makes it helpful for arthritic dogs and heavy-duty exercisers. It may also help ease the inflammation caused by hip or elbow dysplasia too.
It isn't just for adult doggos, either, as puppies can also benefit from salmon oil. Omega-3s are shown to promote proper brain and eye development in puppies, aiding in training and overall growth.
How Do You Pick the Best Salmon Oil for Your Pet?
Salmon oil comes in numerous forms, including capsules and liquid. Each has its own list of pros and cons, so you'll need to consider your pup's preferences and specific needs before committing to one form.
Your dog may love the taste and be happy to have the liquid added to his kibble, while another dog is better off eating it in capsule form because she's picky.
Both types require different storage, as well, so it's you should consider if you're okay storing fish oil in your refrigerator, or if you're more content with a supplement that can be kept at room temperature.
Cost is another sticking point to keep in mind. The fish source can contribute to a higher cost, as an all-salmon formula may be pricier than one that contains a mix of cold-water fish oils (see our article detailing the best fish oil for dogs to check out a wider selection than just salmon oils).
These formulas may have differing levels of EPA and DHA (two different forms of omega-3s), and some might contain additives such as additional vitamins or flavorings. Since salmon oil is typically a lifelong supplement, you want a quality product that won't break the bank.
Lastly, the harvesting and treatment process should be considered. You may want to pick a product that's only sourced from farm-raised salmon, while others may prefer wild-caught fish — each source creates a different type of environmental footprint.
Most importantly, you want to investigate if and how mercury is removed from the oil. Mercury is a dangerous compound sometimes found in fish, so its removal is vital.
Best Salmon Oils for Dogs
There are plenty of fish in the sea when it comes to salmon oil for dogs, but we've reeled in our top five best catches to share with you.
1. Zesty Paws Pure Salmon Oil
About: Zesty Paws Pure Salmon Oil is a liquid additive that delivers a tasty dose of Omega-3s with every pump.
Suitable for both dogs and cats, you won't have to juggle numerous supplements for your fur family, and it mixes right into your pet's food, skipping the need to hide capsules in your pet's food.
Product
Sale
−$2.04 $36.93
55,713 Reviews
Details
America's #1 Selling Dog Supplement Brand on Amazon*
A tasty & body nourishing treat for cats & dogs - Essential fatty acids for a healthy coat.
Powerful Omega Fatty Acids - This premium fish oil liquid formula is loaded with the healthy Omega-3...
Help your pet stay looking great - The rich Omegas in Salmon Oil are a dog health supply to nourish...
Features: Made of pure salmon oil sourced from wild fish, this product is nutrient-rich and free of contaminants.
Loaded with Omega-3s and Omega-6s, Zesty Paws Pure Salmon oil promotes skin and coat health, and its grain-free formula won't trigger any sneaky allergies.
Dosages are straightforward and easy to apply — just pump the desired amount straight onto your pup's food, and you're good to go! This is an excellent choice if your dog is happy to try new things.
Ingredients: Salmon oil, mixed natural tocopherols
Options: Zesty Paws Pure Salmon Oil is available in three bottle sizes — 8-ounce, 16-ounce, and 32-ounce.
PROS
This is a winning formula that gets right to it with no artificial additives. Reviewers rejoice at how much it moisturizes dry skin, with some noting that it seemed to reduce shedding as well. Others highlighted how well it works for arthritic dogs.
CONS
A slight drawback is the need to refrigerate this oil after opening, as a bottle of fish oil staring back at you next to your creamer isn't for everyone. Some reviewers found the pump to be an issue, from chronic leaking to breaking entirely. This appears to be a rare packaging defect, however, and not a problem with the fish oil itself. Those with picky dogs may struggle with getting them to eat it.
2. Grizzly All-Natural Wild Caught Alaskan Salmon Oil
About: Grizzly's All-Natural Wild Caught Alaskan Salmon Oil is a liquid that you pump directly on your dog's food. Made of pure salmon oil, it's an easy way to add skin-supportive Omega-3s to your pup's diet.
Product
Sale
−$3.29 $21.70
3,651 Reviews
Details
ABUNDANCE OF OMEGA 3 MAKES EVERY MEAL TASTY and COMPLETE. Certified Wild Caught Alaskan Salmon...
NOURISH THE ENTIRE BODY. Helps Support Immune System, Heart, Organ Health, Cognition, Vision,...
BALANCED BLEND of Omega 3 EPA and DHA, Inherent Antioxidants and Vitamins that Naturally Occur in...
A TRUSTED BRAND WITH UNIQUE LEADERSHIP. From the Creators of Industry Leading Grizzly Salmon Oil....
Features: Sustainably sourced directly from wild-caught Alaska salmon, Grizzly Salmon Oil is tested rigorously for quality.
A rich source of fatty acids, each measured pump delivers a burst of tasty goodness. It's higher on the price scale than other options, but it is one of the most Omega-dense formulas listed.
The oil can be stored in the refrigerator or at room temperature after opening, and the formula can be given to cats and ferrets as well.
Ingredients: Salmon oil, tocopherols
Options: Offered in five sizes ranging from 8 ounces to 64 ounces, there's a container for every pup family, whether you have one wonderdog or more.
PROS
Taste was a clear winner among reviewers, as were the skin results, with dull, flaky coats transforming with its use. Others praised its surprising lack of fishy odor, a common (and expected) problem with fish oil supplements.
CONS
The pump received several complaints due to faultiness, though Grizzly will replace any problem pumps if you contact customer service. Another complaint was gastric upset, though these can be alleviated by slow introduction.
3. Best Paw Pure Alaskan Salmon Oil
About: Made with wild-caught salmon, Best Paw Pure Alaska Salmon Oil is a tasty topper for your dog's food. The BPA-free pump and bottle safely store and deliver the nutrient-rich oil, though refrigeration is required.
Details
MIRACLE FOR DRY SKIN - Our unique composition of fatty acids moisturizes dry, itchy skin from the...
MAGIC FOR SOFT FUR - Brittle fur, excessive shedding, and dandruff. You may find them a nuisance,...
JUMP FOR HIPS & JOINTS - Works wonders for stiffness from joint pain and arthritis. The DHA & EPA...
VET RECOMMENDED - Veterinarians are giving two paws up for human-grade Wild Alaskan Salmon Oil....
Features: Tested to ensure a mercury and toxin-free formula, Best Paw Salmon Oil is a safe and natural way to improve your dog's coat and skin.
Loaded with healthy Omega fatty acids, vitamins, and minerals, it's a high-quality supplement to add to your pup's routine.
The formula is safe for dogs and cats alike and lacks fillers and artificial additives like coloring and flavors.
Ingredients: Salmon oil, astaxanthin, naturally-occurring Vitamin D3, Vitamin B12, selenium, Vitamin B3, protein, phosphorus, Vitamin B6, iodine, choline, Vitamin B5, biotin, potassium
Options: Available in 8-ounce, 16-ounce, and 32-ounce bottles, there's a size for every fur family.
PROS
Many reviewers howled praise about the improvements seen in their pups' coats after regular use. Taste was commonly cited as a win as well, along with the changes seen in arthritic pups.
CONS
While fish oil is expected to smell a little, well, fishy, some reviewers found this formula to be especially funky. Some dogs did seem put off by the taste, and this pump also was reported to be a problem, as seen in similar salmon oil supplements.
4. WetNozeHealth Salmon Oil Omega 3 Soft Chews
About: WetNozeHealth's Salmon Oil Omega 3 Soft Chews are a great option for dogs that dislike the taste of salmon oil liquid supplements.
Packing the same nutrients without the funky taste or mess, these soft chews are made to tempt the pupper palate with natural flavorings.
Details
Salmon Oil Omega 3 Dog Chews: Help your dog combat joint pain and low immunity. Try our natural dog...
Ease Joint Pain + Boost Immunity: These Omega 3 fish oil for dogs chews boost your pet's immune...
Luscious, Shiny Coat: This Omega 3 supplement for dogs offer itchy, flaky, inflaming, and dry skin...
Taste Your Dog Will Love: WetNozeHealth Omega 3 chews for dogs are sourced from natural salmon oil...
Features: Combining the healthy Omega fatty acids of salmon oil with the anti-inflammatory properties of turmeric, these soft chews pack a lot of goodness in each bite. The addition of primrose and sunflower oil may help improve skin and coat health, and the formula lacks the unsavory side effect of fish breath.
These are intended for dog consumption only and should only be given to pups six months of age and older. The price point is a little iffy depending on your dog's size, as large dogs will go through a great deal of these chews, and the bill will add up quickly.
Ingredients: Salmon oil, primrose oil, sunflower oil, organic turmeric, coconut glycerin, flaxseed meal, natural bacon flavoring, natural chicken flavoring, oat flour, palm oil, powdered cellulose, rice bran, rice flour, sorbic acid (natural preservative), and sunflower lecithin
Options: Available in one 8-ounce tub containing roughly 55 chews, you may want to stock up if you have a jumbo-sized pup, as those 91 pounds and up are recommended to have six chews a day.
PROS
Pup parents praised how these soft chews improved their dogs' skin. The taste was a hit with pooches too, with positive reactions mimicking the same ones given to treats. These are easy to chew, as well, making them ideal for senior dogs that may have missing or failing teeth.
CONS
Some reviewers saw no improvement in their dogs, and the natural chicken flavoring and other additives can be an issue for allergy-prone puppers too. For that matter, this supplement contains palm oil, which is not very environmentally friendly to produce.
5. Best Paw Nutrition Pure Wild Alaskan Salmon Oil Soft Gels
About: Forget the mess and the smell of fish oil with Best Paw Nutrition's Pure Wild Alaskan Salmon Oil Soft Gels. Rather than squirting a stinky oil on your dog's food, just pop him a dose of soft gels and go on with your routine.
Details
ULTRA HEALTHY SKIN 500mg- Supports smooth skin, soft coat, and healthy paws. Helping relieve mild to...
SOFT & SHINY COAT - Perfect if your pet's coat needs a little extra gloss. Brittle, coarse fur...
MOBILITY & JOINT PAIN RELIEF - Gives an extra pep in your pet's step. Canines and felines who show...
VET RECOMMENDED - Veterinarians are suggesting trying natural remedies for allergies....
Features: Made using quality, human-grade salmon oil, this formula is packed with Omega fatty acids and is safe for both dogs and cats. It's easy to store, not requiring special care or refrigeration like other forms of fish oil.
They're a convenient alternative to liquid salmon oil and lack most of the allergy-causing additives soft chews may contain. Compared to other options, these soft gels are one of the most affordable items on our list.
Ingredients: Wild Alaskan salmon oil, gelatin, vegetable glycerin
Options: Offered in 500-mg and 1000-mg bottles, each option is a lasting pick to add to your pup's supplement stash.
PROS
Customers' tails were wagging over the skin and joint improvements seen in their dogs. The ease of feeding is another win, as cleanup was non-existent, unlike liquid forms of salmon oil.
CONS
While some dogs may happily treat these soft gels as a treat, you may need to disguise them for pickier pooches. Since these are larger capsules, this may be an issue if you have a finicky pup (but, you could always just open and empty the capsules onto your dog's food).
Is Salmon Oil Better than Other Omega-3 Supplements for Dogs?
Salmon oil isn't the only source of omega-3s on the market. Other coldwater fish such as mackerel and herring are also used for fish oil supplements. All are excellent sources of the omega-3 acids docosahexaenoic acid (DHA) and eicosapentaenoic acid (EPA).
There are plant-based omega-3 supplements available as well, though they provide a different form of omega-3 called alpha-linolenic acid (ALA).
While ALA can be converted into DHA and EPA by the body, dogs aren't as efficient in the process.
Given this, it's best to give your dog a DHA or EPA supplement directly — such as salmon oil — to ensure proper absorption.
Salmon Oil for Dogs: FAQs
Even after knowing the basics, it's normal to have some questions. Let's go over some common queries surrounding fish oil to better understand it.
Can you give a dog human salmon oil?
Human-grade products often differ from those intended for canine use. While pure salmon oil doesn't differ between the two, those with additives should be reviewed carefully.
Products intended for humans may contain unsafe ingredients for your pooch. Just stick to products specifically made for dogs to be on the safe side.
Can all dogs have salmon oil?
While most dogs are fine consuming salmon oil, some may have dietary restrictions that rule it out, such as chronic pancreatitis (in which case you'll want a pancreatitis-friendly dog food).
Before implementing any supplement in your dog's routine, it is wise to give your vet a call.
How much salmon oil should you give your dog? What's the appropriate salmon oil dosage for dogs?
The amount of salmon oil to give your dog will vary by product. You should refer to the label as well as talk with your veterinarian to figure out a proper dosage for your dog.
There is definitely too much of a good thing when it comes to salmon oil.
Excessive amounts of salmon oil can cause gastric upset. It's also calorie-dense and can lead to weight gain if you're too liberal in its application. Immune system and clotting problems are more serious concerns that come with overdosing on salmon oil. 
How often should you give your dog salmon oil?
Like the dosage, this will vary by product. Consult with the product label and speak with your vet to determine how often your dog should receive salmon oil. However, many owners find a daily supplementation schedule works well. 
How do you administer salmon oil to your dog? 
This varies by product. Some are liquid forms applied directly to food by a pump or dropper, while others may be delivered in capsule form for mess-free feasting.
In some cases, you may be able to simply administer liquid salmon oil right into your dog's mouth (some dogs find it tasty) with an eye dropper. 
Will salmon oil give my dog bad breath?
Salmon oil can make your pup's breath a little fishy, especially in liquid form. Usually, this is only temporary after ingesting and can be remedied with tooth-brushing or dental treats.
What happens if you give your dog too much salmon oil?
As we mentioned, there is such a thing as too much of a good thing. The most common problem seen following excesses salmon oil supplementation is gastrointestinal upset, but more serious problems can occur in some dogs.
Does wild-caught vs. farm-raised salmon matter?
Traditionally, farm-raised salmon are fed calorie-dense diets that rapidly affect their growth and overall size.
This can lead to fatty, less nutritious fish. Wild-caught salmon contain higher amounts of healthy Omega fats and overall a better muscle-to-fat ratio.
***
Have you tried salmon or another fish oil for your dog? Have you tried any of these supplements? Let us know in the comments below!