Biking with your dog is undoubtedly fun, but it can be tricky if your pooch can't keep up. Let's face it: Not all dogs are equipped to run alongside you for miles and miles.
So, you may want to think about getting your hands on a dog bike basket. This way, you and your best fur friend can safely cruise around town together — and you'll look adorable while doing so!
Below, we'll discuss why you might benefit from a bike basket for your pup and share our top picks for the best dog bike baskets on the market.
Best Dog Bike Baskets: Quick Picks
11 Best Dog Bike Basket Reviews
There's no shortage of dog bike baskets on the market, but they vary tremendously in terms of quality, price, features, and aesthetics. We've tried to make it easier to find the perfect bike basket for your pooch below — no matter what you're looking for!
1. COFIT Detachable Bike Basket
About: The COFIT Detachable Bike Basket allows you and your canine to cruise around comfortably. And thanks to its roomy design, your pooch will be able to kick back and enjoy plenty of elbow room. Constructed with rustproof aluminum and easy-to-clean, waterproof cloth, it can also handle the messes that come with a doggy copilot.
Best Overall Dog Bike Basket
This is a sponsored placement, in which an advertiser pays a fee to be featured in this article. Learn more
Features:
Available in 4 styles, including basic or "upgraded" versions in your choice of colors
Added rain cover keeps toted supplies dry (not for use with your pup)
Can support up to 11 pounds
Includes two side pockets and an extra pouch for storage
Measures 13″ x 8″ x 9″
Pros
Aesthetics gets a thumbs up from most owners
It's a versatile bag that works with most bike styles
It's pretty affordably priced
The pockets provide helpful storage opportunities
Cons
There's no built-in safety clip for your pup
Some owners reported that the locking mechanism suffered issues over the long term
2. ANZOME Bike Basket
About: The ANZOME Bike Basket is a no-fuss dog carrier that suits any biker's style with its neutral black finish. And in addition to being one of the most affordable dog bike baskets on the market, its compact, lightweight construction won't slow you down as you pedal your pupper around town.
Most Affordable Dog Bike Basket
This is a sponsored placement, in which an advertiser pays a fee to be featured in this article. Learn more
Features:
Made with a waterproof fabric that easily wipes clean in case of messes
Detaches for carrying supplies (or your pup)
Built-in handles make it easy to carry
Can support up to 11 pounds
Measures 12.9″ x 9.8″ x 8.6″
Pros
The combination of quality and affordability provide exceptional value
Most owners loved the sleek styling and aesthetics
Included pockets make storing supplies easy
Cons
Installation was a headache for some owners
Some owners found that the bottom sagged a bit
3. RuffLyfe DIY Crate Conversion Bike Kit
About: The RuffLyfe DIY Crate Conversation Bike Kit is a bit different than the other baskets discussed here. Instead of being a full dog bike basket, it is actually a DIY kit that allows you to attach a milk crate to your ride. But don't worry — no tools are needed for the project, and you can use the kit to mount the crate on the front or back of your bike.
Highest Weight Capacity Dog Bike Basket
This is a sponsored placement, in which an advertiser pays a fee to be featured in this article. Learn more
Features:
Heavy-duty 120-pound tension crate fasteners secure the crate to your bike
Includes a 4-point canine safety harness
Can support up to 45 pounds
Included cushion is water-resistant and suitable for spot-cleaning
Appropriate for standard crate sizes (12″ x 12″ x 12″ or 12″ x 12″ x 18″)
Pros
This basket kit will support more than double the weight of many other options
The manufacturer donates a portion of their proceeds to the NYC Humane Society
You could customize the exterior in multiple ways
It won't add much weight to your bike
Cons
You'll need to have or purchase a crate and bike rack
It's simply not as attractive as most pre-built bike baskets
4. BARKBAY Pet Carrier Bicycle Basket
About: The BARKBAY Pet Carrier Bicycle Basket is a no-assembly-required option that easily slips on your bike's handlebars — and you won't even need any tools during the installation process. Made of cloth with mesh side panels, it's a breathable option that'll help keep your canine comfy in hot weather.
Easiest Dog Bike Basket to Install
This is a sponsored placement, in which an advertiser pays a fee to be featured in this article. Learn more
Features:
Converts easily between bicycle basket, car seat, backpack, and side tote
Holds up to 19 pounds
Features mesh side panels for airflow
Available in 4 colors, including blue, gray, pink, and red/black
Measures 11″ x 12″ x 14.5″
Pros
Installation doesn't get any easier: Just slip it over your handlebars and go!
The mesh side panels help provide your pet with a breeze
You can use this basket on your bike or in several other applications
Cons
Some owners complained about the quality of the side buckles
Owners with heavier pups found that the carrier's bottom drooped
5. SUNLITE Racktop Bike Basket
About: The SUNLITE Racktop Bike Basket is a safe way to tote doggos — especially excitable four-footers who may try to jump out — on bike trips with its cage-style top and durable build. Crafted of durable powder-coated steel mesh, it's not only secure but also breathable and easy to clean.
Best Enclosed Dog Bike Basket
This is a sponsored placement, in which an advertiser pays a fee to be featured in this article. Learn more
Features:
Cage-style top will prevent your pup from jumping out
Quick-release mount for easy transport
Can be installed on the front or rear of your bike
Made of black powder-coated steel mesh
Measures 17″ x 16″ x 12″
Pros
Unmatched safety — the caged top will keep your dog securely inside the basket
The sturdy construction prevents sagging (a common problem among some other models)
This basket is much roomier than many others
Cons
This is a fairly pricey dog bike basket
It doesn't come with a comfy liner — you'll have to provide your own
6. Solvit Tagalong Pet Bike Basket
About: Want a bike basket that provides a bit of throwback styling and nostalgia? The Solvit Tagalong Bike Basket may be just the ticket! Although it's made with modern manufacturing techniques and designed to work with current bicycle designs, this wicker bike basket will transport you and your pooch back in time!
Best Wicker-Style Dog Bike Basket
This is a sponsored placement, in which an advertiser pays a fee to be featured in this article. Learn more
Features:
Traditional, wicker basket styling is a nice alternative to modern designs
Sheepskin basket liner cushions your pet and provides excellent comfort
Backed by the manufacturer's 1-year warranty
Supports pets weighing up to 13 pounds
Measures 16.5″ x 10″ x 13″
Pros
The basket is stylish and very aesthetically pleasing
Owners found the basket to be roomy and comfortable for fur kids
Multiple straps keep your dog safely in the basket
Cons
Puppies and super chewers may chomp on the wicker
This basket isn't as easy to install as some other options
7. Travelin K9 Pet Pilot
About: The Travelin K9 Pet Pilot is a super-sturdy and durable bike basket designed to give your pet a rock-solid ride. With a higher weight capacity than many other models on the market and unique mounting hardware, this is the ideal choice for skittish doggos and owners who value basket stability above all else.
Sturdiest Dog Bike Basket
This is a sponsored placement, in which an advertiser pays a fee to be featured in this article. Learn more
Features:
It comes with 5 different colored inserts so you can change the basket's appearance
Features an durable steel mounting system and a security leash for safety
Uses mesh panels to allow airflow and keep your canine cool
The basket's side panels are reflective for extra safety
It includes mesh pockets for storage
Capable of supporting up to 20 pounds
Measures 15″ x 12.5″ x 8.5″
Pros
Owners report that it's well-made and durable
Installation is quick and easy
The added reflective stripes help improve the overall safety of the basket
Cons
Despite the effective design, a few owners complained that the basket still wiggled a bit
This basket is more expensive than many other options
8. Snoozer Buddy Dog Bike Basket
About: There are a few bike baskets on the market that are surprisingly easy to mount on your bike, but if you'd like to completely avoid complicated mounting hardware, the Snoozer Buddy Bike Basket may be perfect for you and your pooch! Featuring a strap-on design, this bag is incredibly easy to connect and disconnect from your bike.
Best Strap-On Dog Bike Basket
This is a sponsored placement, in which an advertiser pays a fee to be featured in this article. Learn more
Features:
No assembly required — simply strap it to your bike and go!
The basket is collapsible so that you can store it flat in any area
It comes with multiple storage pockets, including a water bottle pocket on the side
It comes with a rain cover so you can keep pooch dry in unexpected downpours
This pet bike basket supports dogs weighing up to 14 pounds
Measures 10″ x 13″ x 10″
Pros
This basket is very easy to strap to your bike
Unlike some other models, this basket doesn't appear to sag in the middle
The removable inner pad makes cleaning easy
Cons
This basket is definitely on the small side
The clips reportedly struggle with dogs approaching the weight limit
9. Walky Easy Carrier Dog Bike Basket
About: There's no getting around it: Weight is a huge factor to consider when picking a dog bike basket. And for owners who want a basket that's both well-built and lightweight, the Walky Easy Carrier Bike Basket may be the perfect choice. As a bonus, this basket is also very easy to clip on to your bike before rides.
Lightest Dog Bike Basket
This is a sponsored placement, in which an advertiser pays a fee to be featured in this article. Learn more
Features:
It's very easy to set up — just snap the basket to the mount and ride
Includes a reflective strip for night riding and a padded bottom for comfort
The basket comes with front and side storage pockets
It comes with a zippered top and a safety leash to keep your dog from jumping out
It can be used as an over-the-shoulder pet carrier when you're not riding
Can support dogs weighing up to 20 pounds
Measures 6.69″ x 2.36″ x 1.57″
Pros
The lightweight construction won't bog you down or compromise your stability while biking around
The included floor panel prevents sagging
The basket's pockets and water bottle pouch are quite convenient
Cons
The straps can come undone if not secured properly
Installation is difficult — the manufacturer recommends professional bike shop installation
10. Snoozer Rear Dog Bike Basket
About: While most bike baskets for dogs are designed to fit on the handlebar area, some owners and dogs prefer a rear-mounted option instead. If that sounds like you, you should consider the Snoozer Dog Bike Basket. Designed to fit on top of your existing bike rack, this basket is great for dogs who'd prefer to ride on back.
Best Rear-Mount Dog Bike Basket
This is a sponsored placement, in which an advertiser pays a fee to be featured in this article. Learn more
Features:
Fast and easy to install thanks to the basket's simple click-mounting system
This dog bike basket works with your bike's existing rack
You can easily remove the cover and wash it when dirty
Safety first! The basket features a reflective strip and security strap
This basket can support pets weighing up to 24 pounds
Measures 19″ x 16″ x 10″
Pros
The removable and machine washable cover is super convenient
The basket's weight limit is higher than many other options
Many owners simply find it easier to ride with a rear-mounted basket
Cons
Pricing is a touch higher than other dog bike baskets
You won't be able to see your pup while riding
11. Petsfit Dog Bicycle Basket
About: Sometimes, your pet's "ride" isn't finished once you arrive at your destination; sometimes, you'll want to remove the basket from your bike and just use it as a comfy canine carrier. The Petsfit Dog Basket is perfect for this kind of use, and the basket's easy-to-operate straps make attaching and detaching it a breeze.
Best Multi-Function Dog Bike Basket
This is a sponsored placement, in which an advertiser pays a fee to be featured in this article. Learn more
Features:
The mesh top provides more airflow and keeps your dog cooler
The basket includes reflective trim for improved visibility in low-light situations
This soft-sided basket can be detached from the bike and used as a carrier
The carrier includes a removable, two-sided inner mat for pet comfort
The bag includes an inner leash and a drawstring top closure for safety
This bag doesn't require any metal attachments — just straps to secure it to your bike
Supports pets weighing up to 10 pounds
Measures 15.8″ x 12.8″ x 9.1″
Pros
We love this basket's versatility, as you can use it on or off your bike
The multiple pockets won over owners and provide ample storage room
The basket is relatively simple to install compared to some others
Cons
Some owners found the basket to be too wide to install on their bikes
This bag is only suitable for very small dogs (weighing less than 10 pounds)
Which Type of Dog Bicycle Basket Is Best for Dogs?
When choosing the dog basket for your bike that you want to buy, note that there are several different kinds of baskets and design features you may want to consider. A few of the most notable things to think about or look for include:
Harness Hook Ups — Some bike baskets come with leash or harness attachments that allow you to hook your dog into the basket to prevent him from jumping out.
Dome or Mesh Tops — Other bike baskets use domes or mesh-material basket tops that zip up, these also help stop your pooch from jumping overboard.
Pockets — If you're taking your dog on your bike for a day out, you'll likely want to bring along a leash, treats, a water bottle, and maybe a couple of toys. While it's easy enough to slip these items into your own backpack, some carriers contain pockets for additional storage, which can be a handy bonus.
Positioning — Certain canine-friendly bike baskets are designed to sit on the bike's handlebars, while others are designed to sit behind your seat, on the back rack. Some baskets can even do both! Think about what positioning makes sense for your dog and his temperament. It's certainly easier to keep an eye on your dog if he's sitting at the handlebars, but the handlebars position is only suitable for very small dogs — larger dogs will simply need to ride on back.
Multi-Purpose Functionality — Some dog baskets for bikes are designed to also be used as car seats, portable carriers, or as a dog bed. If you want an all-in-one basket, keep an eye out for products that highlight their multi-functional use. However, if you plan on constantly taking the bike basket on and off the bike to use it as a bed or car carrier, make sure the basket is also easy to disassemble and reassemble quickly for convenience sake.
Which Types of Dogs Do Best in a Pet Bike Basket?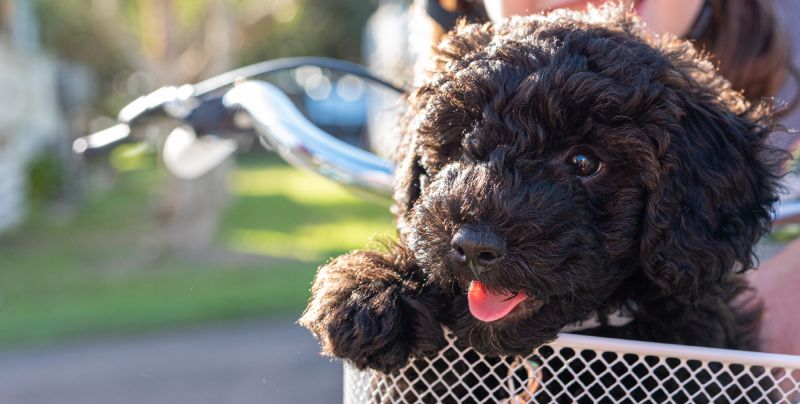 Unfortunately, not every pupperino is a great candidate for bike rides. So, before buying a new dog bike basket, think about some of the following issues and make sure your pup is likely to enjoy riding around with you.
Riding in a dog bike basket is really only appropriate for pretty small breeds. Most bike baskets are only capable of supporting about 20 pounds (though there are a few that'll support heavier pups), so this is solely the domain of pint-sized pooches.
Skittish or anxious dogs are unlikely to enjoy riding on a bike. It's easy to forget how bizarre your dog may find the notion of riding around on a bike, and nervous dogs may panic a bit, causing them to jump out.
Bike rides may be fun and safe for healthy pups, but they may not be a good idea for dogs with health problems. So, check with your vet before hitting the road if your pooch suffers from any maladies.
Bike rides can be quite chilly in the winter, thanks to the perpetual breeze. So, be careful when riding with short-haired pooches and consider picking up a dog sweater for your sweetie.
It's also worth pointing out that you'll want to take things slow — no matter how well-suited for bike travel you think your pet is. Test the bike riding waters with your pup by first placing your dog in the bike carrier and seeing how he reacts. If he doesn't seem too freaked out, try a loop or two around the driveway (all while dispensing treats and praise) before heading out on the open road.
Above all else, be patient with your pooch and help him enjoy his first bike ride! With enough encouragement, you may soon have a real road warrior on your hands!
Want to Ride with a Big Dog?
If your dog is too large for a traditional dog bike basket, you may want to consider a dog bike trailer. These wheeled gizmos give your doggo a place to sit, while you tow him around behind your bike.
Safety Tips for Biking With Your Dog
Biking with your best fur friend is fun, but it does require some basic ground rules to keep everyone safe. When biking with your dog, remember to:
Obey biking laws: Use your bike in proper lanes and always follow the rules of the road to keep you and your four-footer out of harm's way.
Opt for reflective materials: Reflective strips on your bike, helmet, and clothing make you extra visible to motorists, especially in low-light conditions.
Keep your dog contained: If your dog is riding in a basket, he should be safely clipped on a short tether to prevent him from hopping out.
Carry water: You and your dog need to stay hydrated on the go. Always bring fresh, clean water during rides. This is particularly important during the summer.
Take breaks: Don't push yourself or your dog too hard while biking. Stop and rest a bit from time to time.
Bike in appropriate weather: If the temperature is extreme, it isn't the time to go for a leisurely ride with your dog. Stay in and stay safe. Dogs (and humans) can overheat quickly, especially if you have a brachycephalic (flat-faced) breed.
Consider picking up some dog goggles. The combination of wind and road debris can wreak havoc on your pupper's peepers, so fit him with some protective (and stylish) glasses before heading out.
Tips for Using Dog Bike Baskets
Dog bike baskets are pretty straightforward, but to ensure the best experience for you and your dog, there are some things to keep in mind, including:
Weight limits: Bike baskets are usually only for small breeds. Don't try to force a big pooch into one or ignore the manufacturer's weight restrictions. Not only is it dangerous, but it's super uncomfortable and stressful for your dog.
Use the clip-in feature: No matter how much you trust your dog, always tether him to the basket with the included clip (or buy one) to keep him safe. It should be so short he can't jump out of the basket at all.
Pick the right basket location: Heavier dogs belong in a rear basket, while toy breeds can travel in a front basket without impacting your steering too much.
Potty breaks: Remember to stop and give your dog a bathroom break once in a while. Not only does this prevent accidental messes in your bike basket, but it'll help him be less squirmy in there if he can relieve himself and stretch his legs once in a while.
Dog Bike Basket Alternatives
While many of us would love to use bike baskets with our pups, sadly. they're not always the best option for us. Luckily, there are many other ways to enjoy biking with your dog safely, including:
Backpack Carrier: These stow your best friend on your back during your bike ride, freeing up your handlebars. They typically feature mesh panels so your dog can breathe easily and take in the sites safely. These are best for small dogs and are especially good for pups who are too wiggly to ride in a basket, like puppies.
Bike Trailer: Bike trailers attach to the rear of your bike and are an excellent option if you have a large dog who exceeds bike basket size restrictions and can't run beside you. They're also great if your dog is older or mobility challenged but still loves to get out and about.
Leash: If your dog can ignore your bike's tires, having him run alongside you while safely tethered by a leash is a wonderful form of exercise and enrichment. Not only does this allow him to burn off excess energy, but it can help wear down his nails on the go. This is best for younger, active dogs on the larger side, like huskies, shepherds, and Weimaraners. While fun, this isn't recommended in extreme temperatures or with dogs who are older or not well trained.
***
We hope this guide has helped you in deciding on the right dog bike basket for your pet! If you have any favorite recommendations you want to share, or have your own experiences with pet bicycle baskets, share your thoughts in the comments!
Looking for more ways to take your dog around with you? Check out our list of the top dog carrier purses. For more doggie travel options, see our post on dog car seats and (for air travel) airline approved dog carriers!