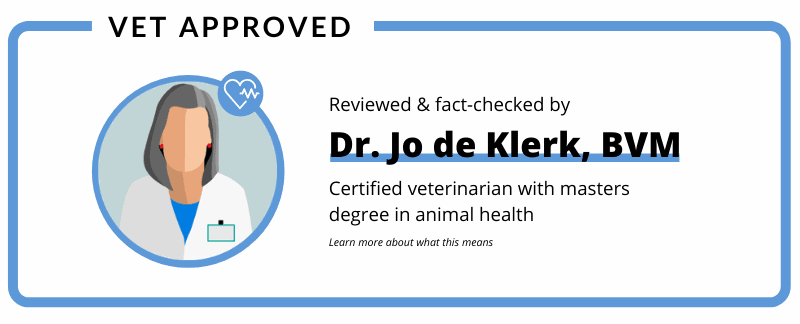 Is there a Fitbit for dogs? Yes, in fact, there are several!
Dog activity trackers are still a relatively new phenomenon (just like their human counterparts), and while the prospect might seem a bit strange, there are some real benefits to keeping track of your pooch's steps.
Best Fitbits and Activity Trackers for Dogs: Quick Picks
Benefits of Monitoring Fido's Movements
Monitoring your dog's activity can help make sure that your canine is getting the exercise he needs to be happy. Many behavioral issues stem from dogs not getting the walks they need, so making sure your pooch is regularly in motion is a smart goal.
Keeping an eye on your dog's movements can also help you observe how your dog is recovering from a surgery or illness. Tracking your dog's activity over months and even years can also help alert you to any significant, unusual drops in movement which may indicate an illness.
There's no denying that these devices are a bit decadent – you can certainly be a top-notch dog owner without knowing how many of acres of forest Fido sniffed this week.
Still, for those who want to know what their pup is up to all day, dog activity trackers can be an attractive idea.
What to Consider in a Dog Activity Tracker
Waterproof. Nearly all units are water-resistant (which means they can survive a sprinkle but not much more). Only a few canine activity monitors are waterproof and can be submerged. If your dog is a swimmer, you may want to seek out a true waterproof unit (or get into the habit of removing the tracker for water sports).
Location Tracking. Some dog activity trackers will also monitor your dog's specific location with GPS and alert you when your dog escapes the yard. If you have a Houdini-inclined canine you may want to make GPS location tracking a priority.
Battery Life. Pet activity trackers can vary quite a lot when it comes to battery life. This largely has to do with how the unit is charged, and how sophisticated it is. GPS trackers won't usually last more than a week on a single charge, but more basic activity monitors with fewer features may last for months without draining.
Weight and Size. Your dog's size should be kept in mind when shopping for pet activity trackers – some units are very small and light, allowing them to be fitted to any size of dog. Other units are heftier and will only be suitable for larger dogs.
Subscription Service. Most basic dog activity monitors will work just fine with your current setup. However, units that use GPS tracking may require an additional monthly service.
That covers most of the major factors you'll want to consider before you start shopping for a canine activity tracker. Now let's delve into some of the most popular trackers on the market!
Best Dog Activity Monitors: Tracking Fido's Movements!
Starting to see the value these tools can provide you and your pooch?
Great! Let's dig in and explore a few of the best canine trackers on the market.
1. FitBark2 Dog Activity Monitor
Best Pure Pet Activity Tracker
This is a sponsored placement, in which an advertiser pays a fee to be featured in this article. Learn more
The FitBark2 is a mid-priced dog activity monitor, designed to collect data on your dog's daily activity and sleep patterns. This data can then be used to better evaluate the health of your pooch and make sure they're getting the exercise they need to stay healthy and happy.
At 8 grams, FitBark is pretty light. Measuring at 41 x 28 x 11mm, it's small enough to fit comfortably on dogs of nearly any shape or size.
The unit claims to be waterproof, but we think it'll be best to treat it as water-resistant. Namely, strolling through sprinklers and rain is fine, but FitBark won't survive your dog's laps across the lake.
FitBark's waterproof specification is actually IPX7, which means it should last 30 minutes submerged up to 1 meter, but we don't recommend testing those numbers, as owners say that the unit was ruined after being submerged in water.
The FitBark unit sends data by connecting with an app – they've got an Android and iOS version, plus a web app that can be used on any laptop or desktop computer. All the apps are free and don't have any monthly fees.
Battery life is pretty decent, with FitBark claiming the unit can stay on for 14 days on a single charge. When you do need to charge the unit, it plugs in with a micro USB cable (included).
One cute thing that FitBark does is that it incorporates a bit of competition into the mix with its TopDog Board, which can be shared between friends to stay motived (totally optional of course).
These competitive leaderboard style features are very popular with the human version of FitBit, allowing friends to track each other's steps and set challenges. It's fun to see this incorporated into the canine version. Get the neighborhood dog crew on there and have the loser by pupsicles for the pack!
FitBark claims that their device can be used for medical insights, but this is probably a bit of a grandiose statement.
You'll certainly be able to see if your dog is more or less active after trying out a new medication, or will be able to track how post-surgery activity is going and see when your dog has gotten back to normal activity levels, but it certainly can't work miracles, and won't be revealing anything that a keen eye could not uncover.
FitBark has a pretty neat collection of data referred to as "FitBark Explore," which shows statistics and trends the FitBark team has discovered through their collection of anonymous doggy data from fellow FitBark users.
Owners can see the most active and least active breeds, what's normal for other dogs of a similar breed and age, geographical insights, and more.
Pros
Most owners were really pleased with the FitBark2 and loved the doggo data it provided.
FitBark's customer service department earned lots of praise from owners.
Many owners loved how light the device was.
It provides a great combination of value and price.
Cons
Despite being IPX7-rated, several owners complained that it wasn't truly waterproof — only water-resistant.
Tracks your dog's movement, but not his actual steps.
Our Final Thoughts: FitBark is the best when it comes to a pure dog activity tracker. It won't help if your pet goes missing and want to locate them through a tracker, but if all you want to do is track your pooch's activity and have a bit of fun, friendly competition with other pup parents, FitBark is your best bet.
2. Link AKC Smart Dog Tracking Collar
Best Pet Activity Tracking Collar
This is a sponsored placement, in which an advertiser pays a fee to be featured in this article. Learn more
The Link AKC Smart Dog Tracking Collar is a canine activity monitor and GPS pet locator that can even help track your missing pet! Link is backed by the American Kennel Club, so you know you're in good hands.
Link lets you monitor your pet's daily activity, allowing you to set up custom activity goals and alerts for when your dog has gotten his steps in for the day!
However, Link does a lot more than just monitor activity – it can use GPS tracking to show your dog's exact location and map his movements. This is especially beneficial if you have a Houdini dog that likes to escape his backyard. You can even set up the system to send you alerts when your dog has left the pre-designated safe zones.
Link can also monitor ambient temperature and notify you if things are getting too hot or cold for your pooch. You can also store vet records within the app and save info regarding favorite walks or hikes in your area – pretty nifty!
Link also has a remote ability to turn on an LED light on the Link collar, helping you more easily locate a missing Fido. The collar also features a remote-activated tone which can be used for training.
One owner notes that when she catches her dog digging, she'll let out a loud "No!" along with the sound tone that emits from the collar and catches his attention. Then the owner redirects his attention and calls him over for positive reinforcement.
Link's GPS tracking requires a service plan in order to work properly. While these plans also include warranties on the tracking unit and 24/7 access to the Pet Poison Helpline, the additional and ongoing monthly cost will likely turn a lot of owners off.
The Link unit measures at 22.6 x 1.0 x 0.2 inches. It's an entire collar, rather than just an attachment. However, the tracking panel portion can be removed and attached to an existing collar (although it'll end up looking a bit strange and mismatched). Link isn't recommended for dogs under 10 pounds, due to the weight of the unit.
Link can also be used with more than one dog – you'll just need to purchase two collars.
Pros
Owners were very impressed with the accuracy of this pet tracker.
This was another company whose customer service department scored well among owners.
Bonus features, such as the ambient temperature tracking and collar light, drew praise from owners.
Cons
Due to its size, this unit is not appropriate for small dogs.
False alerts ("Your Dog Is Missing") occurred for a few owners.
Our Final Thoughts: Link is a great product for those who want an activity monitor / location tracker 2-in-1 device. As with most GPS trackers, accuracy can depend on your landscape and natural obstacles, but it's definitely smart to have if your dog has a bit of a wild side. While the LED collar light, tone sound, and ambient temperature setting definitely fall into the realm of non-essential bonus features, we think they're really cool and separate Link from competing products. Others seem to really love these features too!
3. Whistle Go Explore
The Whistle Go Explore is a dog activity tracker and GPS tracker, letting you monitor your pooch's movements and find their precise location in the event that your dog gets loose!
Most Accurate Pet Tracking Collar
This is a sponsored placement, in which an advertiser pays a fee to be featured in this article. Learn more
Truthfully, the Whistle Go Explore is a location tracker first and a pet activity monitor second. We talked a lot about Whistle in our article about dog GPS trackers, and that's definitely its primary purpose – to help owners find lost dogs when they escape.
In the event that your dog does make a break for it, Whistle will send you an alert on your phone or through email so that you can send out the search party and find Fido as quickly as possible.
Whistle's GPS system works with AT&T's cellular network, so you'll need a subscription to monitor your pet via GPS. You'll also need to already have at least one Wi-Fi network. Whistle actually relies on GPS, cell service, and Wi-Fi to provide the most accurate and exact location data for your dog anywhere in the United States.
The GPS, cell network, and WiFi may seem like overkill, but it works that way for a reason.
First, owners set up designated "safe places" through the use of the home's Wi-Fi network. When your dog is within the range of your home Wi-Fi, the Whistle tracker unit switches from GPS to Wi-Fi to save power.
When your dog leaves the Wi-Fi range, the unit switches back to GPS to track him wherever he roams. Then, an alert is sent to your phone via the 3G cellular service.
In tracking mode, your dog's location is updated every minute. The cellular service also means that Whistle can show your location in relation to your dog's movement, making it easier to track him down.
This is very different from pet trackers that rely on Bluetooth. Bluetooth has a very limited range – just 100 feet or so. Not much use if your dog really takes off.
When Whistle works well, it works really well. The accuracy is pretty impressive – some owners confirm an accuracy within 10-15 ft. However, most report that Whistle only functions well if you have good cell signal in your area.
Unfortunately, physical or environmental obstructions can make the GPS struggle to generate data, providing little peace of mine in the event of a canine escape.
As far as the activity tracking feature is concerned, it's great for making sure your canine is getting the exercise he needs to stay healthy – you can monitor his movement and compare his activity to other dogs of a similar breed and age.
One non-essential, but still cute feature, is the "Trips" ability. Whistle creates a trip session every time your pet leaves and returns to their yard, showing where they ventured off to. This can be a fun way to get a bird's eye view of your dog's favorite walk and hiking sessions (or figure out where a sneaky dog goes off to when no one is looking).
Whistle's rechargeable battery can last up to 7 days on a single charge, although Whistle notes that battery life can vary depending on your Wi-Fi and cell coverage. Most owners testify to the 7 day (or more) charge, which is pretty decent for such a sophisticated tracker. Whistle will send owners an alert when the battery needs to be charged, making sure you never get caught with a dead unit. A recharge only takes 2 hours.
Because the unit's power drains much quicker once the animal is out of the Wi-Fi range, Whistle is really only ideal for pets who will spend most of their time in the yard. For example, if you want to track your cat while he goes off on neighborhood adventures, you'll find yourself recharging the unit every couple of days.
Whistle is one of the most durable units on the market – it truly is waterproof, and can even be worn while swimming (owners attest to this fact).
Whistle is very small – it measures at around 1.6″x 1.3″x .6″ and weight less than 1 ounce. It attaches to any collar or harness up to 1″ wide. It's not recommended for pets under 8 lbs.
Pros
Provides standard activity-tracking capabilities, as well as location data to help locate lost pets.
Owner stories of the Whistle Go Explore "saving the day" were quite common.
Yet another pet activity tracker, who's customer service elicited tons of praise.
Cons
Subscription required to use the GPS tracking feature.
A few owners expressed durability concerns.
"Dead spots" were an issue for some owners.
Our Final Thoughts: Whistle is a very impressive dog GPS tracker with dog activity monitoring added in. It's probably overboard for those who really just want to see how much time Fido spends chasing squirrels in the backyard, but if you're considering a GPS tracker anyway, Whistle is a pretty impressive product.
4. Poof Pea Pet Activity Tracker
The Poof Pea Pet Activity Tracker is another activity tracker, but it's on the more affordable end of the spectrum. It's incredibly small, measuring 1 inch – about the size of a quarter. It's also super light, weighing only 1/4 ounce.
While Poof Pea lacks many of the bells and whistles found in other pet activity monitors, it does its basic job fairly well. Like other pet activity trackers, Proof Pea syncs up and sends data via their app, which is available on both iOS and Android.
Most Affordable Pet Activity Tracker
This is a sponsored placement, in which an advertiser pays a fee to be featured in this article. Learn more
Poof Pea comes in 4 different colors: black, blue, green, and red.
Proof Pea boasts an impressively long battery life. While it's not rechargeable like most units, it uses a coin cell battery, which can last up to 180 days.
Poof Pea also gives users access to their exclusive Poof using community of fellow pet lovers, letting you send photos and messages with other owners. Nothing to get too excited about, but cute none the less.
Poof also has a calorie counter that lets you track your dog's calorie intake (their database covers most major pet food brands). They'll even offer portion size suggestions based on your dog's breed and size. This could prove an especially handy feature for pooches packing on a few extra pounds.
Poof Pea is waterproof, but water-resistant is probably the better terminology to use. A light sprinkle shouldn't hurt it, but we wouldn't let your pooch go for a swim.
Pros
Small and lightweight, yet effective.
Very affordable (it's less than half of the price of some more expensive trackers).
Owners report that the coin cell battery lasted a surprisingly long time.
Cons
Many owners found the connection and transmission speed to be poor.
Not durable enough for vigorous pupper play.
Customer support wasn't as fantastic as that of some other tracker manufacturers.
Our Final Thoughts: Poof Pea is a pretty basic dog activity monitor, but it does a fine job. It's definitely a fun way to keep an eye on your pooch's movements, but it's still fairly new on the market, and it's difficult to evaluate its accuracy this early on – some users doubt the unit's report, while others don't seem to take issue.
***
Tracking your canine's movements is tons of fun, and in some cases it can provide major health benefits and even alert owners to potential illnesses that might otherwise go unnoticed.
Have you used a dog activity tracker before? What was your experience like? How do you incorporate dog activity tracking data into your canine care routine? Tell us in the comments!