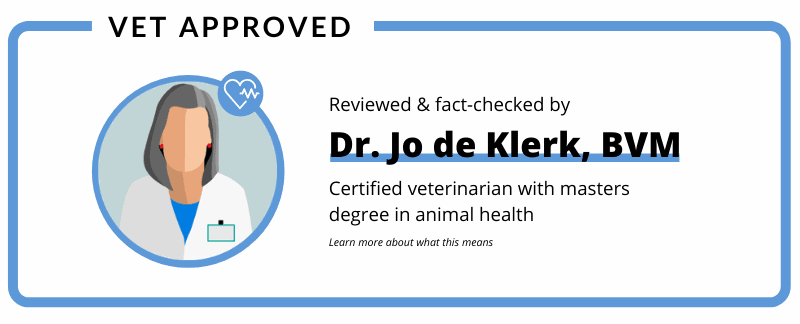 As a pet parent, it's heartbreaking to watch your dog struggle with knee problems like arthritis or ACL issues.

Our dogs deserve the absolute best, so it's only natural to provide Fido with the things that may help him feel his best and remain mobile.
Luckily, a knee brace can reduce your dog's discomfort and may speed up Spot's recovery. Below, we'll dive into how knee braces work, and share a few of the best ones on the market.
Best Knee Braces For Dogs: Quick Picks
#1 Ortocanis Original Knee Immobilizer [Best Overall Dog Knee Brace] — Made from neoprene and featuring twin aluminum splints for additional support, the Ortocanis Original Knee Immobilizer is our favorite knee brace on the market.
#2 Kruuse Rehab Knee Protector [Most Affordable Dog Knee Brace] — The Kruuse Rehab Knee Protector is a high-quality brace, but it is its remarkably affordable price tag that convinced us to include it here.
#3 Labra Dog Knee Brace [Best-Fitting Knee Brace] — Thanks to its somewhat unique, patent-pending design, many owners found that the Labra Dog Knee Brace provided the best fit of any knee brace they tried.
Benefits of Knee Braces for Dogs
A lot of people know that a knee brace can help address joint issues, without understanding the specific ways in which they're helpful. A few of the specific ways knee braces provide value include:
They improve weight distribution. Knee braces can help keep weight off injured joints. This can help your pooch stay mobile and recover faster throughout the healing process.
They provide additional support. Braces provide extra support to a wounded joint, thereby helping to prevent falls and make it easier for your pooch to go about his daily routine.
They improve mobility during the healing process. Braces can help keep your pooch's joints in place while healing, making it easier for Fido to stay mobilized.
Knee braces may reduce pain. Knee braces aren't magical, nor are they pain-relieving tools per se. However, they can reduce the amount of pain many dogs feel by taking pressure off of an injured joint.
They may help your dog avoid surgery. In some instances, knee braces may be a feasible alternative to surgery. This is especially true of knee injuries that are somewhat mild.
They're often more affordable than alternative treatments. While custom braces are often pricey, "off-the-shelf" knee braces usually won't cost you more than $150 or so. By contrast, surgery often costs several thousand dollars, as can the long-term use of medications.
What Dogs Would Benefit from a Knee Brace?
Generally speaking, knee braces provide support and stability to dogs with injured, weak, or healing legs. But more specifically, they can be beneficial for dogs suffering from the following issues:
Anterior cruciate ligament (ACL) injuries — Tears or ruptures of the anterior cruciate ligament (also called the cranial cruciate ligament, or CCL) are fairly common in dogs. These types of ACL injuries often (but not always) require surgery, but knee braces can help relieve some of the pain they cause and provide stability before and after the surgery takes place. If you think your dog might need an ACL surgery, make sure to check K9 of Mine Founder Megan's write up all about getting her dog an ACL surgery, from diagnosis to surgery.
Luxating patellas — The term luxating patella refers to a condition in which a dog's knee cap (patella) slips and slides around. This can cause your dog to temporarily lose the use of his leg and (over time) lead to painful osteoarthritis. Knee braces aren't the preferred treatment for luxating patellas, but they may help keep your dog's patella in place.  
Arthritis — Arthritis in dogs is a joint disease that can lead to debilitating discomfort and pain while your dog goes about his daily routine. Once again, knee braces can be helpful for these dogs, as they will help reduce pain and provide stability. Arthritis usually isn't treatable via surgery, so dogs suffering from the condition may need a supportive knee brace for the rest of their lives (along with anti-inflammatory medications, weight loss, and lifestyle adjustments).  
Note that knee braces can also be helpful in a preventative fashion, as they may help prevent injuries in some cases. So, if you have an overweight dog, you may want to consider fitting him with a knee braces before he suffers an injury.
Canine knee braces can also be helpful in other situations.
For example, a simple knee brace may work very well to protect an injured leg, hold a bandage in place, or prevent your dog from licking a wound (thereby eliminating the need for a dog surgery cone).
No matter why you think your dog needs a knee brace, you'll want to speak with your veterinarian before you start using one. Your vet can help you develop a plan that's personalized for your pooch. This will give your dog the best chance at retaining his mobility and side-stepping some of the associated pain.
Tricky Terminology
Dogs are four-footers, so some people may apply the term "knee" to a dog's front or back legs.
However, in the majority of cases, the term "knee" (which may sometimes be called the stifle or tibiofemoral joint) refers to the primary joints of the rear legs.
On the other hand, the primary joint of the front legs are usually called "elbows."
What To Look For When Purchasing a Dog Knee Brace?
Unfortunately, there aren't that many canine knee braces on the market. But even though your options are relatively limited, you should still be picky when selecting one for your pooch.
So, consider the following factors when picking out a dog knee brace for your pet:
The brace should provide a snug, yet comfortable, fit. You'll want to make sure that your dog's knee brace fits snugly and securely so that it will stay in place throughout Fido's daily routine. Ask your veterinarian to show you how to put the brace on properly the first time around to make sure you're doing so properly.
Good dog knee braces are supportive. A good knee brace should provide plenty of support on and around your dog's gimpy knee. Some of the best braces extend all the way up a dog's leg and wrap around Fido's lower back for extra support.
Look for a brace that is comfortable for your canine. Different manufacturers try to make their knee braces comfortable in different ways. However, many high-quality options feature copious amounts of padding to avoid pressure points. Other manufacturers try to emphasize comfort by making their braces breathable.
Pick a brace that is easy to put on and take off. Braces are often only worn during waking hours, and they're removed at night (although there are exceptions). So, because you'll need to put on and take off the brace repeatedly, you'll want to pick one that's easy to strap on Spot's leg.
Select a brace made from high-quality materials. You'll want to want to find a knee brace that's strong enough to provide ample support to your dog's knee, while still remaining soft to the touch. One of the best materials available is neoprene, which strikes a perfect balance between support and comfort.
The Best Dog Knee Braces
Now that you understand the ways a knee brace may help your pooch, we can move on to some of the specific models you may want to consider. We discuss three of the best dog knee braces on the market below.
1. Ortocanis Original Knee Immobilizer
About: The Ortocanis Original Knee Immobilizer is a great option for many types of knee and rear-leg issues, but it is designed specifically for dogs struggling with ruptured ligaments or patella luxation.
Best Overall Knee Brace
This is a sponsored placement, in which an advertiser pays a fee to be featured in this article. Learn more
Features:
Included aluminum splints provide considerable support and stability
Supportive yet soft design
Flexible sizing options for small and large dogs
Sleeve is easy to put on and take off
PROS
This sleeve was easy to take on and off and has an adjustable velcro strap for a snug fit. The knee brace helped dogs stay balanced and stabilized throughout the healing process.
CONS
Some owners had to frequently adjust the top strap of the brace. Though this brace seems to work well for senior and recovering dogs, it may not be the best pick for active furry friends.
2. Kruuse Rehab Knee Protector
About: Kruuse Rehab Knee Protector has a flexible, supportive design, and it features a hip strap to provide additional stability throughout the healing process.
Most Affordable Knee Brace
This is a sponsored placement, in which an advertiser pays a fee to be featured in this article. Learn more
Features:
Brace has an attached strap that rests on the lower back for added support
Can be used without a harness
Sizing options available for most dogs
Soft, snug, lightweight design
PROS
Dog owners loved how this brace could be used with or without a harness. The brace fits very securely and stayed put even during extended walks. Plus, the brace comes in a wide variety of sizes, so small pups can enjoy this supportive brace as well.
CONS
Some users found the sizing to run a little on the small size, so it may be worth experimenting with a size up. The elastic strap needed regular adjustment for some dogs, leading some owners to slightly modify the protector for their dog's individual needs.
3. Labra Dog Knee Brace
About: Labra Dog Knee Brace provides great support to injured knees and attaches directly to your dog's harness for additional stability and a secure fit.
Best-Fitting Knee Brace
This is a sponsored placement, in which an advertiser pays a fee to be featured in this article. Learn more
Features:
Brace easily attaches to any fitted chest harness
Knee brace is super lightweight at just 10.41 ounces
The brace covers most of the upper leg for added stability
Well-suited for bigger dogs with medium to extra-large sizing options
PROS
According to owners, most dogs were able to put a little more weight on their affected joints with the help of this brace. Additionally, owners were impressed by Labra's customer service and appreciated the swift responses they provided when it was necessary to address problems.
CONS
This brace must be used with a chest harness, which may present additional costs, if you don't already use a harness for your pup (though you can always make a DIY harness). Some users had sizing issues, but Labra is quick to offer a full refund or replacement. There are no Labra braces available for dogs under 30 pounds.
Dog Knee Brace FAQ
The subject of dog knee braces often sparks a number of questions among owners. Many of these questions will require the help of your vet, but we'll do our best to answer some of the most common ones below.
Do knee braces help dogs?
Knee braces can help provide support and relieve some discomfort, depending on the nature and severity of your dog's issue. Braces can also help prevent injury and provide additional stability. 
Do dog knee braces help with ACL problems?
A knee brace may help your dog deal with some of the symptoms associated with ACL issues. However, most of the time, it's not a "fix-all" solution, so your pooch might still need surgery regardless of the addition of a brace. 
Can knee braces alleviate the need for surgery?
This largely depends on the severity of your dog's injury. While braces can help your dog in some cases, in others it might just allow you to postpone your dog's surgery. Your veterinarian can give you a better idea of what you can expect. 
Should dogs with joint problems wear knee braces all the time?
Your dog will probably wear a knee brace whenever he is awake. However, it's probably a good idea to take it off during the night so that your pooch can sleep comfortably. Some dogs only wear braces during strenuous activities. Just consult your veterinarian for an individualized care plan for Fido. 
Do you need your vet to get a knee brace?
You can acquire a knee brace without a prescription from your veterinarian. However, you should absolutely consult your veterinarian before purchasing a brace and throughout the recovery process to make sure it's a good fit for your pooch.
How much do dog knee braces cost? 
Dog knee braces can vary significantly in terms of cost, but the ones we discuss above range from about $30 to about $100. Customized braces are also available via specialty retailers, but these typically cost much more.
Need Veterinary Help Fast?
Don't have easy access to a vet? You may want to consider getting help from JustAnswer — a service that provides instant virtual-chat access to a certified vet online.
You can discuss the issue with them, and even share video or photos if need be. The online vet can help you determine what your next steps should be.
While talking with your own vet — who understands the ins and outs of your dog's history — is probably ideal, JustAnswer is a good backup option.
***
It can be incredibly difficult for our canine companions to cope with knee-related issues. Luckily, a high-quality knee brace can reduce discomfort and help keep your dog's tail wagging.
Has your pooch had any success with a knee brace? How do you help your dog feel comfortable? We'd love to hear about your experience in the comments below.