Pet portraits are a great way to memorialize a pet and create a beautiful piece of art that will serve as a lasting memory of all the wonderful times you and your pet have shared together.
There are tons of great services, as well as individual artists, eager to create a gorgeous portrait of your pet. Today we'll detail what to consider before you order a portrait, as well as highlight a few services and artists we recommend.
Best Pet Portrait Services: Quick Picks
Paint Your Life. A moderately-priced pet portrait service that will transform your dog's photo into a painting you'll treasure for years. Unlimited revisions, money-back guarantee, and tons of framing options. Also lets you choose a specific artist, so great for those who want a certain look or style. K9 of Mine readers can get 20% off with code K9OFMINE20 – order now!
PortraitFlip. An ultra-affordable pet portrait service that allows an artist to paint or draw your pet through the medium of your choice. Unlimited revisions and money-back guarantee included. Also lets you add additional pets or humans into the portrait for a minimal additional cost, so great for a fur family portrait! K9 of Mine readers can get 10% off – order now (use coupon code "OFF10" at checkout)!
EdsWatercolours on Etsy [Most Unique Style] If you're looking for a more stylized pet portrait, try checking out Eddie Kagimu's work on Etsy. His light, loose style won't be a fit for those who want a more traditional portrait, but his work is ideal for those looking for a different look.
Reasons to Get a Pet Portrait
There are plenty of reasons why an owner may choose to get a portrait done of their pet – let's talk about a few different reasons here.
Memorialize a Deceased Pet. Many owners will choose to get a portrait done of their pet after they've passed away to serve as a loving tribute to their beloved friend.
As a Gift. Pet portraits can function as really fantastic gifts for dog owners – whether for a spouse, friend, or family member. Pet portraits are often something that all owners would love to have, but may not immediately think of for themselves. This makes pet portraits great gifts for those people who seem to have everything.
Just For Fun. Who doesn't want a lovely picture of their favorite four-footer above the mantel?
Factors to Consider When Ordering a Pet Portrait
There are several things owners will want to consider when ordering a portrait.
Medium. Portraits can be created in a wide variety of mediums, from pencil and charcoal to watercolor and oil paintings. Oil will likely be the priciest, while pencil and charcoal tend to be less expensive due to the lack of color involved. The type of medium you choose can greatly affect the look and feel of your portrait, so choose wisely! And don't worry – we'll talk in more detail about mediums below.
Photos. Even the best artist will need photos to work with. Make sure you have a nice selection of photos for your artist. Some artists may only need one photo, but others will want a variety of shots and angles so that they can get a full sense of your dog's build and character. If you have a specific photo or dog pose you want your artist to work with, that's something to keep in mind too. Not sure how to get a good pic? Check out our dog photography tips to learn how to snap the perfect pup pic!
Size. Portraits can range in size from a classic 8″ x 10″ to larger sizes like 20″ x 24″ or even 48″ x 72″ for jumbo sizing! Make sure to consider where you plan on hanging your portrait, as that can greatly influence sizing.
Frames. Some artists will offer to frame your portrait as an add-on. It's up to you whether or not you'd like to take advantage of framing services. I personally feel it's much easier to let a pro properly frame your painting, but of course, it's your choice! Some services also offer canvas wrapping, where the canvas is wrapped around the edges of the painting, erasing a need for a frame. Of course, choosing a style and color frame is a whole additional selection that must be made!
Service vs Private Artist. There are many services online that will hire an artist for you and have them create a portrait. Some services let you select an artist, while others may choose for you. This can save you a lot of time, rather than forcing you to hunt down a private artist yourself. However, you often can have more communication and input with a private artist. Browsing through an individual artist's portfolio can also be beneficial if there is a specific kind of style or look you are going for with your pet's portrait.
You & Pet vs Pet Alone. Some owners want to have a portrait done of themselves and their pet together, while others may want just a portrait of Fido alone. It's up to you, but know that portraits with more subjects tend to be a little pricier.
Pet Portrait Mediums: Which to Choose?
Not sure what kind of medium you want for your pet portrait? It can be a tricky decision, as different mediums often allow for different tones and emotion.
While there are of course plenty more mediums than just the ones listed here, we're highlighting a few of the most popular portrait mediums below.
Charcoal. Charcoal can result in beautiful contrast, often with a loose, atmospheric result. If you don't mind losing the color, charcoal can be quite striking for black and white pets.
Pencil. Due to the multitude of individual marks that must be made, pencil works can be time-consuming, but result in incredible detail. If you want to be able to see every piece of fur on your pup's face, pencil is a good choice. Pencil also tends to look the most realistic.
Colored Pencil. The same as pencil work, but with color! Colored pencil allows for the detail of pencil, but with color. Pencil mediums also can help emphasize coat texture, so if that's a defining aspect of your pooch's look, you may want to consider pencil or colored pencil.
Pastel. Pastels often result in a softer look while retaining great vibrancy.
Watercolor. Watercolor can result in some very unique and create portraits, often with a looser look.
Oil & Acrylic. Oil is the traditional portrait medium, and has been the gold standard for centuries. Both oil and acrylic paint result in durable portraits and allow for great texture. Pet portraits in oil are especially ideal for those who want that classic portrait look and feel.
Digital. Some artists will create a pet portrait for you digitally, resulting in a really stunning and unique piece made through artist editing software. Digital portraits are often much cheaper than hand-painted pieces (no costly materials outside of the software are required). They can also be created in a huge variety of styles – your imagination is the limit! However, printing a digital portrait yourself can get quite pricey, so make sure to take into account printing prices before opting for a digital portrait.
Color vs. Black And White Pet Portraits
Most owners will assume that they want a pet portrait in color. While this is often a great choice, it's smart to not totally discount black and white options either. The black and white look of charcoal and pencil portraits can be quite striking. The powerful contrast can make a huge impression that color portraits simply can't pull off.
If your dog has a black, grey, or not especially colorful coat, check out some black and white pet portraits and see if they appeal to you. On the other hand, if your pet has a rich, colorful coat that is a huge part of who they are, you'll likely want to stick with color!
Best Pet Portrait Services + Reviews
1. Paint Your Life
Paint Your Life is a service that connects you in with a network of artists who specialize in creating custom pet portraits from photographs.
Choose from a number of highly talented artists and browse samples of artwork to choose the perfect artist style for what you're looking for.
I've actually commissioned a custom pet portrait with Paint Your Life – you can read my full review of this service here!
You can choose the materials you'd like for your pet portrait, with options of:
Oil
Charcoal
Watercolor
Pencil
Pastel
Acrylic
Prices are also quite reasonable, varying depending on materials and size.
While exact prices can vary depending on the medium you select, for a standard oil portrait (most popular) of one pet, prices are as follows (as of time of publishing):
8 x 10: $199
11 x 14: $239
16 x 20: $339
24 x 26: $429
30 x 40: $459
Note: Listed here are a few popular sizes, but there are actually several more sizes offered in the full pricing list, both larger and in-between the sizes shown here.
Some major advantages to using Paint My Life Include:
Great Variety of Artists & Styles. You can get access to a huge variety of artists and different creative styles – ranging from classic and regal to funky and modern.
Many Framing Options. Get your portrait framed prior to having it shipped (with tons of framing style options), which can save some time and hassle over getting it framed yourself afterward.
Free Shipping. All portraits ship for free (which is a big deal because shipping costs can be quite substantial, especially for larger portraits.
Unlimited Revisions + Online Proofing. If you don't love how the painting looks, the artist will continue to work on and adjust the portrait until you are happy with it! You can also see images online of how your painting is progressing.
100% Money-Back Guarantee. Even after limitless revisions and seeing online updates of the portrait, if it arrives at you're home and you are unhappy, you can send back the portrait within 30 days for a full refund.
10% Deposit. You'll only need to pay for 10% of the painting cost upfront – pay the rest once you've approved the final piece.
Additional Deals for More Paintings. Paint My Life also offers some great discounts when you order multiple paintings, such as 50% off your 2nd portrait.
I personally love that you get to see a huge variety of artists and styles, all in one place. It's quite a bit easier than visiting dozens of artist pages individually.
In addition, they often have coupons that allow you to get an even better deal. In fact, Paint My Life has a special deal for K9 of Mine readers – get 20% off with code K9OFMINE20.
Those who have used Paint My Life tend to be quite satisfied. In addition to positive user testimonials shown on the Paint My Life website itself, they also have a 5 out of 5 rating on Trust Pilot, a website dedicated to user reviews of various services.
What We Love: Paint My Life offers access to a variety of artists so you can choose a unique style you love, along with many framing options and upgrades available to those who want them.
What Could Be Better: Paint My Life isn't a cheap service, although they do often offer discounts and promotions during holidays, so keep an eye out to save money!
2. PortraitFlip
Disclosure: PortraitFlip is included in this round-up as part of a sponsored promotion.
PortraitFlip is a service that lets you send in a photograph of your pet and receive a lovely custom portrait of your pooch.
Portraits are available in a variety of mediums like acrylic, watercolor, and oil paintings as well as colored pencil drawings, pencil sketches, and charcoal.
Each piece is hand-painted by professional artists, and customers are allowed unlimited revisions to ensure that they come away with a portrait of their pet that they truly adore.
Customers only need to pay 30% of the painting cost upfront and can pay the rest once they are happy with the final product. PortraitFlip offers a 100% money-back guarantee too, so you're in good hands!
PortraitFlip Sizes & Prices
Oil paintings tend to be PortraitFlip's most popular offering. Paintings are available in several sizes, with prices starting at the level indicated below:
12 x 12: $125
12 x 16: $145
16 x 20: $175
18 x 24: $205
20 x 30: $245
24 x 36: $265
30 x 40: $360
36 x 48: $420
48 x 72: $480
Note: Prices shown are for unframed, rolled oil portraits of a single pet.
Key Features:
Choose Custom Background. PortraitFlip offers the option to choose a background for your pet's portrait – use another image you have on hand, or describe what you want to the artist.
Free Shipping Available. Choose between two shipping options – free shipping, which takes 25-27 business days, and express shipping, which takes 16-18 business days.
30% Deposit. Pay just 30% of the portrait cost upfront, and pay the rest when you see the final product.
Unlimited Revisions. Work with the artist on as many revisions as needed until you are completely satisfied with your piece.
100% Money-Back Guarantee. If you're not happy with the portrait, get your money back, no questions asked.
For finishing options, you'll have the choice between:
Rolled (Free): Portrait is rolled in an art tube and sent to you. It can later be framed whenever you choose.
Gallery Wrapped (Paid Option): The canvas is stretched across a stretcher bar and secured on the back of a wooden frame. Charges vary based on portrait size.
Framed (Paid Option): Portrait is securely framed and can be hung on the walls of your home. Charges vary based on size.
What We Love: Portrait Flip is a very affordable pet portrait service offering a variety of mediums and sizes.
What Could Be Better: There are a few options Portrait Flip doesn't offer that Paint Your Life does – specifically, the option to choose your artist.
Best Etsy Pet Portrait Artists
We love using Paint Your Life, Portrait Flip, and similar pet portrait services for most owner needs. However, if you're looking for a particular style or something a bit more unusual, Etsy is often a great spot to find artists who can create a pet portrait for you with a unique look or design.
Here are a few of our favorite Etsy pet portrait artists!
1. Emma Kaufmann via Etsy
On Etsy, artist Emma Kaufmann creates beautiful watercolor puppy portraits for those seeking a loving tribute to their canine pal. These bright, colorful portraits really captured my eye, and I bet you'll like them too!
Check out some of her work:
Kaufmann's pet portrait prices range depending on the size and how many pets you want. She charges:
One pet 18″x 24″: $96
Two pets 18″ x 24″: $120
Kaufmann has a straight 5-star rating on Etsy, so you know you're in good hands! Contact her on Etsy to order a pet portrait from her.
2. Vivian Cooper via Etsy
Next we have another Etsy artist, Vivian Cooper. Cooper provides more traditional pet portraits done in pastels and watercolors.
Her prices (as of 2018) for custom pet portraits from photos are as follows:
16×20 watercolor: $320
11×14 watercolor: $190
Cooper also has a straight 5-star rating on Etsy. Contact her to commission a beautiful pet portrait.
3. Eddie Kagimu via Etsy
Eddie Kagimu goes by EdsWatercolours on Etsy, and if you like the loose, light look of watercolors, you'll adore Ed's work. As a watercolor fan myself, I absolutely adore these pieces.
Unfortunately, these unique, one-of-a-kind watercolors come at a cost – they're quite pricey!
However, there are several different breeds portrayed by Ed, and if you don't mind settling with a watercolor print rather than a custom portrait piece, you can get one of these nifty pieces without spending tons of cash.
4. Elshan Custom Watercolor Portraits
Watercolor fans will also enjoy art by Etsy artist Elshan. These custom watercolor pet portraits are modern, simple, and affordable – since the style is less detail-oriented, the cost is quite reasonable. Those who can't afford traditional oil portraits should definitely give these watercolor-style pieces a look! Check out Elshan's Etsy store and painting buying options here!
5. Carly Weaver's Woodblock Custom Portraits
Carly is Etsy artist who offers unique canine custom portraits – these pieces are actually drawn onto woodblocks!
Colored pencil is drawn onto 6×6″ birchwood blocks for unique pet portraits that are great for sitting on desks or hanging up in smaller spaces. Check out Carly's woodblock pet portrait here!
6. VeryPet via Etsy
These lovely and fun custom watercolor portraits from are great for owners who want a bit of added customization – owners can have their dog's name printed below the portrait, or even add a favorite quote as well. Compared to most traditional pet portrait paintings, these are very affordable!
See more info about these custom pet illustrations here!
7. Digital Pet Portraits from Marion De Lauzan
These digital pet portraits from Marion De Lauzan are ideal for owners who want a more pop-style portrait.
Customers send in a high-res photo of their dog, and the photo is digitally painted in a unique, Andy Warhol-like aesthetic.
What's really cool is that you have the option of receiving the portrait printed on paper or canvas – or, you can simply receive the digital file at a discount and print out the portrait yourself (although full warning, printing a digital painting yourself and ensuring the printer and computer color settings are optimally calibrated is quite the trying task).
Learn about Marion De Lauzan's custom pet pop portraits here!
8. Themed Pet Portraits via Etsy
Does your pooch pounce around like a Prince all day? Consider ordering a pet portrait to match his personality! These hilarious character-themed pet portraiture paintings are completely unique and will be sure to have visitors cracking up.
Customers can opt for printed or digital copies of these custom pieces, and come in a variety of themes from English royalty to Star Wars! Check out these theme pet portraits here on Etsy!
Other Custom Pet Portrait Paintings (Non-Etsy)
9. Enzie Shahmiri
Next is artist Enzie Shahmiri who does digital portraits with hand-painted elements. Her work is truly stunning – take a look at a few of my favorites!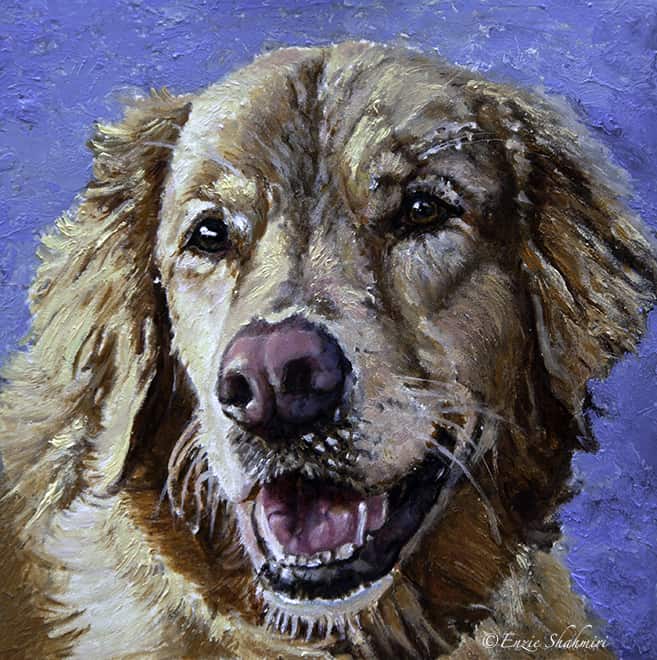 Shahmiri's commission pieces start at under $100.
It's my understanding that Shahmiri does portraits in which much of the work is created digitally, with some hand-painted details added afterwards to give it an authentic, classic-portrait feel. However, I don't completely understand the process, and I'd recommend discussing your portrait commission with her personally before moving forward to ensure that you'll end up with a product that you expect.
Shahmiri also does more traditional oil portraits if you'd rather commission one of those.
10. Fiona Hsieh
This next artist is a personal favorite of mine, as I completely adore her style. Fiona Hsieh is an animation student at CalArts, and her work is really charming and unique.
Take a look at her pet sketches – I think they look like Disney dogs! These doodle-style animal portrait drawings cost between $60-90 per animal.
Hsieh also offers more complex, landscape pieces that are truly stunning. These commissioned custom portraits range from $200-$300 depending on the details.
You can contact her at [email protected]
11. Pet Studio Art
Pet Studio Art is another spot where you can order custom pet portrait pop art paintings by artist Stephanie Conrad. Stephanie's pieces have a unique, fun look to them.
Here's a quick peek at her work:
As you can see, prices vary:
$215 for 11×14 canvas
$225 for 12×12 canvas
$315 for 20×20 canvas
$375 for 12×24 canvas
Order one of her custom pet paintings on her website, Pet Studio Art!
12. Jen Reichle
Jen Reichle is another artist who offers some great custom canine portraits!
In addition to her oil portraits (which feature some adorable dogs dressed in festive garb), she also does watercolor portraits, and even pet portraits done in wine (great for the family wino)!
Jen also does – and this is probably one of the coolest styles of portraits I've seen – zentangles!
These are great for owners looking for a really different take on the traditional pet portrait.
13. Mary Cunningham
Marybeth Cunningham is an artist who does custom hand-painted watercolor pet portraits from your photos.
Her pet portraits are colorful and fun while balancing realistic detail. Her prices are moderate, ranging from $180 to $250, matted, depending on the size of the portrait.
Here are some samples of her work:
Where to Find More Pet Portrait Artists?
Still haven't seen an option you like? I'd suggest browsing Etsy – there are thousands of pet portrait artists there, painting in every kind of style and medium you can imagine. You're guaranteed to find something you'll love, but it may take ages digging through all your options there!
Have you ever gotten a pet portrait done? How did it come out? Share your experience in the comments!