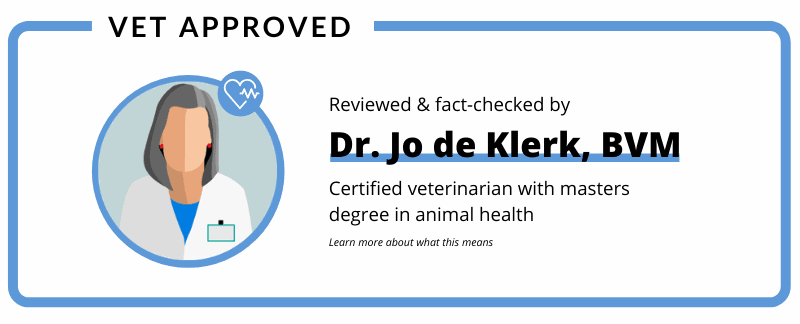 PetSmart Pet insurance offered by Banfield Pet Hospitals can be a great way for dog owners to invest in their pet's long-term health. It may also help you save some money on your pet's health care.
We'll outline the company's history, compare the different available plans, and share our overall view of the service below.
PetSmart Pet Insurance: Key Takeaways
Popular retailer PetSmart offers pet health insurance plans through their corporate partner Banfield Pet Hospitals. These plans may help you to save some money on services offered by Banfield.
These plans are not true insurance; they're better described as discount membership programs. This may not be a problem for some owners, but others may prefer to obtain a true insurance policy for their pet.
These plans are all customized to your specific pet and include a number of predetermined treatments and services. You can choose from several different options to get exactly the type of coverage you desire.
In most cases, PetSmart health insurance plans are only valid at Banfield Pet Hospitals. Owners should be sure to consider where they intend to obtain their pet's veterinary care before signing up for one of these programs.
PetSmart Pet Insurance History & Background
PetSmart and Banfield are two separate entities, but they are both involved in the pet insurance plans we're discussing here.
PetSmart first opened for business in 1986 under the name Petfood Warehouse. The chain currently sells a wide range of pet supplies and PetSmart training classes at more than 1,600 PetSmart retail locations in the U.S., Canada, and Puerto Rico.
Banfield Pet Hospital partners with PetSmart and operates pet clinics and veterinary hospitals at more than 900 of PetSmart's retail locations. Banfield first began operating in 1955, and they began offering pet insurance plans in 2001.
To be clear: Banfield Pet Hospitals provide the actual insurance plans and health-care services — PetSmart simply serves as the location for many of their offices.
In addition to providing pet health-care services, Banfield operates two separate 501(c)(3) charities that help support pets affected or displaced by natural disasters, as well as offering discounted or complementary veterinary care to shelter pups in need.
Because of their charitable work, Banfield has been recognized by the Points of Light organization for being one of the most community-minded organizations in 2018.
Banfield Pet Insurance (via PetSmart): How Does It Work?
Banfield Clinics offer a number of highly customizable plans that aim to keep your pet's health care expenses low. To enroll, you'll need to pay a one-time signup fee along with a regular monthly bill.
However, as Banfield explains, their plans are not true insurance — they're called Optimal Wellness Plans. They're more akin to "discount membership programs" than health insurance covering the two-legged members of your family.
Think of it this way:
Traditional canine health insurance plans allow you to pay a relatively small amount of money each month (called a premium). If — and that's the key part — your dog needs veterinary care during this time, the insurance company pays or reimburses you for a predetermined percentage of the costs you incur.
On the other hand, discount membership programs require you to pay a similar monthly fee, though it is typically not called a premium. Instead of paying these fees for reimbursement of potential costs you may incur, you pay these fees in order to receive discounts on services you're more likely to need.
Your new puppy may or may not suffer a sprained ankle during a given year, but he will definitely need vaccinations. Insurance plans are often better for addressing unexpected illnesses, injury, or emergencies, while discount memberships are better for covering more routine veterinary visits.
These types of discount membership plans are becoming increasingly more common as alternatives to standard insurance structures. This is how Pet Assure functions as well.
Banfield Pet Wellness Plans are designed to help proactively support your pet's health, rather than function as reactive veterinary care.
The idea is to get your dog regularly treated at a reasonable price to preemptively detect and bypass health issues before they become an emergency.
This comparison table from Banfield highlights some of the differences between these plans and standard pet insurance.
| Banfield Optimum Wellness Plans® | Pet Insurance Plans |
| --- | --- |
| Designed to maintain overall pet health with preventive services | Only covers treatment for illness and injury |
| Services may always be used | Used only if there is a "covered occurrence" |
| Includes office visits to address any existing and new pet health concerns | Does not cover any pre-existing conditions |
| Fees same for all pets in species, no deductibles or waiting periods (prices vary by market) | Monthly premiums vary based on breed, age (some breeds excluded) |
| Works like a "discount membership," offering practical services and other savings with a free financing option | Indemnity coverage after deductible is met |
But because PetSmart/Banfield insurance is focused mainly on preventative care, most illnesses and injuries are not covered by Banfield pet insurance.
This means that if your pooch ends up going to an emergency room, his services are unlikely to be covered by your Banfield/PetSmart insurance plans.
Banfield's plans cover a number of pre-defined treatments and services, which you pay for via the plan. In other words, you don't pay for the visit and then wait to be reimbursed afterward, as you would with a true insurance program.
These plans vary in myriad ways, but they all:
Last 12 months at a time
Include unlimited office visits
Automatically renew unless you cancel.
Most services provided by the different Banfield wellness plan packages are only covered when treatments are conducted at a Banfield location.
Because your dog will need different types of treatments over the course of his life, you're likely to pay different amounts over time for these plans.
For example, a brand-spankin'-new puppy is going to need more vaccinations than an adult dog, so you may pay less in this category as your dog gets older.
Because emergency services, illnesses, and injuries are not covered by PetSmart insurance plans, it may also be wise to invest in a traditional pet insurance package to enjoy more comprehensive coverage. Learn more about the benefits of pet health insurance here.
Products / Services Offered
PetSmart insurance offers a number of different pet insurance programs based on the age and needs of your dog. Below, we'll review the five basic plans available for Fido.
Puppy Wellness Plans
These plans are best suited for dogs under 6 months of age. These wellness plans both cover all of your puppy's necessary vaccines, early exams, and dewormings.
It appears that the only differences between "Early Care" and "Early Care Plus" are that the "Plus" plan includes a spay/neuter surgery and a higher discount on eligible Banfield services and products.
At an additional cost to both plans, you can add on a "parasite control option" which basically equates to embedded discounts on important flea treatments and tick medications.
We'll break down each service by what's included per plan below.
1. Early Care
Two wellness visits
Early detection blood screening
Initial vaccinations: (distemper/parvo (four times), Bordetella (two times), leptospirosis (two times), Lyme disease (two times), rabies (once)
Heartworm and Lyme disease test
Three fecal exams
Deworming (four times)
Unlimited Banfield Health Clinic office visits
5% discount on other Banfield services and products
2. Early Care Plus
Two wellness visits
Early detection blood screening
Initial vaccinations: (distemper/parvo (four times), Bordetella (two times), leptospirosis (two times), Lyme disease (two times), rabies (once)
Heartworm and Lyme test
Three fecal exams
Deworming (four times)
Unlimited Banfield Health Clinic office visits
10% discount on other Banfield services and products
Spay or neuter surgery
Adult Wellness Plans
Once dogs are over 6 months of age, they should be transferred to an Adult Wellness plan. PetSmart Pet Insurance breaks down these plans into three main categories: Active Care, Active Care Plus, and Special Care.
The most basic plan, Active Care, includes all your pup's basic physical exams and annual vaccinations. The next step up, Active Care Plus includes these services, as well as urine testing and dental cleaning.
The last plan, Special Care Plus, may be the best plan for pups with preexisting conditions. The plan includes all of that in Active Care Plus, along with 3 "preventative" dog X-rays, two eye pressure tests, and two electrocardiograms or ECGs.
Like the puppy plans, you can also add-on parasite control options to adult plans. You also have the choice between add-on DNA test screenings, spay/neuter surgery for any older rescue pups, additional dental cleanings, and chronic care offerings for special-needs pups.
Here are each of the adult wellness plans broken down by insurance package type:
1. Active Care
Two physical exams
Yearly vaccinations (distemper/parvo (once), Bordetella (two times), leptospirosis (once), Lyme Disease (once), rabies (once)
Blood screening
Heartworm and Lyme screening
Fecal exams (two times)
Deworming (two times)
Unlimited office visits
10% discount on eligible Banfield services and products
2. Active Care Plus
Two physical exams
Yearly vaccinations (distemper/parvo (once), Bordetella (two times), leptospirosis (once), Lyme disease (Once), rabies (Once)
Blood screening
Heartworm and Lyme screening
Fecal exams (two times)
Deworming (two times)
Dental cleaning
Urine testing
Unlimited office visits
15% discount on eligible Banfield services and products
3. Special Care
Two physical exams
Yearly vaccinations (distemper/parvo (once), Bordetella (two times), leptospirosis (once), Lyme disease (once), rabies (once)
Blood screening
Heartworm and Lyme screening
Fecal exams (two times)
Deworming (two times)
Dental cleaning
Urine testing (two times)
Preventative X-rays
Eye pressure test (two times)
Electrocardiograms or ECG (two times)
Unlimited office visits
20% discount on eligible Banfield services and products
Vet Chat: Get Help Via Banfield's App
All Banfield Wellness Plans also give you the ability to use their Vet Chat app. With this app, you can speak directly with a veterinarian when you need to.
This is not a comprehensive service — it isn't like calling up your own vet who knows your dog and has access to his medical records. The vet you speak with will not diagnose your pet or prescribe medications.
Instead, it gives you the chance to check in with a vet when your pet is sick or injured.
The vet may provide general information or recommend a prudent course of action, such as taking a "wait and see" approach, scheduling an in-person visit at a Banfield facility, or going directly to a pet emergency department.
How Much Do Banfield Health Plans Cost?
The costs associated with Banfield Health Plans varies based on a variety of factors. This includes things like your dog's age, sex, and breed, as well as your geographic area. The specific plan you choose will obviously affect the costs as well.
Our editor went through the process of obtaining a price quote for his dog.
Editor's Note: In the interest of science, a photo of my pooch.
You can see the questions asked and the rate quoted below:
Zip Code: Atlanta area zip code
What kind of pet do you have: Dog
Dog's Name: J.B.
Dog's Gender: Female
Dog's Breed: Rottweiler
Dog's Age: 4
Dog's Weight: 95 pounds
Spayed/Neutered? No
Does Your Dog Have Bad Breath? No
Banfield then recommends a plan based on these answers.
For Ben's dog, they recommended an Active Care Plus Plan. This would essentially include everything the Active Care Plan offers, along with a dental cleaning, urine testing, and an additional 5% discount on eligible services and products.
You can select the recommended plan or any others that are available and appropriate for your pet.
In the case of J.B., the alternative options included the Active Care Plan and the Special Care Plan (which provides an additional urine test, electrocardiograms, an eye pressure test, and an additional 5% discount on eligible services and products).
Ben selected the recommended plan for his pupper.
You are then given the chance to add plan options, such as spaying or neutering, parasite-control treatments, or a genetic analysis. Although these are all worthy services owners should consider, Ben did not add them to this mock plan to keep things simple.
The estimated monthly payment for J.B. was $39.95, with a $45.95 membership fee. If he took advantage of all the services offered, Banfield estimates that his first-year savings would be $571.10.
Again, your quote will undoubtedly differ based on the criteria discussed earlier, but this hopefully gives you an idea of what a plan for your individual pup will cost.
If you have multiple pets to enroll, Banfield offers a $15 discount on the membership fee (but not the monthly payments) for your second and subsequent pets.
Pros and Cons of Banfield/PetSmart Pet Insurance
Like any other pet insurance plan, the Banfield/PetSmart Pet Insurance has a unique set of strengths and weaknesses. We'll discuss the pros and cons of these plans below.
PROS
They offer a wide array of personalized plans. Outside of the base puppy and adult wellness plans, you can easily contact a Banfield representative for a custom plan catered specifically to your pooch. These customization options can help you save valuable time and money in the long run.
The plans are pretty affordable. For preventative care, Banfield insurance plans are relatively affordable and cover most basic vaccines and annual examinations.
They'll bill you monthly. Since your bill is at a set rate for the year, you'll be able to budget for pet care accordingly. Though medications and additional treatments outside of your plan aren't included, having a set rate at least gives you a ballpark of how much you should be saving for Fido.
You'll have plenty of locations to choose from. Since Banfield clinics are in over 900 PetSmart locations, they are widely available nationwide. Moreover, they also offer weekend and evening hours for added flexibility.
They make things simple for first-time pet owners. Since every plan includes unlimited office visits, Banfield pet insurance is great for first-time pet owners who may have a lot of questions for their veterinary professionals.
The VetChat feature is pretty nifty. With the Banfield app, members have the opportunity to jump on a live chat with a vet, anytime, any day, 24/7. That's pretty handy if you're an anxious pet parent with questions!
Note that the free office visits included in these plans are for pups who are generally healthy or may have a minor or common illness. If your pooch has a significant illness, you'll have to pay additional costs for his care.
CONS
These plans do not cover illness or injuries. Probably the largest downside to Banfield's insurance program is that treatments for illness or injuries are not covered by the plans. This leads many PetSmart Pet Insurance users to supplement with other insurance plans for added protection.
Services provided are only covered at Banfield locations. All services included in your plan are only covered if executed at a Banfield clinic or stand-alone location.
These plans require you to sign an annual contract. Unlike other insurance programs, Banfield/PetSmart Pet insurance uses a yearly contract that automatically renews at the end of the year unless specified otherwise.
Medications are not covered by the plan. While it's true that some Banfield products are offered at a discount to PetSmart pet insurance holders, you'll still have to pay an out-of-pocket cost to get your pooch any medication he needs.
Banfield/PetSmart Pet Insurance: The Bottom Line
Banfield's pet insurance offered via PetSmart is a good option for owners seeking puppy wellness care at an affordable price, as well as first-time dog owners, who may enjoy the perk of unlimited office visits.
However, with the lack of illness and injury coverage, Banfield does not seem like the best choice for owners with older or special-needs dogs.
Moreover, if your dog takes a couple of regular medications, this may not be the best insurance plan for you since you'll be paying largely out of pocket for Spot's prescriptions.
While monthly billing and flexible hours are convenient, this plan doesn't feel very dependable in the event that your dog gets sick.
No one plans for their beloved fur baby to need a trip to the E.R, which means you should seriously consider acquiring a supplemental plan to cover these types of problems.
Accordingly, we'd give Banfield/PetSmart Pet Insurance an overall 3-star rating, depending on your specific circumstances.
While it does make sense for owners of young dogs, most other owners will likely need supplemental insurance to ensure full coverage in the event of an emergency.
The preventative care focus makes sense when you have to constantly go to the veterinarian clinic within your pup's first 6 months of life, but beyond that, the insurance plan feels somewhat misleading: Any excess medical bills or emergency visits must be paid out of pocket on top of your monthly fee.
This may also be a great pet care option for owners with super healthy dogs who don't need a lot of medical services outside of their annual checkups. Just proceed with caution — one unexpected visit to an emergency pet facility can easily set you back a couple of hundred dollars without warning.
***
PetSmart Pet Insurance can be a great choice for dogs and owners with mostly preventative care needs. While the services offered are affordable and necessary, it's probably not the best pet insurance for special-needs pups.
But what about you? What was your experience like using PetSmart Pet Insurance at Banfield clinics? We'd love to hear all about it in the comments below!