There are few better running partners than a good dog. While there are a few exceptions (*cough* bulldogs *cough*), most dogs love to run and adapt well to the task!
Marathon-running humans may need to be picky about the dog breed they choose for a running partner, but most average runners will find that the majority of medium-sized breeds have the stamina to keep up.
If you plan to run with your pooch, you'll need to make sure you keep him safe and secure while you're out and about.
This means having a good leash and a comfortable harness to keep him by your side.
Sure, off-leash running is definitely preferable from a comfort and fun standpoint, but there just aren't many places where you can run with an off-leash dog safely. With that in mind, today we're discussing how to select a trust running harness for your pooch (and listing a few of our top picks).
Best Dog Harness For Running: Quick Picks
Rabitgoo Dog Harness [Best Budget Dog Harness For Running]: While this harness may not have all of the bells and whistles of more expensive options on our list, it's still a reliable harness that's great for running and doesn't cost a fortune.
Ruffwear Front Range [Best Overall Dog Harness For Running]: This sturdy harness has everything you need to hit the trails with your pooch including multiple leash attachment points, reflective trim, and an athletic cut that provides full range of motion.
2 Hounds No Pull Harness [Best No-Pull Dog Harness For Running]:This comfy and effective no-pull harness is a great option for running Rovers who're still learning good leash manners.
Continue reading for more in-depth reviews
What to Look For in a Running Harness
You can use just about any harness to run with your dog, but some are undoubtedly better suited for the activity than others are. Make sure that the harness you choose possesses the following traits to ensure it works well for you and your pooch.
Adjustable
Ideal dog harnesses for running (or simply day-to-day use) should always provide a few different places that allow you to shorten or lengthen the straps to achieve a good fit. You'll still need to be careful to select a harness of the correct size for your dog's build, but the best harnesses provide enough flexibility to fit a deep-chested Dane or a rail-thin whippet equally well.
Comfortable
Some dogs adapt to wearing harnesses better than others, but all dogs appreciate and deserve a harness that fits them comfortably. While no-frills, webbing-based harnesses can be comfortable, the most comfortable harnesses usually have padding in high-friction areas, like the belly and chest.
Reflective or High-Visibility Finish
Some of the best dog harnesses for running feature reflective materials to help make your dog more visible in dim lighting. This is especially important for owners who plan to go out on jogs at night (don't forget to wear bright colors and reflective clothing yourself). However, you can upgrade virtually any harness by adding reflectors or reflective tape, if you happen to find a harness that is perfect in most other respects, yet lacks reflective surfaces.
Secure
Even the best harness in the world becomes useless the second your dog slips out of it and darts off into the forest. To an extent, security depends upon properly adjusting and tightening the harness, but the dog harness' design also factors into this equation as well. Always check and test the security of a harness before taking on the trail with your dog!
Best Dog Harnesses for Running: Our Top Picks
The following five harnesses are excellent options for keeping your pooch right alongside you when it is time to go for a run.
1. Ruffwear Front Range
Best Overall Dog Harness for Running
This is a sponsored placement, in which an advertiser pays a fee to be featured in this article. Learn more
About: If you're looking for a dependable harness your pooch can use while running or enjoying day to day walks, the Ruffwear Front Range Harness is definitely worth considering.
A lightweight harness with a fairly minimalistic design, this harness comes with running-friendly features, including adjustable straps to achieve a perfect fit and reflective trim to keep your pooch visible to motorists. It also provides both front and back leash attachment points for additional flexibility.
Features:
Padded chest and belly panel
Reflective trim
Comes with 4 adjustable straps
Four adjustment points
Features 2 leash attachment points on the back and chest
Pros
Many pet parents were impressed with the durability of this harness
It has most of the basic features owners usually want
It's available in a variety of colors
The included front leash clip is helpful for pullers
The athletic cut won't impede your pup's natural movement while running
Cons
While not the most expensive harness around, it isn't exactly cheap
We wish it included a control handle on the back
2. Rabitgoo Dog Harness
Most Affordable Dog Harness for Running
This is a sponsored placement, in which an advertiser pays a fee to be featured in this article. Learn more
About: If you need a running harness that won't break the bank, check out the Rabitgoo Dog Harness. A very highly rated harness among owners, this model is great for running or leisurely walks. Best of all, it comes at a great price, helping you save some bucks for other dog-care needs.
Features:
Comes with 4 fully adjustable straps
Made from breathable nylon fabric
Leash attachments on the front and back of the harness
Reflective trim
Comes with a built-in control handle
Pros
This is one of the most affordable harnesses around and unmatched in terms of value
Multiple leash attachment points are always helpful (particularly for pullers)
Most owners found it easy to get a perfect fit
Cons
There isn't a lot of added padding in this harness
A very small percentage of dogs experienced rubbing and friction issues
3. EzyDog Quick Fit Adjustable Harness
Easiest Dog Harness for Running to Put On
This is a sponsored placement, in which an advertiser pays a fee to be featured in this article. Learn more
EzyDog Quick Fit Adjustable Harness
A lightweight, adjustable dog harness that's easy for you to put on and take off in between your running adventures.
About: Does Fido hate when you put on his harness? Or does he get more annoyed when it is time to take it off? Either way, you can sidestep these problems by using an easy-to-put-on harness like the EzyDog Quick Fit Harness. Specifically designed to be easy to put on or take off, this harness features a simple one-click fit system, as well as a padded neoprene chest strap that helps prevent doggo discomfort.
Features:
Quick fit design for easy on and off
Neoprene chest sleeve for comfort
Reflective stitching
Features 2 adjustable buckles
Comes with a back-positioned leash attachment point
Pros
This harness is built from the ground up to be easy to use
Most dogs seemed pretty comfortable while wearing this harness
Unlike some other harnesses, this one seems to fit large-chested dogs well
Cons
It only comes with 1 leash attachment point
It lacks any kind of control handle
Some owners noted that the color of this harness fades quickly
4. 2 Hounds No Pull Dog Harness
Best No-Pull Dog Harness for Running
This is a sponsored placement, in which an advertiser pays a fee to be featured in this article. Learn more
2 Hounds No Pull Dog Harness
A lightweight, US-made harness that's designed to prevent pulling and make daily walks and runs easier.
About: Does your dog pull you around the neighborhood when walking or running? ? It might be best to start out your running adventures with the 2 Hounds Design Freedom No Pull Dog Harness. Designed to let you reclaim control of your canine, this harness provides you with attachment points on the front and back of the harness. You can use the back-positioned clip when your canine is calm, or switch to the front-oriented leash clip when you need to reign him in.
Features:
No-pull design to make running more fun
Comes with front and back leash attachment points
Lightweight materials and design are perfect for running
Made in the USA
Velvet-lined chest strap for comfort
Pros
The no-pull design helps deter dogs from charging ahead on the leash
Very reasonably priced
Most owners found the harness fit well and didn't allow dogs to "back out" of it.
Cons
No control handle is included
A couple of owners noted that this harness ran a little large
5. RUFFWEAR Omnijore Dog Joring System
Best High-End Dog Harness for Running
This is a sponsored placement, in which an advertiser pays a fee to be featured in this article. Learn more
About: A great choice for owners who enjoy various joring sports, , the Ruffwear Omnijore Dog Joring System is a little different than most of the other harnesses we recommend. For starters, this is more than just a harness – it is a complete harness system, which also includes a towline and hip belt that'll connect you to your canine.
But all that aside, the actual harness comes with all of the things owners would want, including four adjustment points, reflective trim, and compartments for waste bags and water.
Features:
Complete dog joring system built for running, skiing, skateboarding and biking
Hip belt and harness both feature adjustment points
Includes a shock-absorbing leash
Reflective trim provides plenty of visibility
Built-in compartments for waste bags
Pros
This complete system includes everything you need
The included hip belt features handy compartments for waste bags and water
Owners report that the harness fits dogs well
Bungee leashes are always helpful for reducing the wear and tear on YOUR body
Cons
This is the most expensive running harness on our list
It may be a little more than the average runner needs
6. AUROTH Tactical Dog Harness
Best Tactical Dog Harness for Running
This is a sponsored placement, in which an advertiser pays a fee to be featured in this article. Learn more
About: Are you seeking a sturdy, tactical harness to keep your pooch secure while out on runs? The AUROTH Tactical Dog Harness is a great choice. This harness features front and back leash attachments, along with a back handle to give you quick, total control when you need it. It also comes with Velcro patches, so that you can attach aftermarket accessories, such as patches or outer pockets.
Features:
Back handle included for extra control
Reflective piping provides additional visibility
Adjustable straps allow for a great fit
Easy on/off buckles
Front and back leash attachments
Pros
The lightly padded handle is great for extra control
Front leash clip is great for dogs who pull
It's easy to adjust and achieve a comfy fit
Cons
The colors are a little different in person
A very small number of dogs found ways to wriggle out of this harness
K9 of Mine Staff Review
Hey there, pet parents! Ben here.
I use the AUROTH Tactical Harness with one of my dogs (an 80-pound Rottie, pictured below for your viewing pleasure).
Now, it is important to understand one thing at the outset:
I only run when chased.
So, I can't vouch for it being a good harness for runners and joggers.
But I do really like the harness, and we've been using it for a few years now.
I love the combination of multiple leash attachment points and a back control handle. It's also fairly lightweight for a "tactical" harness, while still being really well built.
It's easy to adjust to achieve a perfect fit and the buckles (unlike some other harnesses) don't tend to loosen over time. For that matter, it's really reasonably priced too.
It also comes with nifty little Velcro strips that would be wonderful for patches, but I've just never gotten around to buying any.
There are really only two things I'm not crazy about:
It is an over-the-head-style harness, which some dogs (mine included) dislike. We still use it, though the pupperino doesn't like when it is time to take it off.
The colors aren't quite as awesome in person — at least, not the "red" one I purchased (which is really more of a dark pink).
So, if you're in the market for a tactical-style running harness or just have a dog who struggles with reactivity, I think this one is a great option.
7. Noxgear Lighthound
Best Dog Harness for Running in the Dark
This is a sponsored placement, in which an advertiser pays a fee to be featured in this article. Learn more
About: Do you and your dog prefer running after dark ? If so, you'll want to consider the Lighthound Harness by Noxgear. This harness features rechargeable LEDs and reflective strips to provide plenty of visibility during night runs or any other adventures in low-light areas.
Despite featuring LEDs, this harness is machine-washable. It provides up to 12 hours of battery life on a single charge.
Features:
Rechargeable LED harness lights up during use
Machine washable
Comes with adjustable straps for a perfect fit
Features 1 (back-positioned) leash attachment
Choose from any of 14 different color modes
Pros
Added visibility makes this a great choice for night runs
We love the wide range of color options provided
Battery pack lasts up to 12 hours – plenty long enough for most runs!
Owners appreciated this harness' snug fit
Cons
This harness doesn't have any padding
The lighting console is somewhat bulky
8. Ruffwear Hi & Light Everyday Dog Harness
Best Lightweight Dog Harness for Running
This is a sponsored placement, in which an advertiser pays a fee to be featured in this article. Learn more
About: While typical harnesses can work for many running Rovers, some dogs will greatly benefit from a lightweight, minimalistic harness like the Hi & Light Harness from Ruffwear. Designed to avoid weighing down your woofer, this harness will provide full range of motion and help you and your pooch rack up plenty of miles.
Features:
Features a minimalistic design to stay out of your dog's way
Debris-resistant liner
Comes with 4 adjustment points
Features a single leash attachment ring
Includes a pocket for waste bags or other small items
Pros
This lightweight harness is great for dogs and owners who are serious about running It's made from durable materials and built to last
Included pocket provides extra convenience
Cons
Some pet parents found that it ran small
It's a bit more expensive than entry-level harnesses
9. SGODA Cooling Harness
Best Dog Harness for Running in Hot Weather
This is a sponsored placement, in which an advertiser pays a fee to be featured in this article. Learn more
About: If you live in a hot area or like to run during the middle of the day this cooling harness by SGODA may be a great choice for you and your pooch. Like other cooling harnesses or vests, this harness can be soaked in water before use. Then, as the water evaporates, it'll cool off your canine and keep him comfy!
Features:
Breathable mesh design
Relies on evaporative cooling to reduce your dog's body temperature
Back D-ring for leash attachment
Drawstring closure and adjustable neck size provide a great fit
Pros
It helps keeps pups cool while running in the warmer months
Fits deep-chested breeds well
Eliminates the need to use a separate harness and cooling vest
Cons
Only the neck is adjustable
Not ideal for long-bodied breeds like dachshunds
10. Gooby Padded Vest Harness
Best Dog Harness for Running in Cold Weather
This is a sponsored placement, in which an advertiser pays a fee to be featured in this article. Learn more
About: Running in cold weather can be a tricky balance. You don't want your pooch to overheat, but small or lanky dogs may very well benefit from some added insulation. Fortunately, this Gobby Padded Harness is a great solution.
The harness insulates your pooch with puffed polyester. It's also water resistant and machine washable, so it's a great choice for weathering mild winter conditions.
Features:
Padded polyester vest with a light fleece lining
Built-in zipper guard to keep fur out of the way
Water resistant materials keep your dog dry
Comes with a back-positioned D-ring leash attachment
Pros
Provides just enough warmth for a winter run
Drawstring closure helps keep the vest close to your dog's body
Owners found this jacket easy to put on
Cons
This vest might be a little short for longer breeds
Padded harness is probably too hot for year-round use
Running with Your Dog: Safety Tips & Tricks
Consider these safety tips before setting out on a run with your canine companion:
Make sure your dog is a good candidate for regular running. Unfortunately, some dogs – including, most notably, brachycephalic (short-faced) breeds – aren't built for running. These doggos will need to enjoy other forms of exercise.
Wait to start running until your dog is old enough to do so safely. Dogs shouldn't go for runs until their growth plates are closed, which is generally around 18 to 24 months of age.
Use caution with dogs who are overweight or dealing with health issues. If your dog is carrying around some extra weight or has any serious health issues, get your vet's approval before beginning a running regimen.
Go at your pooch's pace. It's important to pay attention to your pup's cues while on your run. If he's panting or seems to be falling behind, it's time to take a break.
Be aware of your surroundings. Keep an eye on what's coming up on the horizon. Keep an eye out for cars, off-leash dogs, trip hazards, and other runners to ensure everyone stays safe.
Provide your pooch with water and recovery time. Make sure you carry water with you while running to keep your dog hydrated. Also, make sure you give him plenty of time between runs to recover.
Mind the climate. Avoid running when the temperatures are very high or low, and always dress your pup for the weather. That may mean putting a coat on him when it's cold or fitting him with a cooling vest when it's hot.
How to Teach Your Dog to Run with You
If you have a dog breed who is a natural runner, taking your dog for a jog can be a great way to get in some exercise and bonding time with your best buddy.
However, learning how to run with your pooch can take some practice. 
Use the following steps to help your dog become an ideal running companion (and make sure to read our full guide on how to train your dog to run with you too)!
Make sure your dog has mastered the basics of loose-leash walking. Your dog needs to have mastered his walking leash manners before he's ready to start running. Your dog should be trained to walk along one side of you in a relatively straight line.
Work on a cue for speed. Start working on a cue with your dog to encourage him to speed up when you're on a walk. For instance, you might say "let's go!" and move from a walking pace to a jog. Find a cue for slowing down too, and pair this with a tempered speed and tug on the leash.
Incorporate running into your regular walks gradually. Just like us, dogs need to build up endurance. So, take it easy on your furry friend while he's learning. Incorporate running gradually into your daily walks until he's ready for a fully active outing.
Hands-Free Leashes: An Additional Tool for Running with Rover
Many serious runners prefer to use a hands-free leash when clicking off the miles with their dog.
Hands-free leashes usually consist of a slightly elastic, 48- to 60-inch-long bungee leash, but instead of featuring a handle or wrist loop at the human end, they attach to an included belt, which you can wear around your waist.
These leashes help free your arms to pump by your sides, while still keeping your dog close and out of trouble.
A few of the best models available include the SparklyPets Hands Free Dog Leash and the Tuff Mutt Hands Free Dog Leash. Both leashes have received glowing reviews from dog owners and feature traffic handles for additional control of your dog when you need it.
Note that hands-free leashes are not ideal for dogs who tend to pull or lack the focus to run at your side for extended periods. Many owners report that their dogs learned to work with the hands-free leash after a brief adjustment period, but just be sure to keep safety in mind and start out slowly – you don't want Fido pulling you around by the waist, potentially causing you to fall!
Additional Canine Running Sports
If you love running with your pooch, you may be interested in the dog-powered sport of canicross, which involves dogs and owners running together as partners.
Other canine running sports include things like bikejoring and skijoring. These essentially involve hooking your dog up to a harness and specialized leash so that he can pull you.
These sports are really only appropriate for large, strong dogs, and you'll need to put in some time and effort to train your pooch and purchase the necessary equipment. But these activities all provide another fun way to bond with your pooch, so consider trying one of them out!
Best Dog Harnesses for Running FAQ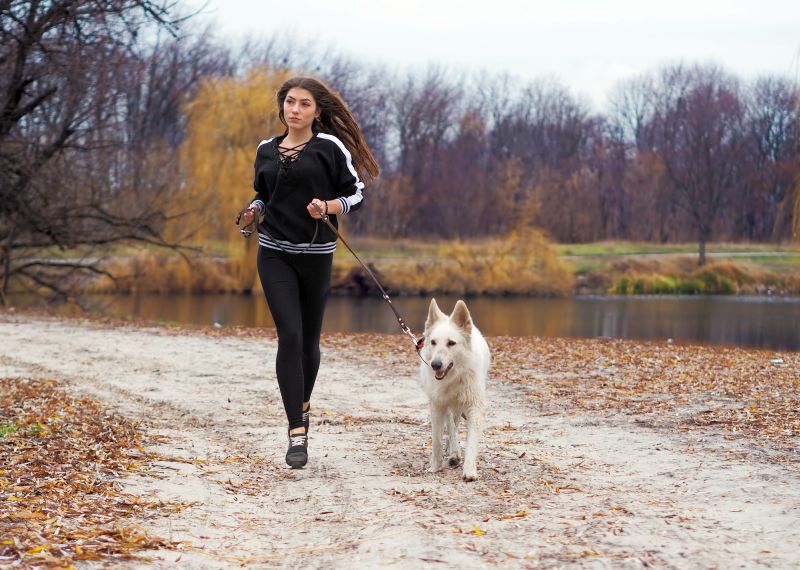 Ready to head out on a run with Rover? Consider these common questions about running harness before setting out on the streets:
Should I run with my dog on a harness?
Harnesses provide you with more control over your dog and don't cause strain on your dog's neck, making them a better choice for running. Some owners prefer sticking to a collar, but doing so provides less control and presents some safety risks.  
Is it better to run with a dog on a harness or collar?
Harnesses are usually a better choice for running with your dog since they provide more quick, secure control that's needed during high-energy activities. Harnesses also reduce stress put on your dog's neck. 
What kind of leash is best for running?
The perfect leash for running with Rover will depend on myriad factors, but it ultimately comes down to personal preference.
Some owners prefer bungee leashes, while others like a normal leash better. Some even like using a retractable leash (though we generally discourage this).
Similarly, some owners prefer using really long leashes while running, yet others prefer using a shorter leash.
Just make sure you're using a high-quality leash and that it works for you and your pooch.
How long should a dog leash for running be?
The specific length of your dog's running leash will depend greatly on his size and stature, as well as your personal preferences. Generally speaking, a 6-foot-long leash is the sweet spot, though as mentioned, some runners prefer longer or shorter leashes than this.
How do you run with a dog who pulls?
Your dog should be taught proper loose-leash walking skills before graduating to running on a leash. However, you can help cut back on pulling tendencies with no-pull harnesses. 
How far can dogs run safely?
Each dog's capacity for running is different depending on his age, breed, and condition. So, start by discussing your dog's limits with your veterinarian, keep an eye out for any signs of exhaustion while you're out on a run, and listen to your gut – if you think your dog is tired, he almost certainly is. 
Can you run with a dog in hot weather?
You can run with some dogs in warmer weather, but it's best to keep these outings brief and schedule around the coolest parts of the day. Make sure you go at your dog's pace and provide your pooch with plenty of water. 
Can you run with a dog in cold weather?
You can potentially run with your dog in cold weather, but you'll need to make sure your dog is warm enough, and keep an eye out for potential hazards like ice or slippery surfaces. You might need to have your dog wear a pair of booties in the winter to protect against damaging ice or street salt.
***
Do you run with your dog? What kind of harness do you prefer? Do you just stick to a conventional collar instead? Have you ever used a hands-free leash? What about bungee leashes? We'd love to hear about your experiences in the comments below.