Best Escape Poof Dog Harnesses: Quick Picks
Ruffwear Master Web Harness [Most Secure] This top-quality harness features three straps, including a belly strap that adds ample security. Features five adjustment points for achieving a perfect, snug fit that your dog can't wiggle out of!
Icefang Tactical Harness [Best Half-Body Harness]. Military-inspired half body harness with several points of adjustment for reaching an ideal fit.
PetSafe Martingale Collar [Best Choke Collar Alternative] PetSafe's nylon martingale collar will tighten with tension on the leash, preventing your dog from slipping out without resorting to a choke chain.
Have you ever been walking with your dog and notice that the leash suddenly became much lighter?
I have. It wasn't even my dog – I was walking him for a friend. I'd never experienced this phenomenon before, so I was puzzled and looked behind me to see why the leash was suddenly weightless. Upon doing so, I saw the harness lying uselessly on the ground and the little husky-mix just sitting there with a delighted and absurdly smug expression on his face.
The next 10 seconds unfolded like a scene from The Matrix, with the mutt hitting warp speed in one smooth motion and me diving for him awkwardly, missing badly, and falling into a carpet of poison ivy and blackberry thorns for my trouble.
By the time I disentangled myself from the vegetation, he was nothing but a memory, and I got to walk back and tell his owner that I was apparently outsmarted by his dog.
Everything ended fine – he actually came running back to his owner when called. But it could have ended worse. Much, much worse.
While most dogs can be thwarted by your average collar or harness, some dogs are masters of escape. These dogs usually require a more sophisticated harness to prevent jailbreak escapades.
Fortunately, there are a few harnesses that are extra secure, and less likely to be slipped during your next walk. Below, we'll talk about the way dogs escape from harnesses and recommend five of the best options on the market.
See our quick picks below, or keep reading for full reviews and more detailed info on choosing the best harness for your Houdini-inclined pooch.
The Best Five Escape-Proof Dog Harnesses
There are a number of harnesses available that will help prevent your dog from escaping. Note that any manufacturer can characterize their harnesses as escape-proof, so you shouldn't just pick one based on marketing hyperbole.
Additionally, some of the most secure harnesses available are not labeled as escape-proof.
You'll just have to dig in, consider your dog's needs and try to make the best choice you can.
1. CosyMeadow Escape-Proof Dog Harness
About: The CosyMeadow Escape-Proof Harness relies on a clever design to keep your dog secured to his harness, as the chest strap is intended to fit behind your dog's rib cage. This makes it harder for your dog to slip his elbows out and free himself.
This is a sponsored placement, in which an advertiser pays a fee to be featured in this article. Learn more
Features: The CosyMeadow Harness is a very securely-fitting lightweight harness, made from a combination of nylon webbing and neoprene material. It also features robust components – including heavy-duty quick-release buckles and welded stainless metal rings – to ensure your dog's safety.
The CosyMeadow Harness is designed as a "no-pull" harness, and it also comes with a handle to help you control your dog in tight quarters or assist him with negotiating obstacles. Reflective thread is used in the stitching to help keep your dog visible in low-light conditions.
The CosyMeadow Escape-Proof Harness is available in four sizes (small, medium, large and extra-large) and four colors, including Ferrari Red, Blaze Orange, Jet Black, and Lime Green.
PROS
Most owners who tried the CosyMeadow Harness found that it prevented their dog from escaping and that it helped reduce their dog's tendency to pull the leash during walks. Many owners also loved that the harness was so easy to put on and take off.
CONS
While the CosyMeadow Harness did keep most dogs safely contained, a few – especially aggressive chewers – were still able to free themselves.
2. Ruffwear – Web Master Harness
About: Ruffwear makes a number of high-quality harnesses, but the Web Master Harness is one of the best choices for owners of escape-prone dogs. Made with three different straps that encircle your pup's chest and belly, this harness is very secure, while still being easy to put on or remove.
This is a sponsored placement, in which an advertiser pays a fee to be featured in this article. Learn more
Features: Achieving a secure fit is half of the battle when dealing with an escape-prone pooch, but the Web Master Harness makes this possible through the use of an extra belly strap and five different points of adjustment. The straps are also padded, to help keep your dog comfortable and spread out the force applied by the leash.
A padded handle is located on top of the harness, and an aluminum, webbing-reinforced attachment ring gives you a secure place to clip the leash. Reflective strips are used throughout the harness's stitching to help make your dog more visible.
The Ruffwear Web Master Harness is not machine washable, so you'll need to wash it by hand and allow it to air dry.
This adjustable harness is available in five sizes, ranging from extra-small to extra-large, and it comes in three colors: Blue Dusk, Twilight Gray, and Red Currant.
PROS
The Web Master Harness received glowing reviews from most owners who tried it, including those who owned escape artists. Most reported that their dog was unable to wiggle free thanks to the belly strap, and the harness's quality was widely praised.
Some owners even reported that the harness helped to alleviate pulling behavior, even though the harness isn't explicitly designed for this purpose.
CONS
There weren't many complaints about the Web Master Harness, although a few owners experienced problems with one-off manufacturing issues. A few owners noted that their dog was able to escape from the harness, but such reports were quite rare.

3. ICEFANG Tactical Dog Harness
About: Featuring a military-style design, the ICEFANG Tactical Dog Harness is designed to keep your dog secure and ready for just about any adventure that comes your way. Made with heavy-duty components, this durable harness is designed to last for years and stand up to your dog's abuse.
This is a sponsored placement, in which an advertiser pays a fee to be featured in this article. Learn more
Features: The ICEFANG Tactical Harness features a half-body design and comes with five different points of adjustment so that you can ensure it fits your dog perfectly. Two leash attachment points – one on the back, the other on the chest — are included to provide flexibility, and a handle on the back makes it easy to lift and manipulate your dog.
Several strips of Velcro are sewn on to the top of the harness, which will allow you to attach patches or various types of gear and equipment to your dog. The ICEFANG Tactical Harness is available in medium and large sizes, catering mostly to larger breeds, and it comes in khaki and black.
PROS
Most owners liked the ICEFANG Harness and reported that it was well made and fit their dog well. The included handle proved very helpful for many owners, and the Velcro strips were also a welcome addition. Several also praised the value of the product and its relatively low price point.
CONS
A few owners complained that this harness did not fit dogs with short and pudgy body types well. Additionally, the ICEFANG Harness is not available in sizes appropriate for small dogs.
4. The Harness Lead
About: The Harness Lead is an escape-resistant, all-in-one leash and harness system, which is designed to keep your dog securely attached to you during walks. Because it will grow tighter as your dog pulls on it, it is a secure harness that will prevent most escapes.
This is a sponsored placement, in which an advertiser pays a fee to be featured in this article. Learn more
The Harness Lead
All-in-one leash and harness system
Double-braided nylon leash with 3,700 lbs of tensile strength! Features rubber stoppers to adjust sizing and is made in the USA.
Features: At first glance, the Harness Lead looks like a slip lead. However, it is designed to wrap around your dog's chest and shoulders (rather than your dog's neck, as slip leads do), and it comes with stoppers to prevent the rope from overtightening or becoming too loose.
The Harness Lead is made from hand-spliced, US-made materials, and it has a very high tensile strength – this leash-harness combo is capable of supporting 3,700 pounds.
The Harness Lead comes in two sizes (small/medium and medium/large) and eight different color patterns, including Black, Blue, Lotus, Orange Reflective, Peacock, Pink, Plum, and Red.
PROS
Most of the owners who tried the Harness Lead were ecstatic with the results. It typically kept even the most determined and flexible dogs from escaping, and several owners mentioned that it also helped stop pulling behavior. It is also quite affordable compared to some other escape-proof harnesses and eliminates the need for a separate leash.
CONS
A few owners had problems learning how to put the harness on their dog, but most of these owners explained that it became easier with practice. Do note that the leash portion is only about 6 feet long, and your dog's size will determine its exact length; larger dogs will require more rope to encircle their body, which will make the leash shorter.
5. Mihachi Secure Dog Harness
About: Like a few other escape-proof harnesses, the Mihachi Harness helps to keep your dog from slipping out of his harness through the inclusion of an additional strap. It also comes with a few other helpful features to ensure the harness remains comfortable.
This is a sponsored placement, in which an advertiser pays a fee to be featured in this article. Learn more
Features: The Mihachi Secure Harness comes with three different straps to keep your dog secure. One strap secures the harness around your dog's chest, one wraps around his ribs and one encircles his belly, behind the rib cage. A handle is included on the top of the harness, and reflective stitching is used to keep your dog visible.
The straps are padded to help keep your dog comfortable and distribute the load evenly across his chest, shoulders, and ribs. Five different adjustment points allow you to achieve a great fit, and the harness is outfitted with breathable mesh for added canine comfort.
The Mihachi Secure Dog Harness only comes in two sizes (medium and large), and it is only available in one color pattern (gray/black).
PROS
There aren't many reviews for the Mihachi Secure Harness, but it utilizes a sound design and should help to prevent your pup from slipping free during walks. It also has most of the features you'd want, including reflective stitching and an attached handle.

CONS
Any product that lacks a large number of owner reviews should only be purchased after careful consideration. A few owners did note places where the stitching broke, so be sure to inspect the harness carefully each time you put it on your dog.
Our Recommendation: The Ruffwear Web Master Harness
Most Ruffwear Harnesses are extremely well made, and the Ruffwear Web Master Harness is no exception.
Additionally, because it features three straps, rather than two, it is more likely to prevent your dog from slipping free. The included handle and dual leash-attachment points are also welcome inclusions that make this a very good choice for most owners.
The Harness Lead is also deserving of serious consideration, especially for owners who do not like to leave their dog in a harness at all times. Just be sure that you can tolerate a fairly short leash if you decide to go with this product.
Another Option: The Martingale Collar
Martingale collars are somewhat similar to slip leads or chain collars, as they become tighter when tension is applied to the leash.
This means that when your dog faces you and starts trying to back out of his leash, the collar will tighten, thereby preventing him from escaping.
If this sounds like the type of approach you'd like to take, check out the PetSafe Martingale Collar. It is affordable, effective and durable, and most owners found that it worked well for their pup.
This is a sponsored placement, in which an advertiser pays a fee to be featured in this article. Learn more
PetSafe Martingale Collar
A slip-style collar that tightens with tension
A popular alternative to a choke collar your dog can't wiggle out of. Made of nylon and available in several colors and sizes.
Types of Dogs At High-Risk for Escape
Although all dogs probably have some harness-slipping skills, some seem to be more likely to escape than others. So, while you should always be sure to get a harness that will keep your dog safely contained, it is clearly an especially important consideration for some dogs.
Some of the dogs who necessitate escape-proof harnesses include:
Nervous Dogs
Nervous or flighty dogs are often among those who are most likely to try to slip free or chew their way out of their harness. Shelter dogs, for example, are often especially nervous and will try to escape from their harness – especially if they're not accustomed to having harnesses on.
Leash-Averse Dogs
Some dogs become agitated when attached to a leash. They immediately begin pulling and twisting in an effort to escape the ties that bind. Their efforts are often successful, which results in an unbound pet running around the neighborhood.
Destructive Chewers
Some dogs will chew on anything they can get their mouth on, including their harness. It is important to fit these types of dogs with a harness that is difficult for them to reach and constructed of durable materials.
Prior Offenders
Any dog that has escaped in the past is at high risk of doing so again in the future, so be extra careful with dogs who've already demonstrated the ability to slip a harness.
Dogs with Lanky Builds or Small Heads
Dogs come in a variety of shapes, but most harnesses are designed to fit a sort of generic dog body. This means that dogs of some shapes and sizes are more likely to slip free than others are. In practice, dogs with exceptionally flexible front limbs, lanky builds and small heads are often more likely to escape than short-limbed, blocky-headed dogs are.
In a nutshell, it means your skinny lab or border collie should be treated as a flight risk, but your English bulldog or basset hound probably isn't going anywhere.
How Do Dogs Escape from a Traditional Harness?
Dogs can escape from traditional harnesses in a few different ways, but two methods seem to be the most common:
Slipping their shoulders free. Dogs are pretty flexible creatures, and they can often impart enough leverage to "back out" of a traditional harness. This typically involves pulling backwards against the leash, while trying to slip their elbows through the straps.
Chewing through the straps. Some dogs don't feel the need to contort their bodies or dislocate their shoulders Martin-Riggs-style. Instead, they use their teeth and jaws to secure their freedom. The best way to prevent this from happening is by using a harness that is difficult for them to reach or made of chew-resistant materials.
Things to Look for in An Escape Proof Dog Harness
Anytime you buy a harness – especially one geared towards Houdini dogs, you'll want to look for a few key features to ensure you get a high-quality product. Among other things, this includes:
High-Quality Materials
Obviously, you don't want to purchase an escape-proof harness made from cheap, flimsy materials. Cheaper harnesses will be easier for your dog to chew apart and eventually bust out of. Instead, look for a harness made from leather, high-quality faux leather, nylon webbing, or some other strong, pliable, and durable material.
Secure Connectors
Manufacturers use a variety of different connector types in their designs, and it is important to select a harness that has connectors that are durable and secure.
You may sacrifice a little convenience by doing so, as some connectors make harnesses more difficult to put on or take off, but escape-prone dogs require a bit of extra security.
High-Visibility Features
You always want to ensure that your dog is as visible to motorists as possible, particularly when it is dark outside. This is really true for any harness – not just escape-proof ones!
Fortunately, many (if not most) leashes on the market feature things like reflective material in the stitching or patches, which help improve your dog's visibility.
On the off chance that you select a harness that does not feature these types of visibility enhancements, be sure to pick up a clip-on LED light to keep your pooch safe. Their cheap and easy to use, and they may save your dog's life.
Multiple-Attachment Points
It's actually possible to alter your dog's behavior by attaching his leash to his harness in different places. For example, by attaching the leash to the front of his chest, you can easily pull him to the side and throw off his balance a bit, which is often helpful in preventing pulling.
Conversely, if you attach a leash near your dog's back, he'll often start doing his best sled-dog impression. This can be helpful if you are walking up a hill and you want him to pull you for a little bit. Although it sounds mean, and you certainly don't want to over-burden your pup, this can actually be a great way to increase the intensity of your walks, which is sometimes necessary with super-high-energy dogs.
Attached Harness Handles
Many good harnesses come with a handle that gives you a little more extra control of your dog. This means you can help give your pooch a bit of help jumping in the car, or you can keep him really close when a cat darts out in front of you on the sidewalk.
Having a built-in handle also means you can grab your dog closer if you know his jailbreak skills are triggered by certain stimuli – like a squirrel who's picking a fight or another dog across the street.
Padding
Padding isn't always necessary, but it usually provides additional comfort and helps to prevent damage to your dog's skin or fur. Some harnesses are entirely padded, but others only feature chest padding, as this is where the bulk of the pressure will be applied.
Several Adjustment Points for a Good Fit
Part of the reason some dogs easily wiggle out of their harness or collar is due to the tool not being fitted correctly. Choosing a proper size will go a long way, but you'll still need to fine-tune the adjustable straps at various locations for an appropriate fit that's snug without being uncomfortable and allowing your dog to have full range of motion.
DIY Solutions and Dog Harness-Securing Tips
If you'd rather not purchase an escape-proof harness, you can still do a few things to help keep your dog securely attached to his leash during walks. The following two tricks are the most common approaches, and both are fairly cheap and easy to rig up.
The T-Shirt Trick
Some owners have found that they can prevent their dog from slipping out of a harness by making them wear a T-shirt over the harness. A small slit can be cut in the shirt to allow the leash to attach to the harness. This isn't a fool-proof method for securing your dog, but some owners have had success with this approach.
Use a Collar and a Harness
One great way to make your dog more secure is by using a collar and a harness during walks. This way, if your dog manages to slip out of the harness, he's still connected to you via the collar. Just use a carabiner (this one is a great choice), to clip the harness to the collar, and then clip your dog's leash to the harness.
Some owners like to use a zip tie instead of a carabiner, but this should only be done with rather small dogs. A large or powerful dog could probably break a zip tie if he pulled hard enough.
Additionally, because you can't take a zip tie off, you'll have to cut through it after each walk and attach a new one the next time your pooch has to pee. Collars are also designed to have quick release snaps in case of an emergency. You're definitely inviting some potentially very dangerous situations by opting for a zip tie – which can't be removed quickly or easily in an unexpected circumstance.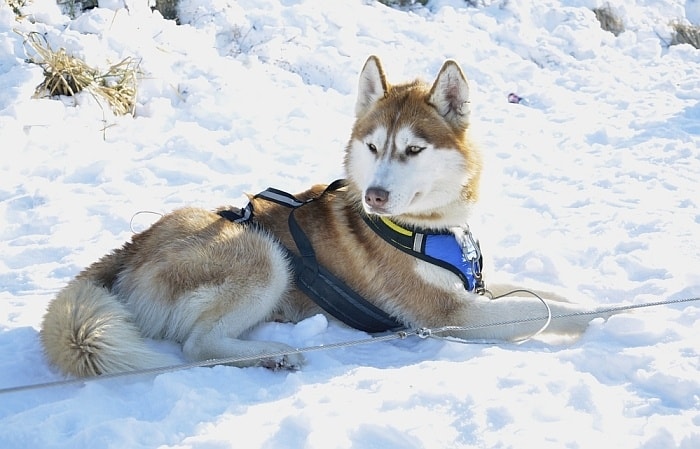 Ensuring a Proper Fit for Your Dog's Harness
Many dogs are able to escape from their harness because their owner failed to adjust or use it properly, rather than because of some design flaw. But it is pretty easy to make sure your dog's harness is fitted properly; just follow the steps detailed below:
1. Start by purchasing a harness of the proper size.
There aren't many things you can do to fix a harness that is too large or small for your pooch, so be sure to consult the manufacturer's sizing recommendations. Typically, you'll have better luck if you rely on linear measurements, rather than your dog's body weight, so break out the tape measure and get started – you'll need to measure the circumference of his chest and his lower neck.
2. Place the harness around your dog while he is standing, rather than sitting.
Your dog's rib cage will be a little thicker while he's sitting, and you want to make sure you adjust it to accommodate his chest at its smallest. Don't worry, he'll still be able to sit comfortably while wearing it – it'll just be a little snug when he does so.
3. Tighten all of the straps and loops until they are snug.
As a rule of thumb, you want the straps to be tight enough that you can just barely fit two fingers between the harness and your dog's body. This will ensure he remains comfortable, yet secure.
4. Always test the harness' fit and function before heading outside.
This is especially important when you purchase a new harness or make significant changes to the way the harness fits. Just put the harness on him and walk him around the living room for a bit to ensure he can't slip free before heading outside. It is also wise to verify that your dog can't slip his elbows or head through any of the straps.
As you can see, there are a lot of things to think about when picking an escape-proof harness for your dog. Just try to select a style that suits your dog and prioritize the features that are important to you. From there, factor in things like cost, owner reviews, and other secondary factors to make your final selection.
Personally, I consider an attached handle to be a "must have" feature in a harness. I use an older Kong harness, similar to this one, for my Rottie. It has a great handle, it's easy to put on and, although it isn't explicitly marketed as an escape-proof harness, it is quite secure.
However, my dog doesn't wear a fuchsia harness like the one in the photo; my dog only wears red and black.
Have you used any of the harnesses discussed above? Did they turn out to be as escape-proof as you'd hoped? Do you know of a super-secure escape-proof harness that we've missed? Tell us all about it in the comments!