Few things are as frustrating (or frightening) as walking a dog who's dead set on escaping from his harness.
Obvious safety issues aside, it's actually pretty impressive how good some dogs are at slipping free of their gear.
One minute your pup's safely tethered, and the next minute he performs his pull-back-arm-tuck maneuver and slides right out!
Fortunately, there are a few escape-proof dog harnesses that are extra secure, and less likely to be slipped during your next walk.
Below, we'll identify some of our favorites, and point out some other options on the market (as well as one type of harness you should avoid for escape-prone puppers).
We'll also talk about the ways most dogs escape from harnesses and provide some tips for ensuring a great harness fit so that your pup is less likely to slither out.
Best Escape Poof Dog Harnesses: Quick Picks
#1 Ruffwear Master Web Harness [Best Overall Escape-Proof Harness]: A premium-caliber harness featuring five straps for security and five adjustment points for a super-secure fit.
#2 ThinkPet No-Pull Harness [Most Affordable Escape-Proof Harness]: This harness is not only great for controlling pullers, it also provides a budget-friendly way to prevent escapes.
#3 Icefang Tactical Harness [Best Tactical-Style Escape-Proof Harness]: A high-quality escape-proof harness that's loaded with nifty features, like multiple attachment points and Velcro strips.
Different Types of Escape-Proof Harnesses
While browsing the harnesses below, you'll likely notice that most escape-proof harnesses fit into one of several categories.
None of these are inherently superior to the others, but it's worth thinking about the differences when trying to pick the best one for your pupper.
Five-Strap Harnesses: Five-strap harnesses feature an extra set of straps to help provide a tighter, more secure fit and thwart escape attempts (technically, most of these really have three straps, but they function like five different straps). Our top pick — the Ruffwear Web Master Harness — is a great example of this category.
Tactical Harnesses: Another way harnesses approach the Houdini-hound problem is by adopting a military-like design, featuring heavy duty clips and a very tight fit. The ICEFANG Harness is our favorite tactical harness, but there are several worthy alternatives.
Other Designs: A small number of escape-proof harnesses are different than those in either of the previous categories. Some, for example, incorporate self-tightening design elements, while others fall somewhere between the five-strap and tactical designs.
The 11 Best Escape-Proof Dog Harnesses
There are a number of harnesses available that will help prevent your dog from escaping.
But it's important to be a careful canine shopper. Manufacturers can characterize any harnesses as escape-proof, so you shouldn't just pick one based on marketing hype. Additionally, some of the most secure harnesses available are not labeled as escape-proof.
You'll just have to dig in, consider your dog's needs, and try to make the best choice you can. But we've tried to give you a great starting point!
1. Ruffwear Web Master Harness
Best Overall Escape-Proof Harness
This is a sponsored placement, in which an advertiser pays a fee to be featured in this article. Learn more
About: Ruffwear makes a number of high-quality harnesses, but the Web Master Harness is one of the best choices for owners of escape-prone dogs. Made with three different straps that encircle your pup's chest and another that goes between his front legs, this harness is very secure, while still being easy to put on or remove.
Features:
Extra belly strap, meaning you have 5 points of adjustment for a secure fit
Padded handle for additional control as needed
Reflective strips for added visibility in low-light conditions
Available in 5 sizes (SS-Small to Large/X-Large) and 3 colors
Pros
Owners of escape-prone dogs report that it was quite secure
Like most Ruffwear harnesses, most owners were very happy with the quality
The built-in handle provides additional control
Cons
A small number of dogs were still able to escape from this harness, but such reports were very rare
We wish it also featured a front attachment point
2. ThinkPet No Pull Harness
Most Affordable Escape-Proof Dog Harness
This is a sponsored placement, in which an advertiser pays a fee to be featured in this article. Learn more
About: Exhibiting a kind of "tactical-light" design concept, ThinkPet's No Pull Harness will keep your canine secure, while also preventing him from tugging on the leash during walks. A surprisingly well-equipped harness, it comes with padded straps, reflective stitching, and two leash clips, while still being very affordably priced.
Features:
Made of oxford fabric, nylon, and EVA
Includes 2 metal leash connection points (back and chest)
Stretchable components absorb shock, preventing arm fatigue
Available in 5 sizes ranging from small to 2X-large and 8 colors
Pros
Made from thick, durable fabric
It's the most affordable escape-proof harness we recommend
It will also help stop your dog's pulling
Its a great lightweight alternative to tactical harnesses
Cons
Some owners had sizing problems
Though secure, it is unlikely to be as escape-proof as some other options
3. ICEFANG Tactical Dog Harness
Best Tactical-Style Escape-Proof Harness
This is a sponsored placement, in which an advertiser pays a fee to be featured in this article. Learn more
About: Featuring a military-style design, the ICEFANG Tactical Dog Harness is a great option for keeping your dog secure and ready for just about any adventure that comes your way. Made with heavy-duty components, this durable harness is designed to last for years and stand up to your dog's abuse.
Features:
Half-body design provides more coverage than standard options
Comes with 5 adjustment points for a secure fit
Features both chest and back leash attachment points
Included Velcro sections for attaching patches or gear
Offered in medium and large sizes and 2 colors (Black and Khaki)
Pros
Most owners report that the harness provides a great fit
The Velcro patches are a neat addition
The handle provides great dog control
Front and back leash attachment points provide extra value for pullers
Cons
May present fit issues for stocky breeds
There aren't any sizes available for small dogs
The buckles (and harness in general) are a bit heavy
K9 of Mine Staff Experiences
I actually use the ICEFANG Tactical Harness with my pupper.
To be fair, my doggo isn't an escape artist, so that wasn't my motivation for purchasing it. Instead, I just wanted a heavy-duty harness with a back handle and dual leash clips.
Nevertheless, it has exceeded most of my expectations.
For starters, this thing is built like an absolute tank and features thick fabrics, high-quality straps, and very heavy-duty metal buckles. The handle works great, and the dual leash clips are both strong and well built. It also fits my Rottie well, it's easy to put on her, and the Velcro patches are kind of neat.
It does have a few downsides, though. The metal buckles create quite a racket when she's walking around at night, the whole thing is kinda bulky, and I'm not crazy about the tactical aesthetics.
But overall, I give it a thumbs up, and it's been part of our regular harness rotation for about 2 years now.
4. Scenereal Escape Proof Harness
Most Innovative Escape-Proof Harness
This is a sponsored placement, in which an advertiser pays a fee to be featured in this article. Learn more
About: The Scenereal Escape Proof Harness is somewhat similar to other five-strap harnesses, but it comes with a few nifty novelties. The first thing you'll likely notice is the circular "hole" under the back handle, but it also comes with a built in "holster" (the manufacturer's word), and it uses a different buckling arrangement too. It also includes neoprene padding in several places, for extra canine comfort.
Features:
Made of lightweight yet durable polyester
Comes with a built-in back handle
Padded belly and chest piece prevent discomfort
Includes extra loop for carrying items
Available in black in small, medium, and large sizes
Pros
Most owners found this harness completely eliminated escapes
Numerous adjustment points allow for a very customized fit
It's affordably priced
We like the potential provided by the "holster" and some of the other design features
Cons
A few owners complained of durability problems
Some owners may prefer a more time-tested design
It doesn't come with a front leash clip
5. Rabbitgoo Escape Proof Dog Harness
Best Dual-Handle Escape-Proof Harness
This is a sponsored placement, in which an advertiser pays a fee to be featured in this article. Learn more
About: Rabbitgoo's Escape Proof Dog Harness features a pretty common escape-proof harness design, and it comes with two quick-release buckles and five adjustable points to achieve a snug fit. It also comes with two back control handles (which are oriented in parallel and perpendicular fashion), and it's made with reinforced metal leash attachment points for your peace of mind.
Features:
Made of weatherproof nylon and breathable mesh
The 3-strap design helps to prevent escapes
Comes with 2 back handles for additional control
Offered in 3 sizes (medium, large, and X-Large) and 3 colors
Pros
Most owners of escape artists found this harnes prevented dogs from "backing-out"
The twin handles are a neat — and relatively rare — feature
It seems comfortable for canines and easy to put on
Cons
The belly strap can sit a bit low for male dogs
It's not available in sizes for small doggos
It lacks a front leash attachment point
6. Mihachi Secure Dog Harness
Best Handle for an Escape-Proof Harness
This is a sponsored placement, in which an advertiser pays a fee to be featured in this article. Learn more
About: Like a few other escape-proof harnesses, the Mihachi Harness helps to keep your dog from slipping out of his harness through it's five-strap design. It also comes with padded sections to ensure the harness remains comfortable, and — most notably — features one of the most ergonomic and comfortable handles of any harness.
Features:
Comes with 3 padded straps (belly, chest, and rubs) to secure your escape artist
Provides 5 adjustment points for a more customized fit
Handle gives you additional control if needed
Offered in 2 sizes (medium and large) and 1 color pattern (black/gray)
Pros
Most owners reported that the harness was quite durable, well-made, and escape proof
The harness appears quite comfortable for dogs to wear
It features one of the best back handles on the market
Cons
A few owners felt this harness runs small
We'd prefer if the harness also featured a chest-mounted leash clip
Though the harness is well-rated, it's made by a relatively unknown manufacturer
7. Rabbitgoo Tactical Dog Harness
Most Durable Escape Proof Harness
This is a sponsored placement, in which an advertiser pays a fee to be featured in this article. Learn more
About: Rabbitgoo's Tactical Dog Harness is a durable harness that's built to last. In fact, despite featuring plastic, rather than metal buckles, it is the heaviest escape-proof harness we recommend. It is also quite secure, as it comes with adjustable points on each of its five straps to provide a snug fit. And with a back handle for added control, wrangling your escape artist has never been easier.
Features:
Made of durable 1050D nylon
Included Velcro patches for stowing gear and goodies
Comes with 2 metal leash attachment points on the chest and back
Available in 3 sizes (medium, large, and X-Large) and 4 colors
Pros
Owners were very pleased with the fit of this harness
The price is great for such a well-made tactical harness
Great overall construction, including reinforced stitching for strength
Cons
It's not available in sizes for small dogs
Some owners may prefer a model with metal buckles
8. Auroth Tactical Dog Harness
Best "Compact-Tactical" Escape-Proof Harness
This is a sponsored placement, in which an advertiser pays a fee to be featured in this article. Learn more
About: The Auroth Tactical Dog Harness is a working dog wonder, keeping your canine contained with thick straps featuring four points of adjustment. With two metal leash attachment points, a back handle, and Velcro for gear, it functions like a tactical harness, but it provides a much lighter, "sportier" fit that won't weigh your dog down.
Features:
Made of 900D nylon
Strong back handle for extra control
Padded straps prevent discomfort
Offered in 4 sizes (small, medium, large, and X-Large) and 12 colors
Pros
A very durable harness that is one of the most secure options around
It's a great alternative to other, bulkier tactical-style harnesses
Dual leash attachment points are provided
The Velcro strips make it easy to attach gear to the harness
Cons
The buckles are plastic, rather than metal
Some owners reported that the straps may loosen over time
K9 of Mine Staff Experiences
My pooch and I also use the AUROTH Tactical Dog Harness. In fact, we use it more often than the ICEFANG.
As mentioned earlier, I needed a harness that was well-built and came with a back handle and dual leash clips. Check, check, and check — the AUROTH satisfied all three criteria. It's also proven pretty durable, my pooch doesn't seem to mind wearing it, and (unlike the ICEFANG) it's a pretty silent harness that doesn't cause a lot of noise.
Additionally (and more importantly for most owners reading this article), this harness seems to be incredibly escape proof. Again, my doggo doesn't try to escape, so I haven't seen it in action. Nevertheless, I just can't see any possible way for her to slip out of it, even if she wanted to.
Honestly, it's pretty tricky to take off in general — my only serious complaint about it (except that the Velcro patches don't necessarily match the color of the harness).
It may not be quite as rugged as some of the other tactical harnesses, but it has worked really well for us. Highly recommended.
9. OneTigris Tactical Harness Vest
Lightest Tactical-Style, Escape-Proof Harness
This is a sponsored placement, in which an advertiser pays a fee to be featured in this article. Learn more
OneTigris Tactical Harness Vest
An escape-proof, tactical harness that's lighter than most similar models.
About: The OneTigris Tactical Harness Vest is a military-style accessory with built-in pouches, accessory loops, and ID panels. Providing full-body coverage, its structure keeps your four-footer safe and secure while looking great. Note that this harness has recently be redesigned; it now features better stitching and incorporates plastic buckles to reduce its weight.
Features:
Made of 1000D nylon with padding for comfort
Secures with 4 heavy-duty buckles
Top handle for extra control when needed
Available in 4 sizes (small, medium, large, X-Large) and 5 colors
Pros
One of the few tactical harnesses available for small dogs
Lighter and easier for most dogs to wear than some others
Has been recently redesigned to reflect owner concerns
Each vest comes with a 1-year manufacturer's warranty
Cons
Some owners experienced sizing issues
Metal buckles may be preferable for some owners
10. The Harness Lead
Best Leash & Escape-Proof Harness Combo
This is a sponsored placement, in which an advertiser pays a fee to be featured in this article. Learn more
The Harness Lead
A simple yet effective harness-and-leash combo option.
About: The Harness Lead is an escape-resistant, all-in-one leash and harness system, which is designed to keep your dog securely attached to you during walks. Because it will grow tighter as your dog pulls on it, it is a secure harness that will prevent most escapes. As a bonus, it'll also help reduce your dog's tendency to pull too.
Features:
Wraps around your dog's chest and shoulders, eliminating the risk of neck injury
3,700-pound tensile strength
Made in the USA with US-sourced materials
Comes in 2 sizes (small/medium and medium/large) and 8 colors
Pros
The harness helps to prevent pulling as well as escapes
It's very affordably priced for an escape-proof option
Since this is a harness and lead in one, it eliminates the need to have an actual leash
Cons
Some owners found putting the harness on to be difficult at first
Since the harness is part of the leash itself, your dog's size affects how long the lead is
11. Gooby Escape Free Sport Harness
Best Escape-Proof Harness for Small Dogs
This is a sponsored placement, in which an advertiser pays a fee to be featured in this article. Learn more
About: Most of the harnesses discussed above are designed with medium and large dogs in mind, but the Gooby Escape Free Sport Harness is available in sizes appropriate for little doggos. Featuring a low-profile design that should prevent backing-out behavior, this harness will let your four-footer can strut his stuff safely, even if he decides to test out the technology for himself.
Features:
Made with padded, waterproof neoprene straps
Features 4 points of adjustability for a proper fit
Machine washable for easy cleaning
Available in 3 sizes (small, medium, and large) and 6 colors
Pros
It's a really well-rated harness that seems to prevent most escapes
It's light, making it comfier for canines
This design may also help stop pulling
Available in sizes suitable for small dogs
Cons
Some owners experienced fit issues that made escaping easier
A few owners reported long-term durability issues
One Harness to Avoid for Escape Artist Dogs
As you can see, there's no shortage of escape-proof dog harnesses on the market. We think that most owners should be able to find a winner among the 11 options discussed above, but feel free to continue shopping until you stumble upon the perfect choice for your canine.
However, we would like to point out one particularly popular dog harness that isn't a great choice for escape-prone dogs: The PetSafe Easy Walk Harness.
Don't misunderstand — we love the Easy Walk Harness for a variety of applications (especially for owners seeking one of the best no-pull harnesses on the market).
But it isn't a good choice for escape artists.
Dogs who back out of harnesses tend to wiggle out of this one, and others manage to get their front legs out of the loop, leading to further Houndini headaches. The design doesn't give you much control either, and no handle is present for emergencies.
So, while the Easy Walk is great for pooches who aren't flight risks, it isn't a good choice for escape artists. It may send you searching for articles about catching a runaway dog.
Another Viable Alternative: The Martingale Collar
Martingale collars are somewhat similar to slip leads or chain collars, as they become tighter when tension is applied to the leash.
This means that when your dog faces you and starts trying to back out of his leash, the collar will tighten, thereby preventing him from escaping. And this means that martingale collars are a good harness-alternative for escape-prone doggos.
If this sounds like the type of approach you'd like to take, check out the PetSafe Martingale Collar. It is affordable, effective and durable, and most owners found that it worked well for their pup.
This is a sponsored placement, in which an advertiser pays a fee to be featured in this article. Learn more
PetSafe Martingale Collar
A good alternative to escape-proof harnesses, this collar safely and gently tightens when you apply tension to it.
Types of Dogs At High-Risk for Escape
Although all dogs probably have some harness-slipping skills, some seem to be more likely to escape than others. So, while you should always be sure to get a harness that will keep your dog safely contained, it is clearly an especially important consideration for some dogs.
Some of the dogs who necessitate escape-proof harnesses include:
Nervous Dogs
Nervous or flighty dogs are often among those who are most likely to try to slip free or chew their way out of their harness. Shelter dogs, for example, are often especially nervous and will try to escape from their harness – especially if they're not accustomed to having harnesses on.
Leash-Averse Dogs
Some dogs become agitated when attached to a leash. They immediately begin pulling and twisting in an effort to escape the ties that bind. Their efforts are often successful, which results in an unbound pet running around the neighborhood.
Destructive Chewers
Some dogs will chew on anything they can get their mouth on, including their harness. It is important to fit these types of dogs with a harness that is difficult for them to reach and constructed of durable materials.
Prior Offenders
Any dog that has escaped in the past is at high risk of doing so again in the future, so be extra careful with dogs who've already demonstrated the ability to slip a harness.
Dogs with Lanky Builds or Small Heads
Dogs come in a variety of shapes, but most harnesses are designed to fit a sort of generic dog body. This means that dogs of some shapes and sizes are more likely to slip free than others are. In practice, dogs with exceptionally flexible front limbs, lanky builds and small heads are often more likely to escape than short-limbed, blocky-headed dogs are.
In a nutshell, it means your skinny lab or border collie should be treated as a flight risk, but your English bulldog or basset hound probably isn't going anywhere.
How Do Dogs Escape from a Traditional Harness?
Dogs can escape from traditional harnesses in a few different ways, but two methods seem to be the most common:
Slipping their shoulders free. Dogs are pretty flexible creatures, and they can often impart enough leverage to "back out" of a traditional harness. This typically involves pulling backwards against the leash, while trying to slip their elbows through the straps.
Chewing through the straps. Some dogs don't feel the need to contort their bodies or dislocate their shoulders Martin-Riggs-style. Instead, they use their teeth and jaws to secure their freedom. The best way to prevent this from happening is by using a harness that is difficult for them to reach or made of chew-resistant materials.
Things to Look for in An Escape Proof Dog Harness
Anytime you buy a harness – especially one geared towards Houdini dogs, you'll want to look for a few key features to ensure you get a high-quality product. Among other things, this includes:
High-Quality Materials
Obviously, you don't want to purchase an escape-proof harness made from cheap, flimsy materials. Cheaper harnesses will be easier for your dog to chew apart and eventually bust out of. Instead, look for a harness made from leather, high-quality faux leather, nylon webbing, or some other strong, pliable, and durable material.
Secure Connectors
Manufacturers use a variety of different connector types in their designs, and it is important to select a harness that has connectors that are durable and secure.
You may sacrifice a little convenience by doing so, as some connectors make harnesses more difficult to put on or take off, but escape-prone dogs require a bit of extra security.
High-Visibility Features
You always want to ensure that your dog is as visible to motorists as possible, particularly when it is dark outside. This is really true for any harness – not just escape-proof ones!
Fortunately, many (if not most) leashes on the market feature things like reflective material in the stitching or patches, which help improve your dog's visibility.
On the off chance that you select a harness that does not feature these types of visibility enhancements, be sure to pick up a clip-on LED light to keep your pooch safe. Their cheap and easy to use, and they may save your dog's life.
Multiple-Attachment Points
It's actually possible to alter your dog's behavior by attaching his leash to his harness in different places. For example, by attaching the leash to the front of his chest, you can easily pull him to the side and throw off his balance a bit, which is often helpful in preventing pulling.
Conversely, if you attach a leash near your dog's back, he'll often start doing his best sled-dog impression. This can be helpful if you are walking up a hill and you want him to pull you for a little bit. Although it sounds mean, and you certainly don't want to over-burden your pup, this can actually be a great way to increase the intensity of your walks, which is sometimes necessary with super-high-energy dogs.
Attached Harness Handles
Many good harnesses come with a handle that gives you a little more extra control of your dog. This means you can help give your pooch a bit of help jumping in the car, or you can keep him really close when a cat darts out in front of you on the sidewalk.
Having a built-in handle also means you can grab your dog closer if you know his jailbreak skills are triggered by certain stimuli – like a squirrel who's picking a fight or another dog across the street.
Padding
Padding isn't always necessary, but it's usually included in the best dog harnesses since it tends to provide additional comfort and helps to prevent damage to your dog's skin or fur. Some harnesses are entirely padded, but others only feature chest padding, as this is where the bulk of the pressure will be applied.
Several Adjustment Points for a Good Fit
Part of the reason some dogs easily wiggle out of their harness or collar is due to the tool not being fitted correctly. Choosing a proper size will go a long way, but you'll still need to fine-tune the adjustable straps at various locations for an appropriate fit that's snug without being uncomfortable and allowing your dog to have full range of motion.
DIY Solutions and Dog Harness-Securing Tips
If you'd rather not purchase an escape-proof harness, you can still do a few things to help keep your dog securely attached to his leash during walks. The following two tricks are the most common approaches, and both are fairly cheap and easy to rig up.
The T-Shirt Trick
Some owners have found that they can prevent their dog from slipping out of a harness by making them wear a T-shirt over the harness. A small slit can be cut in the shirt to allow the leash to attach to the harness. This isn't a fool-proof method for securing your dog, but some owners have had success with this approach.
Use a Collar and a Harness
One great way to make your dog more secure is by using a collar and a harness during walks. This way, if your dog manages to slip out of the harness, he's still connected to you via the collar. Just use a carabiner to clip the harness to the collar, and then clip your dog's leash to the harness.
Some owners like to use a zip tie instead of a carabiner, but this should only be done with rather small dogs. A large or powerful dog could probably break a zip tie if he pulled hard enough.
Additionally, because you can't take a zip tie off, you'll have to cut through it after each walk and attach a new one the next time your pooch has to pee. Collars are also designed to have quick release snaps in case of an emergency. You're definitely inviting some potentially very dangerous situations by opting for a zip tie – which can't be removed quickly or easily in an unexpected circumstance.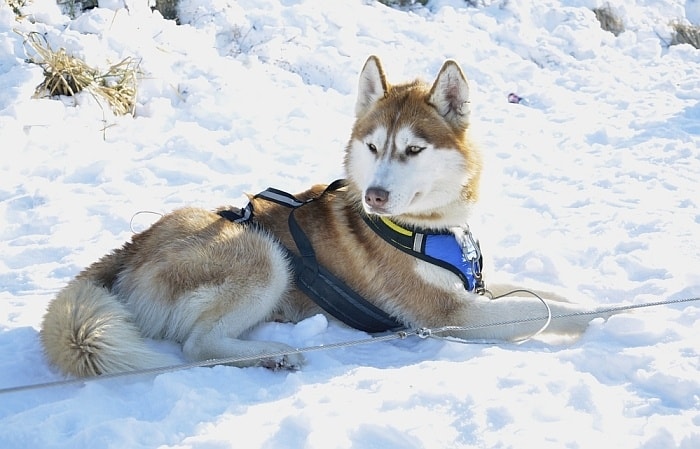 Ensuring a Proper Fit for Your Escape-Proof Dog Harness
Many dogs are able to escape from their harness because their owner failed to adjust or use it properly, rather than because of some design flaw. But it is pretty easy to make sure your dog's harness is fitted properly; just follow the steps detailed below:
1. Start by purchasing a harness of the proper size.
There aren't many things you can do to fix a harness that is too large or small for your pooch, so be sure to consult the manufacturer's sizing recommendations. Typically, you'll have better luck if you rely on linear measurements, rather than your dog's body weight, so break out the tape measure and get started – you'll need to measure the circumference of his chest and his lower neck.
2. Place the harness around your dog while he is standing, rather than sitting.
Your dog's rib cage will be a little thicker while he's sitting, and you want to make sure you adjust it to accommodate his chest at its smallest. Don't worry, he'll still be able to sit comfortably while wearing it – it'll just be a little snug when he does so.
3. Tighten all of the straps and loops until they are snug.
As a rule of thumb, you want the straps to be tight enough that you can just barely fit two fingers between the harness and your dog's body. This will ensure he remains comfortable, yet secure.
4. Always test the harness' fit and function before heading outside.
This is especially important when you purchase a new harness or make significant changes to the way the harness fits. Just put the harness on him and walk him around the living room for a bit to ensure he can't slip free before heading outside. It is also wise to verify that your dog can't slip his elbows or head through any of the straps.
Have you used any of the harnesses discussed above? Did they turn out to be as escape-proof as you'd hoped? Do you know of a super-secure escape-proof harness that we've missed? Tell us all about it in the comments!