Best Artificial Grass Indoor Litter Box
Best Indoor Litter Box Potty Pad Holder
Best Self-Cleaning Indoor Litter Box
Litter boxes are typically marketed for cats, but they can be very helpful for dogs too.
Dogs and cats go about their business in rather different ways, so litter boxes designed for dogs are often designed much differently than those made for cats. In fact, many "litter boxes" for dogs don't use litter at all.
Read on to learn about the different types of litter boxes and indoor dog potties that are available for your dog, as well as the characteristics that separate the best from the rest.
Different Types of Litter Boxes for Dogs
Manufacturers have devised several different solutions for the indoor-poop-and-pee problem. Each has different strengths and weaknesses and works better in some situations than others.
The basic types of litter boxes include the following:
1. Conventional Litter Boxes
The simplest and most familiar indoor-potty solution is the conventional litter box.
While litter boxes made for dogs are broadly similar to those made for cats, most feature dog-friendly details, such as higher sidewalls to keep the litter contained inside the box. They are also built without a "roof" like many cat litter boxes possess, to make your dog feel more comfortable.
Litter boxes can be filled with a variety of different materials, but recycled paper pellets are the most effective in the majority of cases. You will need to change out the litter very frequently to avoid unpleasant odors and to keep the litter box clean.
2. Pee Pad Holders
Dog pee pads are essentially large sheets of paper, fabric, or a combination thereof, which are designed to give your dog an acceptable place to poop and pee inside. Dog potty pads are frequently used during housebreaking, but they can also serve as a more permanent solution.
The problem with pee pads is that dogs frequently tear them and create a big mess – enter the pee pad holder. Constructed from a large plastic frame that holds a pad in place and keeps it taught, pee pad holders help make the pads last longer, and they prevent your furry friend from tearing them up.
3. Plastic Grates
Grate-style litter boxes are essentially low-profile plastic boxes with a plastic grate on top. When nature calls, your pup crawls onto the grate and gets down to business. The grate surface collects solids, which can be removed and discarded, but it allows liquids to drain through the grate, where an absorbent material soaks it up.
Because grate-style litter pans allow the liquids to pass into the interior of the device, they keep your pup's paws from getting wet or messy while doing the deed. Different models rely on different types of absorbent materials, but many simply use pee pads to soak up the released fluids.
4. Real Grass
Most dogs love to poop and pee on the grass, so a few manufacturers have developed litter box concepts that rely on real, live grass. Usually consisting of little more than a swatch of grass (some versions also feature a base under the grass) these indoor potties are designed to be used until the grass dies or they wear out – usually a week or two or three.
While these grass patches are very similar to a piece of sod like you may purchase at a home improvement store, most feature an important distinction: These grass swatches are grown hydroponically, meaning that they do not use soil. This helps reduce the amount of mess that would surely occur if you just used a piece of sod intended for your lawn.
5. Synthetic Grass
Real grass is a great option for many owners, but it requires frequent replacement, so some manufacturers produce synthetic grass mats for use as indoor potties.
These patches of artificial grass for dogs won't die from a lack of sunlight like real grass patches will, and they can be washed and reused for an extended period of time (typically months or years).
However, while synthetic grass is more convenient for some owners, and it is certainly cheaper than using real grass (which requires periodic replacement), it doesn't appeal to all dogs. Additionally, some dogs seem inclined to chew on the fake grass blades, which may present safety concerns.
6. Bark-Filled Potty Pads
Like real grass pads, bark dog potties are made of natural material: tree bark! Each bark pad last about a month, depending on how often it's used and your dog's size. They offer a bit more odor-blocking power than real grass pads and make removing solid waste easier.
While bark potty pads are more eco-friendly than constantly tossing single-use options, not every dog likes using them. They don't really mimic the look and feel of grass, and they may entice chewing with chomp-happy hounds.
Pupper Potty Preferences!
It's worth noting that pups may have potty preferences, too. While you'll most likely need to train your dog to use any of these options, some pups may prefer one style over the other, so it's possible you'll have to try out multiple before finding the ideal indoor potty for your pooch.
The Best Dog Litter Boxes for Canine Relief
Below, we've compiled some of the best indoor potty options, representing each of the different styles in widespread use. No matter which style you prefer, your search should start with one of the products we recommend below.
1. PuppyGoHere Dog Litter Pan
About: The PuppyGoHere Litter Pan is very similar to traditional litter pans, but it is designed specifically for dogs, rather than cats. It features high sides to keep the mess contained inside, but it allows your dog easy access, via the "door" cut into the front of the pan.
Best Conventional Dog Litter Box
Features:
Made of easy-to-clean polypropylene
Available in 6 different colors: Harbor Blue, Black, Green, Sand, Recycled Black, and Recycled Gray
Can be used with the litter or pee pad of your choice
Made in the USA with 100% recycled plastic
Size Options:
Small (20″ L x 15″ W x 5″ H)
Large (24″ L x 20″ W x 5″ H)
X-Large (28″ L x 22″ W x 9″ H)
Pros
Many owners report that dogs learn to use the pan quickly
Made with a lightweight, easy-to-clean material
High sides keep messes contained
Cons
Some dogs seemed intimidated by the pan's side walls
Pricing is high compared to budget-priced litter pans
2. Van Ness Cat Pan
About: The Van Ness Cat Pan may be intended for cats, but it works just as well for your small breed dog, plus it's pretty cheap. It can be filled with the litter of your choice or lined with a pee pad.
Most Affordable Dog Litter Box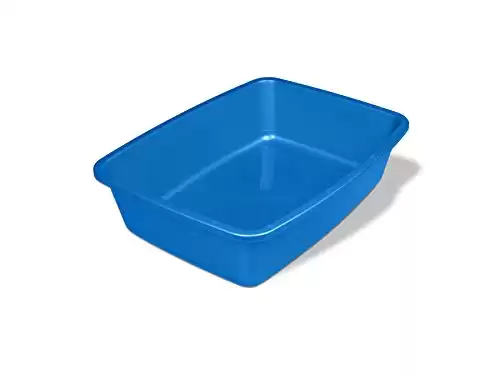 Features:
Polypropylene material rinses clean with ease
Solid shell design allows for leak-free use
Polished finish is stain and odor resistant
Made in the USA
Size Options:
X-Small (14.38″ L x 10.75″ W x 4″ H)
Medium (16″ L x 14″ W x 4″ H)
Giant (22″ L x 17″ W x 6.5″ H)
Pros
A super affordable indoor potty solution
Material rinses easily, allowing for fuss-free cleaning
High sides prevent spilling and splashing
Cons
Too small for dogs larger than toy breeds
Higher sides can be hard for some dogs to scale
Need Litter for Your Dog's Litter Box?
There are scads and scads of litters on the market, which can make the selection process a bit daunting for owners. But we'll make it easy for you: Just go with Arm & Hammer Clump & Seal Platinum. Featuring a clay composition, this clumping litter is designed to combat odors, leaving your house smelling fresh.
3. Bark Potty
About: Bark Potty uses real tree bark as a natural, reusable bathroom solution. Each pad also comes with built-in compostable poo bags for easy and eco-friendly cleanup.
Best Bark-Filled Dog Litter Box
Features:
Each box or bark can replace as many as 60 traditional dog pee pads
Built-in netting prevents pups from tracking mulch everywhere
Real bark offers a natural defense against odors
Made in the USA
Size Options:
Standard (24″ L x 16″ W)
Large (30″ L x 20″ W)
Pros
Offers an eco-friendly solution to potty woes
Can be purchased directly with a cost-saving subscription or purchased individually via Amazon
Netting protects the bark from curious chompers and digging
Cons
Some finicky dogs refuse to use the pad
Some owners were disappointed that the bark didn't help cover odors better
4. IRIS Dog Pet Pad Holder
About: The IRIS Pet Pad Holder is designed to hold a pee pad securely with its double latch closure. The manufacturer recommends using this holder with IRIS Neat n' Dry Pet Training Pads, but you could probably use any pee pads, as long as they are similar in size.
Best Pee-Pad-Holding Dog Litter Box
Features:
Non-skid feet help keep the pad holder from sliding around your floor
High-polish finish is easy to clean
Available in Blue, Dark Gray, and Navy
Made in the USA
Size Options:
17″ L x 17″ W
23.5″ L x 17.5″ W
23″ L x 22″ W
35.5″ L x 23.5″ W
Pros
Many owners report the latching mechanism keeps pads in place as promised
Non-slip base keeps the holder in place
Enclosed design prevents pee pad from leaking on the floor
Cons
Like most other indoor potty systems, a number of dogs were disinclined to use the IRIS Pet Pad Holder
Some dogs treat the holder like a chew toy rather than a place to go to the bathroom
Pee Pads for Your Pup
If you decide that a pee pad holder is the best indoor dog litterbox option for your pet, you'll have two basic options:
Disposable Pee Pads: These are super convenient to use — simply roll 'em up and discard them after they've been used once or twice.  If you go this route, we like Amazon Basics Disposable Pee Pads. They're well made, super affordable, and come in a litany of sizes.
Washable/Reusable Pee Pads: A more eco-friendly option, reusable pee pads are typically made from layered cotton or polyester, and they are typically available in a variety of cute colors and prints. When soiled, you'll simply discard any solid waste and toss the pad in your washing machine. If you think reusable pee pads are right for your pet, we're partial to rocket & rex Washable Pee Pads.
5. Fresh Patch Real Grass Dog Pee Pad
About: Fresh Patch Real Grass Pee Pads give your dog a chance to tinkle on live grass and eliminate the need to clean the pad entirely: Simply discard the cardboard container and grass when you are ready to replace it. Natural grass often proves to be an effective option for dogs who have not liked other indoor options.
Best Live Grass Litter Box
Features:
Urine and odors are absorbed by the grass and root system
Completely soil-free to help keep your home clean
50% lighter than typical grass
Made in the USA with locally grown grass
Size Options:
Mini (16″ L x 12″ W)
Standard (24″ L x 20″ W)
Large (24″ L x 24″ W)
Pros
Most dogs appear happy to use real grass as a poop and pee spot
Eco-friendly nature is a selling point for some pet parents
Owners note that the grass stays lush ad green longer than expected
Cons
Some pups would rather tear at or eat the grass instead of potty
Several owners complained about the cost of the product (including the shipping – which often equals the cost of the grass)
A Head to Head Comparison: Fresh Patch vs Doggielawn!
6. PETMAKER Artificial Grass Pad for Dogs
About: PETMAKER's Artificial Grass Pad for Dogs is a multi-layer pottying system consisting of an artificial grass mat, an inner grid for draining liquids, and a leak-free base for holding urine far from your pup's paws. Just clean it as needed with soap and water to keep things fresh.
Best artificial grass option
Features:
Synthetic plastic construction
Can be used indoors or outdoors
Offered in 3- and 4-layer system options
Made in China
Size Options:
Small (16″ L x 20″ W)
Medium (25″ L x 20″ W)
Large (30″ L x 20″ W)
Pros
Reusable design is cost-effective
Solid waste pickup is a breeze thanks to the low-profile grass blades
Many dogs take to piddling on the fake grass faster than pottying on a traditional pee pad
Cons
Some dogs would rather chew the fake grass than do their business
Cleanup can be tedious, especially if you live in an apartment without access to an outdoor hose
7. Ten Second Disposable Litter Boxes
About: Give your furry friend a temporary potty area with Ten Second Disposable Litter Boxes. Made from recycleable cardboard, these convenient litter boxes fold flat for storage yet only take 10 seconds to assemble when you're ready to use them. Best of all, they fold up in convenient form when it's time to discard them.
Best Disposable Dog Litter Box
Features:
Sold in packs of 4
Can be filled with litter or lined with a pee pad or newspaper
Specially coated to repel liquids
Allows for touch-free disposal
Size Options:
Single size measures 17.5″ x 12.5″ x 25.5″
Pros
Excellent for temporary situations, such as letting your pup piddle during a storm
Easy to dispose of the boxes
Folds up conveniently when it's time for disposal
Cons
Not really capable of being cleaned or reused for more than a few uses
Technically designed for cats and too small for most doggos
8. Richell Paw Trax Mesh Training Tray
About: Protect your floors from leaks with the Richell Paw Trax Mesh Training Tray, a grated tray that holds pee pads in its center, far from chew-happy dogs. Just slip your chosen pee pad inside, snap the topper in place, and let your pup do his business on his new indoor dog potty.
Features:
Tool-free assembly
Solid plastic base shields flooring from leaks
Disposable pee pads are sold separately
Available in Brown, Green, and Pink
Size Options:
Single size measures 25.2″ L x 18.9″ W
Pros
Ease of use and quality were a hit with pet parents
Great for older dogs who may slip on disposable pads alone
Plastic base prevents pad peaks from reaching your floor
Cons
Some dogs dislike the grated texture and refuse to use the pad
Cleaning poop from the grates isn't always easy
9. BrilliantPad Self-Cleaning Automatic Indoor Dog Potty
About: Technology does most of the gross work with the BrilliantPad Self-Cleaning Automatic Indoor Dog Potty, a device that features a long strip of layered puppy pad material across a plastic platform. The machine rolls up the soiled area, trapping liquids and odors inside. All you need to do is discard the used roll and insert a fresh one as needed.
Best self-cleaning option
Features:
Can be programmed to automatically replace the pet waste pad up to 3 times a day or to produce a fresh pad on demand
Suitable for dogs and puppies weighing less than 25 pounds
Each roll is equivalent to approximately 21 puppy pads
Sensor ensures the puppy pad won't be replaced while your dog is on the platform
Size Options:
Single size measures 34″ L x 24″ W
Pros
Self-cleaning nature makes cleanup easier, plus it gives your dog a fresh pad as needed
Eco-friendly potty pads are compostable
Small size works great in apartments
Cons
Make no bones about it: This device is expensive
Not every dog is willing to potty on the platform
Don't Make a Mistake: Two Litter Boxes or Indoor Dog Potties to Avoid
While there are plenty of suitable indoor potty options for your furry friend, there are a couple of sub-par picks you'll want to avoid. Here are two indoor litter box setups you'll want to skip considering in your search:
1. Litter Boxes That Aren't Built To Last
Some litter boxes simply aren't built for regular use by our darling dogs. For example, this litter box from Lovhop doesn't provide your pooch with easy access to the bathroom. It's also reportedly too small for some cats, so it's highly unlikely that this will be generous enough for your precious pooch.
2. Photoshopped Indoor Potty Systems
This Omeuamigo potty tray may seem like a good option at first glance until you realize that the featured pictures are photoshopped. If the manufacturer couldn't be bothered to even take a photo of a dog with their product, how likely do you think it is that they invested the time and money to produce a high-quality product?
Additionally, this product has very few reviews, and the ones that do exist are fairly negative.
What Do You Use in a Dog's Litter Box?
Some dog litter boxes come with a material inside for absorbing liquids while others require you to select the filler of your choice. If your chosen style falls into the latter category, you'll essentially have your choice of the following fillers:
Disposable Pee Pads: Perhaps the most common option among pooch parents, disposable pee pads are affordable and convenient, but they aren't especially eco-friendly and some dogs tear them up.
Reusable/Washable Pee Pads: If you like the idea of a single-piece litter box insert but want an eco-friendlier solution than disposable pee pads, a set of reusable pee pads may be the trick. They'll also save you money over the long run.
Litter: The traditional choice of cat owners, regular litter can also be used with doggos. You can sift litter, making it easy to clean, but dogs will often end up tracking it around the house. And some puppers may even be inclined to chew or eat it.
Newspaper: Newspaper isn't very attractive (though your dog is going to make a mess out of whatever you use anyway), and it won't last very long. But it's basically a very cheap free option that some owners prefer.
Real Grass: Though this is typically only workable for owners who're using complete real grass potty systems, you could theoretically toss a piece of sod in a traditional litter box. But honestly, you probably won't save enough money to make it worthwhile. We really only include it to be thorough.
Artificial Grass: As with the real stuff, artificial grass will really only work well with a litter box that's designed to contain artificial turf. But you could probably rig up something that'd work.
Bark: Unlike some other "natural-looking" options, bark is pretty likely to work well for some pups and their owners. Just be sure that you choose a bark or mulch that's safe for dogs.
Things to Think About When Picking a Dog Litter Box or Indoor Potty
Before picking out a dog potty, you'll want to take a couple of factors into account to find the perfect pick for your pooch.
Consider the size of your dog. Not all dog potties are big enough to accommodate large dogs, so you'll want to pay special attention to the size of your selection if you have a big best buddy.
Choose between disposable vs reusable options. Disposable potty solutions may be cheaper upfront, but it may be more cost effective to invest in a reusable potty solution if you aren't dealing with a temporary situation. It's worth noting that some "reusable options" (i.e. trays or litter boxes) may still need disposable litter or pad to absorb accidents.
Think about how you will clean the litter box. Ideally, you'll have an outdoor hose close by, but if not, you'll probably have to use your bathtub or perhaps a utility sink (never use a kitchen or bathroom sink). If you don't have a handy dog-litterbox-washing solution you may want to opt for something disposable.
Figure out your budget. You definitely don't need to spend a fortune on a dog litter box — twenty bucks will get you going in most cases. However, if you do have some disposable income to throw at the problem, you can consider fancy options, such as self-cleaning models.
When Does a Dog Litter Box Make Sense?
Indoor potties and litter boxes aren't a good solution for all dogs and owners, but they definitely have their place for some people and pets.
Some of the most common situations in which they may help include:
Owners with mobility issues. If you have trouble getting around very well, you'll surely appreciate the convenience indoor potties provide. While a litter box or patch of grass won't completely eliminate your dog's need to go outside, it will certainly reduce his need to do so as often, which will make your life easier.
Dogs with bladder-control issues. Some dogs simply have more trouble holding it than others – particularly small breeds with tiny bladders. While belly bands may provide some help with this issue for male dogs, an indoor bathroom facility will often be more convenient to use.
Owners living in high-rise apartments. More and more apartments are accepting dogs as tenants, but just because your dog is welcomed by the management doesn't mean it is easy or convenient to walk down (and back up) several flights of stairs with your pooch three to five times a day. Even if you have an elevator, bathroom trips are still quite an ordeal. An indoor potty helps to reduce the number of trips you'll need to take each day.
Young puppies going through the house-breaking process. Pee pads and other types of indoor bathrooms have been used to aid in the training process for decades, and there's a good reason why: They work. Not only do they help teach your dog that there are right and wrong places to relieve themselves, they also help contain the inevitable messes that accompany the process.
Owners who live in areas with inclement weather. If you live in an area with long, cold winters or sweltering summers, you may find a litter box or some other type of indoor potty to be very helpful. This is especially true for those living in snow-covered areas, as they'll eliminate the need to put your dog's booties on (not to mention your own winter garb) three or four times a day.
Owners who are away from the home for long periods of time. While it is never ideal to leave your dog alone for lengthy periods of time, it is sometimes unavoidable. Indoor potty spots help keep your dog from having to sit cross-legged all day long, waiting for you to get home.
Dogs who are recovering from illness or injury. If your dog has been battling illness or recovering from an injury, your vet may recommend keeping him as calm, quiet and still as possible. By utilizing an indoor bathroom of some type, you can reduce the number of trips your dog needs to take outdoors.
Dogs who are afraid of the outdoors. If your is dog scared of going outside, you may want to try an indoor potty while trying to build his confidence.
It is also worth mentioning that most litter-box-style products work better with smaller dogs than larger dogs.
Larger dogs not only produce a lot more poop and pee than small dogs do, they often require more of a "runway" to trigger their elimination instinct. Nevertheless, many owners of dogs in the 40- to 60-pound range find indoor bathrooms effective.
It's Never a Bad Idea to Have a Backup Potty Option!
Having a backup potty option can provide you with valuable peace of mind and is worth considering if you have the space. In the event that your dog does need to go inside, at least it will be in a contained space.
Do Litter Boxes Work for Poop, Pee, or Both?
Most litter boxes and indoor bathrooms are appropriate for #1 or #2, although some handle poop better than others. You'll simply need to remove the solid material, discard it and then clean the potty spot in the appropriate manner.
Keep in mind that litter boxes are not designed to completely eliminate trips outside – they are designed to reduce the number of trips you must take. Accordingly, most owners still take their dog out to poop once or twice a day, and primarily use the litter box as a place to tinkle.
Sanitation & Hygiene: The Importance of Keeping Your Dog's Indoor Potty Clean
Keeping your dog's potty spot won't just keep things clean, it will also keep your furry friend safe. Unfortunately, dog urine can contain leptospirosis bacteria which is zoonotic, meaning it could be passed on to people and other species.
Dog feces can also contain giardia or other parasites, so you'll certainly want to clean your dog's indoor potty as soon as you've noticed a new addition. Here's how you can properly clean your pup's potty:
Wear protection. To start, it's a good idea to wear gloves to protect yourself while cleaning your dog's potty spot. Make sure your pooch is safe and secure so that you can focus your attention on thoroughly addressing the mess.
Remove as much waste as possible. Once you're protected, you can use poop bags and paper towels to help pick up and discard the waste. Be sure to check out some of these dog poop disposal ideas before you settle on a solution. Immediately cleaning up doo-doo is doubly essential if your dog has a bad habit of eating dog poop — yikes!
Rinse down the potty with hot water. Rinse or wipe out any residue using hot water. If you're using a reusable pee pad, at this point, it can be machine washed, though you might want to give it its own load.
Make sure you get rid of disposable potties as needed. If you're using a disposable potty, make sure to replace it per the manufacturer's recommendations.
Puddle Spread to your floor?
If your dog's urine somehow escapes the confines of his indoor potty, you'll want to be sure to clean the area thoroughly. Not only is this important for hygiene's sake, but it will also help prevent odors from triggering your pup to tinkle outside the potty.
You'll want to use an enzymatic or oxidizing carpet cleaner in these cases to avoid long-term problems. 
Teaching Your Dog to Use an Indoor Potty
It's important to note that oftentimes, you'll still need to teach your dog how to use an indoor potty before he'll use it reliably. Here are some strategies that might make it easier for Fido to go inside.
Bring the outside in. Is there a particular plant that your dog likes to "go" on while outside? If possible, it may be helpful to bring this plant inside and place it on top of the indoor potty. It could be enough of a cue for your furry friend.
Place the potty near the door. If your pooch is used to going outside, placing the indoor potty near the door may make for an easier transition for Fido. You can also try bringing the indoor potty outside, have your dog go on the potty outside, and then move the potty inside.
Take your pooch on a "walk". A potty trained pooch may not understand that he can go on the indoor dog potty. You could try leashing up your pooch and taking him on a walk around your home, only to stop for sniffing by the dog potty.
Praise your pooch! Whenever you do catch your dog using the indoor dog potty, be sure to reward with lots of praise and treats. There's nothing like the power of positive association!
Try another texture. Some dogs may naturally take to one potty type over another. You may have to tinker with different potty styles before landing on the ideal solution for your furry friend.
Where Should You Keep a Litter Box or Indoor Dog Potty?
You'll want to keep your dog's indoor potty in a place that's easy for him to access. It should also be in an area that's easy to clean, just incase of accidental spillage.
Typically a bathroom in the main portion of your house is the best option.
If you have a puppy, it may be useful to keep your dog's potty enclosed in his playpen. It's also likely to retain some odor, so you probably don't want your dog's potty anywhere near the dinner table.
Also, just as an additional reminder: Don't wash your dog's litterbox in a kitchen or bathroom sink. Doing so will undoubtedly spread doo-doo germs around places you don't want them (like your toothbrush).
FAQ: Dog Litter Boxes
Litter training a dog isn't as widely known as teaching a cat, so you may still have some questions and that's okay. Let's see what burning dog litter box questions we can answer.
What kind of litter is best for dogs?
The best kind of litter is one that your dog uses readily and doesn't eat or shred. Some pet parents have success with paper pellets, while others prefer clay litter or dog-safe wood shavings. Try out small batches of litter to see what works best for your dog.
Is litter box training a dog a good idea?
Litter training your dog is helpful if you often work long hours or if your dog struggles to hold his bladder. It's also a good idea if you live in an area that experiences extreme weather, such as frequent rain, high heat, accumulating snow, or bitter cold. An indoor pottying area like a litter box offers your pup a place to safely and comfortably do his business without ruining your floors or furniture.
Is there a dog version of a litter box?
Yes, there are several dog litter boxes available, ranging from the standard bins you may envision for a cat to those that are more pad-like in design. Each has its own list of pros and cons to consider. The most important aspect is to choose a dog litter box that works for your pup to ensure he actually uses it.
Can dogs learn to use a litter box?
Yes, dogs can learn to use a litter box like a cat. Using a poop-training spray can stir your dog's initial interest in the box. Much like housetraining, you must take your dog to the litter box as potty time consistently first thing in the morning, after eating/drinking, before and after play, and before bed. When he potties in the litter box, offer praise. Lather, rinse, and repeat until he happily trots over on his own to do his business every time.
***
Have you ever used an indoor bathroom for your pooch? How did it work for you? Was your dog comfortable using it, or did he fail to understand the point?
We'd love to hear your experiences in the comments below.
Oh, and if you're wondering what to do with your dog's poop, we have a variety of dog poop disposal ideas you can consider – and yes, flushing is an option too!