Is your favorite furry friend's birthday coming up? If you're looking for a way to spoil Spot, why not craft up a doggone delicious pup-friendly cake?
Even if you don't have a specific celebration in mind, a dog-friendly cake can be a perfect occasional treat to show your pooch just how much they mean to you.
Below, we'll share what you should and shouldn't put in a dog cake along with some of our favorite DIY recipes!
What Kind of Homemade Cake Can Dogs Eat?
Unfortunately, your pup can't share your favorite sheet cake from the local baker.
When it comes to crafting cakes for canines, not all ingredients are on the table. Before finding a great recipe to whip up for your doggo, it's important to understand which ingredients our dogs can and cannot consume safely.
Generally, dog-safe cakes have a base of whole grain or grain-free flour mixed in with fresh fruits or vegetables. Most of the cakes are covered in a pup approved "frosting" like peanut butter, though they're still perfectly delicious to your dog on their own.
Dog-Friendly Cake Ingredients
Here are some doggo-friendly ingredients you can use to make Fido's cake.
Whole-Grain Flours — Flours made of wheat, oats, or barley will serve as a safe, tasty, and nutritious base for your canine cake. Enriched (processed) varieties are acceptable in a pinch, but they won't provide as much fiber as their less-processed counterparts.
Non-Grain Flours — If your dog has a grain sensitivity, you'll definitely want to stick with flours without grain like coconut, almond, potato, lentil, or chickpea.  
Carob – Carob is a dark pod legume that, when ground up, has a texture and appearance very similar to chocolate. It's completely safe for dogs, and some owners love to use it on their dog's treats, largely for that tasty treat look! Carob looks great in DIY dog cookie recipes too!
Seed-Free, Finely Diced or Sliced Apples or Pears — Neither of these fruits are exactly nutritional powerhouses, but they're tasty, sweet, and safe for your floof. Just be sure to remove any seeds, cores, and stems, as they contain toxins.
Many Berries — Bowow! Blueberries, blackberries, strawberries, and raspberries are all safe, antioxidant-rich morsels of goodness that most dogs love.
Diced or Shredded Carrots — Carrots are a nutritious, delicious, and contain a bit of fiber, so they're always good to include in dog-friendly cakes.
Peas — Look, you may recoil at the notion of peas in your cake, but Fido will love 'em. Besides, you can't very well include carrots without peas.
Chopped or Finely Sliced Potatoes — Admittedly, potatoes aren't commonly incorporated in human cakes, but your dog will find them to be a delicious and safe addition.
Chopped or Finely Sliced Pumpkin — Not all dogs are fond of pumpkin, but it is a great addition to the diets of those who like it. Pumpkin is not only nutritious, but it can help keep your dog's digestive tract working properly.
Dog-Friendly Frosting Ingredients
You can't make a cake without frosting! But it's important to use dog-safe ingredients when frosting your canine's cake. Any of the ones listed below will work fabulously!
Plain Yogurt (No Sugar Added) — Yogurt is a tasty, dog-safe ingredient that can make a good frosting base. Additionally, yogurt is full of beneficial bacteria (probiotics), that'll help keep your canine's colon healthy.
Pumpkin Puree — Pumpkin puree (not pumpkin pie filling) is a nutritious ingredient that'll make a tasty, high-fiber frosting for Fido.
Unsweetened Applesauce — Sweet, spreadable, and safe for your pooch, applesauce works quite well as a canine-cake frosting.
Bananas or Plantains — These fiber-rich fruits make great toppers for DIY dog cakes, just be sure to slice them in bite-sized pieces.
Sweet Potato Puree — Sweet potatoes are safe for dogs, packed with nutrition, and most dogs seem to like the way they taste, so consider using some pureed sweet potatoes to top your pupper's cake.
Mashed Potatoes — While softened potatoes are totally safe for dogs, you won't want to feed your dog the mashed potatoes from the Thanksgiving table. Dogs have trouble digesting rich ingredients like big quantities of butter, gravy, and sour cream.
Peanut Butter — Make sure are selecting a dog-safe peanut butter that does not contain xylitol. Xylitol is an artificial sweetener that is toxic to dogs. Try to look for peanut butter that contains just peanuts or a simple ingredient list, preferably without added salt.
Small Quantities of Honey — Honey can make quite a sticky mess, but it is a safe, naturally sweet ingredient that'll leave your dog smackin' his lips long after he polishes off the cake.
Ingredients To Avoid in Homemade Dog Cakes
Here are some common ingredients that you'll want to avoid giving to your pooch, whether you're making canine cake pops, cupcakes, or a classic cake. These ingredients can be toxic in a cake or on their own, so keep them well out of Fido's reach.
All-Purpose Flour — White, all-purpose flour is safe, but low in fiber — if you're going to go to the trouble of making a cake for your dog, you may as well use the healthiest ingredients possible. So, opt for a grain-free or whole-grain flour instead when baking your dog's cake.
Avocados — Avocados contain a compound known as persin, which is toxic to dogs. While small amounts of avocado oil or flesh may be safe for some dogs (they're even incorporated into some dog foods), it's better to just err on the side of caution and skip them when making canine cakes.
Cherries –– Technically, cherries are safe, but the pits must be removed.
Chocolate — Infamously toxic to dogs!
Grapes or raisins — Grapes and raisins (as well as their derivatives, such as grape juice) are toxic to dogs.
Walnuts and Macadamia Nuts — Many nuts (including peanuts and almonds, among others) are safe for dogs, but these two are both dangerous for floofs.
Anything with Caffeine — Caffeine causes a much stronger reaction in dogs than it does people, and moderate amounts may prove fatal for small doggos.
Alcohol — Dogs can't process alcohol like people can, so skip the rum when making a cake for your canine. And even if it were safe, getting a doggo drunk would just be a bad idea.
Citrus Fruits — Citrus fruits aren't exactly toxic for dogs, and some may enjoy the occasional orange slice. But citrus fruits can be too acidic for dogs in large quantities, so just skip them when making cakes.
Onions and Garlic — Most plants in the genus Allium can cause damage to your dog's red blood cells. Leeks, shallots, chives, and scallions are also members of this group and similarly dangerous.
Xylitol — Xylitol is an artificial sweetener that's extremely toxic to dogs.
Excess Salt — While a small amount of salt is necessary for life, too much can make your doggo sick, so go easy there, chef.
12 Delicious Dog Cake Recipes
Here are some of our favorite cake recipes to spoil Spot with!
If you don't feel like cooking it all up on your own, be sure to have a look at our best dog cake mixes which you can buy and whip up in a snap!
1. Easy Homemade Dog Cake
This Easy Homemade Dog Cake recipe by Crazy For Crust can be whipped up in just half an hour. The peanut butter cake is topped with unsweetened whipped cream, giving the cake a super festive look.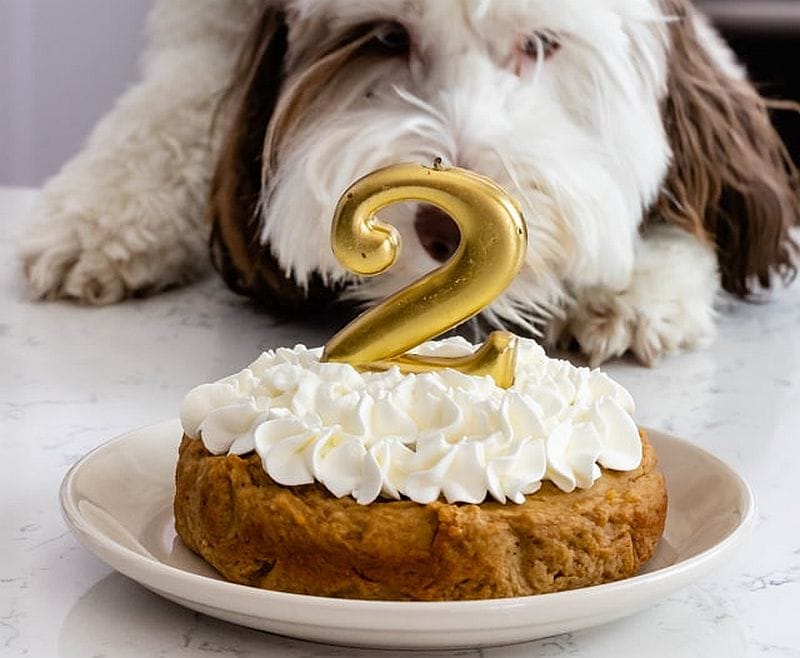 To make this cake, you'll simply mix peanut butter, unsweetened applesauce, and your whole grain or grain-free flour base and pop the mixture into the oven.
Finally, coat the cake with homemade, unsweetened whipped cream. You can even put the cream in a piping bag for some added flair, though your pooch will likely love the cake regardless.
This cake can be stored in the fridge for up to 3 days which can be helpful if you want to break up Fido's treat consumption.
Ingredients:
Grain-free or whole grain flour
Baking soda
Baking powder
Eggs
Peanut butter
Coconut oil
Unsweetened applesauce
Honey
Heavy whipping cream
2. Dog Birthday Cake
Is Buddy ready for his birthday bash? Check out this dog birthday cake recipe from Broma Bakery. This pumpkin and peanut butter-based cake is sure to be a total pup pleaser.
To craft this birthday cake, you'll mix pumpkin puree, peanut butter, and your cake base and bake it at 350 degrees Fahrenheit. The cake is then topped with a mixture of peanut butter and plain greek yogurt. Since the frosting is somewhat runny, you probably won't be able to pipe it, but it will still look darling on your pupcake.
This cake can also be modified to create a two-layer cake for the ultimate doggie delight.
Ingredients:
Vegetable oil
Pumpkin puree
Peanut butter
Eggs
Grain-free or whole grain flour
Baking Soda
Plain Greek yogurt
3. Best Dog Cake For Pups With Stomach Sensitivities: Grain-Free Dog Cake
If your doggo has a sensitive stomach, this grain-free dog cake from Cotter Crunch is the perfect way to praise your pooch. This cake is made with chickpea flour and mashed strawberries for a naturally slightly sweet treat for your favorite pooch. It's also made without peanut butter, so it's great for pups who don't fare well with peanuts.
This cake is made by mixing the chickpea flour base with fresh strawberries. The cake is made without eggs and is topped greek yogurt or coconut cream.
You can top the cake with sliced strawberries or serve it plain. Either way, your doggo will be happy to devour this tummy-friendly cake.
Ingredients:
Chickpea flour
Cinnamon
Baking powder
Baking soda
Coconut or olive oil
Lemon juice
Mashed strawberries
Honey (optional)
Milk
Plain Greek yogurt or unsweetened coconut cream
4. Frozen Dog Cake
Do you have a cool canine? If so, this frozen dog cake from Lola the Pitty is a great choice. This recipe takes about 5 minutes of total "cooking" time and is a simple blend of banana, peanut butter, and plain yogurt.
To make these frozen cakes, simply combine all ingredients in a blender and pour the mixture into muffin tins. Freeze the mixture until the cakes are fully formed, and voila! You've created a delicious treat for your pooch.
These cakes are relatively small making them perfect picks for smaller dogs. They can also be stacked on top of each other for a more decadent treat for your pupper.
Ingredients:
Peanut butter
Plain yogurt
Banana
Unsweetened almond milk or water
5. Coconut Honey Dog Mini-Cake
Have a pint-sized pooch on your hands? This mini dog cake from Brown-Eyed Baker is one of the best picks for small dogs. This cake is made with just a handful of ingredients and has a sweet honey base.
To make this cake, a coconut oil and flour base is mixed with some honey and is baked in standard ramekins for about 20 minutes. The cake is then topped with plain yogurt making it an absolutely delicious dessert for your dog.
Your dog will love this tiny cake and you'll be able to whip it up in no time at all. The cake itself is only made with four ingredients.
Ingredients:
Coconut oil
Honey
Almond flour
Yogurt
Eggs
6. No-Bake Doggie Cake
If you don't have access to an oven or want to whip up something quick, check out this no-bake doggie cake from Created By Diane. This cake is made with a kibble base, pumpkin, and peanut butter.
To make this cake, put your dog's kibble of choice into the food processor along with pumpkin puree, and peanut butter. The mixture is then formed into a cake-like structure. While the original recipe calls for a sugar-water based frosting, you can always swap it out with peanut butter or plain yogurt for a healthier option for your pup.
The cake mixtures can also be formed into cake-ball like treats for a pup pop your pooch can enjoy every once in a while.
Ingredients:
Any dry dog food
Peanut butter
Pumpkin puree
Dog-safe topping of your choice
7. For The Pumpkin-Loving Pooch
This dog recipe with pumpkin from If You Give A Blonde A Kitchen is great for pleasing your pup. The recipe is centered around pumpkin, peanut butter, and applesauce for a great tasting cake your dog will love.
The cake is made by mixing the flour pumpkin, applesauce, and pumpkin mixture and popping into the oven for about half an hour. Once cooled, the cake is covered with yogurt, honey, and peanut butter mixture.
Though this cake may take a little bit of extra time than some of the other options, it's great for spoiling your pooch. Don't forget to top the cake with your dog's favorite treats for an extra special treat your dog will adore.
Ingredients:
Wheat or oat flour
Baking soda
Baking powder
Salt
Cinnamon (optional)
Pumpkin puree
Unsweetened applesauce
Peanut butter
Eggs
Honey
Greek yogurt
Dog biscuits or treats (optional)
8. Dog Carrot Cake Recipe
Who doesn't love carrot cake? This dog carrot cake recipe from Recipe Tin Eats is complete with a fluffy potato frosting that you pipe for a truly decorative doggie cake.
This dog cake is essentially made in the same way as traditional carrot cake, just without the cream cheese frosting or added sugar. You'll mix the peanut butter and carrot base with the flour mixture and bake the cake for about 30 minutes. The cake is then covered with potato icing and ready to be served.
This multi-layer cake is well-suited for larger breeds and will make any dog birthday a truly special celebration.
Ingredients:
Eggs
Peanut butter
Vegetable oil
Water or milk
Honey
Shredded carrot
Whole wheat flour
Baking soda
Potatoes
Plain yogurt
9. Grain-Free Peanut Butter Apple Doggy Cake
Is your pup a big peanut fan? Consider making this peanut butter doggy cake from Spoonful Of Sugarfree. This is another great gain-free dog cake option that's packed with delicious peanut butter.
The doggy cake is made by baking a mix of 4 simple ingredients in either a muffin tin or a ramekin. Once your mini dog cake is baked, you can serve it as is, or top with additional peanut butter.
This doggy cake is also gluten-free and soy-free for sensitive pup stomachs.
Ingredients:
Eggs
Peanut butter
Apples
Baking powder
10. Vegan Dog Cake
Looking for a dairy-free, meat-free munchie for your favorite mutt? Check out this vegan dog cake by Simple Sweet Vegan.
The cake has a peanut butter and banana base that's combined with a chickpea flour mix and baked to make cupcakes or a full cake for Fido. Once cooled, the cake is topped with vegan yogurt, chickpea flour, and peanut butter mixture.
This cake might take a little extra time than some of the other options, but it's a great option if your dog has a dairy sensitivity.
Ingredients:
Chia seeds
Water
Ripe banana
Peanut butter
Carrot
Zucchini
Unsweetened almond milk
Apple cider vinegar
Oat flour
Chickpea flour
Baking powder
Baking soda
Ground cinnamon
Vegan yogurt (optional)
11. Banana Dog Cake
Does Buddy love bananas? Make him this delicious banana dog cake from Sophie In the Kitchen. This cake can be made with or without frosting for a delicious treat your pooch will love.
To create the cake, you'll need to bake a banana and flour mixture for about 30 minutes. Decorate your cake with Fido's favorite dog biscuits for a birthday he'll never forget.
Though this frosting contains cream cheese, you can always swap it out for peanut butter if your dog has a dairy sensitivity.
Ingredients:
Bananas
Water
Eggs
Honey (optional)
Whole wheat flour
Baking powder
Cream cheese
Cinnamon
12. Coconut Berry Cake
Your dog will love this coconut berry cake from Personal Creations made with seasonal fruit for your Floof's special day. Plus, the berry icing has a natural purple hue, making this a super festive colorful canine-safe cake.
The cake is made by combining a coconut flour mixture with fresh blueberries. Next, the cake mix is baked for about 25 minutes. Once cooled, the cake is covered with the yogurt berry blend icing.
This cake is packed with natural antioxidants from the berries making for a nutritious treat your pooch will adore.
Ingredients:
Coconut flour
Coconut oil
Blueberries
Strawberries
Eggs
Honey
Yogurt
BONUS: Easy 3-Ingredient Treat Icing
Perhaps you're a little tight on time, or you simply want to spruce up Spot's favorite treat for a special occasion. Use this easy icing recipe from Mad Pup Life to dress up your dog's dessert.
This icing is made by mixing tapioca flour, water or milk, and yogurt. You can even add natural food coloring for a little extra finesse.
The icing recipe will take you about 5 minutes to create and will make for some truly creative canine-friendly creations.
Ingredients:
Tapioca flour
Milk or water
Plain yogurt
***
There's no shortage of reasons to spoil our beloved fur babies. With any of these delicious dog cake recipes, your pup will feel as pampered as ever. Have fun baking for your best buddy!
Have you tried any of these dog cake recipes? How do you celebrate your pooch's special day? We'd love to hear all about it in the comments below!