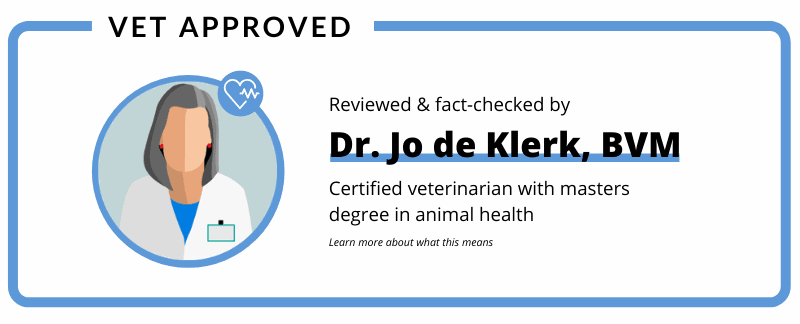 There's no doubt that most pooches love peanut butter.
This handy food will certainly please your pup's palate, and it also works well for disguising medications and filling up puzzle toys.
Peanut butter can be a pretty healthy snack for dogs (as long as it isn't packed with added sugar and salt), as it supplies them with lots of Vitamin B, Vitamin E, and niacin, as well as protein and healthy fats.
It's also a great ingredient for making your own doggie baked goods, like a homemade dog birthday cake or canine cupcakes!
However, not all peanut butters are created equally. Some brands can even be dangerous for your doggo.
Below, we will point out three great peanut butters for your pooch and explain what you need to look for when picking a pet-friendly peanut butter. This way, you'll be able to keep your pup's tail wagging while also keeping him safe.
What Kind of Peanut Butter Is Safe for Dogs?
When picking a peanut butter for your dog, you should direct your focus to the ingredient list. In general, most peanut butters that do not contain xylitol are safe for dogs.
Xylitol is an artificial sweetener. Though it poses no health risks to humans, pets who eat it may become very sick. In some cases, they could even die after eating foods containing the sugar substitute.
Even in extremely small amounts, xylitol can decrease your pup's blood sugar levels drastically and send them into a hypoglycemic crisis.
To put this in perspective, consider that xylitol is about 22 times more toxic to dogs than chocolate is.
Note that xylitol may also be listed on a nutrition label as:
xylite
anhydroxylitol
d-xylitol
xylitylglucoside
1,4-anhydrous-d-xylitol
So, be sure to check the label carefully for your canine's sake.
4 Great Dog Safe Peanut Butters
Here are some of our favorite peanut butters for puppers. Each one is made specifically for dogs and is safe to share with your furball.
1. Green Coast Pet Pawnut Butter
About: Green Coast Pet Pawnut Butter is crafted specifically for dogs, though humans can enjoy it too!
Product
$14.50
944 Reviews
Details
Peanut butter made specifically for dogs with just 2 ingredients: peanuts & flaxseed
Xylitol free
Perfect for filling toys, lick mats, bones or dental treats
Use Pawnut Butter to hide pills or bake peanut butter cookies
Features: This peanut butter has only two ingredients: peanuts and flaxseeds.
Peanuts provide protein and lip-smackin' flavor, while the flaxseeds help boost your dog's daily omega-3 fatty acid intake. Omega-3s help to promote joint health and healthy skin, and they also help to reduce inflammation.
PROS
Owners loved how simple Pawnut Butter's recipe is. Even though it only has two ingredients, it still seems quite tasty, and most pups loved lapping it up at snack time.
CONS
Some owners found the consistency of this peanut butter to be too thin. This is common with natural peanut butters, but it may be best for this peanut butter to be consumed off of a spoon, rather than in a slow feeder or puzzle toy.
2. KONG Real Peanut Butter Tube
About: It's no secret most dogs love KONGs, but you can add a little KONG Real Peanut Butter to make toy-time even more enjoyable!
Product
$9.99
518 Reviews
Details
Pack of 1
Recommended for use with all KONG Classic and KONG Extreme dog toys
All natural ingredients include roasted peanuts, sugar, hydrogenated vegetable oil to prevent...
KONG Real Peanut Butter uses a formula that is virtually identical to peanut butter brands commonly...
Features: This peanut butter for pets is made from nutritious ingredients (including peanuts and vegetable oil), and it comes in a convenient tube to squeeze peanut butter directly into a KONG or other toy.
This peanut butter does contain a little added oil and sugar, so be sure to use this peanut butter tube in moderation with portly pooches.
PROS
Customers loved the convenience of the KONG Peanut Butter Tube, as well as the ability to squeeze small amounts onto pills. Pups seemed to love the KONG formula so much that some owners incorporated the treat into their dog's everyday routine.
CONS
While dogs appeared to enjoy the taste, some owners complained that the KONG Peanut Butter Tube ran out pretty quickly, which was disappointing, given its relatively high price.
3. Poochie Peanut Butter
About: Poochie Peanut Butter is a xylitol-free peanut butter, made specifically for dogs. In addition to being pet-safe, this peanut butter comes with a few nutritional extras to make it even better for your pupper!
Product
$19.19
548 Reviews
Details
4 Added Benefiting Ingredients
Great for Crate Training
Helps with Separation Anxiety
Made in USA
Features: Poochie peanut butter is an all-natural peanut butter made primarily from dry roasted peanuts. However, it also contains cinnamon, turmeric, parsley, ginger, and coconut oil.
These ingredients improve the taste of the peanut butter, promote a healthy coat and skin, and some are thought to fight inflammation too.
PROS
Pups seemed to love this peanut butter recipe. Owners found that it worked equally well in homemade dog treats, as an aid when disguising pills, and for quick snacking.
CONS
Some dog owners found that the peanut butter dried up after using it a couple of months. So, you'll probably want to try to use it quickly.
4. Hyper Pet IQ Peanut Butter
About: Hyper Pet IQ Peanut Butter is dog-friendly peanut butter that's xylitol-free and includes no high fructose corn syrup, stabilizers, artificial sugars or salt.
Details
DESIGNED FOR YOUR DOG: Dogs must avoid Xylitol because it is toxic, Treat Spread from Hyper Pet is a...
TOP QUALITY PEANUT BUTTER FOR DOGS & PUPPIES: All-natural dog peanut butter is sourced and produced...
DOG TRAINING TREATS: Natural peanut butter is a healthy dog treat in moderation. Dog peanut butter...
FEEDING & USE INSTRUCTIONS: Stir all natural peanut butter very well for smoothest peanut butter....
Features: This limited-ingredient peanut butter is made with roasted peanuts, banana, chia seeds and honey for a tasty spread your dog will love.
The consistency is perfect for Licki Mats, frosting for DIY dog cupcakes, or spreading over your dog's medication when you need him to take his meds.
This peanut butter also comes in a standard flavor as well as a Pumpkin version!
PROS
One of the few dog-friendly peanut butters that comes in variations like Banana and Pumpkin for a flavor boost!
CONS
Some owners might prefer a peanut butter with no sugar at all – honey is an ingredient in this peanut butter.
Which Brands of Peanut Butter Contain Xylitol?
Below, we'll identify a few popular peanut butter brands that are safe for dogs, as well as some of the most notable brands that contain xylitol.
Just remember that manufacturers can and do change their recipes, so check your peanut butter's ingredient list every time you purchase a jar for your pooch (unless you're buying a peanut butter specifically made for dogs).
No Xylitol: Safe Peanut Butters for Dogs
These brands are safe for dogs and can be consumed in moderation.
JIF
There is no xylitol in any JIF peanut butter products making them safe for your pup. However, they do contain added salt, so they aren't the best peanut butters for regular snacking.
If you're in a pinch, look for the "JIF Natural" series, which has a reduced amount of sugar and salt added. These recipes will be better for your pup than regular JIF.
Peter Pan
Peter Pan does not contain any xylitol, but most of their products contain added sugar. They also contain palm oil, which can cause intestinal issues for some four-footers (palm oil is also a bit of an environmental problem).
Accordingly, while Peter Pan peanut butter is safe for dogs, there are better options available for your pup.
Teddie's
Teddie's peanut butter is an excellent option for dogs. Teddie's is comprised of one simple ingredient: dry-roasted peanuts!
Teddies is a bit pricier than the other options, but you can rest assured knowing that Teddie's is xylitol-free and safe for your pooch.
Justin's
Justin's Peanut Butter is xylitol free and only has two ingredients: peanuts and palm oil. Though the simple ingredient list is awesome, it'd be better if it didn't contain palm oil.
Nevertheless, Justin's Peanut Butter is safe to use occasionally or in a pinch.
Skippy
Skippy peanut butter does not have xylitol making it technically safe for your dog. However, it does contain a lot of added sugar, salt, and palm oil which makes it a less-than-ideal option.
If you have to use Skippy, look for their "Natural" series: These recipes have significantly fewer additives when compared to the original variety, though they are still not as healthy as those that use only peanuts in their peanut butter.
Peanut Butters That Contain Xylitol: Not Safe for Dogs
Look out for these brands and steer clear away from them when shopping for a spread for your pooch.
In general, peanut butters with added protein tend to use xylitol as a sweetener, so be extra mindful if you see a spread advertising this.
Go Nuts Co
This company creates high protein nut butters in a variety of flavors. Only some of them contain xylitol, but it's a good idea to simply avoid them entirely unless you're willing to scan the ingredient list for all of the potential forms of xylitol.
Nuts N' More
Nuts N' More packs their products with extra protein and uses xylitol as a sweetener in all of their recipes, making them unsafe for your dog.
P28
P28 products all have xylitol which means they cannot be consumed by pets. The packaging reads "all-natural," but this does not mean they're safe. As a matter of fact, xylitol is a naturally occurring compound. They may also have added sugar or salt.
Additional Peanut-Butter-Picking Considerations
There are a couple of additional factors to consider once you've picked out a xylitol-free peanut butter for your pupper.
For example, it's important to look out for unnecessary added ingredients. Not all additives are bad for dogs, (some are actually quite helpful), but, as a general rule, it's a good idea to pick a peanut butter with the fewest additives.
So, try to pick unsalted or homemade peanut butters. Also, look for those that don't contain added sugar or salt.
Some pups are also sensitive to soy, palm oil, and other hydrogenated oils, so it's a good idea to steer clear of these ingredients as well.
Additionally, while peanut butter is a nutritious snack, excessive amounts can lead to obesity and other health complications. So, it's important that you provide peanut butter in moderation.
This is especially important for owners with diabetic dogs, as peanut butter may be a poor choice for these puppers altogether. In fact, it's a good idea to consult with your vet before you make peanut butter a regular part of your dog's diet.
***
Peanut butter can be a great way to introduce more protein and healthy fats into your pup's life. It even serves as a great bonus ingredient to mix into your dog's dry kibble.
However, it is important to make sure that the peanut butter used is xylitol free, as even small doses of this sweetener can be deadly for pets. 
Have you tried any of the brands listed above? What's your favorite way to use peanut butter with your pooch? We'd love to hear about it in the comments below!