Dogs vary in clinginess, with some being more independent and preferring alone time, while others are never far from their owner's side. Several breeds are more prone to the latter, earning them the "Velcro dog" moniker, meaning they're "stuck" to your side.
Below, we'll share 19 Velcro dog breeds and discuss the pros and cons of this quirky style of canine companionship.
What Is a Velcro Dog Breed?
"Velcro dog" is a term often applied to clingy canines that constantly need to be by your side. The mutt moniker is borrowed from Velcro, the popular hook-and-loop fasteners featuring two strips that stick to one another.
Velcro dogs aren't necessarily little lap dogs, either, as several large breeds also fall into the category.
Is Your Pup's Clinginess Cause for Concern?
While some pups are naturally clingy, a sudden uptick in clingy behavior may be a symptom of a medical or emotional problem. If you notice an abrupt shift in your dog's need to be by your side, bring her to the vet for a thorough exam to rule out any underlying conditions.
The 19 Best Velcro Dog Breeds
Now that we know what a Velcro dog is, we can meet some breeds that generally fit the description. Check out these amazing Velcro dog breeds and learn a little more about them with us.
1. Labrador Retriever
As loyal as she is lovable, the Labrador retriever is one of the clingiest canines. This affectionate four-footer thrives with her people and can get mopey if she's ignored for too long. Labs usually love being at your side, and don't be surprised if yours tries to squeeze onto your lap despite her large frame.
Labs are good options for first-time dog owners, but the breed isn't for everyone. Expect lots of shedding, occasional drooling, and the need for plenty of daily physical and mental exercise. The food-obsessed Fido is also prone to packing on pudge, so be mindful of treat consumption.
2. Golden Retriever
Like the Labrador, the golden is a sporting pup renowned for loyalty. She's an all-around awesome dog with kids and a friend to all, though she's truly in her element with her family. It's not unheard of to notice a golden shadow in your wake as you zip around the house.
The golden's long, luscious hair looks great, but it does require brushing a few times a week to prevent matting. Your golden will also need regular vet visits and special care to maintain a proper weight, as this breed is prone to a variety of health concerns.
3. French Bulldog
This small hunk of love is one bonded barker to her people, preferring a place at your side over one across the room. She's a lovable goofball, too, who loves to put on a show while clowning around the house. Such a friendly nature makes her an excellent choice for family life.
While adorable, the Frenchie is a brachycephalic dog breed prone to several serious health concerns. Pet insurance is a must with this pooch, along with regular veterinary care and a high-quality diet. Watch her waistline, too, as carrying too much weight can stress her joints.
4. Papillon
As peppy as she is pretty, the papillon is a natural people pup. She wants to be the apple of your eye and isn't afraid to work for it, whether twirling for treats or cozying up to your side. This isn't a pooch to leave alone for long hours and expect to shine. She craves attention.
The papillon's small size doesn't mean she's a couch warmer, as this petite princess will light up the agility course if given a chance. She's also smart and biddable, wowing in obedience and other canine sports.
5. Chihuahua
Legendary lapdog and stage-five clinger are two terms that fit the Chihuahua like a glove. She's saucy yet sweet, loving nothing more than warming your lap or strutting in your footsteps. The breed's one of the most loyal and a fantastic watchdogs around, and they often accompany long-haul truck drivers as cuddly canine companions.
The Chihuahua is one of the best dogs for city living thanks to her petite size, though she should be taught not to bark incessantly, as she can be yappy and disturb the neighbors. As hard as it is, try not to coddle her, since she can be prone to small dog syndrome.
6. Shetland Sheepdog
This sable sweetheart is a sensitive soul known for her love of family. She's as affectionate as she is adorable, though she can be a little timid with strangers. Help build her confidence early with training and sports like agility to keep anxiety at bay.
Also known as the Sheltie, this beauty's coat requires a decent amount of upkeep. She sheds heavily and needs to be brushed a few times a week, particularly around the legs, ears, and belly, to prevent tangles. A sanitary trim is also recommended.
7. Pug
The pug is a clownish canine with a heart of gold. Stout and sturdy, this affectionate four-footer is one of the best small dogs for kids, having a level of patience that many petite breeds tend to lack. She won't hesitate to shadow you or the kiddos around the house (no doubt leaving a trail of shed hair in her wake).
Pugs are prone to serious health concerns, so keep up on regular vet exams and ensure your pup's kept at an acceptable weight to avoid excess stress on her joints. Begin training her to tolerate nail trims in puppyhood, too, as this breed is famously dramatic during the task.
8. Australian Shepherd
As sporty as she is sweet, the Aussie is a Velcro dog and athlete in one. She's a fabulous canine contender for learning to jog with you, as she operates at one speed: go, go, go! She's also super playful, making her a great addition to families with kids as long as she learns to play with kiddos instead of herding them.
The breed's Velcro nature lends well to training, where this smart cookie is eager to please and quickly learns commands. Just be sure to switch up your routine to keep her focused on the lesson at hand since she can bore easily if training sessions become repetitive.
9. Italian Greyhound
Sleek and sophisticated, this slim sniffer is a sensitive soul and an ever-present shadow to her favorite people. Her large, dark eyes are expressive, too, with the "Iggy" having long-perfected the art of the doe-eyed begging stare. She needs a spot next to you, ideally with a blanket, since her lanky frame and short hair don't retain much heat (this definitely isn't a breed for cold weather).
The Iggy's delicate build doesn't match households with small children or rough-and-tumble canines. Special care must also be taken not to let her leap off high furniture, as she may injure a leg.
10. Doberman Pinscher
This working dog breed's loyalty makes her a fantastic partner for policing, but it also makes her a Velcro pooch. Dobermans aren't just happy to sit by your side, as they want to be in action with you at all times whether following you to the bathroom or monitoring your vacuuming skills. This clinginess is endearing to some but not all owners.
The Doberman is undoubtedly a cool doggo to live with, though she's not for newbie owners. She can be pushy at times and a lot to handle, making an experienced, patient handler and positive reinforcement dog training imperative.
11. Rottweiler
The Rottweiler isn't the first breed everyone would think of when they think of a Velcro pup, but owners know this loyal legend is one of the best in the barkin' world for hammin' it up and sticking to your side. Despite the doggo's tough-chick looks, she's emotionally needy, requiring a prominent place in the family to avoid upset.
Rotties are strong, stubborn dogs needing an experienced owner to lead them using consistent, positive training methods. Newbie dog owners shouldn't try wrangling one of these woofs, as it will only lead to frustration for both dog and handler.
12. Vizsla
This Hungarian hunting dog is one of the most affectionate fur kiddos around and a clinger canine. She's a delight with children and a social butterfly at gatherings, making her a good choice for active families with many guests coming in and out.
Daily exercise is critical with this leggy pup. At her core, she's a hunting dog, loving nothing more than frolicking through fields and flushing game. Ensure she gets lots of walks or hikes by your side to fulfill this desire to romp and explore.
13. Border Collie
The world's smartest dog breed is also on the clingy side. This emotional and intellectual intelligence can be a challenge, so she's best suited to families with plenty of time to devote to everyday interaction and work. Think of a household where someone is almost always home or coming in and out, and that's her ideal setup.
The farming phenom border collie has out-of-this-world exercise requirements, needing daily physical and mental workouts to keep boredom behaviors like nuisance barking and chewing at bay. She's a prime candidate for jogging or crushing through canine sports, whether acing obedience or agility. Couch potatoes definitely aren't her ideal match.
14. Pit Bull
Like many bully breeds, the American pit bull terrier is known to be needy in the attention department. An occasional pet won't cut it, as this stocky sweetheart wants to be the star of the show and showered in affection. If that's not possible, she'll merely follow you from room to room, putting on her best pout.
Early training and socialization are critical with pit bulls, as the breed can be standoffish to strange people and pets. She can also be bull-headed when it comes to following commands. A high-value treat like chopped hot dogs goes a long way when training this food-happy four-footer.
15. Maltese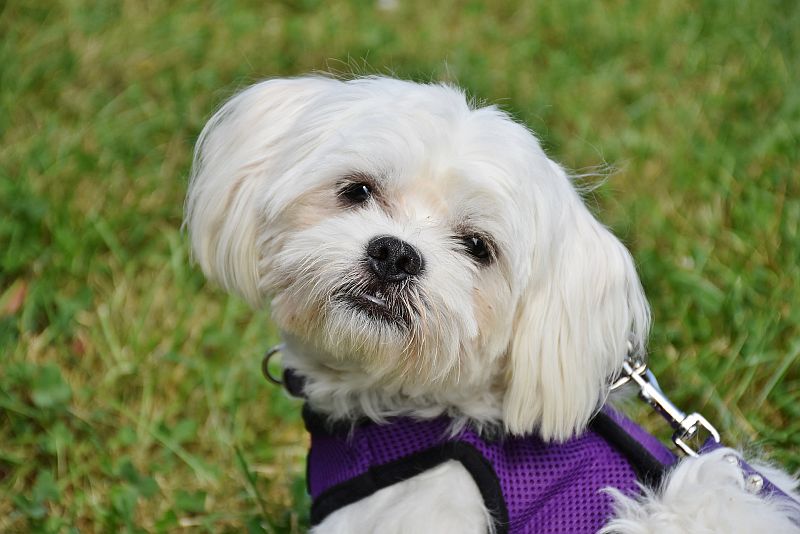 The small, fluffy dog breed loves to be glued to your lap. If she can't have your lap, she'll settle for sitting at your hip (most of the time). This doggy devotion means she's an ideal match for anyone looking for a constant companion.
The Maltese is a miniature mutt on the fragile side, so she's not an ideal pupperino for a household with small kiddos. She's a better fit for families with teenagers who understand she's a pet, not a toy.
16. German Shepherd
One of the most famous Velcro dog breeds is this police pup, a sharp-as-a-tack shepherd prized worldwide for her devotion and bravery. That said, owning one of these beautiful barkers is a lot of work, as this great loyalty comes with a great need for daily interaction and play. Otherwise, this breed is bound to wind up with separation anxiety.
Keep your shepherd's neediness in check through daily mental and physical exercise. Combining the two is best to truly give her a workout, whether hiking together through the forest or practicing a sport like agility or Schutzhund.
17. Pomeranian
This German gem is one cute Velcro puppy! Her foxy expression matches her vivacious attitude, often marked by happily "dancing" and spinning on her hind legs at your feet. She's a devoted doggo with a big heart, but she also has a set of pipes that she's not afraid to blast at every strange noise. So, work on curb nuisance barking early to prevent problems.
The Pom's famously fluffy coat requires a lot of upkeep, with frequent brushing throughout the week essential in preventing tangles and mats. It also helps keep shedding at bay, as this cute critter is known to drop some serious fuzzballs around the house.
18. Poodle
Curls and cuteness go hand-in-hand with this Velcro barker. Coming in toy, miniature, and standard sizes, the poodle is one of the most diverse dog breeds, with all varieties having a strong love of family and togetherness. This makes devoting a portion of every day entirely to her.
Grooming a poodle may seem like a lot of work, and it is if you maintain a show-style coat, but regularly clipping every six to eight weeks makes maintenance far more manageable. Just keep up on appointments and brushings in between to avoid any hair hiccups.
19. Yorkshire Terrier
Tiny and tenacious, the Yorkie is also a textbook Velcro dog breed. The Yorkie is happy to be your canine co-pilot during drives and just as pleased to warm your lap during a Netflix binge. All that matters is that she's closest to her favorite people.
Yorkies are terriers, of course, so they're saucier than most of the Velcro pooches on our list. This unique personality takes an experienced owner using firm but loving training to ensure she doesn't become too much of a handful despite her petite size.
Remember: All dogs are individuals.
While the majority of dogs in each of these breeds tend to be Velcro pups, that isn't always the case. Every dog has a unique background and personality, so you're bound to have exceptions to the rule. You could have an independent Lab or a clingy Basenji.
Some of the Traits of Velcro Dogs
So, what makes a Velcro dog breed different from the rest? It all boils down to personality.
Breeds with a propensity to be Velcro dogs have a unique set of traits, including:
Loyal: Many Velcro dog breeds are treasured for their loyalty, such as German shepherds and Labs. These doggos will go to the ends of the earth for their humans.
Working roots: Velcro breeds often have a long history of working at a person's side, including German shepherds, Dobermans, and Rottweilers. These dogs were bred to be a human's right hand in certain instances, leading to "clingy" behavior.
Affectionate: Velcro pups are more likely to shower you in kisses and cuddles than other dog breeds. They typically greet you at the door too with butt wiggles and tail wags.
Desire to please: Many Velcro breeds are easier to train than your everyday woof, learning commands with gusto out of the sheer will to be a good girl and earn your praise.
The Pros and Cons of Clingy Dogs: Are Velcro Dogs Good or Bad?
Now, every dog is good in our eyes, but the wrong Rover for your lifestyle can be a headache and a half. For instance, you wouldn't want a pug if you were looking for a long-distance running buddy, right?
The same is true of Velcro dogs.
This high level of affection and neediness doesn't mesh well with the wants and needs of some owners. A prime example would be someone who works long hours or likes a little space sometimes – something few Velcro dogs will allow. At the same time, someone who seeks a constant companion may love the attention.
Some of the benefits of Velcro dogs include:
Offer companionship: A Velcro dog is a constant friend rather than a fickle four-footer with her affection. This is great if you live alone or need a buddy while working from home.
Encourage socialization: Velcro dogs are more likely to happily accompany you on walks, making it easier to go out and about to mingle with other people while sneaking in healthy steps for you and your sniffer.
Provide stress relief: As you likely know, having a pup comes with the perk of easing your stresses, with a whopping 95% of responders in one American Heart Association Survey reporting that they rely on their pets for some form of stress relief. A clingier canine likely offers more comforting cuddles than your regular rover.
Some of the drawbacks of Velcro dogs include:
Risk of separation anxiety: Pups preferring a place by your side are prone to acting out if not given enough attention, driven by anxiety. This can inflict expensive damage to your home or even harm your sniffer.
Can be trip hazards: Velcro dogs have a knack for stepping in front of you at the worst times, sometimes causing you to stumble or fall entirely. You may wind up injuring yourself or your pup in the process.
Behavioral challenges: Some Velcro pups develop possessiveness over their owners, leading to aggressive behaviors like lunging, barking, or even biting. Proper training and socialization are paramount in preventing these problems from developing.
Tips for Living with a Velcro Dog
Living with a Velcro dog offers all-you-can-want rubs, but it can quickly become overwhelming if your clingy canine runs the show. You're a pet parent, which means laying ground rules to keep your fur family functioning smoothly.
To keep everyone happy and healthy:
Start obedience training early: Velcro pups can get pushy with their love. Having manners in place is vital in preventing rude behaviors like jumping on you or guests unexpectedly.
Establish boundaries (and stick to them!): Boundaries look different for every family but may include no pups on the sofa or no dogs in the foyer while you're going in and out. It may also mean no begging at the table. Boundaries are essential for dogs, as they enforce definite dos and don'ts around the house.
Socialize your Velcro pup with other people: All of your Velcro buddy's love can sometimes leave precious little for anyone else, leading to trouble with aloofness and even aggression if your dog's poorly socialized.
Socialize your dog with animals: Clinginess can lead to possessiveness, especially with other animals. Proper and ongoing socialization with other dogs and pets is vital in avoiding issues.
Practice crate training: Velcro dog breeds are prone to separation anxiety, which may mean mischievous chewing and shredding objects around the house if left alone for extended periods. To protect your pup and home from harm, start crate training early and keep your canine contained when you're not at home.
Consider a dog walker or doggy daycare: Velcro dogs require more attention than your everyday mutt, so your pup may feel a little neglected if you work long hours outside the home. Breaking up the day with a walk or spending it playing with pupper friends at camp may be a good idea.
Velcro Dog FAQ
Still unsure about Velcro dogs or if one may be a good fit for you? Check out these frequently asked questions surrounding these clingy canines.
What is a Velcro dog?
A Velcro dog is a pup who prefers to be "stuck" to her owner's side. This may entail sitting on your lap, curling up against your side, or following you wherever you go. To many pet parents, this constant pupperazzo is no big deal, but for others, the never-ending attention is a dealbreaker.
How do I stop my dog from becoming a Velcro dog?
Stopping your dog from becoming a Velcro dog isn't always possible, but to prevent too much dependency on you, establish boundaries early, such as having her sleep in a crate at night or limit the furniture to people only. Another way is to teach your dog mat training, meaning you command her to stay on a mat or bed instead of following you from room to room.
Are poodles Velcro dogs?
Poodles fall under the Velcro dog breed umbrella, though every four-footer is an individual. While many poodles may cling to your side like a magnet, others may be more inclined to do their own thing. That said, poodles are usually affectionate, sweet-natured, and playful – three things most Velcro pups are too. 
Why does my dog never leave my side?
Your dog may stick to your side for a number of reasons. Of course, she may merely enjoy your company, and she may also be anxious and find comfort in your presence. Another potential reason is that she may not feel well. Reasons vary from dog to dog. If your dog is ordinarily clingy, there's usually no reason to panic, but if she suddenly begins sticking around you when she's normally distant, give your vet a call and schedule an exam. 
How do you know if your dog is clingy?
A clingy dog doesn't just come up to you for pets. A clingy dog will stick to your side and follow you as you go about your business. She may get under foot while you're working in the kitchen or try to sneak in the bathroom with you. While many dogs fall into the "clingy" category, sudden, unexplained Velcro behavior should be investigated by your vet to rule out medical causes.
Do you have a Velcro dog at home? Is it one of the Velcro dog breeds we listed or another? Tell us in the comments! We'd love to hear about your clingy cutie!