Huskies are best known for being playful, athletic, and hairy.
Make that really hairy.
If you've ever lived with one of these cold-weather wonder dogs, you know that husky shedding is legendary, especially during coat-blowing season, when your home transforms into a fur fest.
Luckily, you can cut down on hairy tumbleweeds by regularly brushing your pooch with a high-quality tool.
Read on to see our recommendations, learn about the husky coat, and understand the best way to go about brushing your husky. Or, you can just check out our quick picks if you're short on time!
Best Dog Brushes for Huskies: Quick Picks
#1 Thunderpaws Best Professional De-Shedding Tool [Best Overall Husky Brush] — Simply the best option for getting rid of excess hair during shedding season, this brush provides professional-caliber results at a very reasonable price.
#2 Pat Your Pet Grooming Tool [Best Overall Runner Up] — This 2-in-1 grooming tool will help you deal with mats and work through tangles quickly and easily. It is ideal for long-haired, double-coated breeds like huskies.
#3 Pet Hair Remover Glove [Best for Skittish Huskies] — If your doggo isn't fond of having his hair brushed, you may want to use this grooming glove instead. It won't remove as much hair as some of the other options, but it will help, and most dogs will find that it feels good.
The Basics of the Husky Coat
If you find yourself brushing endlessly and wondering where all that hair comes from, here's a secret: Your husky has two coats.
Yes, the husky is one of the many breeds rocking a double-coat consisting of two layers — a soft, dense undercoat and a medium-length top coat, often referred to as the guard coat.
This double-coat should be kept intact and never shaved, as the undercoat insulates your pup during cold weather, while the top coat repels the elements (and sun).
Wearing two coats year-round is as tricky as you'd think, which is why huskies shed their undercoat twice a year. This massive shedding event is also known as "blowing" their coat, and during this time, your pup needs extra brushing sessions to strip the dead undercoat.
Vocabulary Pro Tip: You may see some people use the term "fur" for dogs who have double-coats, and "hair" for those with only a single coat. However, this is just a colloquial convention — hair and fur are chemically identical. We use the terms interchangeably.
Different Types of Grooming Brushes
There are many brushes used in grooming, and each has its own function. Not every brush is equipped to handle the husky's coat, and some can actually damage your husky's fur if used improperly.
With that in mind, here are some of the most common brush types on the market. We've broken them down into three sections:
The first group features the best brushes for huskies.
The second group lists brushes that aren't necessarily ideal for huskies, but they still may provide some value.
The third group is comprised of a single brush style, which is entirely inappropriate for huskies.
Note that the language and labels applied to dog grooming tools varies wildly. So, don't be surprised to see different names applied to these tools in other places.
Great Brushes for Huskies
These are the best brushes for huskies, and you'll definitely want a couple of them.
Rakes
These deep-reaching tools feature metal teeth of varying lengths and are made to detangle and remove loose undercoat hair. You may also see them referred to as dog dematting combs. The rake is ideal for husky owners, as they can reach the undercoat through the dense top coat with ease.
That said, you must pay close attention to the length of the teeth, as too long of teeth will scrape against your pup's skin and cause discomfort while too short of teeth may not penetrate the top coat.
Wide-Toothed or Coarse Combs
These are intended to remove and prevent mats from developing. Typically made with long, metal teeth, they should be used with care, as tugging on mats is painful.
Wide-toothed combs are great for removing stray excess hair after a stripper brush session with your husky or other heavy-shedding breeds.
Slicker Brushes
Intended to strip dirt and loose hair, these rectangular brushes feature tightly-packed bristles that not only remove debris but also condition the coat by stripping mats and spreading your dog's natural oils throughout his fur.
Slicker brushes are a great tool for husky owners, as they remove dead hair hiding in his undercoat while keeping the top coat in tip-top condition.
Bristle Brushes
Easily the most versatile tool, the bristle brush can be used on all coat types. Featuring coarse bristles, these brushes come in varying designs, with the close-packed bristle brushes working best for short-haired breeds, while more spaced bristles work best for longer-haired pups.
These are great for removing excess hair and dirt from the top coat but won't reach the husky's undercoat. They also aren't ideal for shedding season.
So-So Brushes for Huskies
These aren't ideal, but they may still be worth having on hand. Plus, many will drive your husky wild with skin-scritching delight!
De-Shedding Brushes
Deshedding brushes are designed to strip away your pup's undercoat while maintaining the top coat's integrity. These brushes have metal teeth that are extremely close together and are made simply for deshedding rather than detangling.
When used, they may also cut away at the undercoat, which can result in a choppy look over time, causing some groomers to dislike them. Whether you use them for your husky or not is up to you, but due to their design, you'll want to be gentle to avoid irritating your doggo's skin.
Pin Brushes
Featuring long, metal bristles, the pin brush works well for maintaining your pup's top coat. Optional rubberized tips make their use more comfortable; otherwise, you should brush gently.
These aren't the best option for huskies, as they don't remove a lot of excess hair. They're not exactly "bad" for huskies; they're just not very helpful.
Grooming Mitts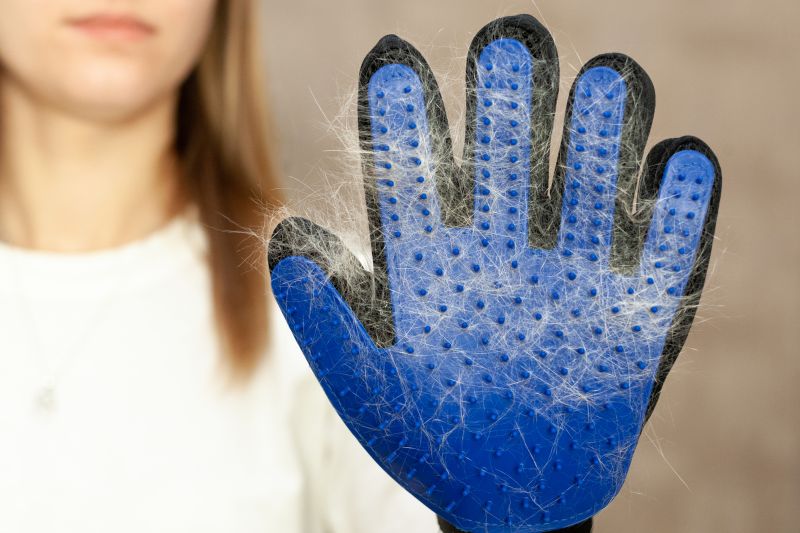 A slip-on way to combat shedding and dirt, grooming mitts remove excess hair and dirt with rubber teeth lining a glove. All you have to do is rub over your dog like you're petting him, and the debris comes right off.
While these are handy for short-haired breeds, they can't reach a husky's undercoat, so they're not the best option. Your husky may, however, enjoy getting scritches with them — most dogs do.
Rubber Brushes
Consisting of rubber teeth and backing, these brushes are used for removing loose hair and massaging your pup's skin. They help your dog's skin breathe by removing debris and spreading natural oils.
Rubber brushes are best for short-coated breeds, as most can't penetrate a thick double coat. However, your husky may enjoy the way they feel on his skin.
Bad Brushes for Huskies
Whatever you do, don't approach your husky with one of these. Just put it down and slowly back away.
Stripper Combs or Stripper Knives
These tools both strip and trim the undercoat. The metal teeth are designed to grab hair and cut as you pull through the coat, removing more hair than a traditional brush.
Stripper combs are sharp and should be used carefully. These are intended for use on wire-haired breeds and are not suitable for huskies.
The Best Brushes for Huskies
Finding the best brush for husky owners means exploring a little bit of everything to cover all aspects of brushing, from detangling matts to removing undercoat. Here are our favorites:
1. Thunderpaws Best Professional De-Shedding Tool
About: The Thunderpaws Best Professional De-Shedding Tool strips away dead and loose hair that may be lingering in your dog's dense undercoat. It's a handy tool to have in your corner during shedding season.
Product
$12.99
18,034 Reviews
Details
PROFESSIONAL GRADE, PREMIUM BUILD - Don't fret yourself with sub-par products. Used by veterinarians...
DESIGNED WITH DOG AND CAT WELLNESS IN MIND – Grooming is recommended by veterinarians and is...
REDUCE SHEDDING BY UP TO 95% - Sick and tired of pet hair all over your house? Worry no more, the...
ERGONOMIC AND EASY TO USE – Non-slip rubber handles that are ergonomically designed for a...
Features: Crafted with a 4-inch stainless steel comb featuring tightly-packed teeth, this de-shedding tool easily snags stubborn hair hiding in your dog's coat, giving your pooch's skin a chance to breathe. With regular use, it can cut down in shedding around the house and prevent matting.
Just pull away hair to clean when you're done, as it conveniently collects hair, rather than just letting it fly around. The rubber-gripped, tapered handle allows you to maintain control from the first stroke.
PROS
Owners were wowed with just how much hair this tool removed. Others gave it two paws up for durability, as its design is sturdy and withstands the wear and tear of regular use.
CONS
While this is a solid pick for medium and long-haired pups, it won't work for short-haired doggos. Some reviewers found it time-consuming to use and difficult to clean compared to other de-shedding tools.
2. Pat Your Pet Grooming Tool
About: The Pat Your Pet Grooming Tool is a 2-in-1 device that is great for dematting and deshedding. With teeth long enough to reach the undercoat, it's a win for husky owners.
Pat Your Pet Grooming Tool
Each side features different tooth density
No-scratch, rounded teeth prevent irritation
Ergonomic, anti-slip grip is easy to hold
Features: Made with hardy metal teeth, this dual-action device tackles dematting with its 9 tough teeth, while the 17 rounded ones gently massage the skin as you strip away shedding hair. Best-suited for medium and long-haired dogs, its long teeth are perfect for double-coated doggos.
The anti-slip, textured handle is also a nice feature, which lets you maintain control comfortably.
PROS
Reviewers love how much loose and dead hair this tool removes deep from the undercoat. Others praised how easily it dematted their doggo's fur.
CONS
Dogs with sensitive skin will not tolerate this tool. Reviewers also had mixed feelings about its durability, as some experience what appear to be manufacturing issues with the bristles.
3. JW Pet Gripsoft Double Row Undercoat Rake
About: JW Pet's Gripsoft Double Row Undercoat Rake is loose hair's worst nightmare thanks to its tough teeth. An ideal pick for coat-blowing season, this is an excellent choice for battling heavy shedding.
JW Pet Gripsoft Undercoat Rake
Features two rows of round-tipped teeth
Teeth lie parallel with the skin to prevent irritation
Non-slip, ergonomic handle for comfort
Features: The Double Row Undercoat Rake features two rows of metal teeth in differing lengths, set to stand at a 90-degree angle from your dog's skin to prevent irritation. Made to remove dead hair while smoothing the top coat, this is a versatile device to add to your grooming tool chest.
The non-slip grip gives you ultimate control, while the tapered rubber handle is comfortable to hold. Cleaning it is easy as well, avoiding the ouchies you can sometimes run into with sharp bristles.
PROS
Reviews barked up a storm about how much hair this undercoat rake removes. The speed with which it removes dog hair was a particular high point among pawrents. The curved design is another win, as it works well around a dog's shape.
CONS
Some reviewers found this brush just didn't work for their pup and failed to remove hair. This may be due to owners using it on the wrong breed or just using it incorrectly. Others disliked that the hair it did remove tended to float around rather than stick to the rake.
4. FURminator deShedding Edge Dog Brush
About: The FURminator deShedding Edge Dog Brush is a de-shedding tool that removes your dog's dead undercoat. Its design rids your pooch of pesky trapped hair while protecting the appearance of his top coat.
FURminator deShedding Brush
Specifically designed for dogs
Ergonomic handle and curved edge provide comfort for you and your pup
Reduces shed hairs by up to 90% when used regularly
Features: This de-shedding brush features close-set stainless steel teeth that reach your dog's dense undercoat. With each pass, the teeth catch and hold, preventing flyaways. You can remove this hair by pressing the FURejector button, eliminating the need to pick dead hair away with your fingers.
The brush was made with heavy shedding in mind, and with regular use, it can reduce your doggo's fursprises around the house. The handle is designed for comfortable use, and the curved edge of the brush head keeps your pup's shape in mind, avoiding uncomfortable pokes.
Options: The FURminator is offered in small, medium, and large sizes with both short- and long-haired options.
PROS
Reviewers love the amount of extra hair this tool removes, as it reaches the undercoat easily. Most found that it reduces shedding overall as well. The durability won lots of praise, too, as did its FURejector button that removes trapped hair with ease.
CONS
Some feel that the brush is too harsh and can damage the sensitive undercoat. You also have to use it with care, as too much pressure or repeated use in an area can irritate your dog's skin. Several reviewers found that the teeth didn't hold onto hair well once stripped, creating a large mess.
5. DakPets FURblaster Deshedding Brush
About: Conquer shedding season with DakPets' Deshedding Brush — a groomer-designed tool that makes quick work of excess hair. Using close-set teeth, this brush strips away stubborn dead hair and debris, resulting in reduced shedding and a healthier coat.
DakPets FURblaster Deshedding Brush
Designed to reduce shed hairs by up to 95%
Suitable for pets of all sizes
Backed by money-back guarantee
Features: This brush's 4-inch, rust-resistant comb is made to last with hair-grabbing stainless steel teeth that easily weed out dead and loose hair. With each pass, excess hair is removed while the top coat remains intact.
The non-slip rubberized grip keeps the handle firmly in your hand, though more texture would be ideal for some owners. Unlike some brushes, this device does most of the work for you, requiring little pressure or strain to achieve results.
Options: This brush is available in three colors: blue, hot pink, and yellow.
PROS
Reviewers howled praise about how much hair this brush removes. The teeth are long enough to reach the undercoat of dogs with medium-length hair, and the brush is simple to use.
CONS
As with all de-shedding brushes, this device is not ideal for pups that have sensitive skin. If your dog is prone to matting, you will need to work them out in advance as well to prevent irritation.
6. Wahl Large Slicker Brush
About: Removing excess hair is a breeze with the Wahl Large Slicker Brush. The large paddle design works well with larger breeds, including huskies.
Wahl Large Slicker Brush
Designed to de-shed, and de-tangle hair
Designed for medium to long coats
Ergonomic handle for your comfort
Features: This slicker brush has long, angle-tipped bristles made to reach the undercoat to detangle and remove loose hair without damaging the top coat. Intended for use with medium and long coats, it's an excellent choice for regular use.
The brush's handle features textured patches, making it easy to wield while battling your pup's coat. The curved brush head makes skimming your doggo's bumps and wiggles easier as well.
PROS
The length of these bristles is a win for double-coated dog parents, and owners love how much hair it removes with each stroke. Several sang praises over its durability, too.
CONS
The bristles of this brush might be too rough for dogs with sensitive skin, and some reviewers found it hard to clean.
7. FURminator Firm Slicker Brush
About: FURminator's Firm Slicker Brush is a handy tool for combatting stubborn loose hair hidden in your pupper's coat. This no-fuss brush is great for regular grooming to reduce shedding and matting.
FURminator Slicker Brush
Features straight and bent bristles
Flex-head design matches the contours of your dog's body
Made with antimicrobial plastic
Features: This slicker brush is a double-sided device that offers straight bristles on one side and bent bristles on the other. The paddle design has a better coverage area than other slickers and holds a good amount of hair.
This brush removes matts and loose fur without damaging the top coat, while the flexible head curves to adapt to your pup's build. The textured handle gives pup parents a good grip, leaving slippery brushes in the dust.
Options: This brush is available in two sizes: large and small.
PROS
Dog parents love how much loose hair this brush removes, and its curved shape gets a wag of approval as well. Reviewers also like how easy the brush is to clean.
CONS
The bristles are effective but can be too harsh for sensitive doggos. Some reviews found the design to be a bit bulky to use, too.
8. Hertzko Soft Pet Brush
About: The Hertzko Soft Pet Brush is a sensitive pooch's dream with its gentle plastic bristles. Made to stimulate the skin while removing loose hair, it's a great tool for frequent use.
Details
SOFT PET BRUSH WITH PINS FOR DOGS AND CATS TO REMOVE FUR AND LOOSE HAIR - Hertzko's Soft Brush for...
GENTLE AND SAFE - This Hertzko dog brush has soft and gentle plastic bristles manufactured with...
YOUR PET WILL NOT ONLY LOOK GOOD BUT FEEL GREAT TOO - The ultimate dog brush grooms and massages for...
COMFORTABLE, STRONG, AND DURABLE - Our Soft Brush is especially designed with a comfort-grip and...
Features: The Hertzko's bristles themselves aren't just softer — they're tipped with plastic beads, too, preventing painful scratches along the skin. These rounded ends massage the skin with each swipe and allow you to groom sensitive areas like the face without issue.
The oval brush head is free of sharp edges and curved to match your pup's shape. The brush is made with you in mind as well, with the handle offering a textured grip that's anti-slip.
PROS
Tender-skinned pooches love the gentle design of this brush's bristles. Reviewers are wild about how much loose hair it removes and how well it holds up to regular use.
CONS
While this brush is awesome for working the top coat, the bristles just aren't long enough to properly reach the undercoat. It also isn't heavy-duty enough to handle heavy shedding or tough tangles.
9. Andis Slicker Brush
About: Fine-tune your grooming arsenal with Andis Slicker Brush, a tool designed to rid your dog of pesky trapped loose or dead hair. Suited for removing both top and undercoat debris, it's a solid choice for regular grooming.
Details
Coarse pin brush on one side and a fine bristle brush on the other side
Large pins loosen dense tangled, matted and fine bristles give a silky tangle-free coat
Ergonomic handle for all-day salon use
Features: The bent wire bristles of this slicker brush are tough enough to reach your floof's undercoat and remove stubborn hair yet gentle enough to not irritate his skin when used properly. As with all wire brushes, you want to apply gentle pressure and never overbrush an area to avoid skin irritation.
The curved brush head is made to comfortably glide along a dog's body. The brush's soft-grip handle is also anti-slip, giving you something cushy to hold onto that won't go flying once the hair starts to.
Options: This slicker brush is offered in a firm and soft bristle style.
PROS
The strength of this brush's bristles are a hit with owners, as is its comfy, rubber handle. Reviewers loved how much hair it stripped away, too, while remaining pleasant to pooches.
CONS
A few reviewers had problems with this brush's durability over time, though this appears to be a rare manufacturing issue. Others disliked that the bristles didn't include rubberized tips.
10. Pet Hair Remover Glove
About: Wiping away extra hair is easy with the Pet Hair Remover Glove. Just slip on, rub along your doggo, and watch the fur fly.
Product
$11.99
2,814 Reviews
Features: Keep your furniture (and hands) fur-free with this Pet Hair Remover Glove. The silicone brush side helps trap loose hair as your pet your pup. Thanks to its design, you can cover large areas with the sweep of your hand, while the finger bristles let you maneuver around smaller areas like your pup's ears and face with ease.
The mesh fabric of the glove is lightweight and breathable, and its adjustable wrist strap ensures a good fit. Best of all, it's machine washable.
Options: This glove is offered in a left-handed, right-handed, and 2-1 style that has a furniture-cleaning side.
PROS
Pups who dislike grooming don't seem to mind this glove, as its use mimics your dog's favorite rubs. Owners love how easy it is to use, and its large brush area is a win for grooming large dogs.
CONS
While this is great for removing loose top coat, the bristles aren't long enough to reach a double-coated dog's undercoat. It's also not suited to detangle mats.
Brushing Your Husky: A Plan of Attack
Tackling your husky's shedding doesn't have to be a challenge if you set up a grooming regimen. Combining a series of steps over time can greatly reduce the amount of fuzz floating around your house. These include:
Washing
A bath at the start of each twice-yearly shedding season will rid your dog's coat and skin of dirt and other debris that can prevent his undercoat from shedding evenly.
While de-shedding shampoos do exist, they may not be the best option for huskies, as they can be harsh on double coats and may strip away oils. Your best bet is to use a high-quality shampoo made specifically for dogs.
Drying
After washing your dog, you need to dry him, of course. Towel drying is great and all, but blow drying while brushing with a wide-toothed comb is a sure-fire way to dry him faster and remove excess hair.
Some owners just use a human hair dryer on a low-heat setting, but a dryer designed for dogs is often a better choice, as they allow for hands-free operation and have more power and less heat, providing a safer, faster drying experience.
My favorite weapon against the fuzz with my crew is the blow setting of a Shop-Vac.
Not all dogs will tolerate the noise, but it dries and blows excess hair unlike anything else. Drying properly not only makes the undercoat easier to work with, but it helps prevent skin irritation, such as hot spots.
Raking
After your pooch has dried, you should run a grooming rake over his coat to remove the dead undercoat hairs. If it's during the shedding season, this will remove a great deal of hair, so make sure this is done in an area you don't mind getting hairy.
Keeping a grooming buddy handy to clean up furballs as you go is ideal; otherwise, the room will fill with fuzz.
Regular Brushing
Sticking to a brushing schedule will not only make your pooch look spiffy, but it will also cut down on shedding around the house. Use a slicker brush for the best results.
The Benefits of Brushing Your Husky
Brushing your husky regularly has plenty of upsides, including:
Reducing hair around the house — Brushing removes excess hair before it starts rubbing off on the couch and drifting across your floors.
Reducing allergens — If you're sensitive to dust, mold, or other allergens, your dog's coat can, unfortunately, be a contributor, as it traps them. Regularly brushing removes debris your pooch accumulates from the outdoors and elsewhere.
Maintaining your dog's skin and coat — Brushing prevents mats and distributes your pup's natural oils throughout his coat. It also stimulates the skin and hair follicle, which can keep irritation at bay.
Reducing bathing — Using a slicker brush not only removes shedding hair but also strips away dirt and other debris lingering on your floof, keeping him looking (and smelling) better between baths.
Bonding — Grooming between animals is a friendly behavior, and brushing your dog is no different. While it might seem like work, it's actually a chance to hang out with your four-footer. Keep some treats handy to let him know what a good boy he is.
Checking your doggo — Since brushing is so hands-on, it gives you an opportunity to examine your dog closely for issues like fleas or ticks. It also can help sniff out less obvious problems like unusual sensitivity or lumps.
Spray-On Conditioners May Help Too
In addition to brushing, investing in a quality spray-on conditioner can help battle the fuzz, too. These products are designed to loosen dead hair, similar to bathing. Some may also help with detangling mats or trapped debris.
FURminator's deShedding Waterless Spray is made with no harmful chemicals or dyes, and when used in conjunction with regular brushing, it helps reduce shedding by dislodging trapped undercoat and loose hair, allowing your brush to do heavy-duty work without extra elbow grease.
Details
WATERLESS SPRAY: Helps reduce excess shedding without bathing
ENRICHED WITH: Formulated with omega 3 and 6 fatty acids and safflower seed oil
MOISTURIZES THE COAT: Blend of natural ingredients keeps the coat moisturized and strengthens the...
PARABEN FREE: Contains no parabens, artificial colors or chemical dyes
Brushing Safety 101
While brushing can be a pain for you, it can be a literal pain for your dog, too, if you're not careful. To keep your doggo feelings as good as he looks, follow a few safety measures:
Keep it fun! Make sure your doggo makes a good association with brushing time, so he'll be more likely to enjoy it in the future. Liberally share treats, praise, and snoot boops with your dog during the entire process. 
Never over-brush an area. Repeatedly brushing the same spot can lead to tenderness and skin irritation, especially with metal bristles. Even if your pooch has fur flying in one section, move to another periodically to give his body a break.
Use caution around sensitive spots. Grooming around the face, tush, and other delicate areas can be tricky. You shouldn't run a grooming rake over your dog's face, and wire teeth can be harsh against warts and other bumps on a pup's skin. Select tools for these spots with care, and make sure you're extra gentle.
Take a break! Grooming is arduous for both you and your pup. Take a break if either of you start getting restless. Not only does it give you a chance to unwind, but sometimes a quick potty break loosens up hair while your doggo runs around the yard.
Don't apply too much pressure. You don't need to push down onto your dog to remove hair. Let the brush's bristles do their job. Not only will your arm thank you, but your floof will, too. 
Never tug at tangles. Most people don't like having their hair pulled, and doggos are the same. If your pooch has a stubborn knot, you may need to spritz it with detangler spray to work it out slowly with your fingers. For epic mats, cutting the hair may be your only option.
***
Do you use any of these brushes with your husky or heavy shedder? Can you recommend one that's not listed? Let us know in the comments!