DIY Pill Pockets
Ingredients:
2 tbsp. Oat Flour (made from rolled or quick oats)
1 tbsp. Creamy Peanut Butter
1 tbsp. Water
Directions:
First make oat flour.
To do this simply add rolled oats or quick oats to a food processor or blender until the oats become a flour-like consistency. Since I bake with this, I usually make 1-2 cups of this time to have on hand, but feel free to make only what you need for this recipe!
Make sure you use xylitol free peanut butter for your dogs as this is harmful for your pups. I also prefer to work with a peanut butter that doesn't have added salt or sugar either!
In a medium sized bowl, add the oat flour, creamy peanut butter and water. Mix with a hand mixer until dough starts to form. (As the mixture comes together, i find it easier to mix and form into dough by hand.)
Roll the dough into a log shape and divide evenly into 8 pieces.
Next roll each piece of dough into a ball shape and use the end of the beaters to press the opening into the dough.
*If you don't have an electric mixer you can mix by hand and use a chopstick or skewer to create this opening.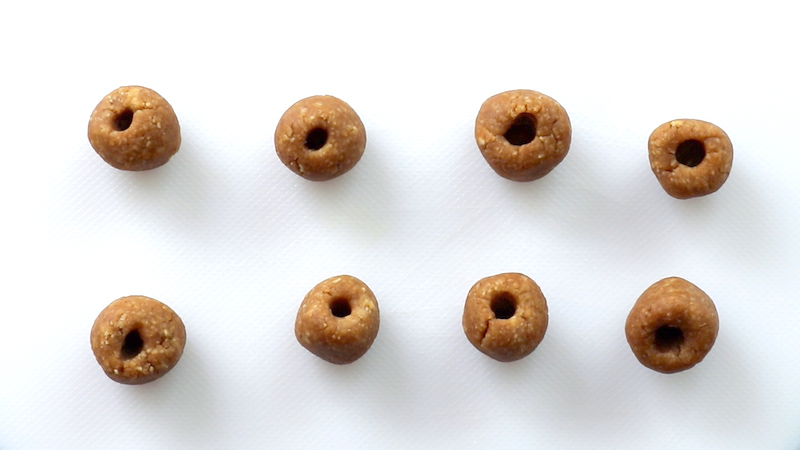 Store in an airtight container in a cool dry place. My dogs require quite a bit of medication, so I use up one batch in about 2 days and it's fine left on the counter. If you live in warmer weather, I suggest putting these in the fridge and letting them sit on the counter for a bit before wrapping the pills.
These worked well for larger pills and were easy to separate to wrap the smaller ones. These are easy to make and are a cost effective alternative to buying dog pill pockets. My dogs also love the taste! I hope you enjoy making these at home for your pups too!