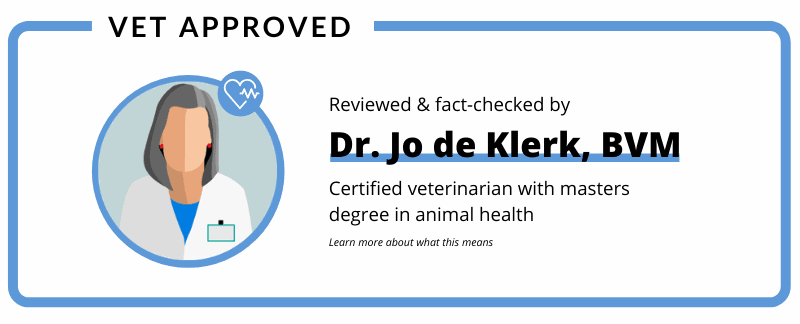 If you've ever had to administer medicine to your pup, you probably already know that it isn't always easy.
Thankfully over the years, dog owners, veterinarians, and pet food manufacturers have devised a number of techniques that can make it easier to give your dog medicine without him throwing a fit.
We've listed some of the most effective techniques below:
1. Sausages
Any type of dog-safe sausage, bratwurst, or hot dog can make a great hiding place for a small pill or capsule. Most dogs tend to just gulp down small slices of these treats, which will help prevent them from tasting the bitter pill inside.
Just be sure to check the ingredient list first and verify that the sausages don't contain garlic, onions, or other doggo no-nos. Also, note that dogs who suffer from inflammatory bowel disease, pancreatitis, and other health conditions that are worsened by fat should avoid sausages.
2. Peanut Butter
Most dogs love peanut butter, and its rich taste and smell can help mask the bad taste of some liquid medications. You could even crush up a tablet and mix it in with some xylitol-free, dog-safe peanut butter, assuming your vet blesses this approach (some pills should not be broken or crushed).
Be sure to use creamy peanut butter, as dogs may try to chew crunchy varieties, which could cause them to taste the pill.
3. Cheese
A small cheese cube is one of the best ways to get your dog to wolf down a foul-tasting tablet. American, cheddar or Swiss are probably the best options, but I've always found Babybel cheeses (or pieces thereof) work perfectly.
Some dogs can experience digestive difficulty after eating cheese, so avoid giving them gigantic pieces, unless you are sure your pup's tummy can tolerate it.
4. Animal Skins
Many dogs would sell their soul for a bit of cooked chicken or salmon skin, and these items can be very effective for hiding pills or dog vitamins.
Just cook up the skins on a cookie sheet until they are slightly crispy, wrap them around the pill in a tight ball and give your dog the tasty treat. The fats in the skin will help disguise most of the bad-tasting medicine.
As with sausages, animal skins are not appropriate for dogs who have medical conditions that require them to eat a low-fat diet.
5. Pill Pockets
Greenie's, Milk-Bone and several other manufacturers produce great-tasting treats that are specifically designed to hold a pill or capsule inside.
In addition to being delicious for your dog, many of these canine pill pocket products can be molded so that they completely surround the medicine, which will help prevent the gross medicine from touching your dog's mouth very much.
If you're up for jumping into the kitchen, you can even try making your very own homemade DIY pill pockets!
6. Canned Food
If your dog's medicine comes in liquid form, you can simply mix it in with a bit of canned food. You needn't feed your dog a whole can; in fact, you probably shouldn't.
Just offer your dog enough canned food to adequately mask the taste of the medicine to ensure your dog gets the full dose – a couple of tablespoons will usually do.
If your dog's medicine comes in capsule form, you may want to ask your vet about opening the capsule and pouring the contents in with your dog's canned food. This is safe to do with some medications, but others must be kept intact.
7. Treats
You can force a hard tablet into just about any soft dog treat and then give it to your dog. I like Canine Carry Outs for this purpose, but they have to be fresh to stay together once the pill is inside.
Try to use the smallest treats possible, so your dog will spend less time chewing on it before swallowing.
8. Pill Droppers
Pill poppers or "pill guns," as they are sometimes called, are essentially long syringe-like tools that are used to deposit a pill or squirt some liquid medication into the back of your dog's throat.
This helps prevent your dog from tasting the medicine, but it can be tricky to get the hang of these tools.
9. Capsules
If your dog only needs to take a small amount of liquid medication, you may be able to squirt it into small gel caps. This will keep your dog from tasting the medicine, and may make the entire process easier.
10. Hand Delivery
If your dog won't fall for treats or any of the other tips listed above, you may need to just take matters into your own hands – literally.
Gently open your dog's mouth, place the pill on the very back of his tongue and close his mouth. Gently rub his throat until he sticks his tongue out, and you are done. It can also be helpful to squirt a tablespoon or so of water in your dog's mouth before closing it to help stimulate swallowing.
Obviously, you shouldn't attempt this approach if you are afraid your dog may bite you.
11. Trick Them With Too Many Treats
Try feeding your dog several normal treats in a row before dropping in the medicine-filled treat – now that he's in the habit of gulping down what you're giving him, he may not even think twice about the decoy treat.
If your dog is good at catching treats you toss to him, this technique can be even more effective! Just start firing treats at him, and mix in the medicine-filled one somewhere in the sequence.
Also make sure to watch this video below for vet-recommended strategies to get your dog to swallow those pills!
Universal Tips For Getting Your Dog to Eat Pills
No matter which of the above hacks you decide upon, there are a few universal tips to remember when giving your dog his medicine.
The smellier and richer the treat is, the better it will mask the taste of the pill. You may even want to combine something pungent and something savory to help completely mask the medication's taste. For example, you may combine a slice of hot dog with a little sliver of feta cheese.
Keep an eye on the extra calories you are providing. While you probably don't have to worry about giving your Great Dane a few chicken skins a day for a 10-day course of antibiotics, your 5-pound Yorkie who will need to take pills for the rest of his life may start to pack on the pounds if you aren't careful.
Use the three-treat method for finicky four-footers. The three-treat method involves giving your dog a treat without a pill to gain his trust, then giving him a treat with a pill and then giving him another treat without a pill. This can help Jedi-mind-trick him into thinking he really didn't taste a pill in that second treat.
Avoid making pill–time stressful. Trying to convince your dog to take a pill can be frustrating, but you'll need to do your best to provide plenty of positive reinforcement, praise, and petting, to keep your dog as relaxed as possible. As hard as it may be now, stressing your pup out will only make things worse.
Work with Your Veterinarian
If none of the above strategies are working, and medication time is proving to be a chore, reach out to your vet for assistance. He or she may be able to give you tips that will make the process proceed more smoothly.
At other times, it may be possible for your vet to change the prescription. For example, some medications are available in more than one form; if your dog doesn't like taking a liquid medication, your vet may be able to contact the pharmacy (or an online pet pharmacy) and have them prepare the medication in tablet or capsule form.
Pharmacists can also occasionally flavor medications to make them less objectionable.
***
Have you ever had to go to great lengths to get your dog to take his medicine? Most of the dogs for which I've cared have been willing to take anything concealed in a piece of cheese, but I have had a few that required hand delivery.
Tell us about your experiences – especially if you have a tip or trick we've neglected to mention!