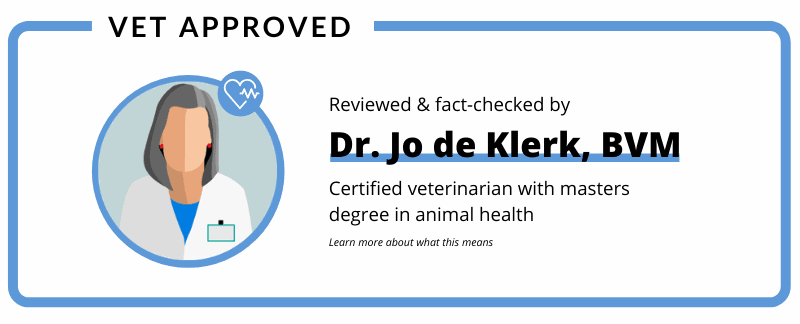 Often thought of as a human-only affliction, sleep apnea — a condition in which breathing temporarily stops during sleep — can also occur in doggos.
And unfortunately, it's just as serious in dogs as it is in people. In fact, dog sleep apnea is a dangerous condition that can actually lead to death in extreme cases.
Fortunately, there are a few ways to treat the affliction, though you may have to try more than one method to put a stop to your pup's breathing difficulties. But first, you have to determine that your doggo is actually suffering from the ailment, which means learning to spot some of the signs and symptoms the condition causes.
Below, we'll explain what sleep apnea is, share a few of its most common signs, and discuss some of the potential treatment options available for your pooch.
Key Takeaways: What Is Dog Sleep Apnea?
Dog sleep apnea is a condition in which a dog temporarily stops breathing while sleeping. Though it doesn't always cause serious side effects, it can reduce your dog's quality of life and — in rare cases — even prove fatal.
The causes and symptoms of sleep apnea in dogs are pretty similar to those in humans. Congenital birth defects, obesity, and allergies are some of the most common causes of the ailment, and the symptoms include things like snoring, excessive day sleeping, and irritability.
Some of the best treatments for canine sleep apnea include weight loss, medications, and surgery. Unfortunately the preferred treatment for many humans with sleep apnea (using a CPAP machine) isn't yet possible in dogs.
What Is Sleep Apnea in Dogs?
Dog sleep apnea is pretty similar to the human form.
Essentially, afflicted pooches cease breathing intermittently as their throat relaxes or tissue obstructs the airway while sleeping.
Breathing usually re-starts without issue, but in some cases, it may stop entirely (you can imagine what this means). Fortunately, complete breathing cessation isn't terribly common — but when it does occur, it usually happens in young dogs.
For that matter, sleep apnea in dogs is a pretty rare condition, anyway. But it is something to watch for if you have an at-risk pooch, or you notice other signs suggesting your dog may be experiencing breathing difficulties at night.
Common Causes of Sleep Apnea in Dogs: Important Risk Factors to Consider
Dog sleep apnea isn't as well-studied as it is in humans, but the potential causes are thought to be similar. Bottom line: If your dog has certain conditions, he's more at-risk than other pups.
Most commonly, sleep apnea in dogs is caused by or seen in:
Brachycephalic breeds: Short-snouted brachycephalic breeds like pugs, bulldogs, and Boston terriers are well-known for having a suite of breathing issues, called brachycephalic syndrome. And unfortunately, this collection of breathing issues may include sleep apnea.  
Obesity: Not only is excessive weight hard on your dog's joints, but it can impair his breathing. After all, dogs don't store all of their excess weight in places you can see it — some of their excess weight can be deposited around their windpipes. This can also exacerbate a condition known as laryngeal paralysis.
Allergies: Allergens irritate the airway and impact your pup's breathing with nasal congestion and inflammation. This irritation can lead to periodic pauses in breathing.
Congenital malformation: A misshapen palate, nostrils, or airway present at birth can disrupt breathing for life if left uncorrected. In these cases, breathing issues will normally be pretty consistent, which means they'll also occur during sleep.
Having a dog with one of these conditions doesn't guarantee that your four-footer will wind up with sleep apnea someday. It's merely something to watch for, along with other health conditions.
Symptoms of Sleep Apnea in Dogs: Things to Watch For
Dog sleep apnea symptoms are similar to those seen in afflicted humans, including:
Loud snoring
Gasping, choking, or snorting while sleeping
Waking from sleep frequently
Jolting awake from sleep
Excessive sleeping during the day
Restlessness at bedtime
Daytime fatigue
Irritability
Just because your dog displays any of these symptoms doesn't mean he has sleep apnea, but they are things you should report to your veterinarian if you notice them. Any signs that your dog might not be getting the sleep he needs or you're having a hard time getting your dog to sleep at night is worth consulting your vet about.
You know your pup best, and if something seems off, you should notify your vet and have him examined.
Is Sleep Apnea in Dogs Serious?
Yes, dog sleep apnea is a very serious condition, which always demands veterinary attention.
Not only can the lack of sleep be detrimental to your dog's physical and mental well-being, but it can make him stop breathing and pass away suddenly.
And unfortunately for our four-footed friends, it's more difficult to treat in animals than it is in humans, since some of the best treatments for people aren't possible (yet) for our pets. This most notably includes the use of continuous positive airway pressure breathing devices (CPAP) — they just don't make 'em for doggos yet.
But that doesn't mean we're completely unable to help our dogs; there are some treatments available, which we'll discuss in the next section.
Treatments for Sleep Apnea in Dogs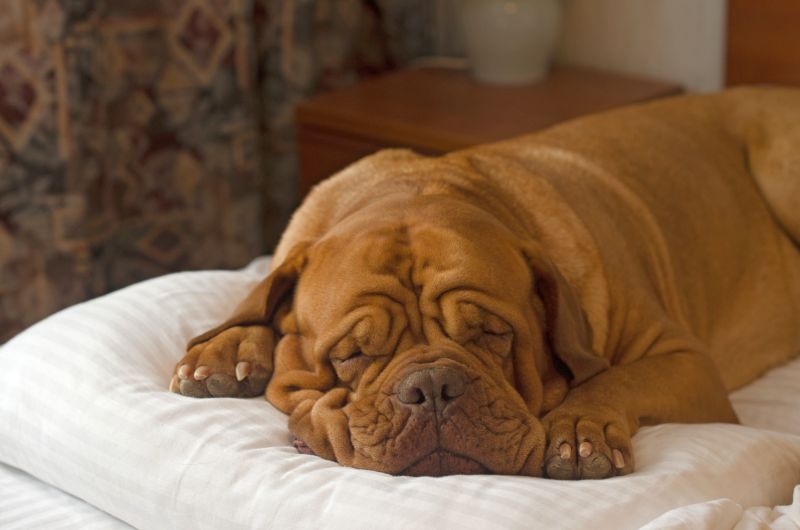 Upon taking your pet in for a consultation, your veterinarian will perform a thorough examination of your dog and discuss potential treatments with you.
As we mentioned, CPAP machines — one of the best sleep apnea treatments for humans — are not around for pups yet, but other options exist for helping your doggo snooze safely, including:
Your vet will work with you to develop the best treatment plan for your pooch's individual needs.
***
While the disease is serious, dogs with sleep apnea can live a long, healthy life with proper care. You can also prevent it in some cases by keeping your dog at a healthy weight and addressing his allergies and breathing issues.
Do you have a dog with sleep apnea? What treatments work for him? Let us know in the comments.