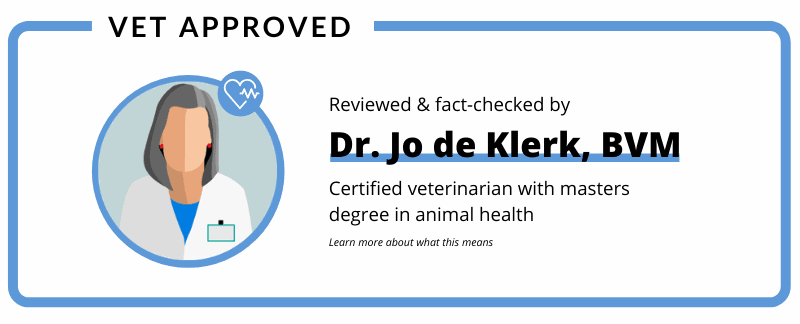 Inflammation-related ailments are common in dogs, and they often lead to some relatively unpleasant symptoms, like pain, severe itching or even hair loss.
Other dogs may experience inflammation in their digestive tract, which can lead to intestinal dysfunction.
But fortunately, there are several medications that can help put an end to the inflammation and help your dog feel better. One of the most commonly prescribed medications in to help with dog inflammation is prednisone.
What Is Prednisone? And Can I Give Prednisone to My Dog?
Prednisone is a synthetic corticosteroid that functions like some of the hormones naturally present in your dog's body. These hormones (cortisol is the most important naturally occurring one) help regulate a number of biological processes throughout the body.
For example, cortisol plays a part in the body's stress response, helps to manage the blood's electrolyte balance and ensures your dog's metabolism functions properly. However, its primary role involves regulating the body's inflammatory response.
Essentially, cortisol works as a break on the body's allergic and inflammatory responses. It keeps your pup's body from overreacting to harmless things (or sometimes, nothing at all). Some dogs suffer from out-of-control inflammatory responses, which lead to a host of unpleasant symptoms. In these cases, prednisone can be a life saver.
Prednisone helps your pup's body yank the break hard enough on the inflammatory response to end the unpleasant symptoms.
Technically, prednisone doesn't do anything for your pet until it passes through the liver via the bloodstream. At this point, the liver converts it to prednisolone, which the body can use. Accordingly, some pets with liver problems are given prednisolone, instead of the more common prednisone.
Different Drugs in Different Places
Note that veterinary practices differ a bit geographically. This means that vets in some locations (especially overseas) actually prescribe prednisolone instead of prednisone. Nevertheless, the information provided here is applicable for both medications.
Prednisone Is Available By Prescription Only
Unfortunately, prednisone is not available over the counter, and you'll need a veterinarian's prescription to purchase it. This is because while the drug has been studied extensively and used safely for years, it can cause important changes in the body.
For example, when a dog is given prednisone for a length of time (usually longer than 7 days), his body will stop producing enough of its own corticosteroids.

This can lead to serious medical problems, so it is often necessary to wean your dog off the medication gradually if he has been taking the drug for an extended period of time.
Additionally, some dogs may be suffering from other conditions that preclude the use of prednisone, such as infections, Cushing's disease, high blood pressure, cataracts, or broken bones.
Conditions Prednisone Treats In Dogs:
Prednisone is useful for treating an array of different problems, ranging from the relatively minor to life-threateningly serious.

Some of the specific ailments prednisone is most commonly prescribed to treat include inflammatory-related conditions, such as:
Allergies
Hives
Dry and itchy skin
Anaphylactic reactions
Shock
Injuries, particularly those involving the spinal cord (to slow swelling)
Inflammatory respiratory disease
Inflammatory bowel diseases
Asthma
Additionally, prednisone can be prescribed to treat dogs' auto-immune diseases (which share a lot of similarities with inflammation-related disorders), such as:
Hemolytic anemia
Thrombocytopenia
Diseases of the central nervous system
Prednisone is also prescribed to treat a few very serious diseases and disorders, such as:
Cancers and other types of abnormal tissue growth
Endocrine disorders, such as Addison's disease
When used to treat these conditions, prednisone is generally prescribed at much higher dosages.
Prednisone Dosage For Dogs: What's Appropriate?
Prednisone is available as an injectable medication, but it is most commonly administered in the form of oral tablets.
Prednisone is often quite distasteful for dogs, so you may have to place it in a treat to get your dog to take it (or use one of our other hacks to make your dog take his meds).

It is generally recommended that prednisone be administered with food, to help reduce the chances of stomach upset. Most veterinarians recommend providing your dog with this medication in the morning.
Only your vet can determine the proper dosage for your pet, so be sure to follow your vet's instructions to the letter when providing this drug to your pup. However, the following dosage regimens are fairly typical.
Dogs suffering from allergies and inflammatory conditions are typically prescribed 0.25mg/lb. per day, but the dose may be increased substantially (by a factor of 4 or more) if this doesn't achieve the desired results.
Dogs with adrenal deficiencies (such as Addison's disease) are typically prescribed 0.05 – 0.18 mg/lb.
This means that a 5-pound Chihuahua may be prescribed .25 to 1 milligram per day, while a 50-pound pit bull may be prescribed 2.5 to 10 milligrams per day. This dosage is often reduced gradually over time, until the lowest effective dose is determined.
Side Effects of Prednisone For Dogs
While prednisone is generally tolerated well by dogs, side effects can occur. Some of the most common and noteworthy side effects are detailed below.
Minor, Short-Term Side Effects
These types of side effects generally accompany short-term use of prednisone and often resolve after the treatment has concluded.
Increased thirst, water consumption and urination
Increased hunger
Lethargy and lack of energy
Excessive panting
Infections may worsen or fail to heal in a timely manner
Vomiting, nausea and drooling
Digestive difficulties (constipation, diarrhea)
Notify your vet if your dog exhibits any of these symptoms. Your vet will often instruct you to reduce the dosage slightly, as you try to find the correct amount of medication to treat the illness, without causing unpleasant side effects.
Serious, Long-Term Side Effects
These types of side effects normally accompany the long-term administration of prednisone for dogs, especially when it is prescribed in large doses, designed to restrict the body's immune response.
Obesity
Demodectic mange
Diabetes
Weakness and loss of muscle mass
Iatrogenic Cushing's disease
Poor coat condition
Thin, easily broken skin
Fungal infections
Urinary tract infections
Some of these side effects can be eliminated through the use of a similar, but different drug (such as another corticosteroid). But at other times, your vet may prescribe additional medications to help treat the side effects, without stopping the prednisone treatment or opting for an alternative corticosteroid.
Additionally, prednisone is also known to cause abortions in pregnant dogs, so it is rarely prescribed for those carrying young or nursing.

In fact, prednisone can damage the immune systems of puppies under 6 months of age, so it is typically not prescribed to young dogs either.
General Safety Information For Prednisone and Canines
Prednisone is a relatively safe drug for dogs – at least in the short term.
According to Prednisolone Dr. Barbara Forney, "Short-term administration of even large doses is unlikely to cause serious harmful systemic effects due to adrenal suppression."
However, long-term usage can lead to problems as your dog's body may stop producing sufficient corticosteroids on its own. So, it is critical that you follow your vet's instructions whenever providing this (or any other) medication to your pup.
Be sure to follow the same general safety precautions when using prednisone as you would any other medication, including:
Always take the medication as prescribed.
Do not stop administering the medication without your vet's consent – even if your dog's symptoms disappear.
Don't give the medication to dogs for which it was not prescribed.
Never administer NSAIDs (such as meloxicam) to dogs taking prednisone, as it can cause fatal gastric ulcerations.
Contact your vet immediately if your dog exhibits signs of an allergic reaction or intolerance to the medication.
Dispose of unused medications properly (and only if directed to do so by your vet).
Keep Yourself Safe When Handling Prednisone
Note that prednisone can also represent a threat to human health, so it's important to handle it carefully. In fact, it's always wise to wear gloves when handling this medication, as contact with the drug can cause some other medications to stop working. It can also represent a hazard to pregnant women.
Alternatives to Prednisone for Dogs
A lot of pet owners are interested in over-the-counter alternatives to prednisone, but unfortunately, there just aren't many.
There's a little bit of evidence that omega-3 supplements may provide some relief for dogs suffering from skin inflammation, but more research is needed. Nevertheless, this is a safe, potentially helpful strategy you may want to discuss with your vet.
A handful of herbs and supplements claim to provide similar symptom relief, but in just about every case, there is no data to support the use of these items.
Instead, the wiser course of action is to simply work with your veterinarian. Prednisone has been around for a long time (so there are several generic options) and it isn't terribly expensive.
Yes, the vet visit will hit you in the wallet. But you adopted a dog, so pony up, cowboy. Besides, just look at your little fluffmaster. How could you not want the best for him?
FAQ About Prednisone for Dogs
What is prednisone used for in dogs?
Prednisone is used to treat inflammation in dogs. It's often used to help treat common canine ailments including allergies, itchy skin, injuries to the spinal cord, inflammatory bowel disease, and asthma, among others.
How much does prednisone for dogs cost?
The cost of prednisone depends on the dosage prescribed by your vet. Prednisone tablets generally are available in 1-milligram to 50-milligram tablets, and you can buy any number of pills that you need.
One 10-milligram tablet usually costs between $0.20 and $0.30. Liquid versions of Prednisone are more expensive, with a 15-milliliters bottle costing roughly $15.
How long does it take prednisone to work in dogs?
Prednisone can begin working within just a few hours. This is why it's generally most popular as a short-term treatment.
What is considered a high dose of prednisone for dogs?
Appropriate prednisone dosage can vary depending on what it's being used to treat. Dogs who are being treated for allergies and inflammatory conditions are usually prescribed 0.25mg per lb, per day. However, your vet may increase the dose significantly if a lower dose does not achieve results.
Where can I buy prednisone for my dog?
What are the side effects of prednisone for dogs?
Short-term side effects for prednisone in dogs includes: Increased thirst, increased hunger, increased urination, lethargy, excessive panting, vomiting, diarrhea, and digestive issues. These usually resolve when the treatment is stopped.
Longer-term side effects that may occur over long-term use include: obesity, diabetes, mange, UTIs, among others.
***
Has your vet ever prescribed prednisone for your dog? What condition were you trying to treat? How did it work for your dog? Let us know all about it in the comments below.