As someone who has spent the bulk of his life caring for non-domestic animals, I certainly get the appeal of wolves and other wild canines.
Were it legal (and in the animals' best interest) to do so, I'd already have a pack of African wild dogs living in my home (though I'm sure my Rottie – not to mention my wife – would strongly reject this idea).
But unfortunately for those who like wolves, 175-pound apex predators are not exactly well-suited for life in the suburbs. While wolves are not vicious animals, they are too intelligent, wary, independent, and predatory to be considered good pets for the average animal lover.
While we all may dream of having our own direwolf that we share a spiritual connection with, most people will have to settle for a domestic dog that looks simply like a wolf.
Fortunately, there are a handful that do superficially resemble wolves, without representing the danger and difficulty that a pet wolf would.
The Wolf-Dog Connection
I'm guessing that you clicked on this article because you want a dog that looks like a wolf, and you aren't interested in a biology lesson about canine evolution and taxonomy. But, it's important to note that dogs and wolves are closely related species, who share common ancestors.
For a long time, domestic dogs (Canis familiaris) were considered the direct descendants of gray wolves (Canis lupus). However, recent research has muddied the waters a bit, and it appears that your beagle is more likely to be a cousin of gray wolves, as they evolved directly from a now-extinct ancestor of living wolves.
No matter the precise phylogeny of the group, dogs and wolves are very closely related critters, who exhibit a number of similarities. In many ways, dogs are akin to wolf puppies, given their juvenile facial features, a predilection for play and vocal ways.
Domestic dogs still possess much of the DNA that made them wolves in the first place, but most of these wolf-like traits have been "switched off." This means two things:
1) Dogs and wolves can interbreed and produce fertile wolf-dog hybrids.
2) Some of these wolf-like traits can be "re-activated" through selective breeding efforts, which will make them resemble their wolf-like ancestors. This doesn't make them wolves; it just makes them look like wolves.
Before we get started looking at wolf-like breeds, check out this photo of an actual wolf to help calibrate your eye.
Eight of the Most Wolf-Like Breeds
The eight breeds below all resemble wolves to varying degrees. Some are the product of dog-wolf hybridization, but others are simply dogs who've been selectively bred to resemble wolves.
1. Kugsha
Photo courtesy of 101dogbreeds.com
Kughsas – also known as Amerindian malamutes – are a hybrid breed with an enigmatic history.
Accounts of their precise origin vary from source to source, and none appear especially authoritative. However, they look like big huskies and exhibit the drive, love for running, and stamina that huskies do, but, like many other wolf hybrids, they have quite an independent streak and assertive personalities.
Some report (although without much in the way of citations or documentation) that the breed name came about as a way to get around laws banning wolf hybrids.
2. Siberian Husky
The Siberian husky is a familiar and lovely breed, who is well-suited for homes that are prepared to accommodate a heavily shedding, high-energy dog who loves to play, roam, and explore. Not to mention these vocal dogs can be quite noisy when they get in the right mood!
Accordingly, they are great for active families, runners, and bikers (that's Lance-Armstrong-style bikers, not Jax-Teller-style bikers).
3. Alaskan Malamute
Although not as popular as the husky, the Alaskan malamute is another familiar but ancient dog breed, which you may encounter from time to time. Handsome, fluffy and bigger than the husky, the malamute was also developed as a sled-pulling breed (and for hunting polar bears, of all things).
Malamutes are pretty, lovable, and very trainable when compared with some of the other dogs on this list. Like huskies, they have high energy levels, playful personalities and the ability to coat your entire home in a layer of their fur.
4. German Shepherds
German shepherds possess a distinct wolf-like aesthetic, but some clearly resemble wolves more than others do.
For example, German shepherds with long hair tend to look more like wolves, and the larger, bulkier individuals also project a more wolf-like image than the small, lean ones do.
German shepherds are sometimes clad in very wolf-like colors, including lots of gray, white and black, which helps further strengthen the resemblance. Both German shepherds and (less commonly) wild wolves occasionally exhibit jet-black coats, which is also pretty neat.
Like many of the other breeds on this list, German shepherds are shedding machines, but they're also loving, loyal, bright, and protective, so it is easy to understand their popularity.
5. Saarloos Wolfdog
Photo courtesy of Pets4homes.co.uk
The Saarloos wolfdog line was initially developed by Dutch breeder Leendert Saarloos in the 1930s. Although they were originally created by crossing European wolves with German shepherds, they have been recognized by the Federation Cynologique Internationale (the world's leading international dog registry) as a distinct breed since 1981.
One of the breeds that is most distantly related to other domestic dogs, and likely the most wolf-like breed in the world, Saarloos wolfdogs not only have a wolf-like build, their facial expressions are said to closely mimic those of wolves.
These dogs are said to be loving and smart, but, like most other wolf-hybrids, not particularly interested in pleasing their non-fur parent.
6. Utonagan / Northern Inuit Dog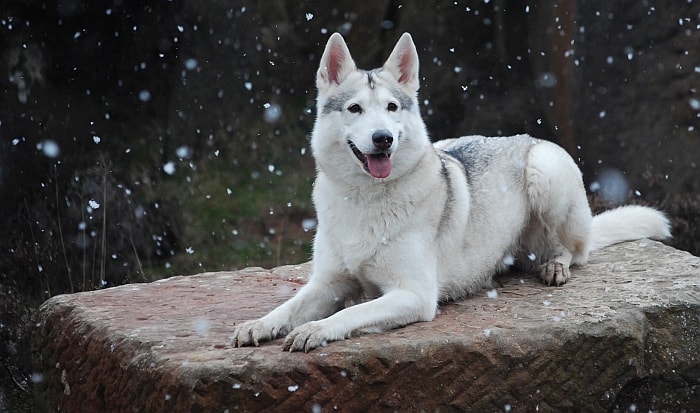 Photo courtesy of Nisociety.com
The Utonagan and Northern Inuit Dog are names applied to one or more breeds of domestic dogs who've been bred to look like wolves. There isn't a ton of fantastic information available about them, and several sources contradict each other. Adding to the confusion, the term "Utonagan" means "Northern Inuit."
However, this big white dog breed appears to have been created by mixing husky, malamute, and German shepherd lines. They were apparently created in the early 1980s, so they aren't terribly common. However, those who are familiar with the breed describe them as fairly husky-like in terms of personality and temperament.
Fun Fact: The direwolves from HBO's series Game of Thrones are Northern Inuit dogs.
7. Tamaskan
Photo courtesy of Petguide.com
Tamaskans are another breed that was reportedly produced by crossing – wait for it – malamutes and huskies, as well as a few other sled dogs. They may also have wolves in their recent family trees. Tamaskans aren't recognized by any of the major breed registries, but there are a number of breed clubs around the world dedicated to these wolf-like dogs.
Tamaskans are pretty similar to huskies in terms of temperament and abilities, and they reportedly make good pets for families that can handle high-energy pooches. Tamaskans – like some wild wolves – occur in both grey and black color forms.
8. Czechoslovakian Wolfdog
Photo courtesy of Pedigreedatabase.com
Another wolf-hybrid that is recognized by the Federation Cynologique Internationale, Czechoslovakian wolf dogs were initially developed for the Czech military. However, they've been used for search-and-rescue, tracking and herding work in subsequent years.
Because this breed was deliberately created as part of a scientific study, their history is a little better documented than some other wolf-hybrids and mixed breeds.
Czechoslovakian wolfdogs are said to be trainable, although they aren't border collies, and they require a dedicated owner, who is willing to spend plenty of time working with their pooch.
A Few Words of Caution
While there aren't many laws preventing people from owning huskies or malamutes, some of the other breeds on this list are the target of bans and special regulations. This is especially true of those breeds and hybrids that directly descend from wolves.
Different jurisdictions enforce these rules and regulations in different ways, but hard-ass municipalities may not only fine you for owning a wolf-hybrid, they may confiscate and euthanize your pet as well. Accordingly, you'll always want to check out the local legal environment before adding a wolf-like dog to your family.
It is also important to understand that many of these wolf-like breeds are very challenging to manage. For one, these dogs are on the big size, you'll need to pony up cash for larger-than-average dog crates and beds to match.
Many of them have incredible exercise requirements, and they get bored (and therefore destructive) very easily.
Even huskies and malamutes – two of the more suitable pet breeds detailed above – are a handful, and many owners are disappointed with their aloof demeanor. They're lovely dogs for those who understand their nature, but they can be difficult to train, and they are often maddeningly stubborn.
So, be sure that you do your homework before running out and buying a wolf-like breed. You don't want to go to all of the effort and expense of adding one to your family, only to find that they drive you crazy.
Just remember: No matter how much you love the aesthetic of wolves, you probably wouldn't care for their personality very much at all. If wolves made good companions, we'd never have developed dogs. But that doesn't mean you can't have a dog that looks a heckuva lot like a wolf.
Any of the breeds listed above should fit the bill, just be sure to pick the one that has a personality and temperament that is compatible with your own.
Have you ever owned a wolf-like dog? Tell us about the breed (particularly if you owned one of the less-common varieties – we know what huskies are like) and your experiences in general. We'd love to hear all about them.