In people's quest toward a fresher, less-processed diet, the trend has gone to the dogs — literally.
As pup parents, we always want what's best for our doggos, especially when it comes to nutrition, so it's no surprise that if we're eating better, we want them to, too.
The fresh dog food movement has picked up steam in recent years, and there is now a healthy crop of options on the market. Let's check out some of the best available and learn more about this rising trend.
In a hurry? Check out our quick picks below if you just need a fast recommendation!
Quick Picks: Best Fresh Dog Food Brands
What Is "Fresh" Dog Food?
As the name implies, fresh dog food is made "fresh" for your pooch, usually within a week of his dinnertime.
This differs from most pre-packaged kibbles and canned varieties that are made months before they reach your pupper's bowl. As a result, fresh dog foods contain few to no preservatives, and they are generally shipped more frequently than canned foods or kibbles are, as they must be eaten within their limited shelf lives.
The idea is, the less processed, the better.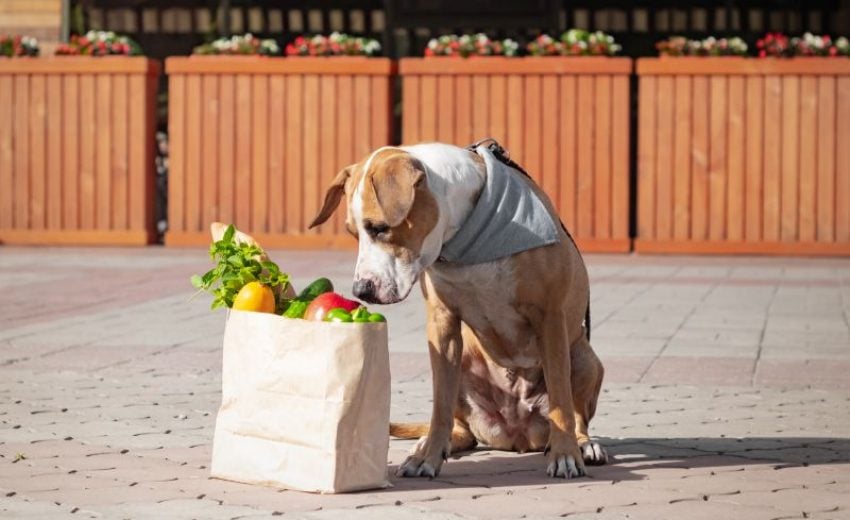 What Are the Advantages and Disadvantages of Fresh Dog Foods?
Fresh dog food is no-doubt revolutionary in the canine nutrition arena, but it does have a list of pros and cons you should consider, like:
Advantages
Minimally processed: A lack of additives is a major win for some, as more pawrents are skeptical of the synthetic chemicals appearing in some doggy diets.
Customizable: Most fresh dog food services allow you to customize your pup's meal plan, helping you avoid potential allergens, manage Max's weight, or switch things up as you please.
Tasty: Most fresh dog food arrives in a mash of meat, veggies, and sometimes fruits, which can be too tempting even for the pickiest pooches to ignore.
Disadvantages
Expensive: There are no bones about it — this stuff is pricey, especially if you have more than one dog.
Limited shelf life: It may not be an issue for some, but since most lack preservatives, the food will spoil quickly if not eaten or frozen.
Requires refrigeration: Since they lack preservatives, fresh dog foods must be stored in either a refrigerator or freezer, depending on the variety. This can be a drag on already-limited space, particularly if you're feeding more than one pooch.
Is Fresh Dog Food Safe?
With any new canine craze, it's understandable to question its safety. The lack of shelf life might have a few eyes narrowing, but fresh dog food is just as safe for your pooch as traditional kibble.
The formulas are typically designed by a veterinarian or canine nutritionist, ensuring a high-quality, well-rounded diet.
In some cases, fresh dog food is made with human-grade ingredients in USDA-approved kitchens, which you could argue is even safer than regular dog chow.
Fresh Dog Food Delivery vs Buying In-Store
Obtaining fresh dog food is easier than you'd think, seeing that the market has grown significantly. If you head to your local pet store, you might be surprised to find fresh food readily available. Some big box stores offer fresh options as well.
For convenience, you may want to look into purchasing online, where you can find several subscription-based services that offer scheduled deliveries. Most offer the customization we've mentioned, and you don't have to worry about running out to the store.
Most fresh food manufacturers deliver in pre-portioned packages as well, which is always a win when dealing with fresh food that can spoil.
Do You Need Fresh Dog Food?
It's worth noting that while many owners are making the switch to fresh dog food, kibble is still a solid option.
While many fresh dog food companies will rally against the dangers of meat meals and preservatives, there's always more to the story.
Properly identified meals like chicken meal or beef meal may sound not as appetizing as fresh, whole deboned meats, but meat meals actually provide more protein than deboned meat due to the large amount of water content found in whole meats.
While preservatives sound like un-necessary chemicals, there are many natural preservatives that deserve a place in your dog's food as they help the food stay good for longer.
Every kind of pet food has its own advocates, and marketing can be misleading. However, there's no denying that there are some significant health benefits owners have witnessed from switching to fresh food.
The Best Fresh Foods for Dogs
With the rise in fresh dog food options, we've handpicked the top options available for a quick rundown.
1. Ollie
About: Ollie is a subscription-based service that delivers fresh dog food to your door on a pre-set schedule. The food is shipped frozen, allowing you to thaw according to your dog's feeding needs.
Features:
Canine nutritionist-designed meal plans that are customized to your pup, including his body condition, weight goals, allergies, and dietary preferences (ideal for sensitive tummies and pickier pups)
Can be fed as your dog's only food source, a topper for a half-and-half approach, or an occasional mix-in treat, giving you a lot of wiggle room as far as cost goes
Made in small batches with human-grade ingredients
Prepared in the USA
Arrive in a plastic meal tray that includes a scoop for measuring out your four footer's food
Want more info? Read our full hands-on Ollie review!
Ingredients List
Lamb heart, lamb liver, butternut squash, rutabaga, kale...,
lamb, chickpeas, cranberries, potato, chia seeds, dicalcium phosphate, iodized salt, calcium carbonate, zinc gluconate, taurine, vitamin E, iron sulfate, pantothenic acid, manganese gluconate, thiamin HCL, potassium iodate, folic acid

Protein Content (for lamb): 11% min
Options:
PROS
Ollie sets the bar high with quality, as its ingredients are topnotch and the food is prepared in USDA-approved kitchens. The amount of control they give you over your pup's diet is hard to beat, helping you avoid pesky allergens that may lurk in pre-packaged blends. Storing leftovers is easy in Ollie's tray-like design, too, and its taste has even picky eaters interested.
CONS
The biggest drawback is certainly price, though they do have the option to scale down your purchase to a mix-in plan, which helps to a degree. Others may dislike that the food arrives frozen, and having to measure out food isn't everyone's favorite.
2. A Pup Above
About: A Pup Above is a versatile provider of fresh dog food, with a subscription-based service, on-demand ordering option, and in-store availability at a limited number of stores.
A Pup Above is uniquely positioned among canine competitors in the fresh dog food space due to the fact that they cook their food via sous vide, resulting in a slow cooking method that's said to preserve more nutrients than standard cooking procedures.
Features:
Offer veterinary nutritionist-crafted formulas that are balanced and made with only USDA meats and pesticide-free vegetables
Prepared via a slow-cook method (sous-vide) to preserve nutrients and flavor in a USDA-approved facility
The optional subscription-based lets you pick between going 100% A Pup Above and a Half Plan of half your pup's food and half A Pup Above
Arrive in 3-pound bags of 3 frozen 1-pound patties that can be dethawed as needed
Options:
Turkey Pawella
Porky's Luau
Texas Beef Stew
Ingredients List
Ground Pork, Pork Liver, Sweet Potatoes, Green Beans, Pineapple...,
Monocalcium Phosphate, Dicalcium Phosphate, Calcium Carbonate, Sodium Bicarbonate, Potassium Chloride, Magnesium Oxide, Salt, Ferrous Sulfate, L-Tryptophan, Zinc Oxide, Selenium, Copper Sulfate, Manganese Sulfate, Calcium Iodate, Vitamins D3 and E.

Protein Content (Porky's Luau): 19.81%
PROS
Doggos love the taste of A Pup Above, and owners appreciate the ability to buy as you please, freeing you from the confines of a subscription before making your final choice. You can even try the sampler pack for 15% off with code K9OFMINE15 for a no-commitment trial to see if your dog is a fan.
CONS
The packaging isn't as convenient as other fresh food options, as the defrosted 1-lb patties will need to be stored elsewhere if not consumed immediately.
Hands-On Experience with A Pup Above
We got to try A Pup Above ourselves, with Remy digging into a sampler pack.
It's no surprise that Remy loved the food, and I even noticed his itching subsiding a bit (although it's hard to say for sure that the food was what had an effect).
One particularly interesting thing I found was that, for me, the gross-out factor was much lower with A Pup Above than other dog foods – even other fresh ones.
The consistency of A Pup Above's food was a bit more sturdy and retained its structure, not breaking up as much as other foods. I'm assuming this is due to the sous vide cooking, although it's hard to say for sure.
In any case, and for whatever reason, I found it much easier for me to handle this fresh food without the ick factor – I even used my hands to stuff this food in a Kong toy!
3. NomNom
About: Restaurant-quality ingredients and single-serve sizes are hallmarks of Nom Nom, a fresh dog food delivery service. There's no need to measure — just pour in your pup's bowl for him to enjoy.
Features:
Meals are catered to your dog's individual needs, including his weight, age, and overall body condition
All formulas are crafted by a board-certified veterinarian and nutritionist
Ingredients are human-grade, and recipes are never mass-produced
Foods are prepared in one of two USA facilities
Numerous meal plan options are available via this subscription service, including feeding solely NomNomNow, a mix of your pup's food and NomNomNow, or NomNomNow as an occasional treat, allowing you to control cost (plus multi-pet discounts!)
Ingredients List
Ground beef, russet potatoes, eggs, carrots, peas...,
dicalcium phosphate, calcium carbonate, salt, fish oil, sunflower oil, vinegar, citric acid (preservative), taurine, choline bitartrate, zinc gluconate, ferrous sulfate, vitamin E supplement, copper gluconate, manganese gluconate, thiamine mononitrate (vitamin B1), selenium yeast, riboflavin (vitamin B2), vitamin B12 supplement, cholecalciferol (source of vitamin D3), potassium iodide

Protein Content: 10% Min
Options:
Heartland Beef Mash
Tasty Turkey Fare
Chicken Chow-Wow
Porkalicious Potluck
PROS
Nom Nom offers a number of discounts to help with the cost, and of most fresh dog food out there, this looks the most similar to actual people food as far as consistency goes. As for the doggos, reviewers are happy to report that the flavor receives four paws up.
CONS
This is less customizable than other fresh options on the market. The cost is a sticking point, too, as is the eco-footprint, as the single-use plastic food pouches aren't exactly environmentally friendly and can be difficult to store leftovers in.
Want more info? Get all the details by reading our full Nom Nom review!
4. Pet Plate
About: Pet Plate ships fresh, high-quality dog food to you directly from their USDA-approved facilities. The food is made in small batches and flash-frozen to prevent spoiling during shipment.

However, these foods defrost easily in the microwave for ready-to-eat meals.
Features:
Offer veterinary nutritionist-designed formulas made in the USA with human-grade ingredients
Your dog's meal plan is structured based on his condition, including body condition and activity level to ensure he maintains a proper weight
A subscription-based service with a 100% Pet Plate plan and a mix-in option called the Topper Plan that's more affordable
All meals are delivered in 100% recyclable plastic containers
Options:
Ingredients List
Ground beef, sweet potatoes, potatoes, beef liver, carrots...,
apples, green peas, pumpkin, dicalcium phosphate, natural flavor, safflower oil, salmon oil, calcium carbonate, salt, vitamins and minerals (taurine, vitamin E, ferrous fumarate, zinc oxide, manganese gluconate, thiamine mononitrate, magnesium oxide, potassium iodide, sodium selenite, vitamin D3)

Protein Content for Barkin Beef: 7.9% Min
PROS
The taste keeps your pup happy while storing between meals is easy for you with Pet Plate's reusable containers. The ground-up texture of the meat is great for pickier pups who aren't keen on chunky cuts of meat, too.
CONS
Pet Plate is strictly subscription-based, and there's no option for samples, so paired with its relatively high price, it's less-friendly to those looking to try them out. The containers are larger than other providers, too, so you may give up a hefty amount of refrigerator real estate, depending on your dog.
5. The Farmer's Dog
About: The Farmer's Dog is a subscription-based company that brings fresh dog food to your door in ready-to-serve biodegradable pouches. Your pup's unique blend is made with him in mind, leaving the guesswork out of allergy and weight management.
Features:
Provides customized nutrition for your dog's weight, activity level, snacking habits, pickiness, and potential allergies or sensitivities
Each meal is made is a USDA-approved kitchen in the USA and contains only human-grade ingredients
Every recipe is veterinary nutritionist-approved to ensure your dog gets a complete diet
Shipped frozen to ensure safe delivery
Options:
Turkey & parsnip
Beef & lentil
Pork & sweet potato
Ingredients List
USDA Pork, sweet potato, potato, green beans, cauliflower...,
USDA pork liver, fish oil, Vitamins & minerals [tricalcium phosphate, sea salt, vitamin B12 supplement, taurine, zinc amino acid chelate, iron amino acid chelate, vitamin E supplement, copper amino acid chelate, thiamine mononitrate, riboflavin, potassium iodide, pyridoxine hydrochloride (B6), vitamin D3 supplement, folic acid]
Protein Content for Pork & Sweet Potato: 11% Min
PROS
The taste of these has plenty of dogs' tails wagging, while owners love how easy they are to store because of their flat packaging. The environmentally-friendly packaging keeps the planet happy, too. Lastly, the trial option is fantastic for seeing if the food is right for your dog without tying you into a commitment.
CONS
Portioning out your dog's meals from the pouches can be tricky and even messy in some cases, which makes them slightly less convenient than other options. The price is a downside, too, but that's common throughout the entire product category.
Learn more about The Farmer's Dog in our in-depth Farmer's Dog review!
6. FreshPet
About: FreshPet is a line of fresh dog food offered in most big-box and pet stores in the U.S. With a wide assortment of flavors and formulas including grain-free, there's a FreshPet for most doggos.
Details
Made in USA
100% Natural US Farm Raised Chicken #1 ingredient
No Meat Meals or By-Product Meals
Vitamin and Antioxidant Rich Vegetables
Features:
All recipes are made in USDA-approved facilities in the USA with quality, preservative-free ingredients in formulas crafted by canine nutrition experts
Readily available in most grocery and pet stores
Offered in a variety of forms, including meat rolls, vacuum-sealed bagged meals, and single-serve containers
Online selector tool allows you to input your dog's information, including weight, activity level, and dietary restrictions to best-select the FreshPet food for him
Options: FreshPet has several lines that cover a host of dietary concerns from limited-ingredient to grain-free. They offer most proteins as well, with the exception of pork.
FreshPet Select is the brand's largest line, offering six protein combinations in roll form, four proteins in resealable bag form, and two single-serve stews (grain-free beef & pumpkin and grain-free chicken.)
Vital is an all-natural variety designed to be as close to natural form as possible, with five protein combinations offered in roll form and three combinations available in resealable bagged form.
Nature's Fresh is a locally-sourced line that is GAP-certified, offering five roll formulas and two bagged chicken options (regular and small breed.)
Deli Fresh is a Costco-exclusive brand of grain-free bagged chicken and a grain-free chicken roll.
Homestyle Creations are the ultimate for shaking up mealtime — just pick a protein pack (chicken or beef) and a mixer (three fruit & veggie combos to choose from.)
Ingredients List
Chicken, Carrots, Chicken Broth, Peas, Eggs...,
Chicken Liver, Brown Rice, Rice Bran, Carrageenan, Natural Flavors, Salt, Potassium Chloride, Celery Powder

Protein Content: 9% Min
PROS
FreshPet's widespread in-store and online availability is hard to beat, and its assortment of flavors and textures give picky pups plenty of options. The resealable bags make storage easy, though the roll varieties might be tricky between meals. Depending on the variety you choose, pricing can be less than other options.
CONS
While convenient, FreshPet isn't as customized to your pooch as other options. Some doggos don't care for the texture either compared to other fresh food varieties.
***
Fresh dog food can be a pricey investment, but many owners sing its praises. Have you tried fresh dog food for your bestest buddy? Have you tried any of the above?
Share your thoughts in the comments below!