The Hawaiian Islands are the definition of paradise—from the scenery to the culture, it's the perfect place to take in the beauty of the tropics!
The unique Hawaiian language provides a plethora of beautiful and interesting words to dub your dog. Many Hawaiians are named after words in the language that serve as symbolic representation for objects or adjectives — this is also an excellent way to represent your pooch's personality in his moniker!
Hawaii boasts a rich heritage, including a fascinating religion and culture, deeply rooted in tradition. From the interesting language to the beautiful landscape, people, animals, and culture, Hawaii is a rich land full of inspiring places — the perfect place to draw inspiration for naming your furry friend!
Today we're detailing some of the latest and greatest Hawaiian dog names. Let's dig in!
Hawaiian Male Dog Names
These Hawaiian boy dog names are excellent picks for your canine companion.
Ahe (Soft breeze)
Aka (Shadow)
Akamai (Clever)
Amana (Warrior)
Amoka (Strong)
Anakoni (Valuable)
Analu (Manly)
Asera (Lucky)
Akamu (The red Earth)
Aouli (Blue sky)
Bane (Long-awaited child)
Etana (Strong)
Ezra (Help)
Hanale (Lord of the manor)
Hale (Healthy)
Haukea (White snow)
Hilo (The first night after the new moon)
Hiwa (Jet black)
Kale (Strong and manly)
Kei (Dignified)
Kai (Ocean or sea)
Kaipo (Sweetheart)
Kale (Free man)
Kaliko (Bud of a leaf)
Kanoa (The free one)
Kapena (Captain)
Kapono (Righteous and moral)
Keanu (Cool mountain breeze)
Keo (Hawaiian version of Joe)
Keoki (Hawaiian version of George)
Keoni (Hawaiian version of John)
Kilo (Star watcher or daydreamer)
Kimo (Hawaiian version of James)
Koa (Fghter or warrior)
Paul (The day is done)
Pekelo (Stone)
Polo (Large and plump)
Polupolu (Flabby)
Pûkini (Pudding)
Liko (Bud of a plant)
Loke (Hawaiian version of Rose)
Lui (Well-known warrior)
Malo (Winner, or victorious man)
Mano (Shark, or lover)
Menehune (Mischevious dwarfs)
Nui (Important)
Pika (Rock, also the Hawaiian version of Peter)
Tua (Behind)
Hawaiian Female Dog Names
Check out these Hawaiian girl dog names for your sweetheart!
Ala Muku (Rainbow)
Alani (Orange fruit tree)
Alaula (Light of daybreak)
Alika (Truthful)
Akela (Lucky)
Anela (Angel)
Eleu (Agile and lively)
Ewalani (Heavenly woman)
Haimi (The seeker)
Halia (Fond remembrance)
Hanai (Lucky)
Hau (Snow)
Hoala (Agitate)
Hoku (Star)
Hula (Dance)
Iniki (Famous Hawaiian hurricane)
Iokina (God will develop)
Iolana (Soaring like a hawk)
Ipo (Sweetheart)
Iune (Hawaiian version of June)
Kailani (Sea and sky)
Kala (Princess)
Kalia (Beloved)
Kamea (The one and only)
Keala (Path)
Keola (The life)
Kina (China)
Kahili (Feather)
Kahua (Guardian)
Kaia (The sea)
Kaikala (Sea and the sun)
Kailana (Adored)
Kailani (Sea and sky)
Kaimana (Man of the sea)
Kaiolohia (Calm of the sea)
Kalama (The light)
Kalani (The sky)
Kalea (Bright)
Kalei (Beloved)
Kalena (Brightest start)
Kaloni (Sky)
Kani (Sound)
Kapua (Flower)
Keilani (Glorious chief)
Keona (God's precious gift)
Kiele (Precious blossom)
Kika (Tiger)
Kula (Gold)
Laki (Lucky)
Lani (Sky)
Leilani (Royal child)
Lokelani (Red small rose)
Lana (Floating)
Lilo (Generous one, title character of Disney's Lilo & Stitch)
Loni (Sky)
Luana (Happy)
Malina (Calming)
Mana (Power)
Miliani (Gentle caress)
Mirena (Beloved)
Malana (Light)
Mei (Hawaiian version of May)
Meka (Eyes)
Milani (Gentle touch)
Moana (Ocean, also a Disney princess)
Momi (Pearl)
Nalani (The heavens)
Naia (Dolphin)
Nana (A month in Spring)
Noe (Mist or rain)
Nahoa (Defiant)
Nanu (Wave)
Nani (Beauty)
Nohea (Lovely)
Okaoka (Tiny bit)
Olina (Joyous)
Ona (Sweetness)
Palila (Bird)
Pepe (Baby)
Piki (Peaches)
Poluna (Chubby)
Pualena (Yellow)
Puanani (Beautiful flower)
Ula (Red)
Ululani (Inspiration)
Waiola (Hawaiian version of Violet)
Cute Hawaiian Dog Names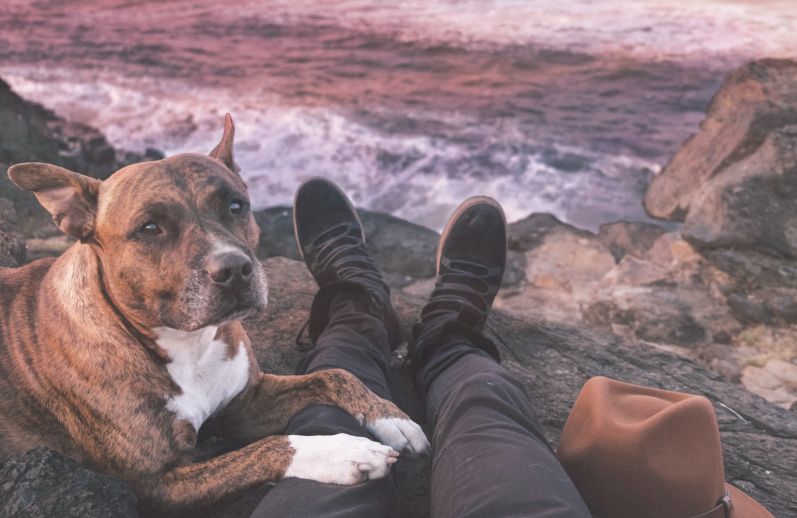 Do you have a canine cutie? These adorable names for dogs might be perfect for your furry friend.
Alamea (Precious child)
Aolani (Heavenly cloud)
Awapuhi (Ginger)
Lani (Sky)
Keiki (child)
Kekoa (Brave one)
Kio (Puddle)
Lilikoi (Passionfruit)
Mahina (Moon)
Makani (Wind)
Meli (Honey)
Moku (Ssland)
Weuweu (Fluffy)
Alemana (Warrior)
Anuenue (Rainbow
Edega (Wealthy)
Hae (Growl)
Hoku (Star)
Honi (Kiss)
Ilio (Dog)
Inoki (Devoted)
Kahoku (Star)
Kahuna (Priest)
Kanaka (Human)
Kanuha (Sullen)
Kealii (Cheif)
Kekipi (Rebel)
Kekona (Second)
Kikokiko (Speckles)
Kolohe (Little rascal)
Kono (Invited)
Lahela (Innocent lamb)
Lalama (Daring)
Lolo (Crazy)
Lupo (Wolf)
Mahalo (Thank you)
Makana (Gift)
Malia (Peaceful)
Mea Kolo (Creepy critter)
Mau Loa (Forever)
Miki (Guick)
Noelani (Girl from heaven)
Ohana (Family)
Oke (Oscar)
Ole (Fang)
Palani (Free man)
Paniolo (Cowboy)
Pilikea (Trouble)
Polo (Plump)
Pualani (Heavenly flower)
Pupule (Crazy)
Roselani (Rose)
Uilani (Great beauty)
Waha Nui (Big mouth)
Wahine (Woman)
Wiwi (Skinny)
Hawaiian Islands for Dog Names
Why not name your four-footer after one of the islands that make up Hawaii? Here are the main Hawaiian islands that can also make excellent Hawaiian names.
Hawaii: Commonly known as the "Big Island." Hawaii is home to a number of National Parks and wildlife areas, as well as the Kona area. The beautiful island is the largest amongst Hawaii.
Kahoʻolawe: The smallest of Hawaii's islands, with a diameter of just 11 miles across. As a former Naval testing site, visiting the island is heavily restricted.
Kauai: Home to many geographical marvels and a host of historical and cultural points of interest. The site of many sugar plantations in the past, farming remains a large source of income on the island, as does tourism. This is the third largest island.
Lanai: The site of past pineapple plantations, now a site for tourism and agriculture. It is famed for several historical events, including the death of Captain Cook in the late 18th century, and the site of James Dole's plantations.
Maui: One of Hawaii's larger islands, populated by majestic volcanoes and stunning tropical scenes. It is one of the top tourist destinations in the state. It is the 2nd largest island.
Moloka'i: Located in the center of the Hawaiian archipelago, it is the least touristy of its neighbors. It is home to beautiful Hawaiian landscapes such as Halawa Bay and Kamakou point. It is the fifth largest island in size. Sometimes called "The Friendly Island".
Niʻihau: One of the smallest islands in both size and populations, with less than 200 people. It is home to a small navy base and a wealth of Hawaiian culture.
O'ahu: The most populated Hawaiian island, and home to the Hawaiian city of Honolulu, which is the largest city in Hawaii. O'ahu is also home to Pearl Harbor and its memorials, as well as Diamond Head Volcano and Waikiki Beach. This is also the most popular tourist destination.
Hawaiian Dog Names Based On Cities and Sites in Hawaii
Consider naming your pooch after one of these Hawaiian cities or landmark sites.
Diamond: Diamond Head is an impressive volcano that looms over Honolulu. It is one of the most recognizable scenes of Hawaii's landscape, and is a designated National Natural Landmark.
Hapuna: One of the beautiful white beaches in Hawaii County.
Kailua: An east coast town located on Oʻahu.
Koloa: A historical town located on the island of Kauai. It was the site of an early sugar plantation in the early 19th century. An old town still stands today, and is a quaint place to step back into the history of the island.
Kona: A large town located on the Big Island. It's well known for its beautiful beaches, along with its world-famous coffee exports.
Manele: One of Hawaii's smallest towns with a population of less than 30. It's the picturesque site of a resort and a white sand beach on Manele Bay.
Pearl: The sobering history of Pearl Harbor is memorialized today near Honolulu and Pearl City. One of America's darkest moments in history, the 1941 attacks, is not forgotten by the people of Hawaii and holds a strong meaning and tragic significance.
Manoa: A suburb of the major city of Honolulu. It is known for the common appearance of rainbows, as well as the University of Hawaii at Manoa.
Waikiki: A neighborhood in Honolulu, known best for the world-famous Waikiki Beach. It's a collection of hotels, shops, and restaurants within walking distance from the water.
Waipahu: A former sugarcane plantation town located on Oʻahu.
Hawaiian Foods That Could Be Great Hawaiian Dog Names
These Hawaiian food-inspired dog names are perfect for pups that can't stop thinking about treats!
Ahi: A common name for types of delicious Tuna that frequent the waters around Hawaii.
Coco / Coconut: The delicious commodity of Hawaii's farming, with many uses and products!
Macadamia: A delicious type of nut grown and exported from Hawaii. The rich flavor of Macadamia nuts is common in desserts, and adds a crunchy element to any dish!
Opah: Another name for Moonfish, commonly exported from the islands.
Pineapple: This fruit needs no introduction. This delicious golden goodness is one of Hawaii's top exports, and a staple of the state's diet!
Poke: A common appetizer in Hawaiian meals, consisting of raw tuna, vegetables, and seasonings. The word "poke" rhymes with "okay".
Poi: A staple food in Hawaiian diet. Poi is made from a vegetable called taro root, which has been cooked and mashed. It can be made to different thicknesses and different flavors, too!
Hawaiian God and Goddess Dog Names
Looking for a more spiritual name for your canine? Try one of these names of Hawaiian gods and goddesses.
Akua (Oceanic Gods)
Haikili (God of thunder)
Hina (Moon Goddess)
Kane (Major Hawaiian god)
Kanaloa (God of the ocean)
Kana (Demigod)
Kapo (Goddess of fertility)
Kapono (Goddess)
Kapu (Ancient Hawaiian laws)
Ku (God of war)
Kuula (Goddess of fishermen)
Laka (Legendary hero, closely associated with the Hula)
Lea (Goddess of canoe builders)
Lono (God of agriculture)
Namaka (Goddess of the Sea)
Papa (Mother Earth)
Pele (God of the elements, and credited with forming the Islands)
Poliahu (Goddess of snow)
Hawaiian Flowers, Birds, and Animals as Dog Names
Hawaii is home to incredible flora and fauna, so you may want to consider some of these nature-inspired dog names for your pupper!
Hibiscus: The official state flower of Hawaii. They are easily recognizable across the islands, characterized by their bright colors and large flowering petals.
Honu: The Hawaiian word for turtle. The gentle sea turtles are a common sight in the waters around the islands.
Lo: A hawk native to the island of Hawaii. Its name, which rhymes with "Rio", is derived from the distinct sound of its call.
Kukui: The state tree of Hawaii. The flowers are frequently used in leis, and this tree also produces the candlenut.
Milo: A tree frequently found in Hawaii. It produces beautiful flowers that look similar to the Hibiscus.
Naupaka: These plants with delicate white flowers are generally found oceanside. These plants are deeply rooted in Hawaiian tradition—in fact, a popular legend features them prominently!
Nene: The state bird of Hawaii. It's only found in the Hawaiian islands, and boasts a majestic goose-like appearance.
Pikake: One of the common sources for the creation of leis. These beautiful flowers are typically pearly white and dense petals.
Seabean: A vine that produces smooth seeds that are used for decoration. The plants are typically green and the flowers grow in tight bunches.
Dog Names Associated With Hawaiian Culture and History
History and culture can also serve as great dog-name inspiration! Check out some of these Hawaiian culture and history references and see if any would be a good fit for your four-footer!
Aloha: Translated to English, it means "love". This is the word that Hawaiians use for both hello and goodbye.
Hula: The state dance of Hawaii. It dates back to ancient Hawaiian legends, and utilizes many symbolic and intricate moves to represent Hawaiian culture and religion. It is a traditional Polynesian dance.
Kamehameha: The royal family of Hawaii from the late 18th century to the late 19th century.
Lei: The traditional necklace or wreath of flowers traditionally worn around the neck. There are many techniques to create a lei, and it is essentially a symbol of Hawaiian culture to the rest of the world.
Liliuokalani: The last queen of the Hawaiian Islands before the annexation of the islands to the United States. Despite the eventual overthrow of her reign, she fought in controversial disputes for the Hawaiian kingdom.
Luau: The long-standing tradition of food and fun, also known as a Hawaiian party. This typically consists of traditional Hawaiian food, a pig roast, as well as dancing and singing.
Mele: Songs or poems (often with deep meaning) of the traditional Hawaiian language.
Ukulele: A Hawaiian musical instrument shaped like a small guitar. Sometimes confused as a Hawaiian guitar. The distinct sound of the ukulele is frequently used in the music at a luau or accompanying a hula Hawaiian dance.
Hawaiian Dog Names FAQ
Are you still having trouble finding the perfect Hawaiian dog name for your hound? Here are some commonly asked questions and answers to help!
What is a good Hawaiian dog name?
There are plenty of great Hawaiian dog names! You could choose something neutral like Olina meaning joyous, or opt for something more specific like Waikiki, named after the beautiful neighborhood in Honolulu.
What is a good Hawaiian name for a male dog?
There are plenty of great male Hawaiian dog names. Consider choices like Kilo meaning daydreamer, or Asera meaning lucky.
What does Loke mean in Hawaiian?
"Loke" refers to some sort of flower, like Lokelani refers to a small red rose.
What's the Hawaiian word for dog?
The Hawaiian word for dog is ʻīlio.
***
Are there any other Hawaiian dog names or Hawaiian phrases you think would make great dog names? Share your own ideas in the comments!
Looking for more dog name ideas? Check out our articles on: