Do you have a lucky lad or lass at home? Perhaps it makes sense to consider an Irish dog name for your furry friend!
We'll share some of the best Irish dog names for your four-footer below. Whether you have Irish roots or simply admire Irish culture, you're sure to stumble upon a fitting moniker for your mutt!
Female Irish Dog Names
Searching for Irish-inspired girl dog names? Consider these female dog names for your canine cutie:
Aaliyah: Rising
Abaigh: Joy
Abbie-Rose: Compassion
Abby: Joy
Ada: Nobility
Addison: Son of Adam
Adrianna: Dark
Agnes: Chaste
Aibhlinn: Longed-for
Aida: Reward
Aideen: Little fire
Ailbe: White
Aimee: Beloved
Aine: Happiness
Alana: Precious
Alba: White
Alma: Goodness
Athena: Goddess of wisdom
Aubree: Fair ruler
Bonnie: Pretty
Bowden: Messenger
Bree: Strong
Caitriona: Pure
Claire: Clear
Darby: Liberty
Dearbhla: Poet's daughter
Deirdre: Sad One
Delilah: Delicate
Diana: Divine
Dolly: Gift of God
Dorren: Sullen
Enya: Variation of Ena, meaning kernel
Erika: Forever
Erin: From the island
Esme: Esteemed
Ethne: Fire
Eva: Life
Evangeline: Good
Eve: Living
Eveleen: Little Eve
Fiona: White / fair
Florence: Blossoming
Gillian: Feminine form of Julian
Goda: A sense to perceive
Grainne: Love
Hailey: Hay meadow
Iona: Dove
Jorja: Farmer
Katie: Pure
Kayla: Fiar
Kayleigh: Slim
Keelin: Fair
Keely: Beautiful
Keeva: Protect
Keira: Black-haired
Kerry: Dark princess
Kylie: Boomerang
Lori: The laurel tree
Lottie: Little
Maeve: Goddess of Song
Maggie: Pearl
Maia: Great
Maire: Irish form of Mary
Maja: Mother
Maureen: Gaelic form of Mary
May: The fifth month
Maya: Good mother
Meah: Dreams
Meara: Happy
Minnie: Bitter
Miya: Shrine
Moira: Bitter
Molly: Star of the sea
Nainsi: Gaelic form of Nancy, meaning gracious
Neala: Champion
Noreen: Form of Nora
Nova: New
Peggy: Pet form of Margaret, meaning pearl
Penelope: Weaver
Quinn :Wise
Raina: Queen
Raya: Friend
Riona: Queenly
Rosin: Little rose
Saffron: Yellow flower
Saoirse: Freedom
Saorlaith: Noble princess
Sinead: God is gracious
Siobhan: Gaelic version of Joan
Violet: Purple
Vivien: Alive
Weronika: True picture
Willow: Willow tree
Winnie: Reconciliation
Yara: Water lady
Zofia: Wisdom
Zuzanna: Lily
Male Irish Dog Names
Does your best buddy make you feel lucky? Is he like your own canine clover? Well, check out these male Irish names for some ideas:
Ahmed: Highly praised
Aidan: Little fiery one
Anlon: Champion
Bradley: Broad meadow
Brady: Spirited​
Brandon: Cheiftan
Brendan: Prince
Brian: Noble
Brody: From muddy place
Brogan: Sturdy shoe
Caolan: Slender
Carbry: Charioteer
Carrick: Rock
Carson: Marsh-dwellers
Carter: Transporter
Casey: Vigilant
Cathair: Fighter
Cathal: Battle rule
Cathaoir: Warrior
Cayden: Fighter
Cedric: Chief
Charles: Free man
Clancy: Ruddy warrior
Conall / Connell: Mighty
Covey: Hound of the plains
Cowan: Dweller at a hollow
Cruz: Cross
Cuan: Little wolf
Collis: Dark hair
Cullen: Holly
Declan: Full of goodness
Deividas: Vitality
Dennis: Follower of Dionysius
Denver: Green valley
Dermot: Free man
Dexter: Right-handed
Eamon: Guardian
Eloy: Red-haired youth
Evan: Little swift one
Fergus: Superior
Fiachra: Raven
Filip: Friend
Finley: Fair-haired hero
Finn: Clear / white
Finnegan: White / fair
Finnian: Little fair one
Galen: Calm
Gerard: Spear carrier
Grady: Noble
Grayson: Son of the bailiff
Griffin: Strong in faith
Harley: Stag meadow
Harper: One who plays the harp
Harrison: son of Harry
Ian: Gaelic form of John
Iarla: The Irish version of Earl
Joshua: God is deliverance
Josiah: Supporter
Keiran: Little black-haired one
Kelly: Intelligent
Kenzie: The fair one
Kevin: Handsome
Kian: Ancient
Leary: Keeper of calves
Lee: Meadow
Liam: Strong willed
Lincoln: Lake colony
Lochlain: Home of the Norse
Loghan: From the hollow
Lorcan: Little wild one
Mannix: Monk
Marc: Warlike
Nolan: Little proud one
Norris: From the north
Oskar: Spear of the Gods
Paddy: Derivative of Patrick
Quinn: Wisdom
Riley: Small stream
Rogan: Red-haired
Rohan: Red
Roman: Powerful
Ronan: Sea
Seamus: Supplanter
Sean: God is gracious
Sorley: Viking / summer traveler
Tiernan: Little lord
Xander: A protector of men
Zachariah: The Lord recalls
Zachary: God remembers
Gender Neutral Dog Names
Whether you have a female or male mutt, these gender neutral Irish names are perfect for your pupper.
Anna: Grace
Annabelle: Favored
Austin: Great
Cody: Helpful
Flynn: Son of red-haired one
Griffin: Lord
Kane: Little warrior
Logan: Little hollow
Miles: Solider
Nola: Shoulder
Owen: Noble
Reagan: Nobility
Riley: Valiant
Fun Irish Dog Name Ideas
For a lighthearted name that still pays homage to Irish culture, consider one of these fun and cool Irish names:
Clover: The four leaf clover is thought to bring good luck with its unique shape and green color!
Guinness: A famous brand of beer composed of a dark stout – one of the best-selling and most well-known alcoholic drinks in Ireland.
Patrick: After St. Patrick, the patron Irish saint. The patron Saint Patrick was known for his spread of Christianity throughout Ireland.
Shamrock. A three-leaf clover that serves as Ireland's national emblem.
Shandy: A popular Irish drink that involves mixing beer with a sweet soda.
Bailey: After the popular Irish cream liquor.
Blarney: A small town known for Blarney Castle and the Blarney Stone, a famous landmark in Ireland.
Dagda: Another character from Irish folklore, said to have power over life, death, weather, and agriculture. He is said to resemble a large man with a black hood. A perfect name for a large Irish breeds like the Irish Wolfhound.
Gael: Gaelic is a language and culture that comes out of Ireland.
Puca: A create of Irish folklore, believed to bring both good and bad luck.
Irish Cities & Locations for Dog Names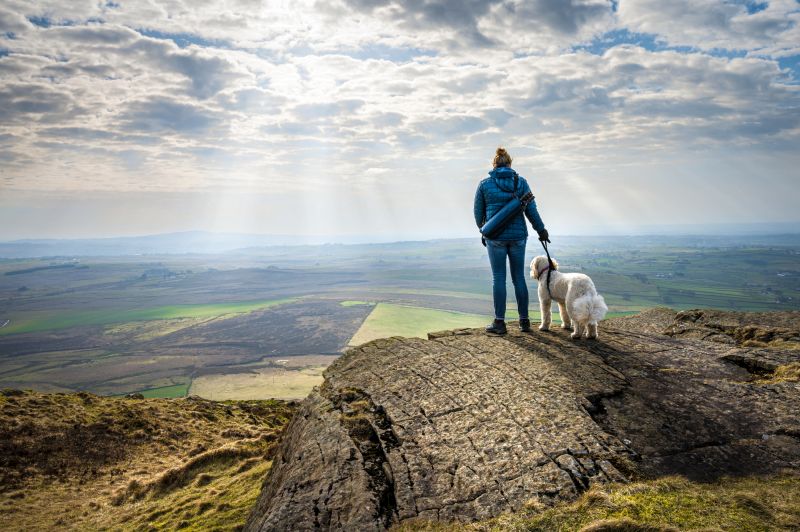 Ireland is full of beautiful sites and cities. Check out these names inspired by Irish cities and locations.
Burren: A region of County Clare with karst landscape featuring bedrock with a vast cracked pavement of glacial-era limestone, cliffs, caves, and fossils.
Cashel: From the Rock of Cashel, a set of rocky ruins that were once referred to as Fairy Hill by the pagans. This was the seat of the Kings of Munster. It's said that this was the location where St. Patrick was baptized as the Third King of Munster.
Cork: Cork is a large city situated in the South.
Donegal: A historic and beautiful city in north Ireland.
Dublin: The largest city and the capital of Ireland well-known as a birthplace to many artists and musicians.
Ennis: A county town of Clare.
Galway: A small Irish town in the west of Ireland. Galway means "stoney river."
Kerry: County Kerry is a region of Ireland in the west. Kerry takes it's name from a word meaning "people of Ciar." These individuals were known to have dark completion, and thought to be the original dark Irish.
Kilkenny: A small town in the Southeast region of Ireland.
Killarney: An Irish city that's home to a beautiful national park.
Limerick: A charming city in southern region of Ireland with a medieval style design.
Moher: The Cliffs of Moher are a popular natural attraction in Ireland.
Wexford: A town located in Southeast Ireland.
***
These names are perfect for Irish dog breeds or any pet parents with Irish pride. Have fun picking out the perfect name for your pooch!
Do you have any other ideas for good Irish dog names? Share your ideas in the comments!
Want more dog name ideas? See our articles on: