Just like us, our dogs can get stressed out and anxious. Thankfully, there are ways to effectively ease your dog's anxiety — especially separation anxiety. While you'll likely need to address your dog's anxiety in a number of ways, toys make excellent tools for soothing Spot.
We'll share some of the best toys for easing your dog's anxiety and share some general tips for helping your pooch feel better below!
Quick Picks: Best Dog Anxiety Toys
#1 Classic KONG [Best All Around Dog Anxiety Toy]: There's a reason they call this canine toy a classic! Great for chewing, fetch, or stuffing with tasty treats, this toy gives you several ways to manage your dog's anxiety.
#2 PetCube Bites 2 [Best High-Tech Dog Anxiety Toy]: Great for checking in on your dog from afar, this dog-management tool allows you to see, hear, and speak with your pet, and you can even reward good behaviors by triggering the device to toss him treats.
#3 Snuggle Puppy [Best for Anxious Dogs Who Like to Cuddle]: This soft plush toy works with warming inserts and an internal device that produces a thumping "heartbeat," which can help soothe canines who like to cuddle.
What Makes a Dog Toy Helpful for Treating Anxiety?
What makes a toy helpful for treating canine anxiety depends largely on the individual needs of your pooch. For example, some pups may be soothed by plush, cuddly toys, while others prefer to be mentally and physically engaged with an interactive or puzzle toy.
If you notice signs that your dog is feeling anxious or stressed, you'll want to decipher when and why your dog is feeling nervous. While toys won't always solve the issue, they can be beneficial for certain dogs – especially canines who are stressed due to boredom!
Here are a couple of things to think about when picking potential Spot soothers:
Look for interactive dog toys. One of the best ways to curb pooch anxiety is to keep your four-footer's brain engaged so that he won't focus on your absence. This could be toys with enticing scents or textures, or toys that will keep his brain buzzing.
Some dogs prefer soft toys. Not all dog anxiety toys are soft and squishy, but some dogs are reassured by cozying up to a soft plush toy. If your canine is a total cuddler, having these types of toys around can help him feel at ease.
Sometimes, a reminder of you can be helpful. Toys that help remind your dog that you're not far from home can help ease dog anxiety. Dog cameras and treat dispensers are a great example, as they allow you to interact with your dog remotely. However, fitting a simple plush toy with one of your T-shirts may also help keep your pet calm, as the toy will smell like you.
Durable chew toys are best for some pooches. For some canines, chewing can be incredibly helpful for soothing dog anxiety. Just make sure that your dog chew of choice is durable and can withstand hours of chewing.
The Seven Best Dog Anxiety Toys
Without further ado, here are some of our favorite calming toys to ease your dog's anxiety. Keep in mind that each dog is soothed in a different way, so you may have to try out a couple of toys to find one that suits his specific needs.
1. Classic KONG
Best All-Around Dog Anxiety Toy
This is a sponsored placement, in which an advertiser pays a fee to be featured in this article. Learn more
KONG
Interactive and flexible puzzle toy that can be chewed, thrown, or filled with tasty treats
About: The classic KONG toy is beloved by many dog owners due to its versatility and durability. These toys work great for chompin' or fetchin', and they can also keep your canine calm and focused if you stuff 'em with a pooch-approved filling or kibble.
Features:
Simple puzzle toy and slow feeder
Comes in several sizes making it suitable for pint-sized pooches and big buddies
KONG toys can be bounced and thrown for fetch lovers
Dishwasher-safe toy is easy to clean after stuffing
Pros
Dogs seem to find KONGs super entertaining, especially when they're filled with treats or kibble
Easy to clean rubber design for frequent use
Versatile toy can be chewed, thrown, and bounced
Cons
Not the best pick for pups who prefer cuddly toys
Some have a strong rubber smell upon first unboxing, so it's a good idea to give these toys a thorough wash before handing them over to your hound
Got a Power-Chewing Pupper?
If your dog takes chewing seriously, you may want to check out the KONG Extreme, which is much more durable than the Classic KONG.
2. PetCube Bites 2
Best High-Tech Dog Anxiety Toy
This is a sponsored placement, in which an advertiser pays a fee to be featured in this article. Learn more
PetCube Bites 2
Camera and treat dispenser that allows you to monitor and talk to your dog from afar
About: This interactive PetCube dog camera and treat dispenser is great for keeping Spot soothed from afar. PetCube Bites 2 allows you to monitor and talk to your dog all through a smartphone app. This can not only prove soothing for your pet, but it can also help keep you calmer, as you can check in on your cutie as often as you'd like.
Features:
Camera allows you to monitor your dog from afar
Embedded microphone and speaker makes it easy to speak with your best buddy
Doubles as a treat dispenser, even allowing you to fling treats at various distances
Built-in night vision functionality allows you to check-in on your floof anytime
Can be set up on a table or mounted on a wall for flexibility
Can be used in conjunction with Alexa
Pros
Owners loved how easy this dispenser was to set up and use
Embedded motion and sound detection is perfect for monitoring anxious pups
Dogs loved receiving treats from the customizable launcher
Cons
Some owners found that this camera didn't have the best night vision functionality
Some crafty canines were able to break into the dispenser to get the remaining treats, so think carefully about where you set it up
Subscription required for some functions
Want to Learn More about the PetCube Bites 2?
We've done a comprehensive review for the PetCube Bites 2 before, so check it out to learn more!
(Spoiler alert: We think it's pretty darn neato.)
3. Snuggle Puppy
Best Anxiety Toy for Dogs Who Like to Cuddle
This is a sponsored placement, in which an advertiser pays a fee to be featured in this article. Learn more
Snuggle Puppy
This soothing toy has a pulsating heartbeat and warming inserts keeping your dog calm
About: If your dog is a total cuddle bug, this snuggle puppy toy from SmartPetLove is a great pick. The plush toy has a pulsating heartbeat insert to help keep your pooch calm and feel like he still has some company, even when he's on his own. It also comes with disposable heat pack inserts to make the toy extra cozy for your canine.
Features:
Soothing toy is great for dogs with anxiety and puppies acclimating to new homes
Toy is machine washable so it's easy to keep clean
Heartbeat and warming inserts are excellent calming tools
Toy is made without small parts that are likely to be chewed off by a puppy
Pros
Soft plush puppy is perfect for pups who like something soft to cozy up next to
Heartbeat and warming inserts really increase the toy's value
Easy to clean design
Puppies and older dogs alike seemed to find this toy super comforting
Cons
Will not last for long around tough chewers
Relatively small toy that may not be big enough for large dogs
4. Nina Ottosson Interactive Toy
Best Anxiety Toy for Brainy Dogs
This is a sponsored placement, in which an advertiser pays a fee to be featured in this article. Learn more
Nina Ottosson Brick Toy
Interactive and treat-filled puzzle toy that'll keep brainy dogs busy and engaged.
About: If your fur-baby is a restless genius, he'll love the Nina Ottosson Brick Toy. This puzzle toy can be filled with small treats or kibble that your pooch will seek out using his sniffer and smarts. The brand also offers different levels of puzzles so you can mix things up and soothe Spot on a daily basis.
Features:
Interactive toy comes in a variety of difficulty levels to match your dog's capabilities
Puzzle toys have built-in scent holes to help hold your dog's interest
Engaging toys help keep your dog occupied and focused on his own
Durable plastic toys are easy to clean for regular use
Pros
Dogs seemed to love using their brains to earn treats with these toys
Toys were challenging enough to keep dogs occupied for relatively long periods of time
Different difficulty levels makes these toys accessible to a wide range of dogs
Cons
Some dogs "figured out" the puzzle simply by throwing the puzzle against the wall or flipping it over
Not the best choice for canines who like to chew
5. Busy Buddy
Best Aromatherapy Anxiety Toy for Dogs
This is a sponsored placement, in which an advertiser pays a fee to be featured in this article. Learn more
Busy Buddy
Chamomile-scented, treat-holding toy that gives your dog something soothing to chew
About: This soothing PetSafe food-dispensing toy is made with chamomile-scented rubber, which is a scent that many dogs find to be quite soothing. This adorable anxiety toy is well suited for small to medium-sized dogs, and it is designed to hold up well for power-chewing puppers.
Features:
Adjustable internal prongs make it work with a variety of different treats
Relaxing chamomile-scented toy is dishwasher safe for easy cleanup
Rubber toy can be thrown, bounced, or filled with food
Durable design makes this a great dog toy for heavy chewers
Pros
Dogs seemed to love spending lots of time finagling treats out of this feeder
Great for dogs who love to chew or fetch
Owners found these toys super easy to clean for regular use
Cons
Not suitable for large dogs
Some owners found that their dogs were deterred by the chamomile-infused rubber's smell rather than soothed
6. Zippy Paws
Best (Soft) Puzzle Anxiety Toy for Dogs
This is a sponsored placement, in which an advertiser pays a fee to be featured in this article. Learn more
Zippy Paws
Cute and soft squeaker toys designed to keep your dog stimulated and entertained.
About: This soft Zippy Paws puzzle toy is absolutely adorable and will keep your dog engaged while he works to remove the smaller toys from the larger base. The toy's soft surface is also comfortable enough for cuddling, to help ease your dog's anxiety.
Features:
Each large toy base comes with three additional miniature toys
Interactive puzzle can help keep your dog engaged for longer periods of time
Each miniature toy has an embedded squeaker to keep Fido entertained
Ideal for small to medium sized dogs
Plush fabric is perfect for canine cuddling
Pros
Great introduction to puzzle toys for beginner best buddies
Dogs seemed to love taking the mini toys in and out of the larger base
Individual squeakers in each mini toys help keep your pooch amused
Cons
Soft toys may not be the best pick for heavy chewers — be sure to monitor your dog's first few play sessions
Not an ideal for large dogs
7. Goughnuts Maxx Pro 50 Ring
Best Overall Chew Toy for Pit Bulls
About: If your best buddy is a power-chewing pupper, the Goughnuts Ring Toy may make an excellent soothing tool for your furry friend. The reinforced rubber ring is suitable for dogs weighing between 10 and 120 pounds, and it is backed by the manufacturer's lifetime warranty
Features:
Dog toy is made in the USA and comes with a lifetime guarantee
Chewing ring comes in a variety of sizes
Rubber toys can be thrown for fetch
Simple yet strong rubber design is easy to clean for regular use
Pros
Goughnuts toys come with a lifetime guarantee
Owners noted that their dogs loved spending hours gnawing on these durable toys
Long-lasting toys come in sizes ideal for most dogs
Cons
Rubber toy does not float so this shouldn't be used in water
Some dogs didn't find this toy interactive enough to play with it on their own
Additional Tips for Treating Dog Anxiety
Dog anxiety toys are valuable tools for addressing your pup's stress and anxious feelings, but they are unlikely to completely solve the issue themselves. Accordingly, you may also need to reach out to a certified trainer or canine behaviorist to get to the root of your pup's problem.
In the meantime, you may want to consider a few of the following tips and tricks for treating your dog's anxiety:
Consider using CBD supplements. CBD oil or treats for dogs may help your furry friend feel more at ease. Just be sure to consult with your vet before you begin a canine CBD regimen.
Provide your pooch with more exercise. Some pups may feel anxious due to their large reserve of pent-up energy. If this seems to be the case with your furry friend, try to take your best buddy out for an extended walk or outing before leaving him on his own. This way, he can focus on winding down and relaxing (or just crashing and catching some Zs) while you're out.
Talk to your vet about anxiety medications. Your veterinarian may recommend that you start giving your pet anxiety medications for dogs to help keep your canine calm. Keep in mind that it's often necessary to experiment with different medications types until you find the one that works best for your dog, so you may not see results overnight.
Fit your pooch with a Thundershirt. — Thundershirts are snug-fitting garments that help your pooch feel calmer by swaddling him tightly. The Thundershirt is one of the safest possible treatments for anxiety since it won't cause any side effects. You can also create a DIY Thundershirt if you're a crafty pet parent. Check out our full hands-on Thundershirt review to evaluate if it's a good potential solution for your dog's anxiety.
Pick up and use a snuffle mat. Using a snuffle mat is a great way to bust doggie boredom and ease canine anxiety. These mats tap into your dog's foraging instincts keeping him engaged even when you're absent (although for more intense dog separation anxiety, they might not do much to help). You can also experiment with other slow feeder options to see what peaks your pup's interest. 
Enroll your pet in a doggie daycare. If your pup enjoys spending time with other dogs, doggie daycare might be a great fit to help curb canine anxiety. This way, your pooch can stay happily entertained and engaged while you're off taking care of business. 
Hire a dog walker. Hiring a dog walker can help your pooch feel less lonely throughout the day and teach him to trust people outside of your family. Even a quick drop-in visit or potty break can go a long way. Just make sure your dog walker has a strong understanding of the best ways to calm your buddy.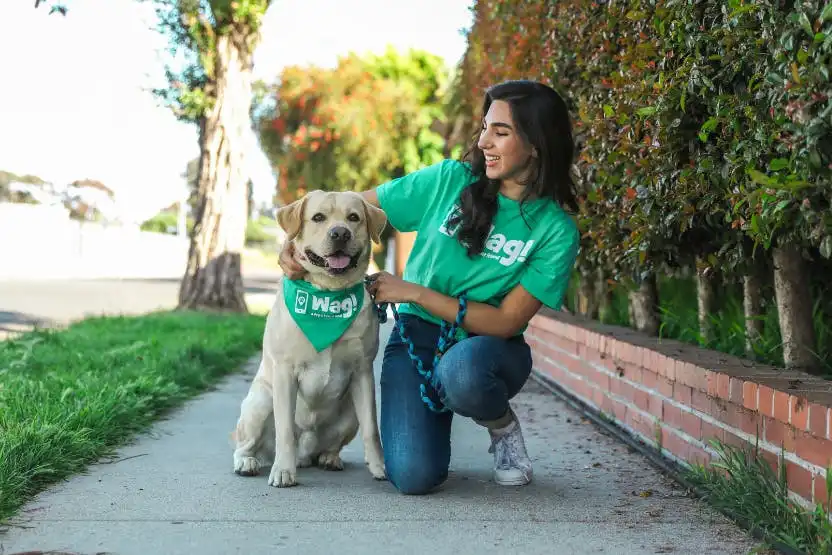 ***
Integrating different types of toys into your dog's daily routine can help ease doggie anxiety. These toys make excellent soothing tools for comforting your canine whether you're near or far, and are a great method to try when seeking out ways to calm your dog naturally.
Does your dog like playing with any of these anxiety toys? How do you soothe Spot? We'd love to hear all about it in the comments below!