When it comes to life with a dog by your side, a collar and leash are absolute must-haves. From keeping your four-footer safe during neighborhood strolls to holding his identification tags, these accessories fulfill many critical roles.
We're all used to basic designs with little to no pop, but your fur friend can easily become a fashionable Fido by upgrading his look to something with pizzazz.
Check out these snazzy sets and see what style fits your floof!
22 Unique Dog Collars & Leashes
These are our top picks for showing off your dog's personality through his accessories.
1. Custom Biothane Dog Leash
About: A tailored piece for the polished pupper, this custom biothane leash by RuffThreadsAZ has the crisp look of leather without all the hard to clean nooks and crannies.

Made with a polyester webbing coated in biothane plastic, this leash is lightweight and somewhat flexible, allowing it to absorb some of that arm-aching shock that may creep up if your dog tugs. It's also waterproof — a perk if your doggo enjoys a cool-down dip during walks.
Not only are there twenty bright colors to choose from, but you can also pick from four different hardware finishes. You have freedom of sizing too, with eight length options ranging from 1 to 8 feet long and three thicknesses, from ⅜-inch to ⅝-inch wide.
You can also choose which hardware style you'd prefer, whether it's a traditional bolt snap clip or a trigger closure. If your dog needs something a little thicker, they carry 1+ inch thickness designs too under their wide leash listing.
2. Foggy Harbor Paracord Leash
About: The Foggy Harbor Paracord Leash by Salty'sOwn is made with an eye-catching multicolored twist of colors. This US-made, military-grade paracord has an impressive 550-pound breaking strength. The material is easy to clean and can be machine-washed as needed or just hosed off from time to time.
Available in five lengths from 4 to 8 feet, you can also add a traffic loop handle if you'd like. This extra handle sits closer to your doggo, giving you additional control as needed. For pup parents preferring a solid look rather than multicolored, check out the Cody Leash, a navy lead made with real marine line rope.
3. Wolfgang Collars & Leashes
Wolfgang Man and Beast designs gorgeous American-made dog collars and leashes for owners who want to give their pup a unique look.

With a focus on nature scenes and tribal patterns, these designs will get you plenty of attention on walks!
Wolfgang offers beautifully designed martingale collars as well as standard flat collars, plus harnesses and leashes!
Leashes are available in 6ft and 4ft variations, with sturdy hardware and more incredible designs.
4. Good Wolf Design Waterproof Two Tone Dog Leash
About: The Waterproof Two Tone Dog Leash by GoodWolfDesignCo is another biothane lead that's perfect for outdoor-loving doggos since it's tough enough to stand up to mud, water, and the cold.

Easy to clean, just wipe down or rinse as needed to keep it looking and smelling its best. It's an attractive alternative to leather, as it's strong and offers the same sharp look without the risk of cracking or fraying.
Offered in 28 colors that you can mix into your desired two-tone look, this leash is made in Canada.

The hardware comes in a standard brass finish, but you can upgrade to silver if you'd like. There are two widths available, ¾ inch and 1 inch, and three length options: 4-, 5-, and 6-feet.
5. JustPets Pro Climbing Rope Dog Leash
About: The Pro Climbing Rope Leash from JustPetProducts is a handmade lead fashioned out of upcycled professional climbing rope in the USA. Offered between 9 and 11 millimeters thick (roughly 0.35 and 0.43 inches, respectively), the leash is lightweight despite its strength and works well with doggos of varying sizes.
There are 30 multicolored patterns to choose from, leaving room for every doggo's aesthetic, whether he's a stately schnauzer or a fun-loving foxhound.
You can choose from six leash lengths, ranging from 3 to 8 feet, with three clip options: small carabiner, standard, and lobster. Custom leash lengths are available upon request along with rubber clip guards. For those seeking additional blue, black, red, or pink/purple combos, the seller also offers a ton of patterns in those shades too.
6. CSJ Creations Paracord Dog Leash
About: This Paracord Dog Leash from CSJ Creations is handwoven in the USA out of 550-pound breaking strength paracord. Featuring a unique cobra weave pattern, this leash is as good-looking as it is strong. The material is mildew-resistant and easy to clean — just pop in the washing machine and let it air dry to keep it fresh.
Available in 88 colors that you can mix for a dual-color design or keep the same for a solid look, you can easily make your doggo's dream lead. There are eight lengths to choose from, ranging between 1 and 8 feet. At ¾ inch thick, it's suitable for most dog breeds, and you can choose between a standard swivel snap hook or an aluminum carabiner for securing it to your pupper's collar.
7. Furbubco Macramé Dog Leash
About: The perfect pick for sweater weather, this Macramé Dog Leash by Furbubco is a fall-loving fur friend's favorite accessory. Handmade in Australia using 5-millimeter-thick (about 1/5 inches) macramé braided cord, this leash is just over 5 feet long and is lightweight and comfortable for casual strolling.
This lead is available in 26 styles, including a range of colors and hardware finishes. You can also choose between this standard look or a twisted design for something a little edgier.
8. Multicolor Paracord Dog Leash
About: The Multicolor Paracord Dog Leash by PAWOUAF is handmade in France using US-manufactured polypropylene multifilament cord that is non-toxic to doggos. A durable lead, it can withstand water and messes, and it can be easily cleaned by rinsing it or tossing in the washing machine and air drying.
Made in 36 patterns, the leash is multifunctional and can be looped around your own waist for hands-free use or shortened with its series of rings. The standard offered length is 5 feet, but the seller can also customize the length to your needs upon request. The zinc carabiner is equally impressive with its 265-pound breaking strength, which should be strong enough form nearly every dog breed (except, perhaps, the giantest pooches around).
9. Jolly Hound Ombre Rope Lead
About: JollyHound's Ombre Rope Leash packs a pop of color that leaves tails wagging. Handmade in the UK using soft cotton rope, it's lightweight and has some stretch, leading to a comfortable feel for both you and your four-legged walking buddy.
Available in 32 vibrant hues and five lengths ranging from 2 to 6 feet, there's something for every doggo's style and needs. The seller does note that it's best for pups over 22 pounds, however.
The included O-ring on the handle is great for hands-free poop bag storage. And the standard nickel trigger fastener comes with all leashes, though you can switch to a scissor style upon request or upgrade to rose gold or brass finishes for a fancier look.
10. Catahoula Creations Unicorn Rope Dog Leash
About: The Unicorn Rope Dog Leash by Catahoula Creations is certainly a great way to brighten up your daily walks. Featuring a rainbow of collars up the lead, these leashes are handmade in the USA using natural cotton rope. The optional O-ring is ideal for securing accessories, like poop bag holders or clip-on treat pouches.
The rainbow coloring is hand dyed, so each leash is unique. For your fastener, you can choose between a standard trigger clip or a lobster style design, and you can also choose from five different finishes, including black and rose gold.
This leash comes in 5- and 6-foot lengths and a ⅜ inch and ½ inch thickness. For dogs that pull, always size up for best results.
11. Ding Dog Braided Bullhide Lead
About: Handmade in the USA using real leather, Ding Dog's Braided Bullhide Lead will elevate your doggo's wardrobe to the top of the pack. Strong yet gentle on the hand, bullhide leather is lightweight and leads to a comfortable walk for you and your dog. This comes in a standard length of 5 feet.
Offered in 10 primary colors that you can mix with 11 secondary colors, the braided bullhide lead is available in three widths: ⅜, ⅕, and ⅝ inch. For the standard swivel hook hardware, you have the option of a brass or nickel finish.
12. PawID Personalized Floral Nylon Collar
About: Fun and fashionable, the Personalized Laser Engraved Nylon Collar by PawID fulfills your pupper's princess dreams with its sweet floral print. Handmade in Australia, the nylon collar features a gold-plated metal buckle that you can have engraved with your doggo's name and contact information.
There are three floral color patterns to choose from, including pink, beige, and blue. You can also grab a matching leash at checkout for a cohesive look. The collar comes in three sizes: small, medium, and large. They range from 10 to 23 ½ inches long, which works well for most dog breeds.
Do note that the seller cautions that this collar isn't ideal for toy breeds, however, as the metal buckle can be heavy.
13. Engraved Leather Dog Collar
About: The Engraved Leather Dog Collar by SoGoodSoWood is a country-loving canine's dream. Made with distressed cowhide leather in the Ukraine, this rugged collar features an easy-to-use buckle clasp that can be engraved with your pup's name, number, and other pertinent information.
Offered in 15 colors, the collar ranges in sizes from XXS to XXL and widths of ⅝ inch and 1 inch. The material is sturdy, but not stretchy, so make sure you measure carefully according to the seller's chart and leave enough wiggle room to ensure a proper fit.
14. 4PawsOnly Paracord Dog Collar
About: The Paracord Dog Collar by 4PawsOnlyNovelties is handmade in the USA using powerful paracord in an attractive cobra-weave style. Each collar features a metal ID tag that you can customize with your pup's information in either a bold or italic font. Both metal and plastic buckles are available, making these ideal for small and large dogs alike.
With 65 colors and patterns to choose from, this collar can work with any pup's wardrobe, whether he's a fashionable city slicker or a country cutie looking for something simple. Just pick two colors to mix or stick to one for a more cohesive look, and your pupper will have a collar that no other pooch in the dog park does.
15. Bronze Dog Customized Leather Dog Collar
About: Bronze Dog's Customized Leather Dog Collar features the classic belt-like design that most leather collar lovers adore.
Handmade in the Ukraine using real cowhide leather, these leashes need to stay dry; they are not suitable for wet conditions. So, if Spot likes to swim a lot, you should probably opt for a different collar.
Available in seven colors, this custom collar comes in six sizes, from XXS to XL. All hardware is metal with a gold finish, and each collar has a built-in metal nameplate that you can engrave with your dog's information just in case he wanders off to show someone his fancy new collar.
16. DogHug Embroidered Nylon Custom Collar
About: Letting the world know your doggo's name at a glance is easy with the Embroidered Nylon Custom Collar by DogHug. Stitched with your pupper's information and an optional heart, a heart with an inner paw print, or a plain paw print, this nylon collar is handmade in the USA and easy to clean.
The collar's buckle is plastic, so this is a good pick for small dogs who can't handle a lot of weight. Conversely, you'll want to think carefully about using it with big, rough-and-tumble doggos, as it is unlikely to be as strong as a metal buckle.
There are eight standard collar color options you can choose from, along with 13 thread shades for embroidering. You can also pick between three fonts. This is available in five sizes, ranging from small to extra large.
17. Braided Leather Dog Collar
About: Another collar from BronzeDog, this Braided Leather Dog Collar spices up leather collar life with a surprise touch of color and personality.
Handmade in the Ukraine using full grain cowhide leather, this collar features an optional customized ID plate. While durable, leather should not come into contact with water, as it can weaken the material and make it brittle.
Offered in 12 color combinations, each collar design features an eye-catching braid on a black or brown leather backdrop. There are four size options available between small and extra large. Since this is leather (and therefore doesn't stretch much), be sure to measure your doggo carefully to ensure a proper fit.
18. FuzzyPaw Personalized Camo Dog Collar
About: For the rugged retriever, there's the Personalized Camo Dog Collar by FuzzyPawCreations.
Made in the USA with a durable nylon webbed fabric, this collar is machine washable and ready for outdoor adventures. At 1 inch thick, it's not a flimsy find, and it can be custom stitched with your dog's name so everyone knows who the handsomest boy at the dog park is.
Choose from eight stitch colors and five fonts, making your pup's collar a one-of-a-kind piece that suits his personality. The collar comes in three sizes, including small, medium, and large, and it features a plastic buckle clasp.
19. Mermaid Dog Collar
About: Unleash your pup's inner mermutt (or would that be muttmaid?) with this Mermaid Dog Collar by BBDesignsPetFashion. Handmade in the USA from durable nylon, this collar is ready for backyard fun or dog park adventures. You can also add a flower for a splash of fun if your floof is feeling fancy.
Offered in six shades and four sizes from small to extra large, there's a mermaid collar for every doggo. Depending on size, you can pick between three widths: ⅝, ¾, and 1 inch. All hardware (including the buckle) is made of metal, and you have the choice of a rose gold, gold, or silver finish.
20. Heately Personalized Tribal Pattern Dog Collar
About: This Personalized Tribal Pattern Collar from HeatleyDogCollars offers a burst of color and style. Handmade in Canada, these bright collars feature a black patch you can customize with up to three lines of your doggo's information. The construction is lightweight with a plastic buckle, making it ideal for smaller dogs.
Available in nine fun prints, these collars come in four sizes between small and large. The small collar size is ¾ inch wide while the rest offer a 1 inch width for a secure hold.
21. Moxie Biothane Waterproof Dog Collar
About: Getting caught in the rain or embarking on a surprise spelunking isn't a problem with MoxieCollars' Biothane Waterproof Dog Collar. Made of strong biothane in the USA, this collar can handle water and dirt and only requires a quick rinse as needed to stay beautiful.
The leash's hardware is available in your choice of stainless steel or brass, and the slide-on ID tag can be engraved with your dog's information. This tag rests flush against the collar, so you don't have to worry about jingling.
With 12 colors to pick from, your doggo has plenty of options, and you can choose a two-tone look with a splash of color on the keeper tab if you'd like. There are 11 sizes, ranging from 10 to 27 inches, and the collar's width can be ¾ inch or 1 inch, depending on sizing.
22. Personalized Boho Style Dog Collar
About: Show off your dog's fur fashion with this Personalized Boho Dog Collar from ShopMimiGreen.
Handmade from nylon in the USA, you can personalize your pupper's buckle with his information using one of the 12 font styles, whether you want something classic like Arial or fancy like Calligraphy.
Pick between 12 fashionable patterns and 5 hardware styles, including plastic and zinc. There are seven size options available between XXS and XL and two widths: ⅝ inch and 1 inch.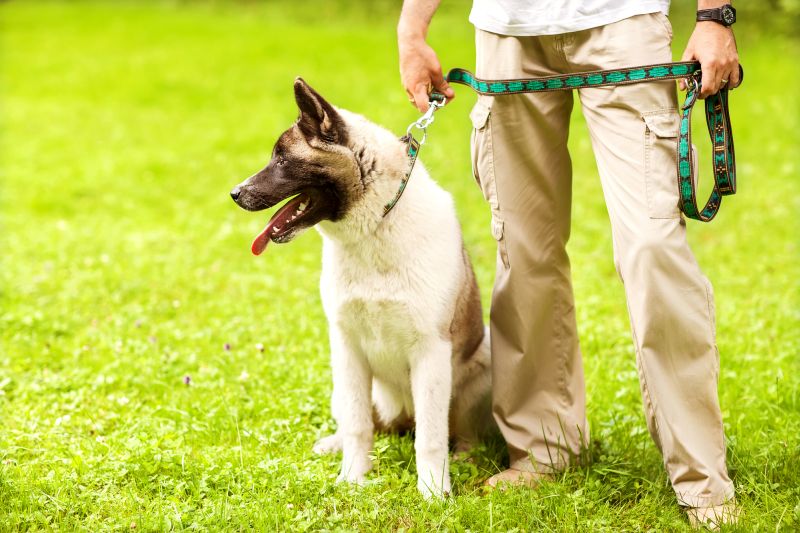 Picking a New Dog Leash or Collar: Things to Think About
Selecting the right leash and collar isn't always easy, especially if your dog leads an active lifestyle or has a quirk, like leash chewing.
When browsing dog collars and leashes, keep these key factors in mind:
Durability: Because leashes and collars are everyday accessories, you want a well-made, quality collar or leash that won't need replacing in a few months. This means sticking to durable fabrics like thick nylon or biothane. If it's only something you'll use for special occasions, you have a little more flexibility in this area.
Your dog's size: Some collars and leashes are too heavy for small breeds to handle, such as those featuring metal hardware or thick rope. Similarly, large, powerful dogs can snap thin leads, making a heavy duty dog leash is a must.
Cost: Pricing varies significantly depending on materials, style, and customization. More ornate designs can rise rapidly in price, though quality materials may be worth spending a little more on than cheap, flimsy items that can break or fade quickly.
Identification: Some collars can be personalized with stitching or built-in plates, eliminating the need for dangling tags that some dogs may lose. This is a win in my house especially, where my pittie-Am-staff-mix Moxie tugs on her fur friend's ID tags and runs off with them like trophies once detached.
Environment: If you're planning on using your leash or collar for everyday use, it's ideal to look for something that's water-safe just in case your pooch encounters a stray rain shower. Similarly, if your dog frequents the outdoors, you want designs that are easy to clean, like nylon or biothane.
Length: With leashes, lengths have different uses. You want to make sure you have enough slack for your needs, such as a shorter leash for handling your dog in close quarters or a longer lead for country strolls.
Materials: Not all constructions are equal in strength or quality. Rope leashes and leather are great for stronger dogs. Nylon is also a durable pick, but make sure it's thick enough (at least 1 inch) to ensure your pup is safely secured. Of course, your dog's comfort is important too, so make sure you are selecting soft, non-chafing materials that will result in the most comfortable dog collar for your pooch. If your dog is a leash chomper, you should seek out chewproof style dog leashes.
Hardware: There are several clip types available with leashes, including bolt snaps, lobsters, and carabiners. Carabiners are typically the most secure, though they can be bulky for little dogs. This also comes into play with collars, where clasps can either be buckles made of plastic or metal or belt-style closures with a prong and holes to feed it through. Ease of removal and strength vary, with plastic being best suited for small breeds.
Aesthetics: Not only can collars and leashes show your pup's personality, but they can also come in handy for keeping your dog visible in the yard or on walks, a lifesaver during hunting season. On a similar note, reflective materials are ideal if you enjoy night walks with your pup.
Accessories: For a collar, many come with built-in bling like flowers or charms. While these are adorable, they can be a choking hazard if removed or tempting for other dogs to nip at. For leashes, features like extra O-rings are ideal for toting poop bags and other walk necessities.
***
Does your dog have any of the collars and leashes on our list? Do they have another awesome one we didn't list? Let us know in the comments!