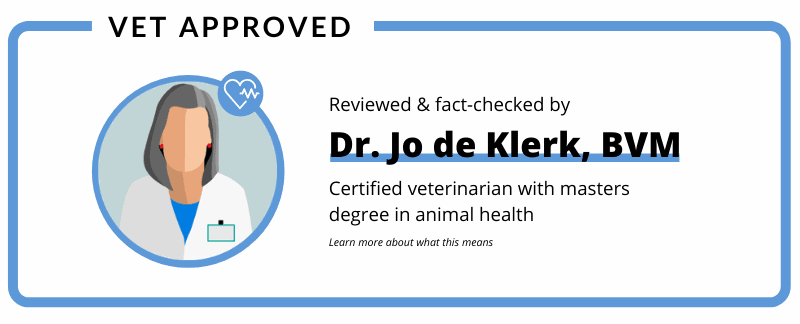 When your dog starts to lose control of his bladder, it's often a frightening sign that your dog is truly getting old.
Like humans, it's not unusual for dogs of advanced age to lose the ability to control their bowels or bladder.
Some canines may only suffer occasional accidents, but others may completely lose the ability to hold things in at all.
No matter the specifics, dogs that develop age-associated incontinence often respond with a mix of fear, sadness, and anxiety. Unfortunately, most owners feel similar emotions and begin to dread what the future holds. It is hard on both of you.
But there is some hope. Some causes of incontinence can be cured, and you can almost always take steps to make your pup more comfortable. We'll explain everything you need to know below.
How to Deal with Incontinence in Older Dogs: Key Takeaways
As many dogs age, they begin having trouble containing the contents of their bowels or bladder. Called incontinence, this phenomenon has many potential causes, ranging from anxiety to health problems to the general muscle loss that occurs with age.
Incontinence is treatable in some cases; but it will remain a lifelong affliction in others. For example, if your dog is having accidents because of anxiety, you'll have a number of potential treatment options you can try. But, there's no cure for things like the aging process itself.
There are a few tools and supplies that can help you deal with untreatable dog incontinence. This includes things like "period panties," belly bands, and pee pads.
Preparing Yourself for the Emotional Journey
I remember when my senior dog had his first accident in the house – he was so distressed and upset, it was heartbreaking. Many dogs get very anxious when they have accidents, as they have many years under their belts being house trained.
In a house broken dog's mind, going potty inside makes him a "bad dog," and all he wants is to be a good boy! Suddenly he can't control himself, which is quite traumatizing.
Some dogs I worked with in our local shelter are so house broken that they'd actually hold their bladder in to the point of developing UTIs or bladder infections, rather than relieve themselves in their outdoor portion of their kennel.
So despite all the personal frustration that comes with your senior dog having accidents, keep in mind that it's very stressful and upsetting for them as well!
Physiological Reasons Dogs May Become Incontinent
To have any reasonable chance of fixing your dog's bladder or bowel problems, you'll need to team up with your vet.
Your vet will probably take a detailed history and perform a physical examination. The information gleaned from these steps will help dictate the tests or procedures required to arrive at a diagnosis.
There are many potential problems that can compromise your dog's ability to hold in his poop or pee, but some of the most common include the following.
Anxiety
Perhaps the most treatable reason your dog may be having trouble holding it is that he is frightened or suffering from anxiety. However, anxiety may also occur alongside other problems, or in response to the incontinence itself.
Discuss the issue with your vet, as he or she may be able to prescribe medications to help soothe your dog's frazzled nerves. Whether or not medications will help your dog, you'll want to provide a calm, comfortable and safe living space for him.
Do your best to avoid startling pups with anxiety, and watch out for other pets – it may be necessary to separate your incontinent dog from the others in your home if they aren't getting along well.
Injury or Dysfunction of the Back or Spinal Cord
Virtually any kind of damage or inflammation to the spinal cord can prevent your dog's brain from properly communicating with his anal or urethral sphincter. These anatomical features normally remain contracted until it is time for the dog to poop or pee, at which time they relax, thus letting the substance in question exit the body.
Fortunately, minor spinal cord problems can often be treated. Anti-inflammatory medications may reduce swelling enough to restore proper function in some cases, while surgical options may be effective in other cases.
Improper Hormone Levels
Female dogs who fail to produce enough estrogen may suffer from poor urethral muscle tone. This can lead to something called urethral sphincter mechanism incontinence (USMI), which may trigger your dog to have accidents. This is most commonly seen in altered dogs, but it can occur in intact individuals as well.
Often, medications or hormone-replacement therapies help treat dogs suffering from these kinds of problems.
Urinary Tract Infections
Urinary tract infections can not only make it difficult for some dogs to hold in their urine, it can make a dog feel like it has to pee constantly. You may notice your dog bolt toward the door, trying to tell you he not only has to go to the bathroom, he has to go right now. Immediately. Time is of the essence if he's to avoid an embarrassing accident.
Urinary tract infections are quite common; but fortunately, they're often treatable with medications. Note that incontinence may actually lead to bladder infections too, which means that you'll still need to treat the infection, but that won't completely stop the problem.
Because females have shorter urethras than males, and the urinary opening is closer to the anus, urinary tract infections tend to occur more commonly in females than males.
Canine Cognitive Dysfunction
Canine cognitive dysfunction (CCD) refers to the declining mental abilities that occur in some aging dogs. Roughly similar to dementia or Alzheimer's disease, CCD can cause otherwise healthy dogs to either forget to go outside or be unaware that they are actually relieving themselves.
Dogs with CCD often wet or soil their bed, and some may appear surprised when they notice what is happening.
Unfortunately, there is little than can be done about CCD, and you'll need to shift your focus to keeping him as comfortable as possible, for what time he has left.
Diabetes and Endocrine-Gland Diseases
Diabetes – a disease in which your dog's body has difficulty maintaining the proper blood sugar levels – often causes dogs to drink incredible amounts of water. This, predictably, leads to more frequent bathroom breaks.
The good news is that these types of problems may mean that your dog is not suffering from incontinence. And while diabetes is a troubling diagnosis, it is treatable in many cases.
Several other diseases that disrupt hormone levels, such as Cushing's disease, so your vet may need to perform several different tests to identify the underlying condition. You may also have to begin putting your dog on a special diet for diabetic dogs, if your vet advises it.
Muscular or Neurological Decline
As your dog ages, his muscles and nerves will gradually stop working as well as they should.
This commonly occurs near the muscles of your dog's bladder neck, which keeps the urine from exiting the bladder. Your vet may be able to help reduce the severity of these problems through medications or surgery.
Kidney or Bladder Stones
Stones in the urinary tract can increase your dog's need to pee, and they can even make him feel like he needs to pee when his bladder is far from full. This can occur due to the pressure the stones place on the nerves in the bladder or other tubes of the urinary tract.
Need Veterinary Help Fast?
Don't have easy access to a vet? You may want to consider getting help from JustAnswer — a service that provides instant virtual-chat access to a certified vet online.
You can discuss the issue with them, and even share video or photos if need be. The online vet can help you determine what your next steps should be.
While talking with your own vet — who understands the ins and outs of your dog's history — is probably ideal, JustAnswer is a good backup option.
Helping Your Incontinent Dog Stay Comfortable
Whether your vet is able to offer you any viable treatment strategies or not, you'll want to make sure to keep your dog as comfortable as possible while he is dealing with this difficult problem.
Most of these strategies are fairly inexpensive and easy to accomplish, and they may significantly improve your dog's quality of life.
Consider Moving Your Pup's Bed Closer to the Door
If your dog is cognitively aware that he needs to go to the bathroom, but having trouble getting outside quickly enough to avoid accidents, you can make life a little easier on him by placing his bed closer to the door he uses. Just be careful not to place the bed in an area that's chilly or exposed to drafts, when doing so.
Also, you'll want to be sure he doesn't feel excluded from the family or "banished," so weigh the pros and cons of your circumstances before moving your pup's bed.
Protect Your Dog's Bed from Fluids
Because you may have to get used to occasional (or even frequent) accidents, it is wise to take steps to protect anything likely to become wet. This can include a number of different things, but your pet's bed is probably the most likely item to become soaked in urine.
A good strategy for dealing with this is purchasing a plastic cover for your dog's mattress. Of course, your dog probably won't want to sleep on plastic, so you'll need to lay a soft towel or small blanket on top of the plastic.
When an accident occurs, simply wash the towel or blanket, hose off the plastic cover and let it dry thoroughly.
Alternatively, opt for a waterproof incontinent dog bed that is specifically designed to stand up to frequent accidents and is easy to clean.

One smart option is Kuranda's elevated mesh bed, which keeps your dog raised off of any wetness and can easily be wiped clean when necessary.
Consider Installing a Doggie Door
Because your incontinent dog may need to go to the bathroom more often than normal, and he may not be able to hold it for as long as normal, it can be helpful to install a doggie door. This way, he'll essentially have unfettered access to his "bathroom," and alleviate your role in the process entirely.
If a doggie door is not a viable option for your living situation, you'll need to be extra observant of your dog and take him out at the first sign he needs to go.
Make Sure Your Pet Stays Clean
If you end up opting for a doggie diaper to manage your dog's incontinence, it's important to clean off your pet anytime he uses his diaper, pees in his sleep, or has an accident in the middle of the night.
Particularly messy situations call for a proper bath, but you can spot clean small areas on your dog's body with a bit of warm soapy water and a soft rag.
In either case, be sure to dry your pup thoroughly afterward to prevent rashes or skin infections. If you notice any reddened or swollen areas on your dog's skin consult your vet for an appropriate treatment.
For the ground, grab a pet-safe floor cleaner and wipe up the mess.
5 Senior Incontinent Dog Products & Solutions
While you do everything you can to help treat your dog's problems, it is helpful to have a few basic items on hand. While these are not all necessary for every situation, most will provide some value to you and your dog.
1. Dog Incontinence Diapers
Diapers can make a viable solution for dogs that are having trouble holding in their poop or pee.
Dog diapers are pretty much identical to human diapers, except that they feature a hole through which your pup's tail can slide through.
There are a number of different diapers on the market, but if you don't want to sort through dozens of options, just go with the Wegreeco Washable Dog Diapers – they work great for puppies as well as older incontinent dogs.
They are one of the most popular choices, and most owners are pleased with the way they perform.
2. Belly Bands
Belly bands are similar to diapers, except that they are designed specifically for male, rather than female dogs. Because of the position of a male dog's penis, an absorbent band wrapped around the belly can soak up any accidents and prevent urine from leaking all over your floor.
Because they don't include any crotch coverage, belly bands are not helpful for female dogs or males who are also experiencing bowel incontinence. You can peruse a few great belly bands and learn more about their use here, in our recent review.
3. Pee Pads
Pee pads are absorbent papers, somewhat similar to disposable table cloths.
Pee pads are most commonly used to give pre-house-broken puppies an acceptable place to go to the bathroom, but they can also be helpful for older dogs who are suffering from incontinence issues.
AmazonBasics Pet Training and Puppy Pads are a good option, and most owners have found them to work well and were reasonably priced. Alternatively, some dogs may prefer potty pee pads that use real or artificial grass.
4. Pet-Odor Remover
If your dog is going to be struggling with incontinence, you should be prepared to clean up afterward.
A good pet-odor remover can help prevent the stains and smells that often plague the owners of incontinent dogs.
If you don't already have a favorite pet-odor eliminator, consider check out our list of the best carpet cleaners for dog urine to keep odors and stains away while caring for an incontinent canine.
5. Black Light
One of the keys to eliminating urine odors is making sure that you treat all of the affected areas.
However, this can be difficult, as you'll surely miss the odd spot from time to time. Fortunately, you can use a black light like they do in crime dramas to find any undiscovered pee spots. Once found, you can treat these areas with a pet-odor remover.
If you want an affordable, yet effective light, check out the TaoTronics TT-FL001 Dog Urine and Stains Detector.
***
Dealing with an incontinent dog is tough, so we'd encourage any readers who have gone through the experience to share their own tips in the comments below. Let us know what worked for your pup and what didn't, as well as the root of the problem.